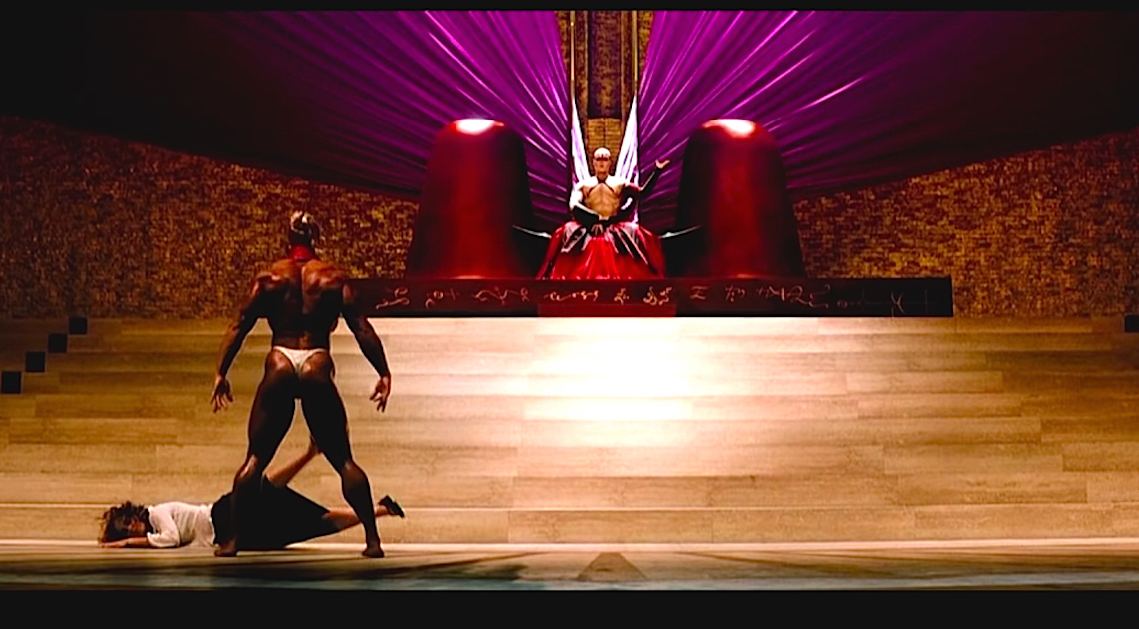 Serial killers have been a part of the horror and thriller genres since the birth of motion pictures. Repulsive and terrifying but strangely fascinating and at times incredibly captivating characters. From masked slashers to the sophistication and charm of Hannibal – They are PERFECT creatures to build movies around.
The Cell (directed by Tarsem Singh), attempted to take viewers closer to a serial killer than ever before by actually entering his mind and giving it form and structure. Tarsem had built a strong reputation in the music video industry and anticipation was high that he could create a unique vision and movie experience. I've always personally loved and admired the end result – not just visually but as a complete package. I know some people weren't as thrilled with how it turned out, but for multiple reasons it has remained a huge favorite of mine in the years since release.
It's at about the 30 minute mark that The Cell gets really dark, as Dr. Catherine Deane (Jennifer Lopez), enters the twisted mind of torturer and murderer Carl Rudolph Stargher (Vincent D'Onofrio), in an attempt to ascertain the location of one final kidnap victim who has only hours to live before she is drowned within a perspex prison. Deane is totally unprepared for what awaits her – a world ruled by the violent and aggressive portion of Stargher's psyche, in the form of a demonic king. She also has fleeting encounters with a youthful, innocent side, represented by Stargher as a child, but this realm is unquestionably shaped by evil from top to bottom. Director Tarsem makes sure it is a sight you will never forget, culminating in the appearance of Stargher's past victims, stored within his mind as mutilated and bleached 'dolls' displayed like trophies.
It's a disturbing scene, but Tarsem makes it impossible to look away thanks to the genuinely incredible visual artistry happening on the screen, and this work isn't limited to the sets and inanimate objects. The actresses playing the victims all became haunting works of art as well, thanks to some skilled make-up effects, with one lady in particular standing out. A brief cameo that allowed Tarsem to also display a unique human body, within all of the metallic and industrial set design.
Strength, beauty and intimidating power was required to portray the image of this past victim – used as a subconscious enforcer to unleash upon any intruders into Stargher's private hellish world. Tarsem needed larger than life, so who better than a four time Ms. Olympia winner, and one of the most successful female bodybuilders in history – Kim Chizevsky-Nicholls.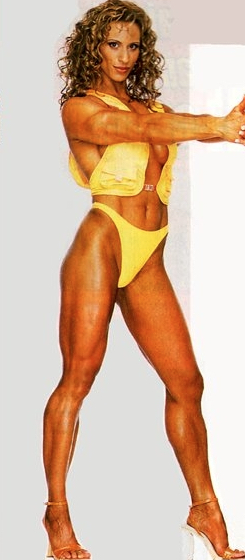 I recently had the opportunity to make contact with Kim and it was a chance I wasn't going to miss. To get any kind of insight from the set of a movie I've loved for years was an exciting prospect and Kim made it easy due to her friendly, polite and easy-going personality. She's also a HUGE horror fan!! I cannot thank her enough, and I hope you enjoy …

Halloween Love: First of all, can you tell me how you ended up being cast in The Cell?
Kim: During a trip to California in 1999 I was in L.A. to watch the NPC USA Bodybuilding Championships. As luck would have it the casting director for The Cell (Sandee Alessi), was at the show, looking for ME! The director, Tarsem, told her "Get me Ms. Olympia for this part" – so she did! That's how it came about, it was really just luck and timing as they thought I lived in California when in fact I live in Missouri. The next day Tarsem met with me, I auditioned for the part, we talked for a while and I got the part!

HL: You remain one of the most successful female bodybuilders of all time and have competed in front of countless audiences over the years. Did that make acting in such a high profile movie easier in terms of potential nerves?
Kim: It absolutely helped me. Before I became a professional bodybuilder and Ms. Olympia, I was severely shy. I always competed in sports, but never had to worry about public relations, giving seminars, etc, until I turned pro – then I was basically forced to come out of my shell. I had product endorsements, photo shoots, endless appearances and seminars, so that experience helped tremendously when it came time to go "on set" and perform not only in front of the cameras, but in front of the entire cast and crew, in a very skimpy outfit no less!
I was a bit nervous at first to meet Jennifer Lopez and Vincent D'Onofrio, but they were extremely nice to me and it was incredible to be in the same movie as them!

HL: Your main scene in the movie takes place within the mind of the serial killer (Stargher), and features quite a lot of disturbing imagery. What was it like to actually work around that and was it fascinating to see it being put together?
Kim: It was amazing to see the set transformations and the imagery. All of the scene in the "dungeon" with all the rooms for Stargher's victims/dolls was one day just a basement on the Warner Brothers lot, and the next day it was completely transformed into the dungeon! It was like a dream – just amazing how talented everyone was who worked on that film to make it come to life!


HL: Would I be correct in assuming a 'Stunt' Jennifer Lopez was brought in for the moment where you throw her against a wall, then carry and drop her?
Kim: Oh, yes, there was definitely a Jlo stunt double. Jennifer was in the scene where I grab her arm and begin to swing her, then we cut and go to the stunt double, Jill, she was amazing! What I was really impressed with was the stunt where I had to throw her off my shoulders and onto the floor – no padding there at all, it was a solid wood floor and Tarsem wanted it REAL, so I threw her hard. Fortunately we got it just the way they needed it in a couple of takes!


Legendary stunt coordinator Jack Gill was incredible at giving direction and was a tremendous help to me. I am extremely petrified of heights and one scene (that unfortunately didn't make it to the final cut), he really helped me through. We were on top of one of the Warner Bros. buildings (50 feet up), a cherry picker had to load us up to the top and with nothing but a wrist harness on I had to carry the stunt double down a long flight of stairs that were built on the outside edge of the building with NO RAILING, that led to the water. Unfortunately you don't see that part, it just goes directly to the scene of me carrying the stunt double through the water.

HL: Did you ever consider or get offered further acting roles in the years since?
Kim: Actually I had several offers. A couple ended up not "green lighting" and then I was offered a couple of roles that I had to turn down as I was pregnant at the time, and they were "action" roles. If the right part would come about I'd still love to be involved in another film. It was an amazing and fun experience.

HL: Let's talk horror for a moment. Do you have a favourite horror movie or at least a favourite 'type' of horror movie?
Kim: Ever since I was a little girl I have LOVED all types of horror movies! I was even an avid reader of "Fangoria" magazine growing up. I just loved scary/horror movies and as a child of the slasher film era I've seen just about all of them! My ALL TIME favorite horror movie is actually 2 movies now – Halloween!!! The John Carpenter version, because of the eery music and scare factor and the way it was shot with the longer scenes was amazing (I even have the "Halloween Theme" as my ringtone). And I also LOVE Rob Zombie's version of Halloween. I really liked that he went deep into Michael Myers back story of how he became a serial killer – that it showed his troubled life and what he went through. He didn't come from a "happy suburban family".
Rob's Halloween scared me on a different level, a more realistic scary level because you can actually see how a troubled person in society can "snap" and turn into a Michael Myers – it's very scary! I would have to say Rob is one of my favorite Horror movie directors now, and I admire the fact that he's not afraid to put his own twist on things, and definitely not afraid to push the envelope. It makes you want to see his next film just to see how far he'll continue to push that envelope! Actually, I'm very intrigued by his new project "31" – and Rob, if you're reading this … I'd love to be in one of your movies!!
HL: Finally, do you have one specific memory or moment from your time working on The Cell that you remember most fondly?
Kim: There are actually so many fantastic memories, there isn't just one thing that sticks out, it was just such a fantastic experience overall. Of course getting to meet Jennifer Lopez and Vincent D'Onofrio was awesome! Unfortunately I didn't have any scenes with Vince Vaughn – would have loved to have met him! But, just all aspects, from working with the hair and makeup crew, the stunt crew, to the costume & effects crews to working with such a visionary as Tarsem, it was all incredible!
However, one pretty great thing that sticks out in my mind as a "fond memory" is the fact that I had just come off winning my 4th Ms. Olympia title when I flew to L.A. to film The Cell. Anyone who knows anything about a bodybuilder's diet knows that it is extremely restrictive. For 3 months I had eaten nothing but plain chicken breast, plain rice, potatoes and plain oats. So at the end of filming a scene, and there's an In-N-Out Burger truck waiting on the set to make you as many Double-Double's as you'd like – that's pretty damn cool!
I want to thank you so much and really appreciate the opportunity to interview with you, Martyn. I think Halloween Love is awesome! I wish you all the best and who knows, maybe we'll get the chance to interview again in the future!

A MASSIVE thank you to Kim for taking some time to answer my questions. It has been a genuine pleasure to communicate with her recently and she really is a person I have come to admire and greatly respect.
I also want to thank my better half, Kasia, who helped me tremendously by tracking down a copy of the movie that included the behind-the-scenes documentary and then sending over all the screen shots I needed.
Until next time, stay safe, and keep it horror!
Support Halloween Love
If an item was discussed in this article that you intend on buying or renting, you can help support Halloween Love and its writers by purchasing through our links:
(Not seeing any relevant products? Start your search on Amazon through us.)