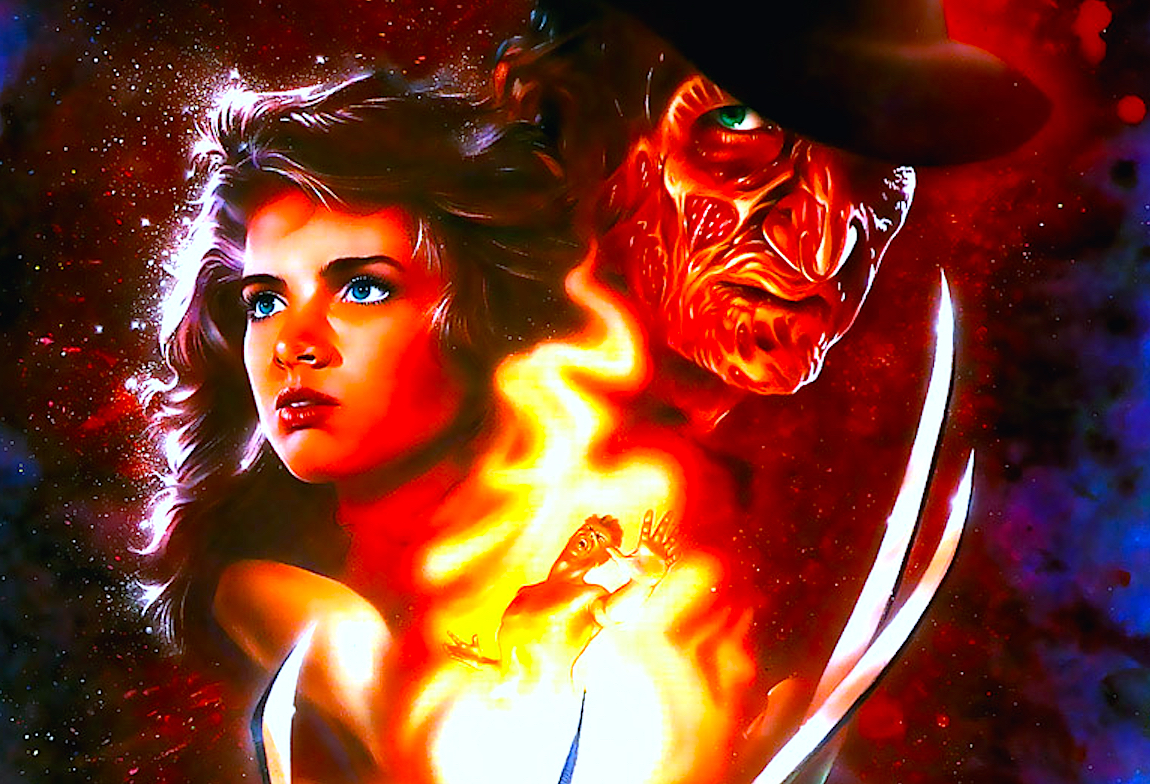 Horror icons and comic books – it's been a tricky combination to make work over the years.
In my younger days I was heavily involved in the world of comics, and as a lifelong horror fan it was always exciting when a publisher won the rights to produce a book based on one of the major horror franchises. Even more so when you got the impression that the people creating it were also passionate about the characters and wanted to bring together something faithful and special.
I'd be here for hours if you wanted my opinion on what mistakes were normally made regarding the writing, but what they generally did get right was the art, ESPECIALLY cover art.
Today I'm going to reveal the third batch of my favorite cover images from the years when I was working in the business. (The first article can be found HERE – and the second HERE)
A good cover is so important, it CAN mean the difference between selling copies or having them sit in the bargain bins gathering dust, and in my humble opinion the examples you are about to see are some of the very best. Take a look …
The Texas Chainsaw Massacre: Special – Painted Variant (2005)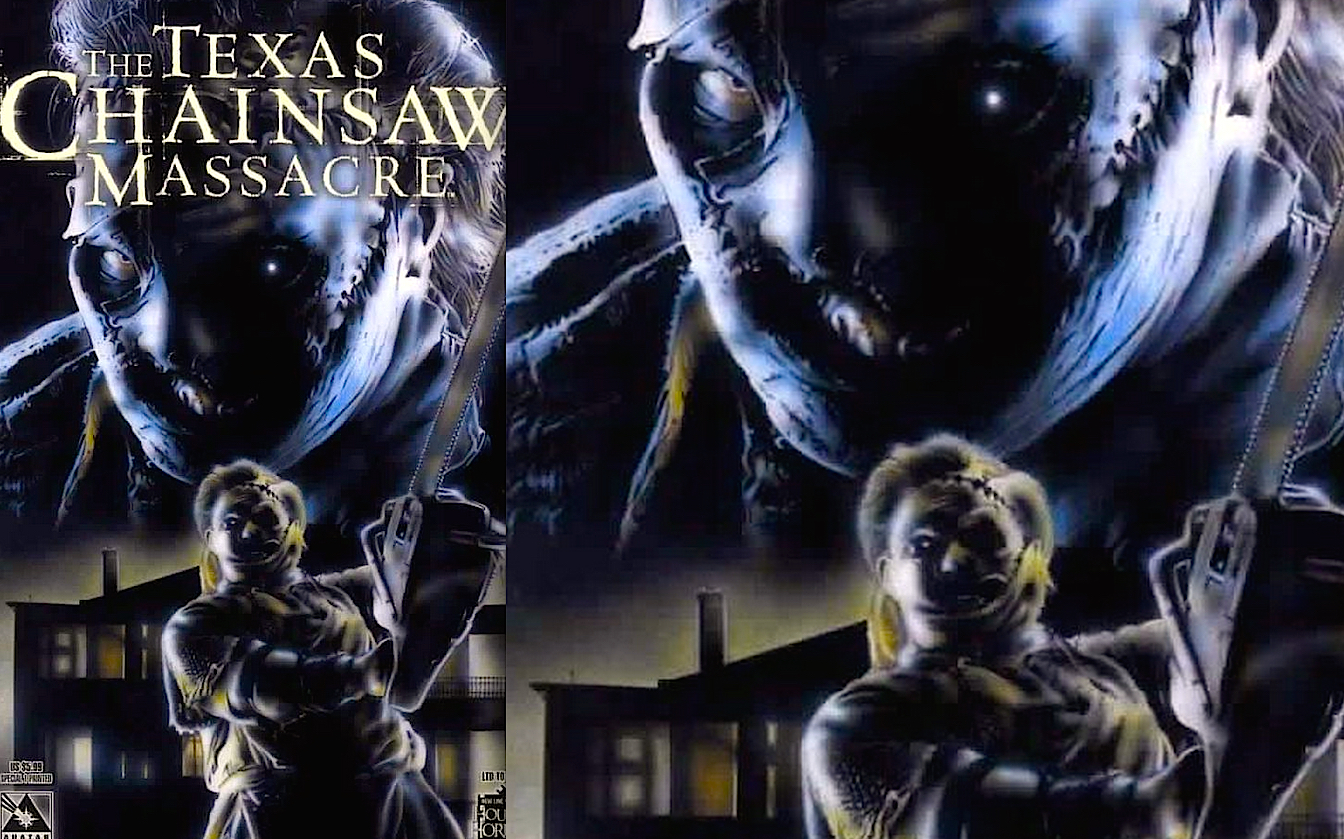 Another masterpiece from Lucio Rubira, who created "painted" variant covers for all three of the horror icon books when they were first released by Avatar. These covers were easily the most popular with collectors I encountered, and just seemed to stand out from the crowd when they were displayed next to the MANY other variants that were also available. If you're a fan of the Chainsaw movies and have never read this one-shot I would thoroughly recommend it. The actual stories were rarely a strong point but writer Brian Pulido captured the spirit of the franchise quite well and the interior artwork by Jacen Burrows was magnificent.
Freddy Krueger's A Nightmare on Elm Street 3 (1989)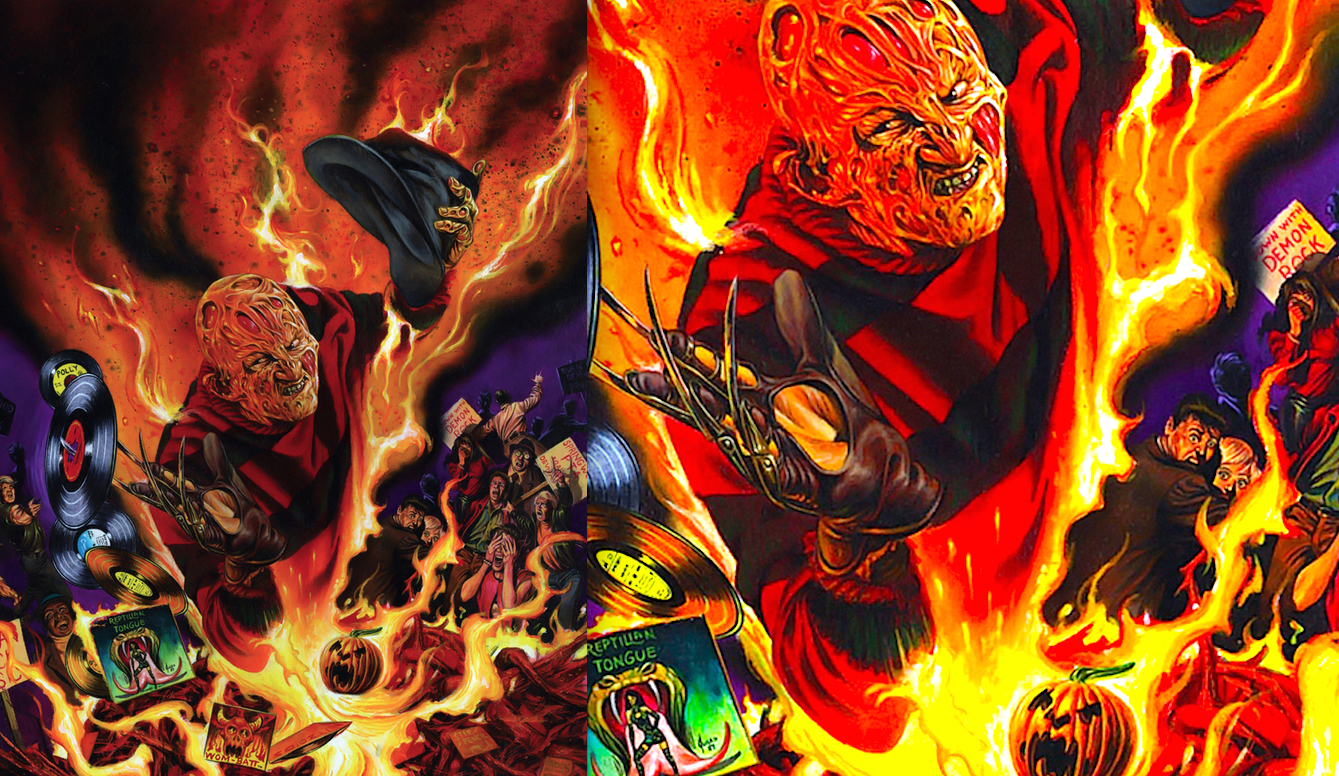 Ok, I'm cheating a bit here. Issue 3 of this magazine sized B&W comic from Marvel was never actually released, but some incredible cover art WAS completed by Joe Jusko and it's simply too good to be forgotten and never seen by the horror community. I've no idea why Freddy is rising from a bonfire while spinning some records on his blades, but I assume the answer to that mystery WOULD have been revealed if Marvel had been brave enough to continue with this short-lived book instead of preemptively cancelling it before they got complaints from worried parents.
The Texas Chainsaw Massacre: Special – Bloodbath Variant (2005)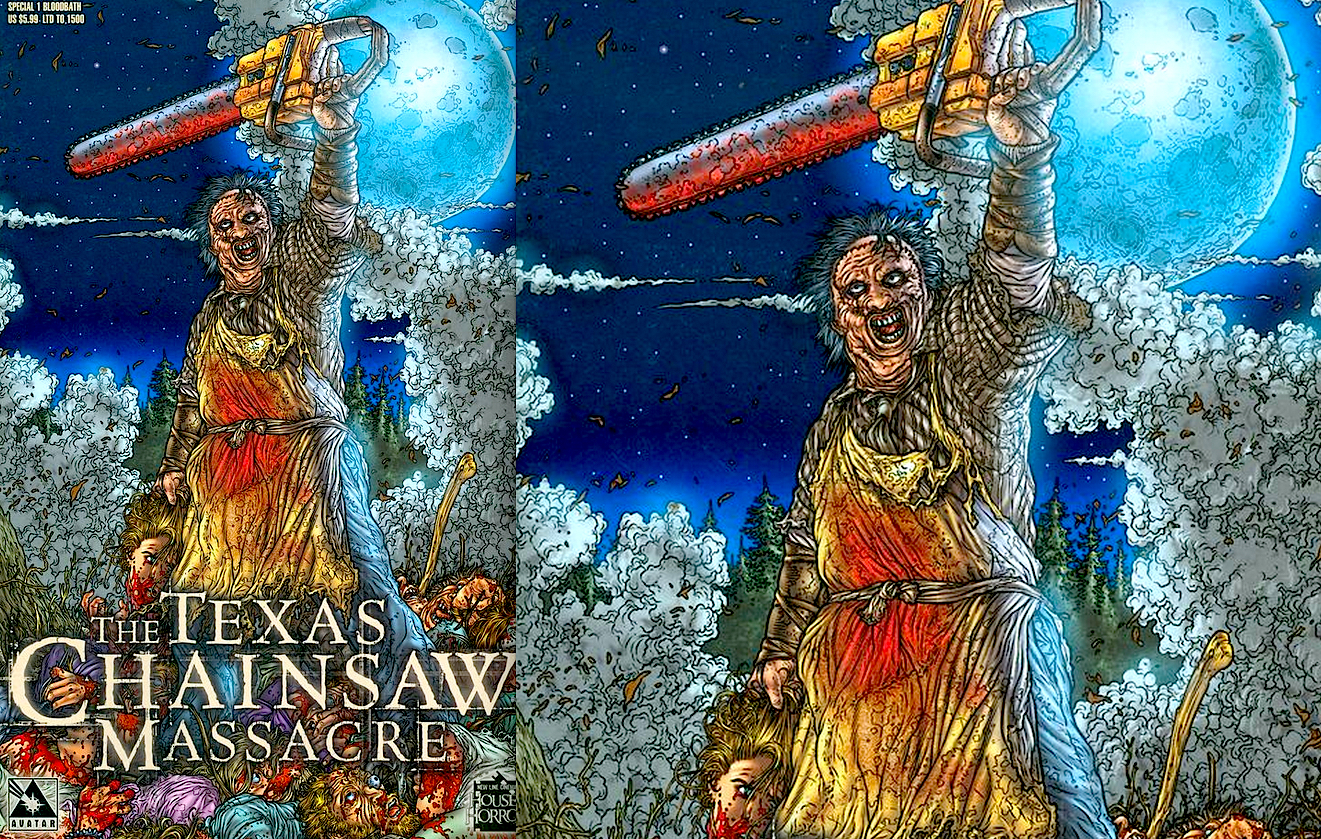 Want some more Leatherface carnage? You got it! This insane variant was limited to 1500 copies and retailed for a hefty $5.99, but it was almost worth it for the cover alone! The amount of detail Juan Jose Ryp would pack into every piece of art he produced was breathtaking, from the mist swirling behind our favorite skin wearing butcher to the tiny craters and cracks on the moon. Juan illustrated everything with patience and precision, creating comic book cover art worth getting excited about.
Friday The 13th: Bloodbath 1 (2005)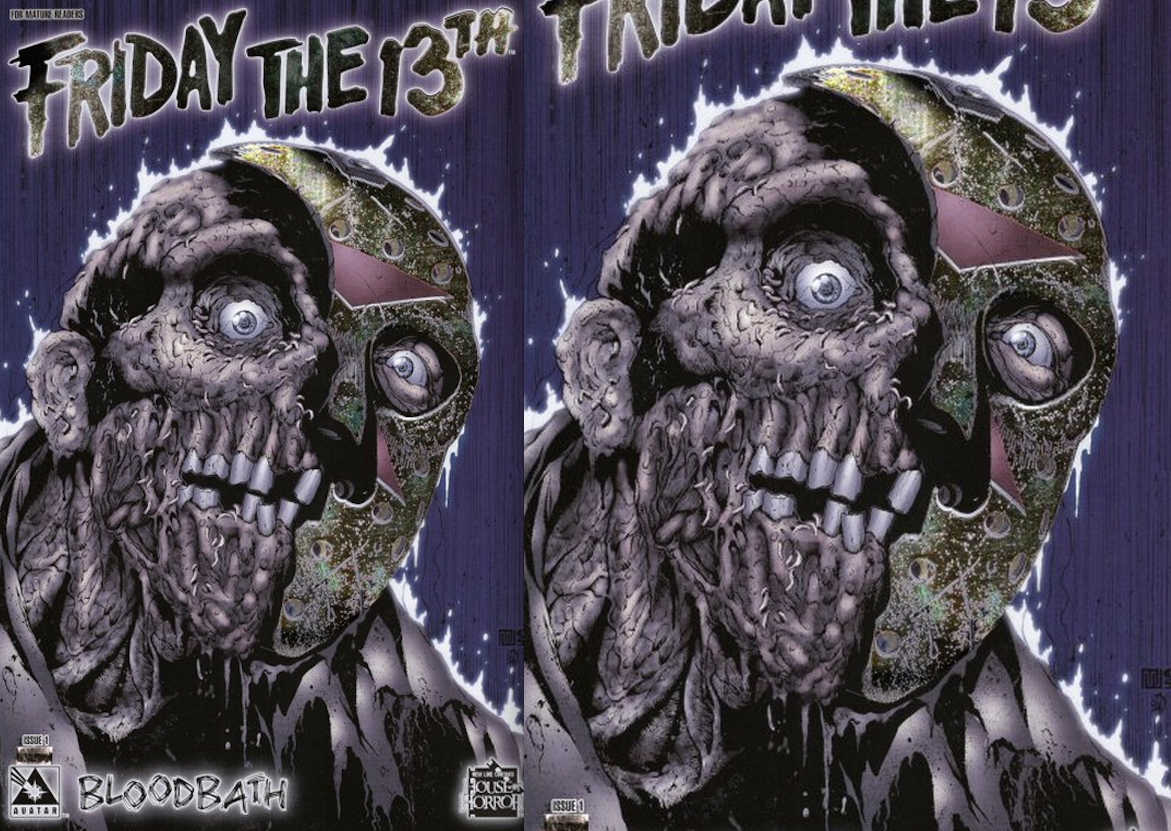 Following on from the success of the one-shot "Special" that Avatar released, Jason got his own limited series called "Bloodbath" which was once again illustrated inside and out by the tireless Mike Wolfer. I interviewed Mike early last year and he mentioned this cover when I asked him which of the many variants he worked on was his favorite …
"One of my favorite images is the cover of 'BLOODBATH' #1 (regular cover edition), the closeup of Jason's face with his mask split in half. I think I managed to capture all of the gooey, maggot-filled grossness of his physical form, along with the berserk insanity of his psyche."
It was a cover with genuine impact, featuring a look at Jason you don't normally get to see. Collectors loved it, and sales numbers were high! Job done.
A Nightmare on Elm Street : Special – Glow Variant (2005)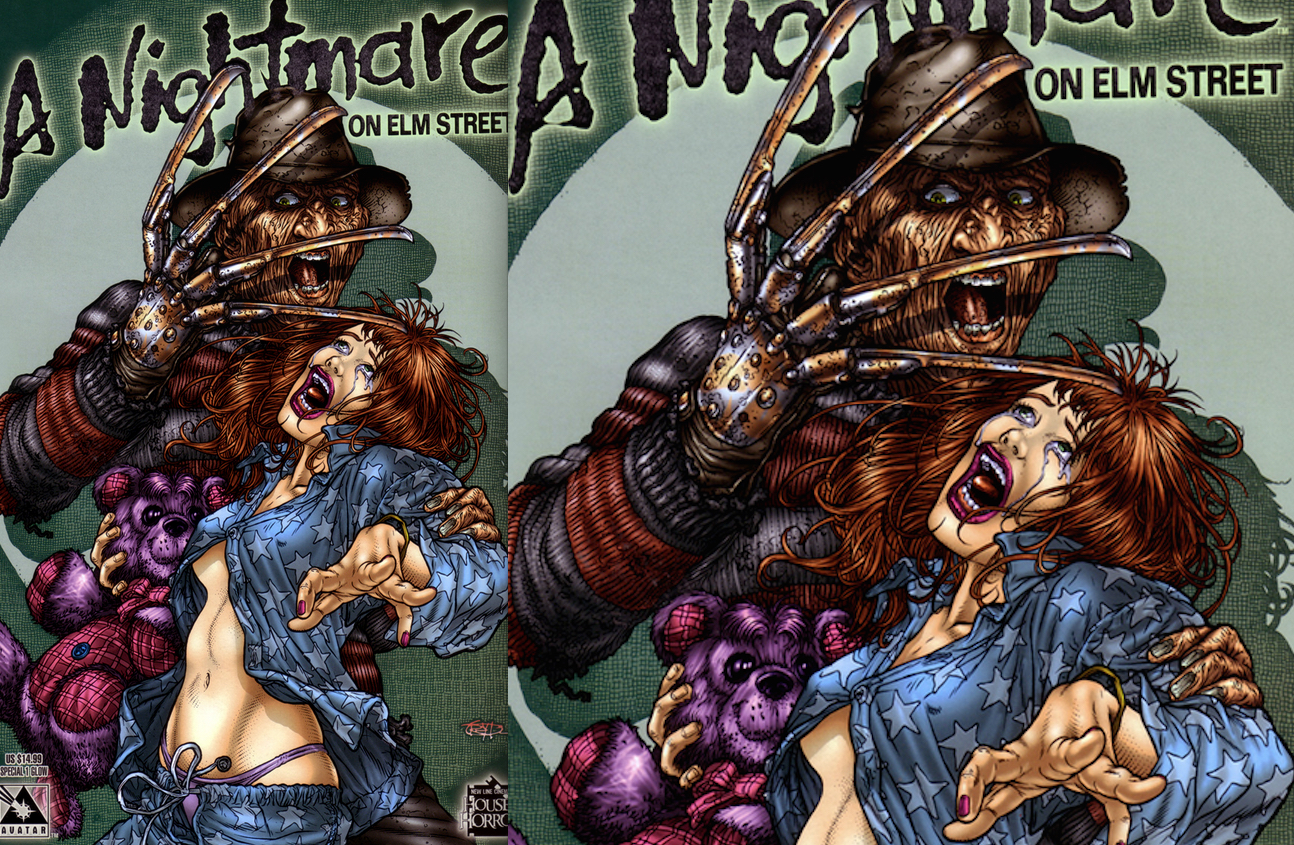 Many comics over the years have attempted using glowing ink as a premium gimmick/variant on their covers – with results ranging from impressive to utterly pointless. I've chosen this cover for the list simply because of the incredible art, provided once again by Juan Jose Ryp, NOT because it weakly glows if you hold it next to a light for twenty minutes! Despite coming with a BIG price tag this cover was very popular, and the "glow" variants became the most difficult to find of all the alternate covers from the first wave of Avatar horror comics.
Nightmares on Elm Street 2 (1991)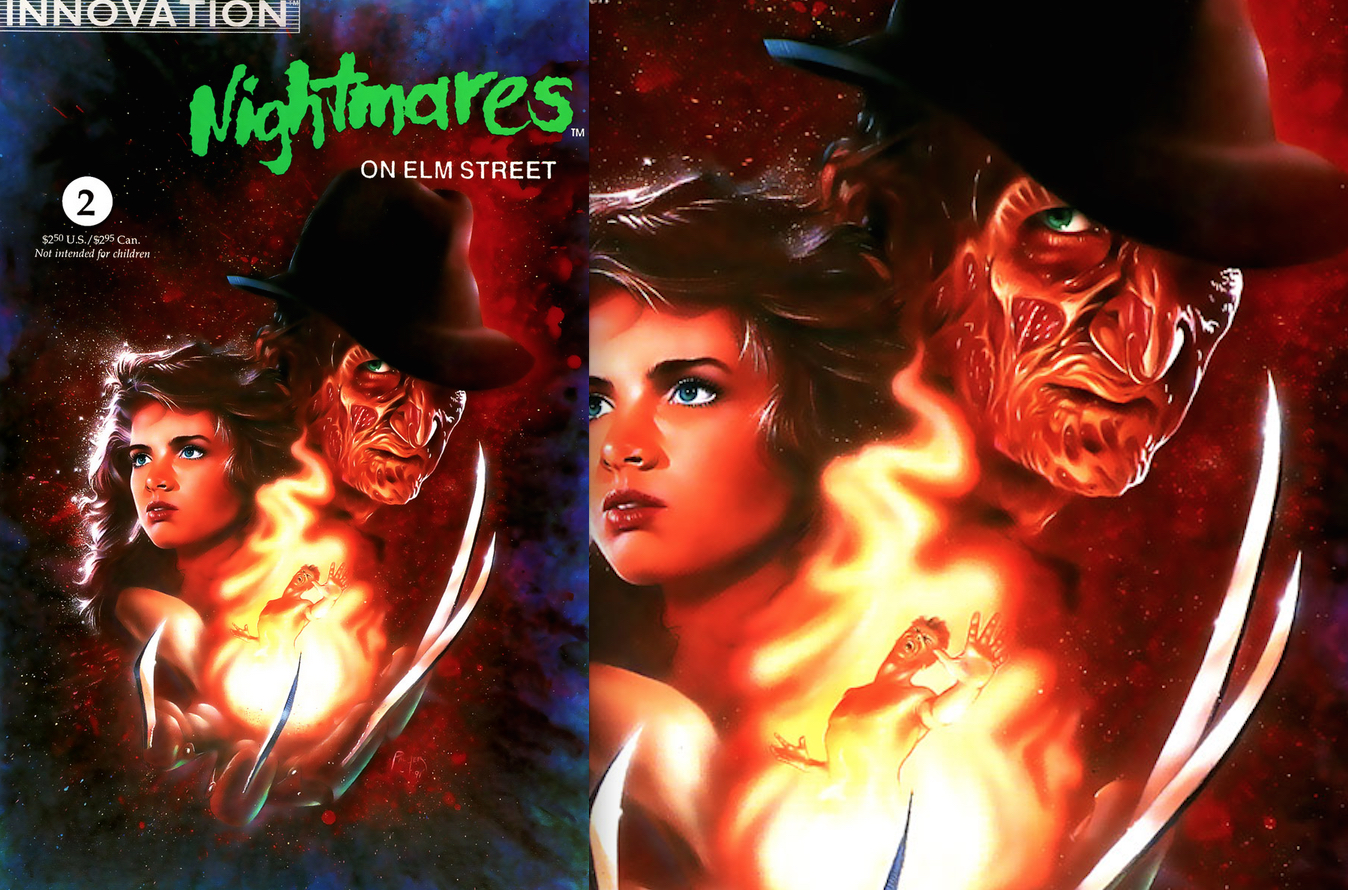 No matter what was INSIDE a comic published by Innovation, you could nearly always rely on them to create a cover that would grab your attention and make you want to own it. They understood the power of a good cover image better than most, and this masterpiece by Jason Palmer for the second issue of the "Nightmares" series is no exception. Just look at it!
Freddy vs. Jason vs. Ash 1 (2007)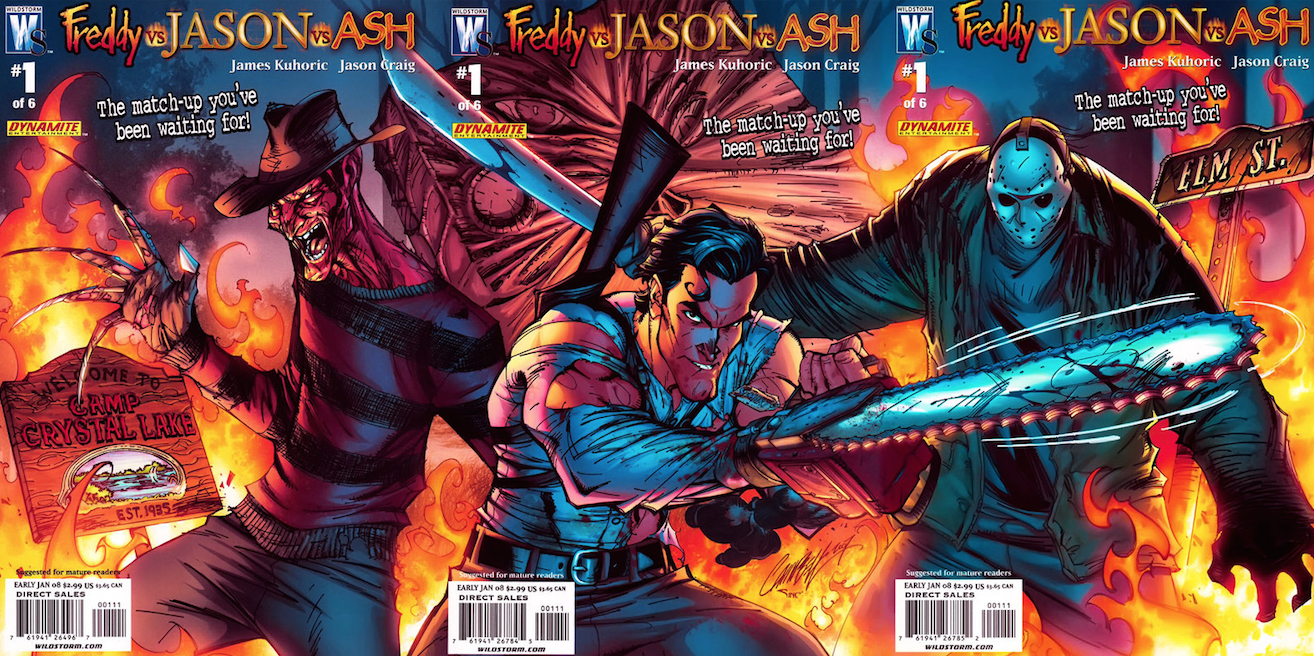 In 2007 Wildstorm teamed up with Dynamite Entertainment to release the insanely entertaining Freddy vs Jason vs Ash, six issue mini-series, which brought together three of the most iconic characters from the modern world of horror. J. Scott Campbell created one huge image which was split across three separate cover variants and was also later pulled together on one single cover for a second printing variant, if my memory is correct. Campbell has a very dynamic and energetic style which resulted in three unique covers that were very much worth collecting and proved to be extremely popular.
Halloween III: The Devil's Eyes 1 (2001)
We couldn't finish this latest collection of cover art without a Michael Myers appearance. So here he is – up close and personal! The iconic mask is instantly recognizable, and like so many of the other comics I have featured in these articles it's an image that says "LOOK AT ME!" … Simple, clean, crisp and effective! The Halloween books Chaos published were generally excellent products, and looking back I wish they had been able to produce more of them.
Support Halloween Love
If an item was discussed in this article that you intend on buying or renting, you can help support Halloween Love and its writers by purchasing through our links:
(Not seeing any relevant products? Start your search on Amazon through us.)