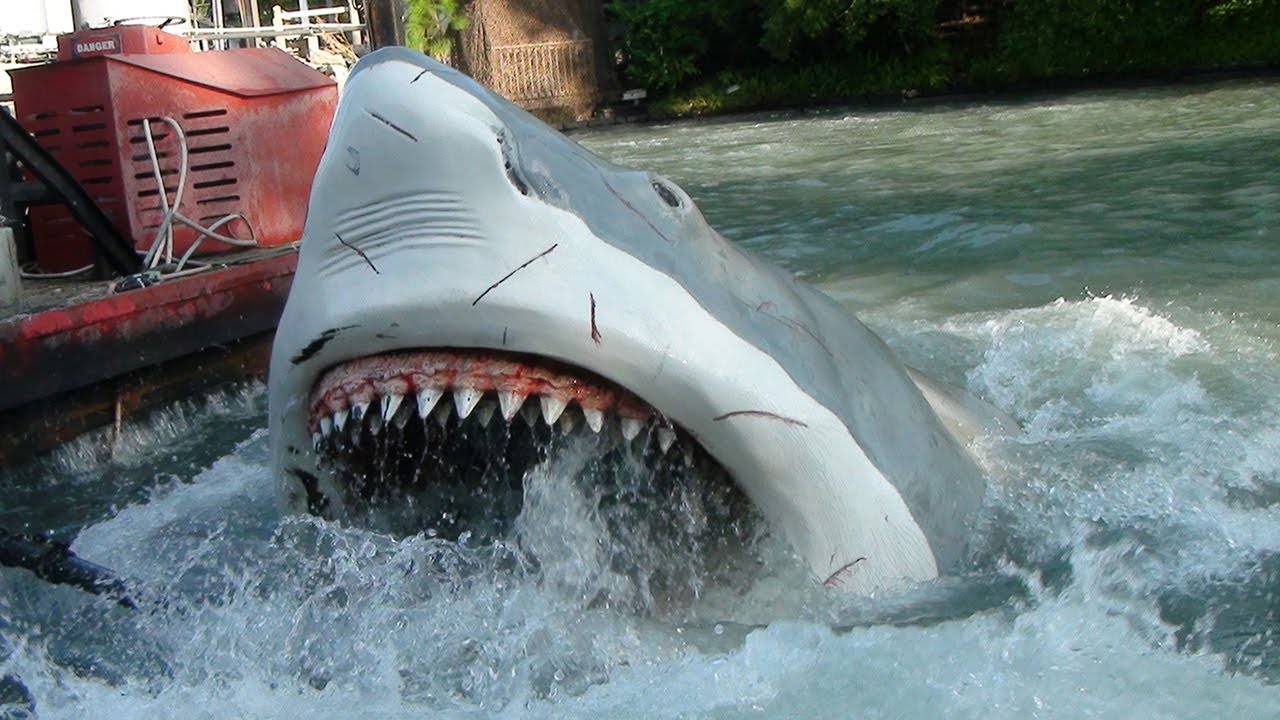 It was on June 20th of 1975 that Jaws swam its way into theaters, forever making millions of movie-goers terrified of the water. I'm not big into math but I'm pretty sure that means we're fast approaching the 40th anniversary of Steven Spielberg's terrifying classic, which returns to nearly 500 theaters across the country for two nights only, starting this weekend.
But that's not the only Jaws-related anniversary being celebrated this year. Because it was on June 7th, 1990 that Universal Studios Orlando officially opened an infamous attraction based on the film, making this year the 25th anniversary of the sorely missed 'Jaws Ride.' It's been three years since the ride was shut down, and today we pay tribute to the greatest theme park attraction of all time.
Though the Jaws Ride is fondly remembered as being an integral part of Universal Orlando, it was actually Universal's Hollywood location that gave visitors their first taste of the attraction. In 1976, one year after the release of the film, a Jaws-inspired scene was added to the iconic Backlot Tour, and visitors still to this day are guided through a recreation of the fictional Amity Harbor.
It wasn't until 14 years later that Universal Orlando turned that scene into a full-on adventure ride, which opened its doors in the summer of 1990. And it wasn't long before the attraction turned into somewhat of a horror movie of its own, as persistent technical malfunctions forced Universal to shut down the ride just a few months after it was launched.
The plan was to re-open a less problematic version of the ride shortly thereafter, but the actual re-launch didn't take place until the spring of 1993 – when Spielberg and stars Roy Scheider and Lorraine Gray were brought in to introduce the brand new attraction to hungry visitors. A few major changes were made to the ride, and all went smoothly for many years.
Unfortunately, Universal announced back in 2011 that they were closing up Amity forever, and they carried out those plans the following year. The Jaws Ride was demolished in 2012 to make room for the Harry Potter-themed Diagon Alley, with the final voyage taking place on January 2nd. The mechanical shark scared one last group of visitors on that night, and he hasn't been heard from since.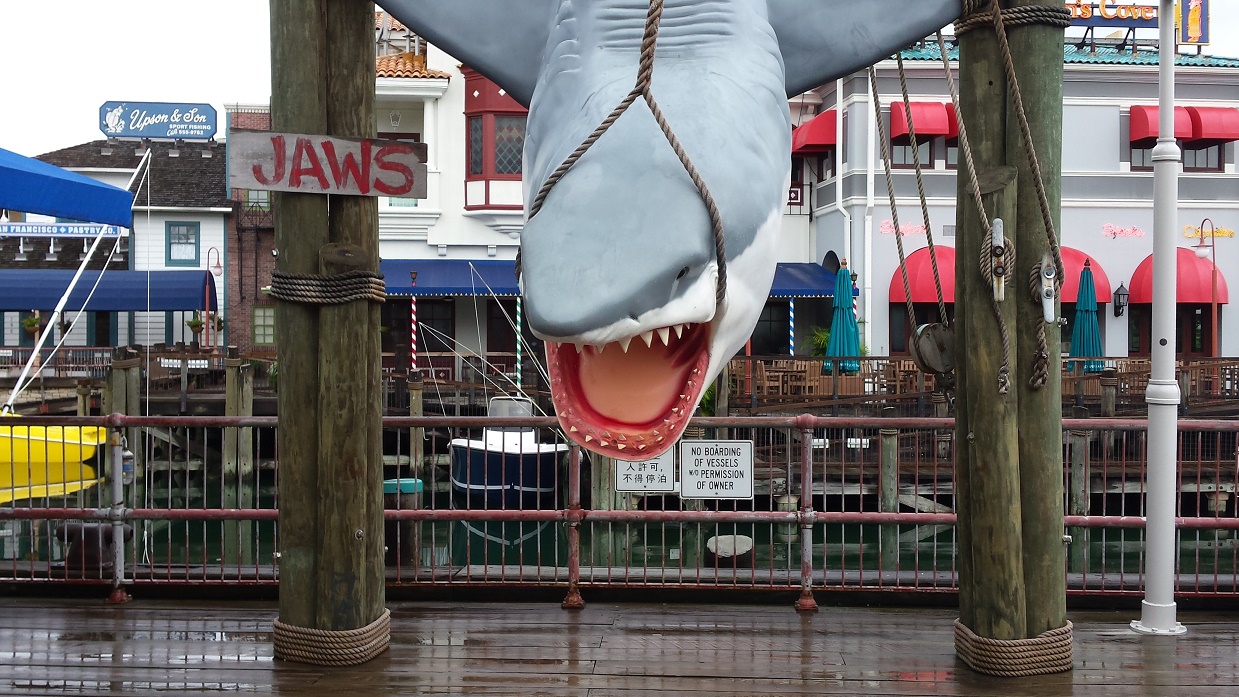 The good news, for those who are more into Jaws than Harry Potter, is that the brand new Diagon Alley is absolutely loaded with references to the Jaws Ride. I visited the park last September and spotted a handful of tributes, including shrunken heads that sing "Show Me the Way to Go Home" and a record on display in a shop window from the faux band 'The Quint Trio.'
Coolest of all, an open-mouthed shark that used to be at the entrance of the Jaws Ride can still be found hanging around in the park, now located in the San Francisco-inspired area. So if you ever find yourself inside the magical walls of Universal Orlando, be sure to pay Bruce a visit, and don't forget to pose for a photo. With a little imagination, you just might feel as if the ride still lives on.
From 1990 through 2011, the Jaws Ride was somewhat of a rite of passage for horror fans, the sort of experience that was at the tippy top of so many bucket lists. I'm incredibly happy to say that I crossed that goal off my list just about a decade ago, and riding on the Jaws Ride with my dad is one of those life experiences that will forever be stored in my mental bank of happy memories.
For those who never experienced the ride, it was essentially a boat tour that took you through Amity Harbor, where a hungry shark was of course waiting for fresh meat. At several points, the mechanical shark would leap out of the water and attack the boat, making you feel like you were actually inside of the movie. And yes, it was every bit as magical and terrifying as it sounds.
Though the Jaws Ride may be forever gone, that doesn't mean it's forgotten – nor, thanks to the power of the internet, does it mean that you can't ever experience it again. Below you'll find a complete POV trip through the attraction, filmed on its final day of operation, which you can enjoy from the comfort of your computer chair. We thank the folks over at iThemePark for preserving this nostalgic bit of horror history!
It's likely that the Jaws Ride will never return to Universal Orlando, but it's worth noting that Universal's park in Japan features an almost exact recreation of the attraction, which was launched back in 2001. I wouldn't be surprised if I never in my life make it out to Universal Japan, but I nevertheless take a whole lot of comfort in knowing that the shark is still working, and will (hopefully) be scaring thrill seekers for many years to come.
If you ever visited Universal Orlando while the Jaws Ride was in operation, we'd love to hear about your experience. So drop those happy memories in the comments section below!
Support Halloween Love
If an item was discussed in this article that you intend on buying or renting, you can help support Halloween Love and its writers by purchasing through our links:
(Not seeing any relevant products? Start your search on Amazon through us.)