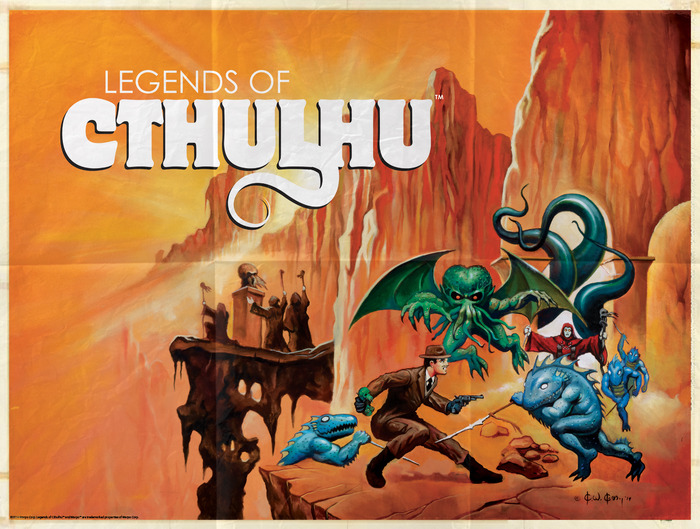 Cthulhu is one of the oldest of all the iconic horror monsters, which is pretty impressive considering the fact that he's still to this day one of the most relevant and enduring fictional creatures of them all.
Originally birthed onto the pages of a 1928 issue of Weird Tales Magazine, Cthulhu was the creation of renowned horror author H.P. Lovecraft, whose works inspired films like Re-Animator, From Beyond and one of my personal favorites, Full Moon's Castle Freak.
Originally introduced in the short story The Call of Cthulhu, and described by his creator as being "A monster of vaguely anthropoid outline, but with an octopus-like head," Cthulhu is an evil entity that resides in the fictional underwater city of R'lyeh. The character was featured in several subsequent Lovecraft stories, and the overall mythos of that original tale has been explored and mined in several films and video games, throughout the years.
In recent times, Cthulhu has become a bonafide pop culture icon, his likeness being used for all sorts of fun products, including Christmas ornaments, beanies, plush dolls, slippers and mints. Yes, there are even Cthulhu mints. If that's not a sign that you've made it in the world of popular culture, then I'm not sure what is!
Now, with your help, Cthulhu and friends are headed to the toy shelf, courtesy of one of the coolest Kickstarter campaigns I've ever seen. And when I say cool, I mean R'lyeh, R'lyeh cool.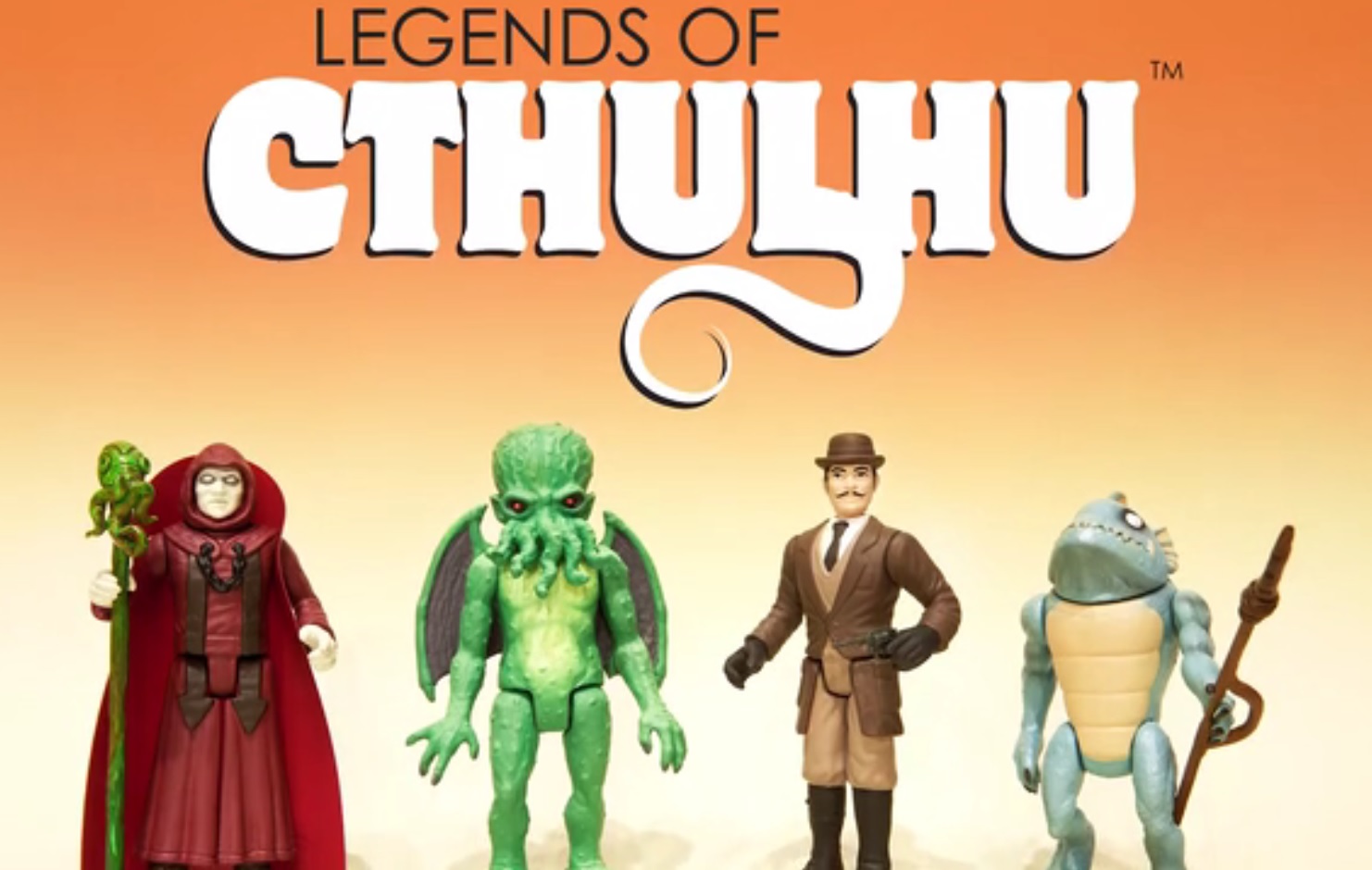 The brain-child of the brand spankin' new retro-inspired toy company Warpo, Legends of Cthulhu is set to be a line of 3.75″ collectible action figures made to look like they were plucked straight out of the 1970s. Think Kenner's Star Wars figure… only Cthulhu-themed.
If funded, Legends of Cthulhu will become the very first line of toys from Warpo, which is run by three dudes who have been heavily inspired by Lovecraft's work – just as so many of the filmmakers we love have been and continue to be. As they describe on the campaign page, the line is their interpretation of what a major toy company would have done with Lovecraft's characters back in the 70s, and how a creative team of the period would have translated H.P. Lovecraft's stories into a mass-market children's toy property.
The first series of the planned line will include four highly articulated action figures, based on popular characters from the world of H.P. Lovecraft. First up we've got the Spawn of Cthulhu, which comes equipped with snap-on wings and a Necronomicon accessory – yep, Lovecraft's stories were a large source of inspiration for The Evil Dead. Like all of the figures, Cthulhu features a swivel head and jointed arms & legs.
Also included in the original line-up will be The Cultist, a member of the Cult of Cthulhu, The Deep One, an immortal undersea creature, and The Professor, whose journey brings him to the very edge of madness. Like Cthulhu, all three of the other figures come with accessories, including a staff, ceremonial mask, spear and Cthulhu idol.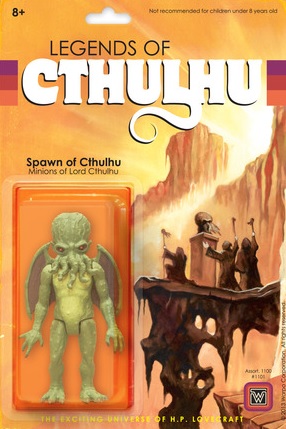 Not only were the figures sculpted by legendary toymaker Eddy Mosqueda, who sculpted many of the Ninja Turtles and Masters of the Universe toys of the 80s, but so too are they going to be housed inside of period-authentic packaging, featuring hand-drawn art by Ken Kelly. Kelly has worked on the packaging for many 70s and 80s toy lines, including Micronauts, Dungeons and Dragons and Manglor.
The guys need $60,000 in order to mass produce the Legends of Cthulhu line, which they've already sunk a whole lot of their own money into. With 28 days left to go at the time of writing this, 422 people have already backed the campaign, donating an impressive $42,000 to the cause.
Perks for joining them include pre-orders of the toys, retro-inspired t-shirts, a coloring book and even a VHS tape, which will include a vintage-style commercial for the figures. There are also various stretch goals available, should the fund exceed its desired amount.
Head over to Kickstarter to donate to the fund, and learn more about this awesome toy line. While there, you can also check out the aforementioned commercial, which shows just how dedicated Warpo is to making yesterday's toys for today's collectors!
Support Halloween Love
If an item was discussed in this article that you intend on buying or renting, you can help support Halloween Love and its writers by purchasing through our links:
(Not seeing any relevant products? Start your search on Amazon through us.)