As you can see by our always-running countdown up above, we are currently a mere 86 days away from Halloween 2014, which means it's getting to be that time where Halloween shops start popping up in our hometowns, and normally boring stores become a whole lot more exciting.
In fact, just this past weekend I already saw a Spirit Halloween being set up in my area, and noticed that several local shops have begun putting out this year's Halloween treats.
Yes, we are fast approaching the greatest time of the year, and though I'm already lamenting the loss of things like weekend bike rides and the ice cream man, there are simply no months on the calendar that I enjoy more than September and October.
From the brisk weather to the pumpkin beer, haunted houses to PUMPKIN BEER!!!, Halloween season is pure bliss for a guy like me, and it quite frankly can't get here soon enough.
As we begin to count down the days, many companies have started teasing and revealing their new costumes and products for the 2014 Halloween season, and here on Halloween Love we're going to shine the spotlight on several of those companies, in the weeks to come.
We kick the Halloween fun off with a look inside the pages of the Rubie's Costume Company's 2014 catalog, which is brimming with new additions that are sure to put a smile on your face.
Founded way back in 1950, Rubie's is perhaps the leading costume company in the country, and there are very few popular pop culture licenses that they haven't scooped up over the years.
Without further adieu, let's take a look at five of my favorite new items Rubie's is offering up this year, all of which you should be able to find in local Halloween shops real soon!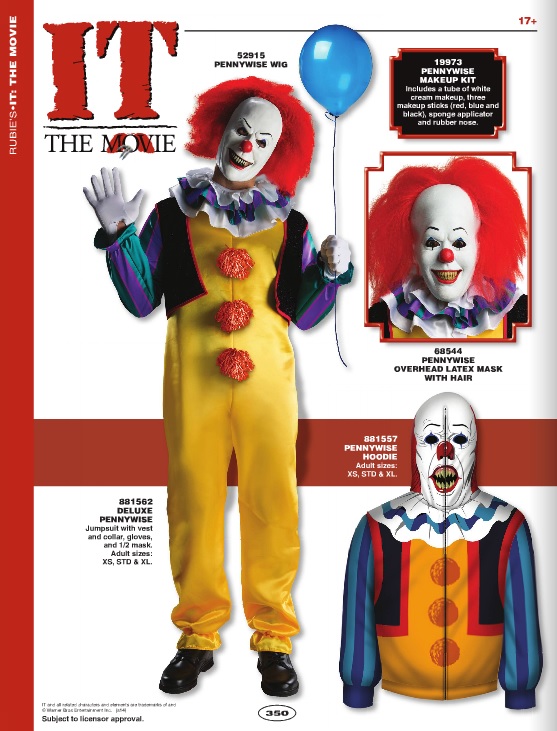 1) Despite being a fan-favorite film, it wasn't until recently that Stephen King's IT really started to spawn merchandise, which began when toy company Funko released a vinyl figure of Pennywise. Happy to see that Rubie's has gotten in on the fun and acquired the license this year, and they're releasing a deluxe costume, mask, makeup kit, wig and even a Pennywise zip-up hoodie.
In other words, if you're looking to be Pennywise this year, there are several different ways you can accomplish that goal, depending on the level of effort you want to put in. Worth noting that the mask that comes with the costume is a 'half-mask,' while the one offered up on its own is a more quality overhead latex affair.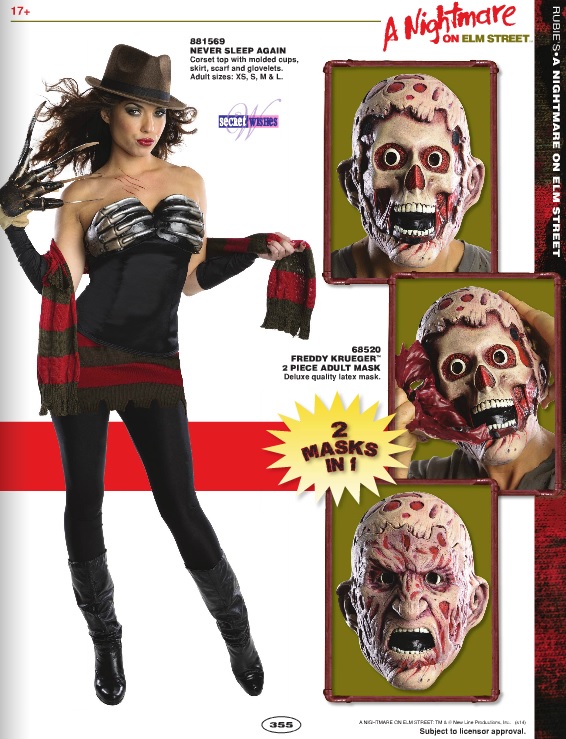 2) Over the years, countless different Freddy Krueger masks have been released by countless different companies, many of them coming courtesy of Rubie's. This year's brand new offering is no doubt one of the coolest we've yet seen, featuring a peel-off face that allows you to recreate the scene from A Nightmare on Elm Street where Freddy, well, peels off his fucking face.
Brilliant idea by Rubie's, and an awesome way to pay tribute to the original film's 30th anniversary. The 'Never Sleep Again' corset, which is another new release for 2014, is also pretty damn cool. Hm, I wonder if I can convince my wife to wear that in the bedroom…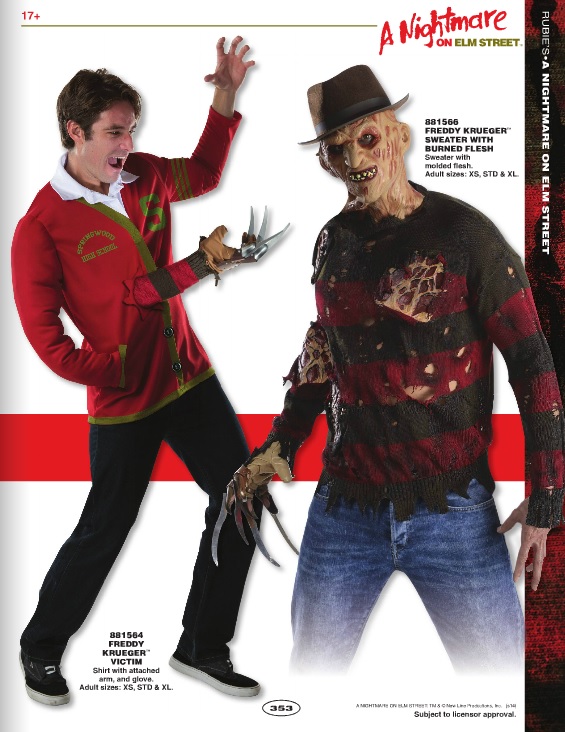 3) Two other new additions to the Rubie's Elm Street line are a deluxe, battle-damaged sweater with molded 'flesh' affixed to the underside, as well as a Springwood High School shirt with Freddy's glove tearing out from it – for those who'd rather be a Freddy victim than Freddy himself. The latter could easily be turned into a pretty cool Jesse Walsh costume, and you'd earn my eternal respect if you dressed as him for Halloween.
Oh, and if you wear jeans with that sweater, like the dude in the promo photo, you'll lose my eternal respect. Just saying.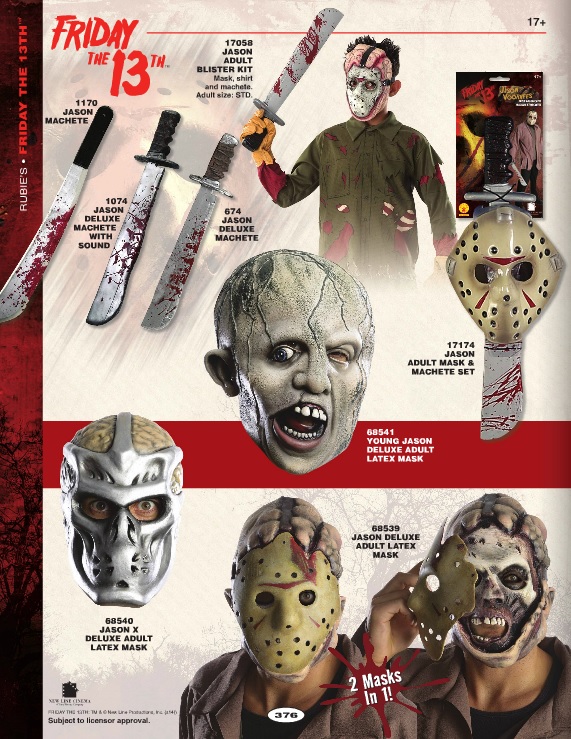 4) Jason Voorhees is also getting all sorts of new Halloween products from Rubie's this year, including his own 2-in-1 mask and even a latex replica of the metallic uber-Jason mask the big guy rocked in Jason X. But the coolest of all the new Friday the 13th offerings is no doubt the 'Young Jason' mask, which is to my knowledge the very first officially licensed mask of the original film's Jason to ever hit the market.
In fact, it's cool enough to make me look past the fact that the 2-in-1 mask was wasted on Voorhees' look in Jason Goes to Hell, which I've always hated. Would be much cooler if it was based on one of the earlier sequels, like Part 3 or Final Chapter. That said, Rubie's does also have a two-piece New Blood mask, which includes an overhead latex mask and a removable PVC hockey mask.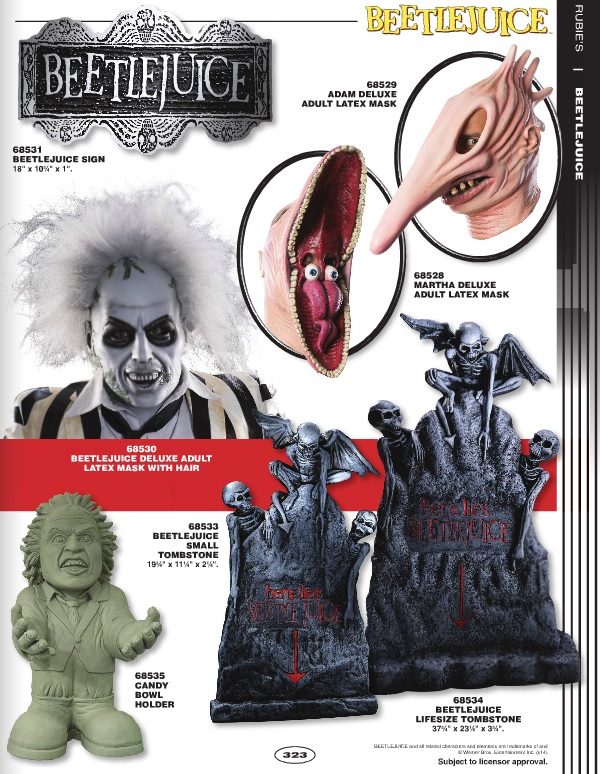 5) And finally, we have a handful of brand spankin' new Beetlejuice costumes, masks and decorations, the most exciting of which are the first ever masks of Adam and Barbara Maitland (not Martha, as it's incorrectly listed in the catalog). I've seen a few fans create some pretty awesome homemade masks of those two memorable characters, and it's great to see that Rubie's is now giving less crafty fans the chance to be them.
The tombstones and candy bowl holder seen on this page are also new for 2014, though the latter looks to be an unpainted prototype. Definitely going to be picking up that life-size tombstone, if the price is right.
Head over to the Rubie's website to see the full 2014 catalog, as there are many more exciting surprises inside its pages!
Support Halloween Love
If an item was discussed in this article that you intend on buying or renting, you can help support Halloween Love and its writers by purchasing through our links:
(Not seeing any relevant products? Start your search on Amazon through us.)