Welcome to the concluding part of my look back at 'The Horror Collection' a short lived magazine published by Eaglemoss during 2007.
The first part of this trip down memory lane can be found here and gives an insight into how 'Partwork' magazines such as these have been a constant presence in British newsagents for many years and it also looked at the first issue that was released.
Issue 2 arrived a fortnight later and had risen to a fixed retail price of £6.99 … The Texas Chainsaw Massacre got its turn in the spotlight and the free lead figurine was (Of course) Leatherface, chainsaw raised and wearing his 'Pretty Woman' mask. The figure was surprisingly big (4 inches +) and like Freddy from the first issue it was very well sculpted and individually hand painted to a high standard.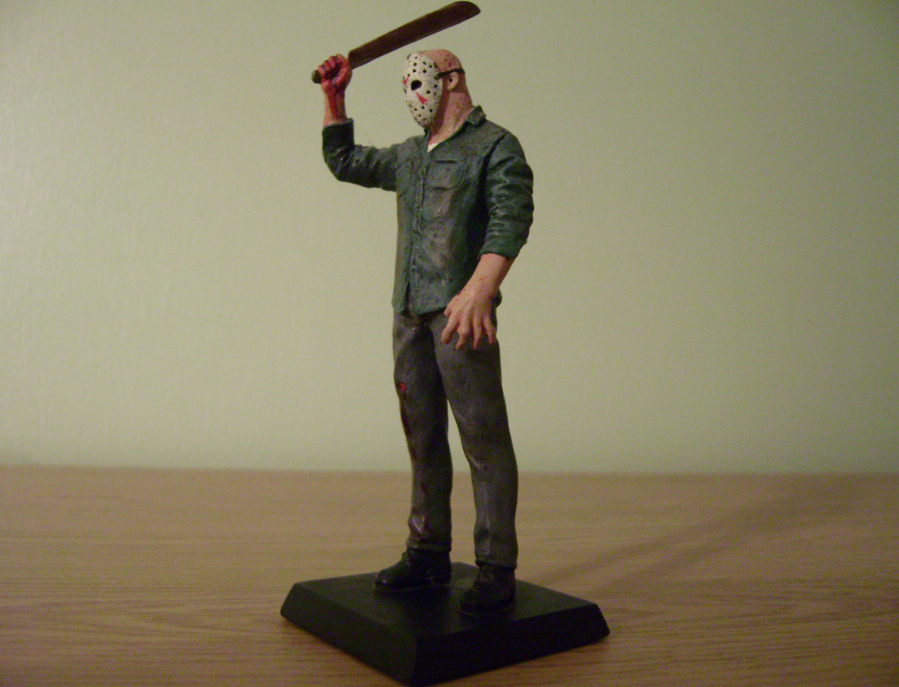 Issue 3 was the highlight of the series for me … After Freddy and Leatherface they naturally decided to feature Jason and his look from Friday The 13th Part 3 was chosen. The figurine was perfection, everything from his mask to his body shape and thick neck were spot on with a detailed and intricate paint job. The magazine included a fascinating look at the use of early 3D effects and as always was packed with fantastic photos and articles … 'The Horror Collection' had hit its stride and three issues in things were looking good.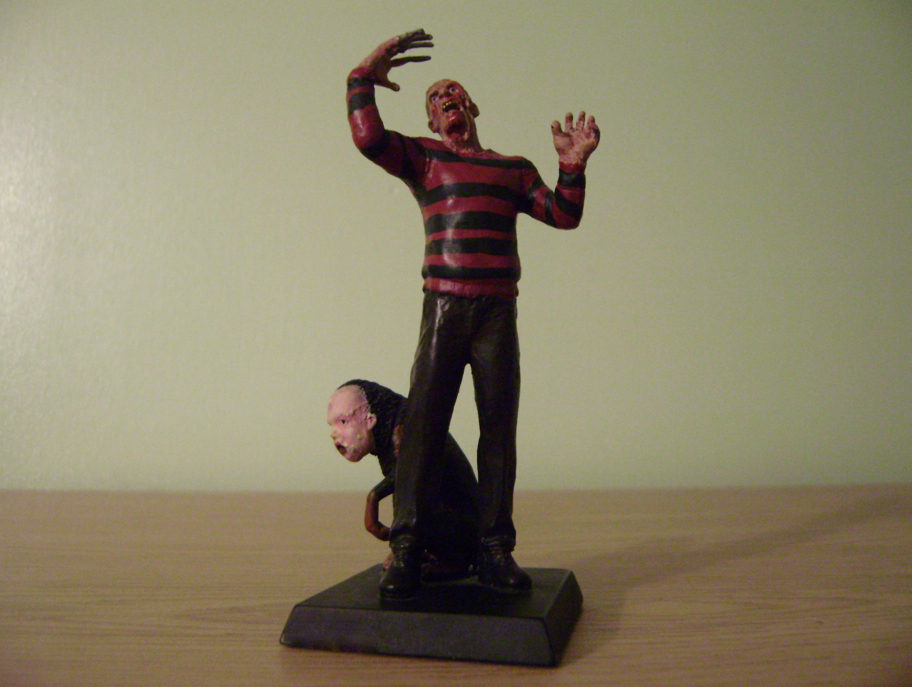 Issue 4 went back to Freddy and A Nightmare On Elm Street 2 : Freddy's Revenge. The magazine seemed to be struggling slightly to fill its 20 pages this week summed up by a 3 page article at the back dedicated to comedy and different types of comedy (Slapstick, irony, camp!). Presumably this was included because the Nightmare movies were slowly moving in that direction with Freddy becoming more of a showman and character. The figure was again excellent, and described in the magazine as "Freddy Melt Down, the clawed killer's blistered and agonising demise, guard dog at his side" …
Issue 5 is where things started getting questionable for me … Large parts of the issue and the figure itself were based on a 'victim' not a main character/killer … In this case it was Debbie from A Nightmare On Elm Street 4 : The Dream Master. Now, to most of us that's VERY cool, and a good way to give the series longevity. Imagine building up a huge collection of figurines featuring the Horror icons and their victims from all the movies over the years, that would look seriously awesome on display. Sadly a magazine like this featuring hand painted lead figures with each issue is probably never going to survive when it's catering to the hardcore fans in such a specific way, especially here in the UK with a small population. There inevitably needs to be some 'passing trade', buyers who see it without prior knowledge and feel the urge to buy it. Eaglemoss didn't even try to help themselves by splashing Freddy across the cover of the magazine, Debbie was there too.
The figure itself is very nice, but FRAGILE … I've seen this in a few online auctions over the years and most have broken or missing Insect Arms.
It's at this point where my 'hands on' experience of the series comes to a grinding halt. I could personally not find any more issues in my local area but to be honest with work and family I can't say I truly searched hard. In the years since I have done a little research online and one thing is for sure … Two more issues were planned and possibly produced they were a stunning looking Zombie Jason from Friday The 13th Part 7 : The New Blood and Marcie with an axe in the face from the original Friday The 13th.
Some people claim to have owned them but it is my belief that they were never actually released. Below is a picture that includes the two 'missing' figurines but it looks like a production / promotional image to me. I've never seen a picture of them sitting on someones kitchen table or in an online auction … at least not yet.
So just a few short weeks after 'The Horror Collection' had arrived it was gone. Rumours floating around the net suggest it ran into some copyright or licensing problems but in my experience when a publication stops dead it's probably down to sales, or lack of them. The subject matter was always going to be a hard sell on the high street to Joe Public and having to keep it hidden on upper shelves away from the kids would only have added to the problems of getting it noticed.
In my opinion it was good, damn good. You could flick through the magazines in less than 20 minutes but the figures were worth the price of admission on their own. I would thoroughly recommend picking them up if you ever feel the urge to, they don't show up on auction sites very often but when they do they tend to sell for anything between $15-$50 per issue … Not cheap but a unique addition to any horror collection.
Support Halloween Love
If an item was discussed in this article that you intend on buying or renting, you can help support Halloween Love and its writers by purchasing through our links:
(Not seeing any relevant products? Start your search on Amazon through us.)