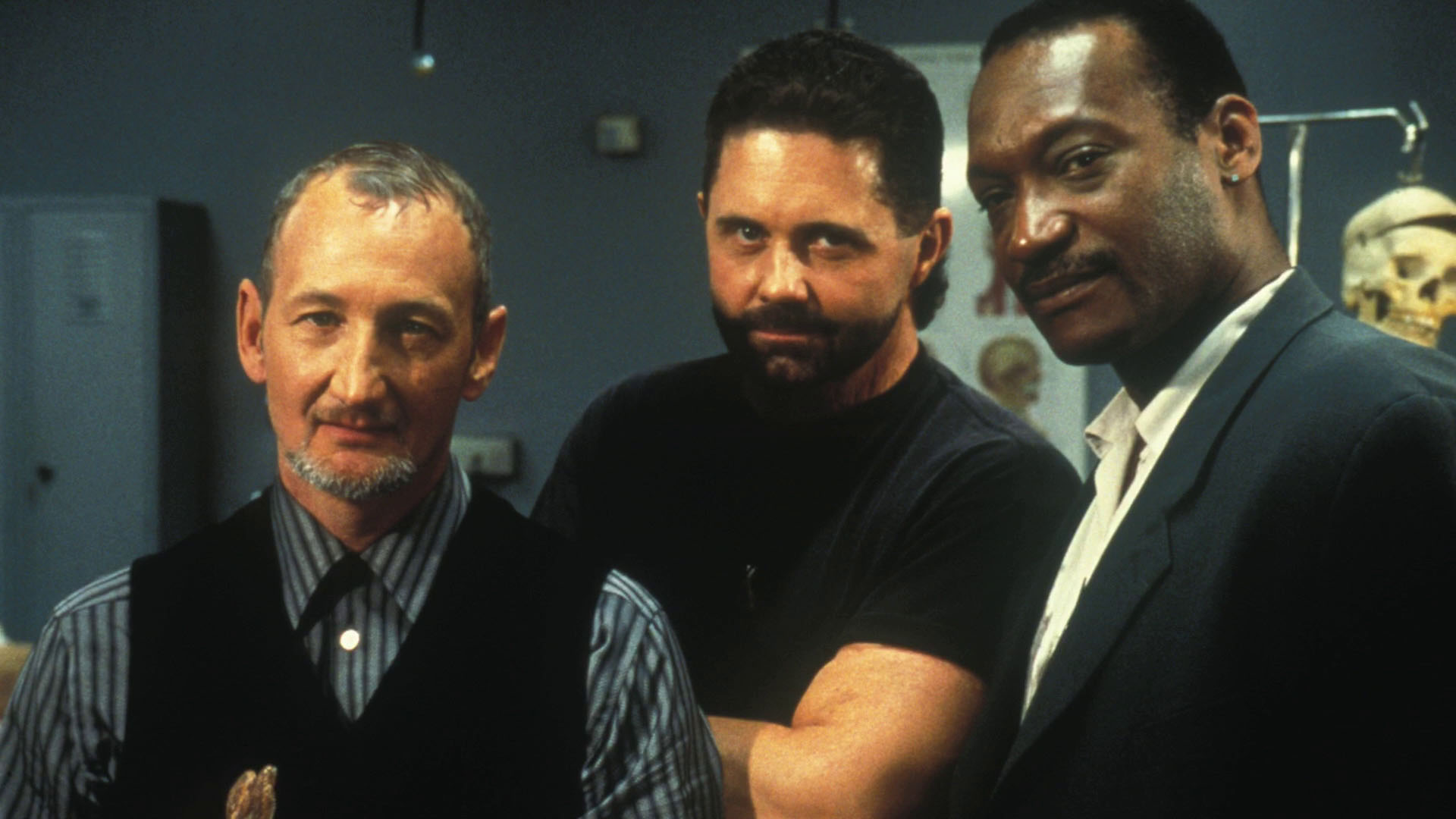 If ever there were a movie that you can call capital "H" Horror, it's definitely when it's directed by a special effects guy and hardcore horror fan. Robert Kurtzman (the "K" from KNB), directed Wishmaster with a lot of love back in '97.
Being a horror fan, I of course always loved the movie because of all the great horror cameos alone: Robert Englund (Freddy), Kane Hodder (Jason), Tony Todd (Candyman), Angus Scrimm (The Tall Man), and Ted Raimi, but having just gone back and given the new Blu-ray a fresh view, I have to say, I've found an even deeper appreciation for the amazing effects work and attention to detail and craftsmanship, especially the costumes:
I love the statue costumes. Amazing.
The main villain of the movie, the Djinn (or evil genie — played wonderfully by Andrew Divoff), had such an incredible creature and costume designed for it. It's such a shame that the make-up work and costuming in the sequels strayed. The character went from this majestic, almost Star Wars like character, to something more like a Power Rangers monster.
It's the same thing that happened when they re-did the turtle costumes after TMNT II. It's so important to get the look right, or it takes you straight out of the experience. It's also the same thing when a character is replaced by a different actor in a sequel. It "breaks the universe" so to speak and has you thinking about the technical side of a movie instead of being in the story.
The story of Wishmaster itself, certainly is a tale as old as storytelling itself. The "Be careful what you wish for." motif or parable has been told as early as "The Monkey's Paw," Grimm's Fairy Tales, and probably earlier and was certainly a reoccurring theme in a lot of anthologies like The Twilight Zone. It's a very fun, high concept and the perfect foundation for a horror movie, because anything the imagination can conceive of, can happen. With that in mind, it gave Kurtzman and his crew license to fill this movie up with as many blood, gore, and monster gags as they could fit into an hour and a half movie.
Special Features
This new Vestron series is quickly becoming very reliable for delivering the goods.
Audio Commentaries:
Director Robert Kurtzman and screenwriter Peter Atkins
Director Robert Kurtzman and stars Andrew Divoff and Tammy Lauren
Isolated Score Selections/Audio Interview with composer Harry Manfredini
Featurettes
"Out of the Bottle" – Interviews with director Robert Kurtzman and co-producer David Tripet
"The Magic Words" – An Interview with screenwriter Peter Atkins
"The Djinn and Alexandra" – Interviews with stars Andrew Divoff and Tammy Lauren
"Captured Visions" – An Interview with director of photography Jacques Haitkin
"Wish List" – Interviews with actors Kane Hodder and Ted Raimi
Vintage Featurette: "Making of Wishmaster"
Trailers, Spots, Galleries: Teaser & Theatrical Trailers, TV & Radio Spots, Storyboard & Still Galleries
Behind-the-Scenes Footage Compilation
The Sequels
This is actually a box-set that contains the three Wishmaster sequels as well. If you follow my posts, you'll have no doubt noticed that I really never write negative reviews for movies. This isn't because I just love everything; it's not because I have a magic power for avoiding movies that I won't like; it's not because I'm paid to say only positive things about movies.
It's because I'm not a professional reviewer; no one pays me to write reviews for movies, whether I like them or not. And, besides simply not being very inspired to write something about something unless I like that something, I think that, within reason, if you don't have anything nice to say, don't say anything at all, is a pretty solid standard to follow.
With that said, I will say, as a completist, I did watch the three sequels (I never saw them when they originally released). I enjoyed some aspects of them, but I couldn't directly recommend them to anyone. But, because the price is low enough, I can recommend picking up a copy for the first movie and its special features alone.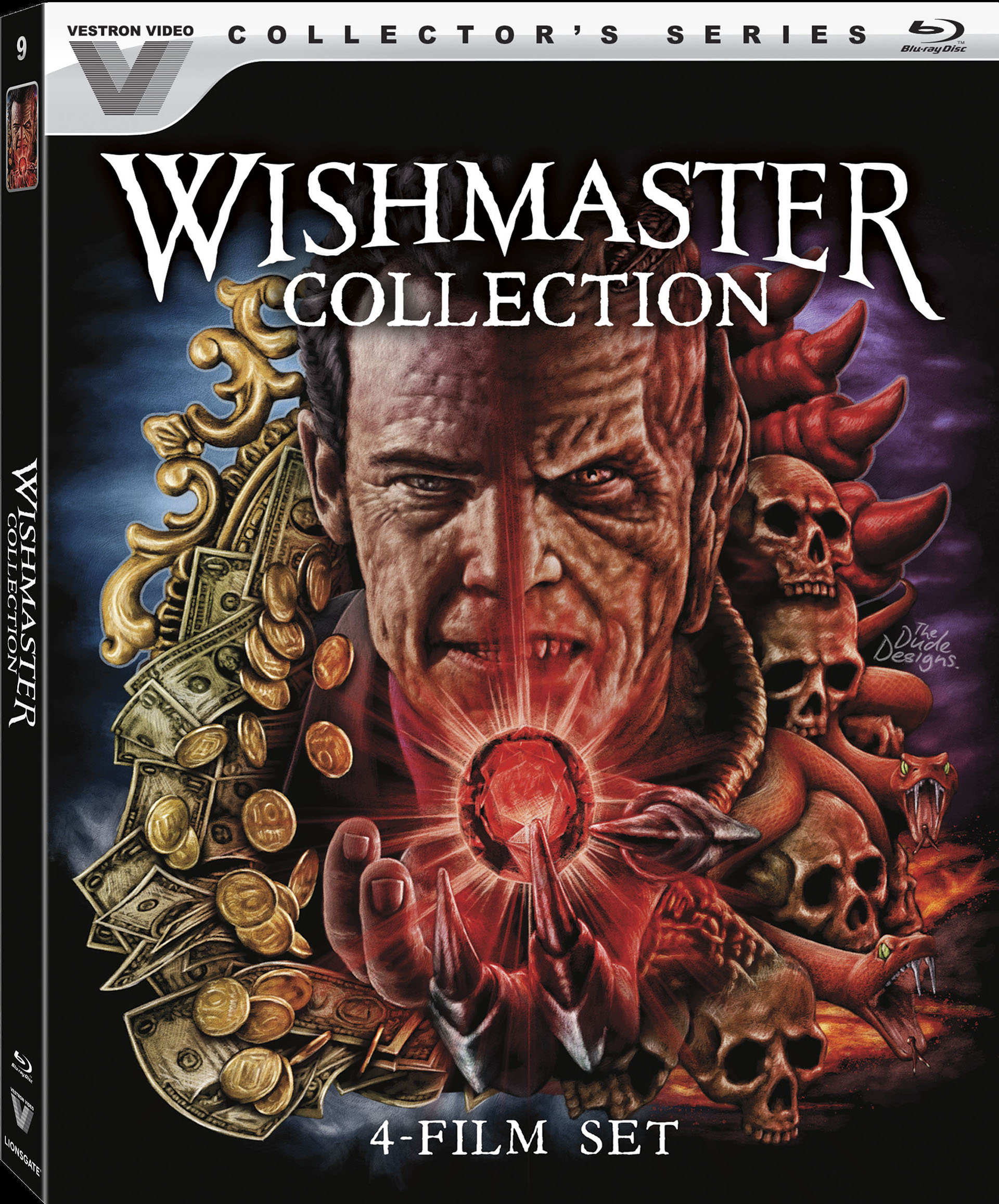 Support Halloween Love
If an item was discussed in this article that you intend on buying or renting, you can help support Halloween Love and its writers by purchasing through our links:
(Not seeing any relevant products? Start your search on Amazon through us.)