If there's one thing on this planet that every horror fan must experience before making the transition from functioning member of society to worm food, it's Universal Studios' annual Halloween Horror Nights extravaganza.
This is something that several horror fans have told me throughout the years, and it's something that I'm happy to say that I can now say for myself. Because I attended the 24th annual Halloween Horror Nights this past Thursday night, and it was pretty much life changing levels of awesome.
Beginning way back in 1991, Halloween Horror Nights is a complete month and a half-long takeover of Universal Studios, wherein all four of the parks across the globe convert from family-friendly to downright horrifying.
On select nights in September and October, the parks undergo the change, sunset converting them into what I can only describe as a horror fan's version of Heaven. Eight individual haunted houses pop up seemingly out of nowhere, and a handful of 'street experiences' ensure that there's nowhere safe to hide.
Like any self-respecting fan, Halloween Horror Nights has been on my bucket list for many years now, and October 2nd, 2014 was the day where I was finally able to cross it off. On that day, I experienced firsthand why HHN is considered the premiere horror event of the year, a world championship title of awesomeness that nothing deserves more than it does.
Armed with Express Passes, which I quickly learned are the ONLY way to experience the event, my wife and I headed into Universal Studios on Thursday night, the park looking a whole lot different than it did just one day prior. As fireworks escorted us through the pearly gates of Horror Heaven, sirens blared and informed us that this was the night of the annual Purge, where all crime -including murder – was 100% legal…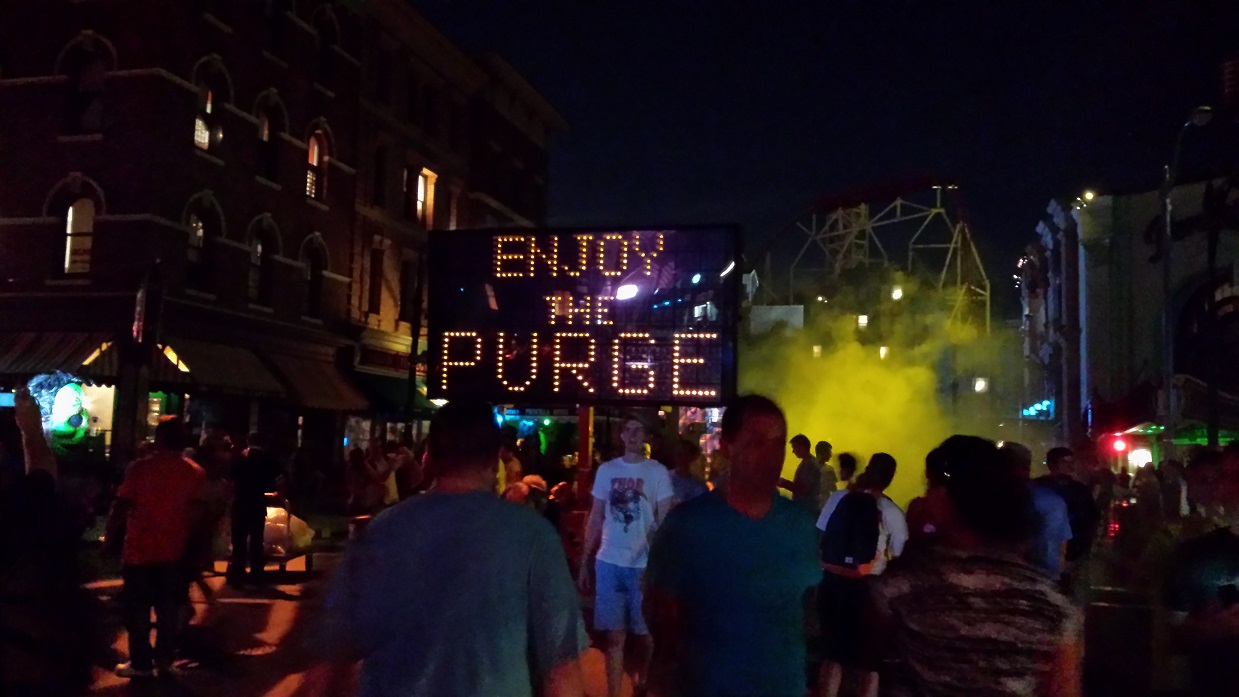 As we entered the park, we were greeted by dozens of weapon-wielding actors in familiar-looking masks, part of one of this year's aforementioned 'street experiences.' Themed after The Purge: Anarchy, the most impressive street experience of the year took over a large chunk of the park, where bodies were strewn in the streets and prowlers roamed free – both on foot and on motorcycles.
It was immediately clear that the bread and butter of Halloween Horror Nights is bringing popular horror movies to life, and literally putting fans inside of them, and The Purge's street experience did just that. If you suspended disbelief just a little bit, and really allowed yourself to get into it, it wasn't all that difficult to imagine what it'd actually be like to be stranded out on the streets on Purge night, which was a pretty cool feeling.
Other street experiences for 2014 included 'MASKerade: Unstitched' and the voodoo-themed 'Bayou of Blood.' Inspired by the Syfy show, 'Face Off: In the Flesh' rounded out the street experiences, wherein you could pose for pictures with some of the show's most memorable creature creations. The basic idea of the street experiences is to make the walk from house to house entertaining, and all of them are littered with costumed actors who are more than happy to make you poo your pants. Fun fun.
Of course, it's the actual houses that are the real joy of Halloween Horror Nights, and this year's lineup included five based on popular horror properties, while the other three were original haunts conjured up for the event; Giggles & Gore Inc., Dollhouse of the Damned (above) and Roanoke: Cannibal County.
As entertaining as the original houses were, bringing evil clowns, creepy adult-babies and hungry cannibals into the waking nightmares of park-goers, it was the licensed houses that I was most looking forward to, since I've never actually been to a haunted house based on an established property.
It's with these houses that Halloween Horror Nights really sets itself apart from all other Halloween attractions, so let's take a closer look at each of those five movie and TV-based experiences, ranked according to my personal thoughts on them. Unfortunately, I don't have many pictures to show off, as most of these houses had no exterior facades to capture. The haunts all take place indoors, where cameras aren't allowed, but I'll do my best to explain what I saw inside!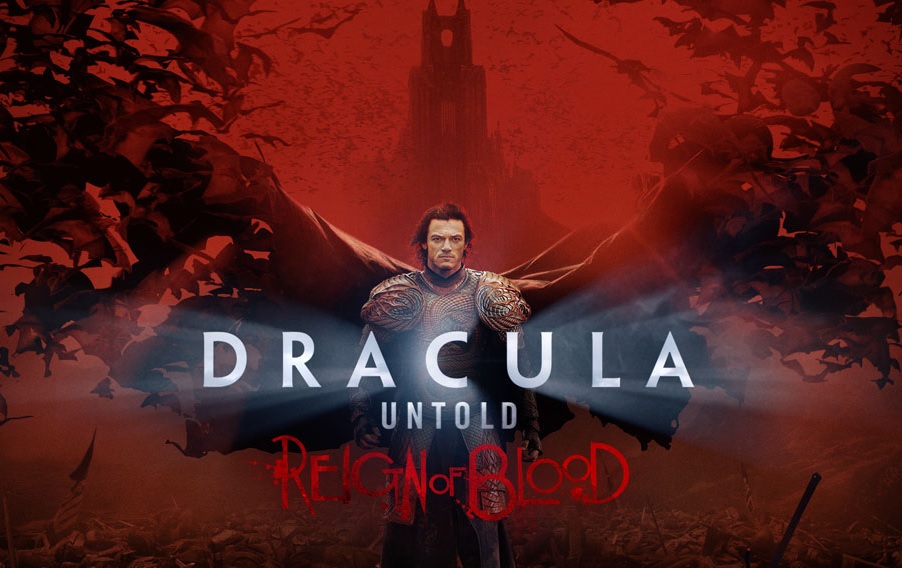 5) DRACULA UNTOLD – REIGN OF BLOOD
Out of the five houses I'm highlighting here, the one I was least looking forward to was this one, as Dracula Untold just doesn't look all that appealing to me. I'm not a big fan of this whole trend of turning Universal Monsters into action stars, though my hope was that the house would in some way make me a bit more interested in the movie.
As I feared, the Dracula Untold house was the weak point of the entire event, standing out like a sore thumb as the one house that I honestly wouldn't care to experience for a second time. Like all of the houses, the sets (including a Turkish camp and a burned village) were incredibly impressive to look at, but there just wasn't much to see here, and you even got the sense that the actors were bummed to be stuck in the park's lamest attraction.
The house has been referred to as a 'living trailer' for the upcoming film, and it managed to make me even less interested in the movie than the actual trailer did. It was just kind of boring to walk through, especially considering the other four houses were so entertaining. It's really the only 'thumbs down' of the event, for me.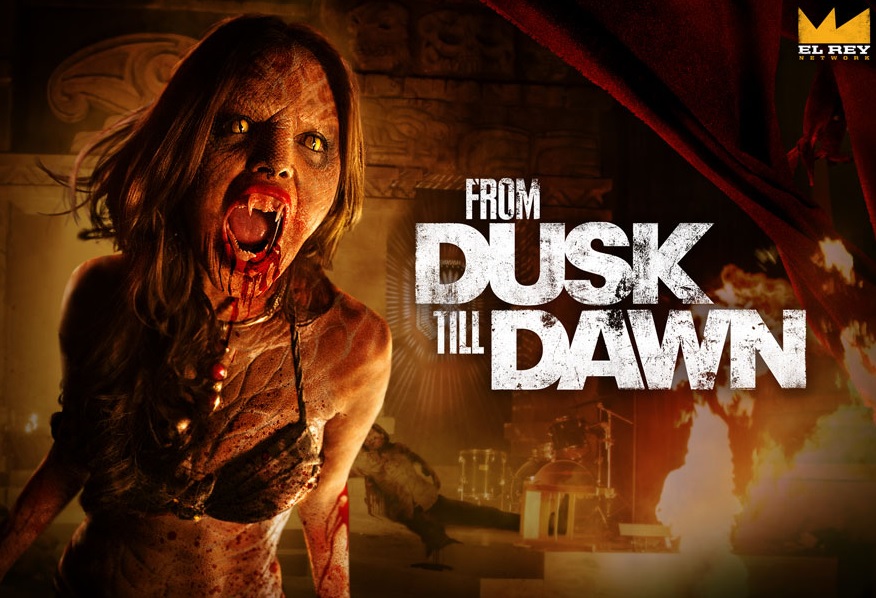 4) FROM DUSK TILL DAWN
If I was handing out awards to this year's Halloween Horror Nights houses, both the 'Sexiest' and 'Coolest' statues would go to From Dusk Till Dawn, which was inspired by the recent spin-off TV series – of which I only saw the first episode.
At the entrance to the attraction was a full-on recreation of the Titty Twister, though it's interesting to note that the word 'Titty' was removed from the sign out front (for obvious reasons). Escorting us into the building was an actor playing the role of Cheech Marin's character 'Chet Pussy' from the film, which really helped make you feel like you were about to enter horror's most iconic bar.
Inside, scantily clad vampires danced in brothel-style rooms while angry male vampires popped up to scare you while you were distracted by all the boobies. One particularly impressive set-piece saw Santanico Pandemonium dancing on the bar's main stage, and toward the end of the house brothers Richie and Seth Gecko popped up, escorting us to safety as they shot at vampires.
Like everything with the name Robert Rodriguez attached to it, the From Dusk Till Dawn house was just plain cool, as well as incredibly entertaining. It served as a reminder that I really need to finish the series, which I've been holding off on for way too long.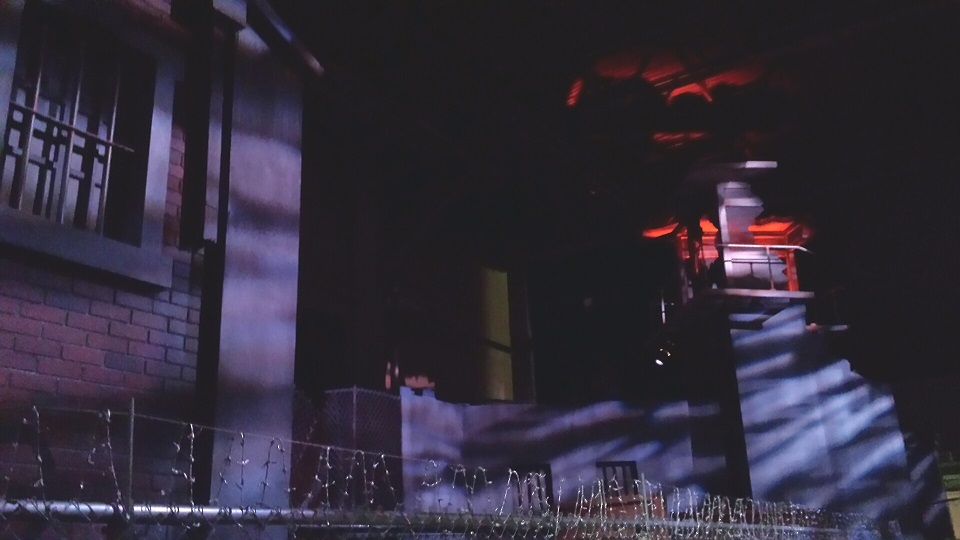 3) THE WALKING DEAD: END OF THE LINE
The main attraction at Halloween Horror Nights for the past few years has been The Walking Dead, and this year's was based on key moments from Season 4. Billed as the largest haunted house Universal Orlando has ever created, 'End of the Line' takes you from the prison to Terminus, hitting up a plethora of memorable locales on the way.
The Walking Dead's executive producer/makeup designer Greg Nicotero was involved in the creation of the massive house and it shows, as each room feels like it was ripped right off the set of the show. Like in the show, zombies are absolutely EVERYWHERE you look and turn, making it one of the more intense haunted house experiences I've taken part in.
One room was outfitted with mirrors and dozens of costumed actors, making it look like the entire room was filled with hundreds of walkers. A strobe light effect amped up the terror, and 'zombie growl' sound effects made the room a true nightmare for anyone with a fear of those undead gut-munchers.
Aside from the prison and Terminus, locations inside the house included the supermarket that zombies crashed through the roof of and that creepy ass tunnel where walkers were wedged between rocks. A truly impressive attraction, every step of the way.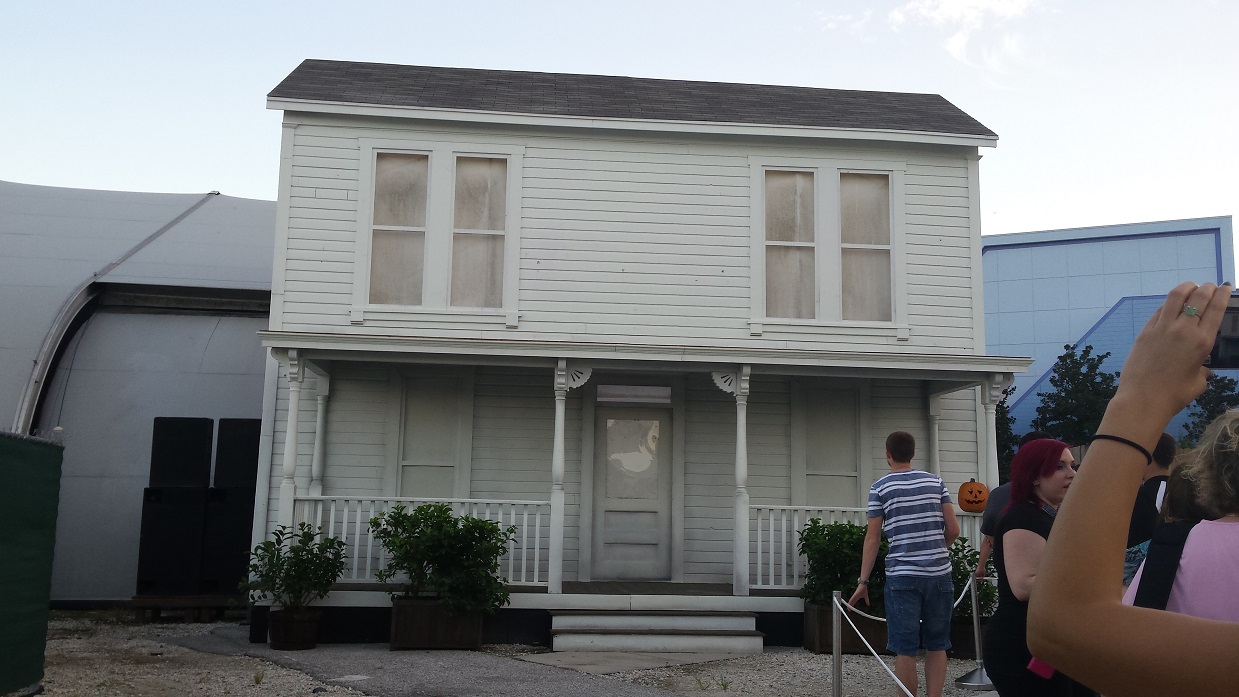 2) HALLOWEEN
The attraction I was most looking forward to was Halloween, which impressed right off the bat with a facade of the iconic Michael Myers house. The film's score blasting out of nearby speakers teased the awesomeness to come as we waited on line, and tents behind the impressive facade took us directly into one of the greatest horror films of all time.
Throughout the Myers house, every single noteworthy scene from John Carpenter's original film was brought to life, thanks to a blend of animatronics, props and actors. From a young Michael wielding a knife in a clown mask to an adult Michael attacking Laurie Strode on the couch, the house made you feel like you were watching Halloween play out right in front of you, while also being a participant in the action.
In one room Michael was pinning Bob to the wall with a knife, while in another Annie's dead body was sprawled out on a bed, Judith Myers' tombstone serving as the headboard. One room even had an entire car in it, with an actress inside portraying Annie in her final moments. Toward the end of the haunt, you were made to feel like you were in a closet, being attacked from the outside by Michael Myers, just as Laurie was in the movie.
As if I wasn't already won over by everything going on in the house, a couple of Halloween 3 trick or treaters even popped up at one point, wearing the pumpkin and witch masks from the unrelated sequel. A really awesome little easter egg, which goes to show how far that movie has come in recent years, in regards to public acceptance.
The Myers house was the only attraction that we went through twice, and it was just as awesome the second time around.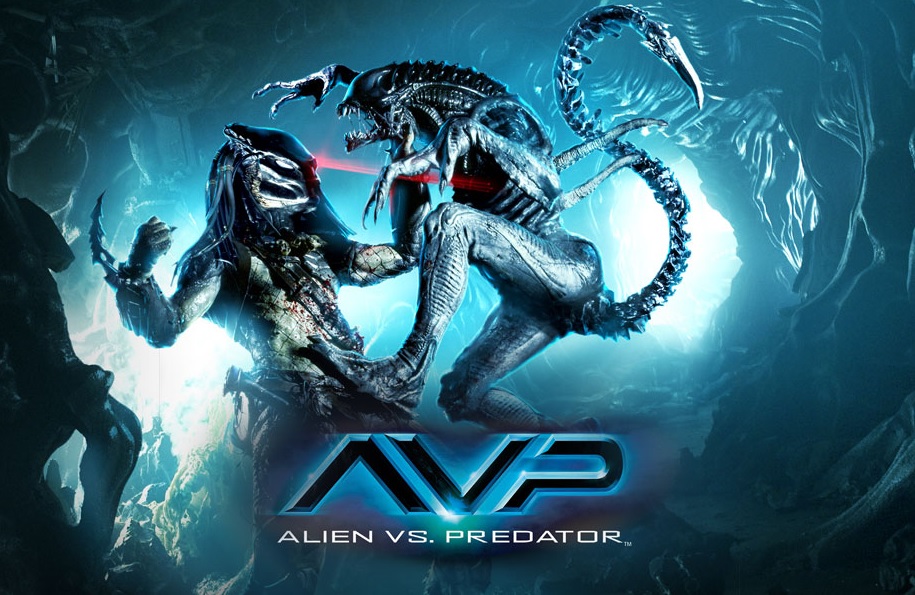 1) ALIEN VS. PREDATOR
Truth be told, it's kind of impossible to choose a favorite between the Halloween and AVP houses, as it's pretty much a tie between the two. The only reason I'm choosing the latter over the former is because it was the one that most made me feel like I was on the set of the movie, which is the feeling that I was craving, on my first trip to Universal for Halloween Horror Nights.
From the sets to the life-sized animatronic Xenomorphs and costumed Predators, the AVP house was the most impressive thing I saw at HHN, bringing the film to life in a way that no other house quite managed to. And it wasn't just Alien vs. Predator that was recreated but also films from the individual franchises, as Colonial Marines wandered the premises and Ash's decapitated body was at one point on display.
I wouldn't be surprised if some of the sets used for the house were taken from the actual Alien films, because movie-quality doesn't even begin to describe every tiny little detail in the attraction – which includes monitors at the entrance that show you and your group in Predator-style heat vision. Needless to say, I wanted to move in.
The coolest part of the house was at the end, where you're forced to duck down and crawl through a tight-space, at the insistence of a Colonial Marine. As you crawl through the tunnel, Xenomorphs reach out at you from both sides, ending the haunt on a terrifying note. Definitely the most unique aspect of any of the houses, which I applaud it for.
Halloween Horror Nights truly is the ultimate haunted house experience, and I cannot implore you enough to pay a little extra for an Express Pass, when you get around to crossing it off your bucket list. In fact, so important is doing so that I'd recommend you don't even bother going if you don't want to pay the extra money for it, because waiting on line for an hour+ to get into each house is just no way to get the most out of the event.
Trust me, you'll thank me for that advice when you're walking past hundreds of people, and getting into each house with very minimal waiting time. If you're going to do it, you might as well do it right. And there's nothing right about spending the majority of your time at Halloween Horror Nights on a line. It doesn't even cost all that much extra to get the Fast Pass, so there's really no excuse not to.
Everything about Halloween Horror Nights is so well worth the price, as well as the cost of travel. When you think about it, it's eight haunted houses rolled into one, each one working out to be considerably less than the ones that pop up in your area every Halloween season. And honestly, what's going on inside these houses cannot even be compared to most haunted houses, as they're both more visually impressive and much longer than the ones you'll find anywhere else.
Halloween Horror Nights is the cream of the crop when it comes to Halloween attractions, and you'd quite frankly be doing yourself a disservice by not experiencing it at least once in your lifetime. Hell, you'd be doing yourself a disservice by not making it an annual Halloween tradition.
It is THAT. DAMN. AWESOME.
Support Halloween Love
If an item was discussed in this article that you intend on buying or renting, you can help support Halloween Love and its writers by purchasing through our links:
(Not seeing any relevant products? Start your search on Amazon through us.)