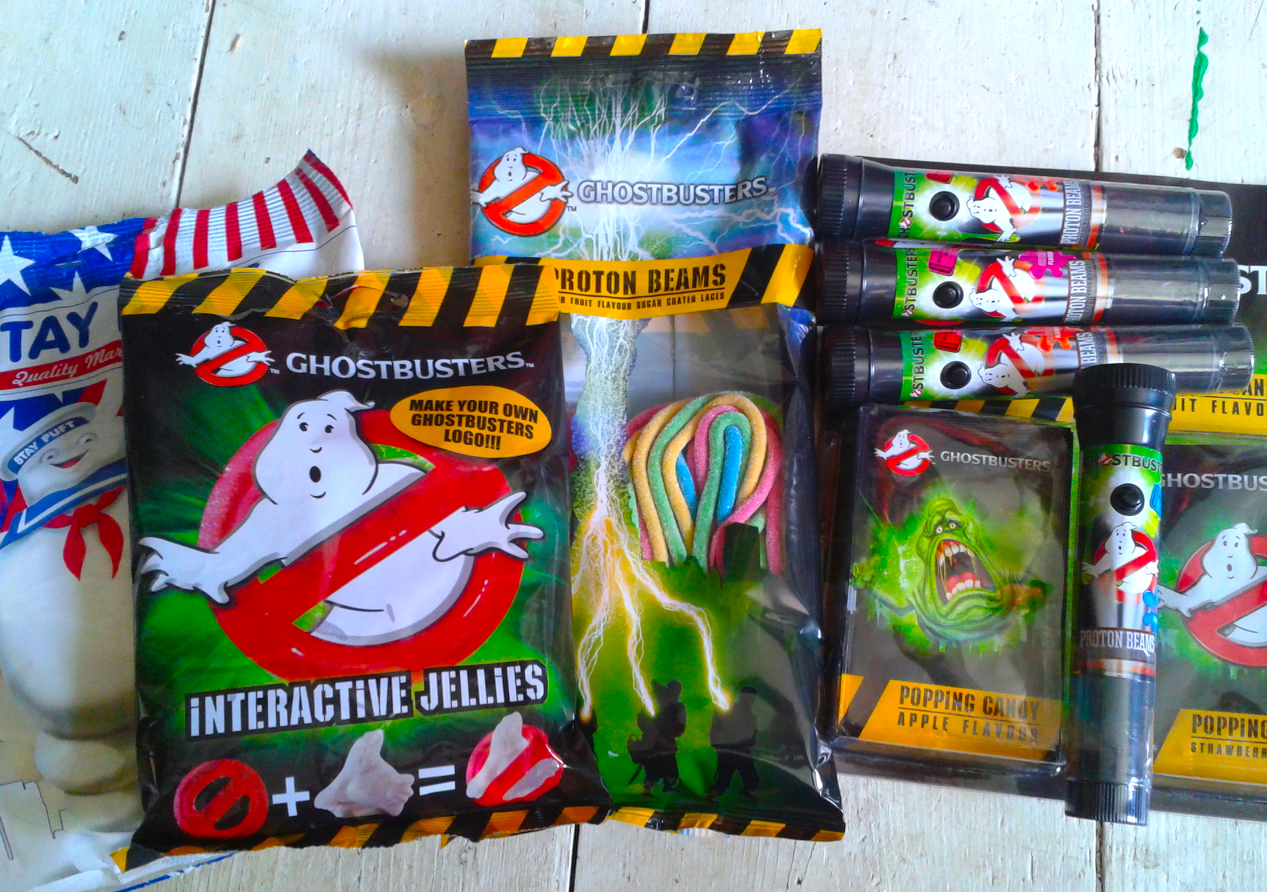 The population of Britain will probably never get to taste that elusive nectar they call ECTO COOLER … but the creative folks at World of Sweets are trying their best to cheer us up by releasing a TORRENT of official Ghostbusters candy and sweets!
If you were following the site last year you may have noticed I reviewed some of their GB products throughout October, which they released to make the most of the Halloween season. But that was NOTHING compared to what they've unleashed ahead of the new movie arriving on the big screen this week. Multiple tempting treats, with even more on the way apparently!
As always I felt it was my duty to sample these products and report my findings to YOU, our loyal readers. So I've spent today stuffing my face, because … someone had to!
Ghostbusters Fruit Flavor Popping Candy.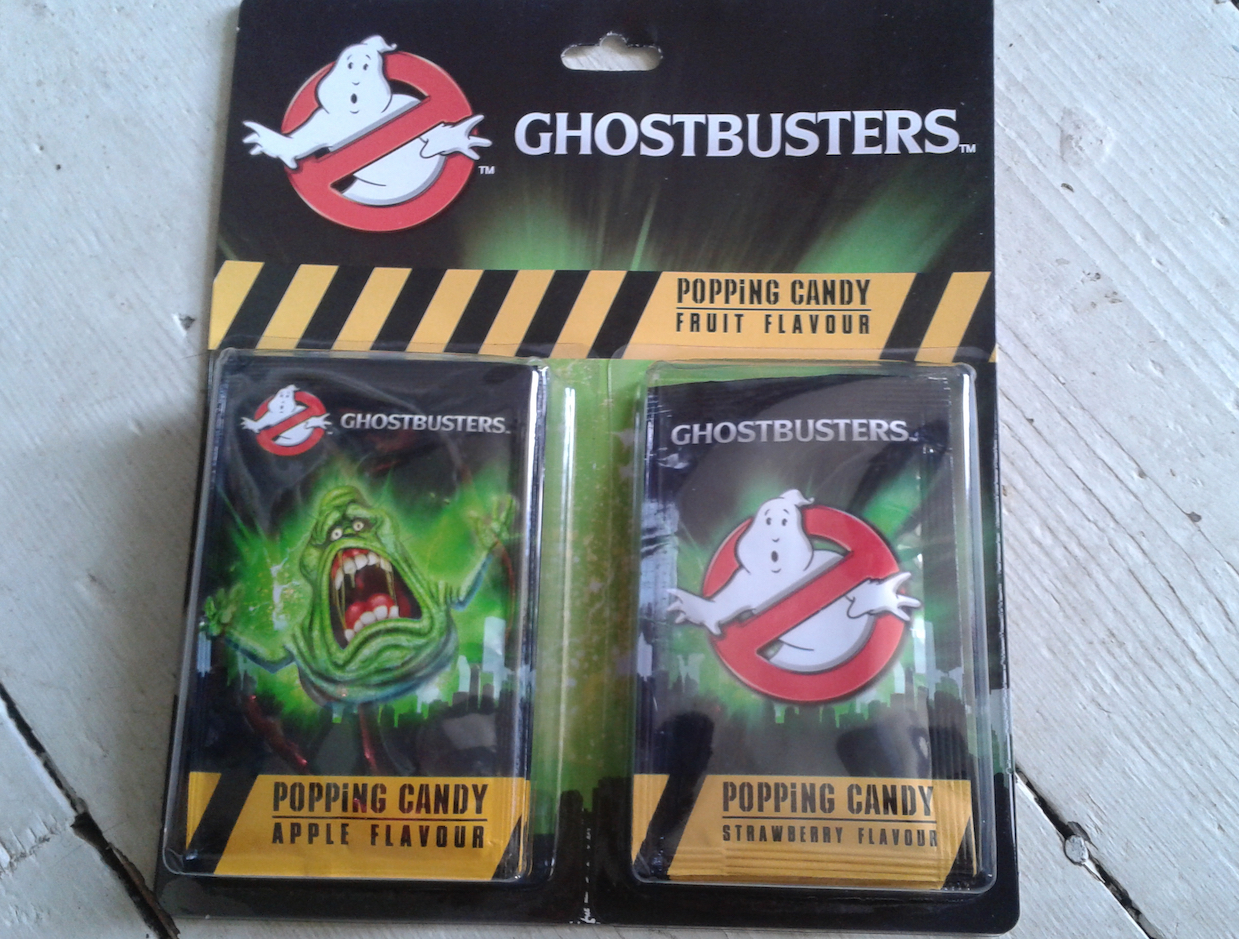 I briefly mentioned these last year, but they sold out VERY fast in my local store, so it's good to see them make a return. I'm not a huge fan of popping candy, never have been, but these actually taste pretty good, and the packaging is awesome! Far better than you would expect for a few small sachets of intensely colored sugar.
Stay Puft Quality Marshmallows.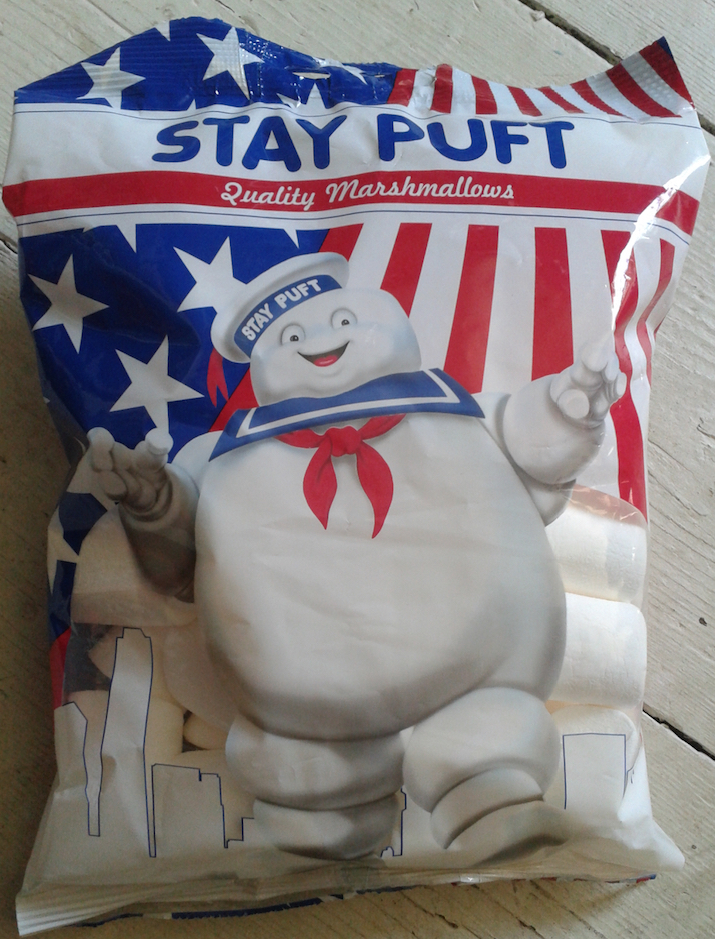 These are SERIOUSLY good mallows, and the cool packaging looks like something you would find sitting on Dana Barrett's kitchen counter. Ray loves them, and now so do I.
Ghostbusters Interactive Jellies.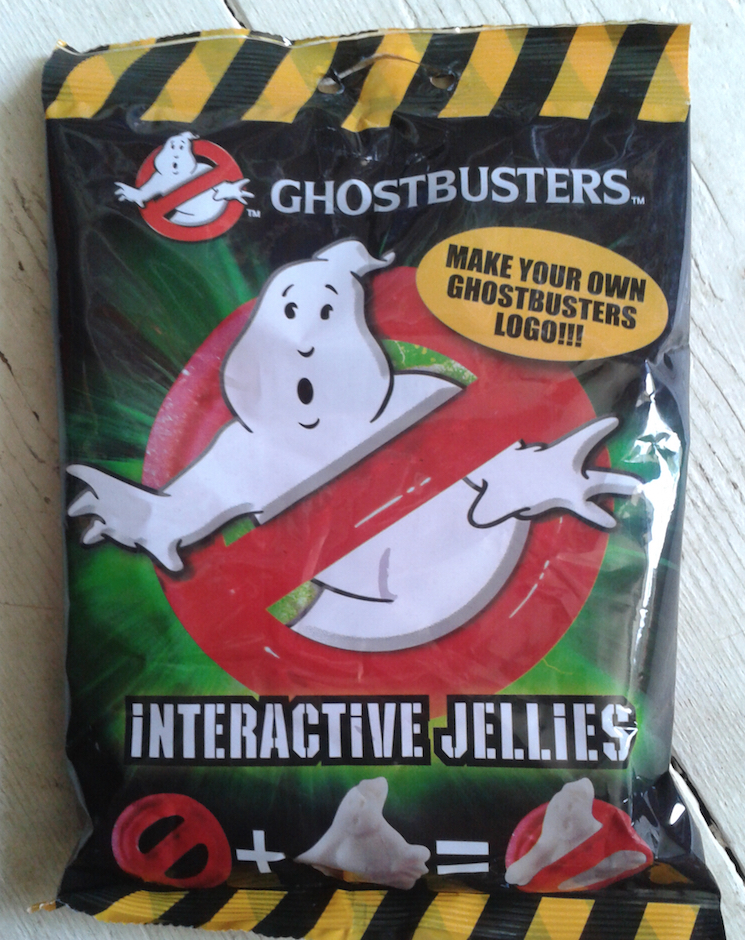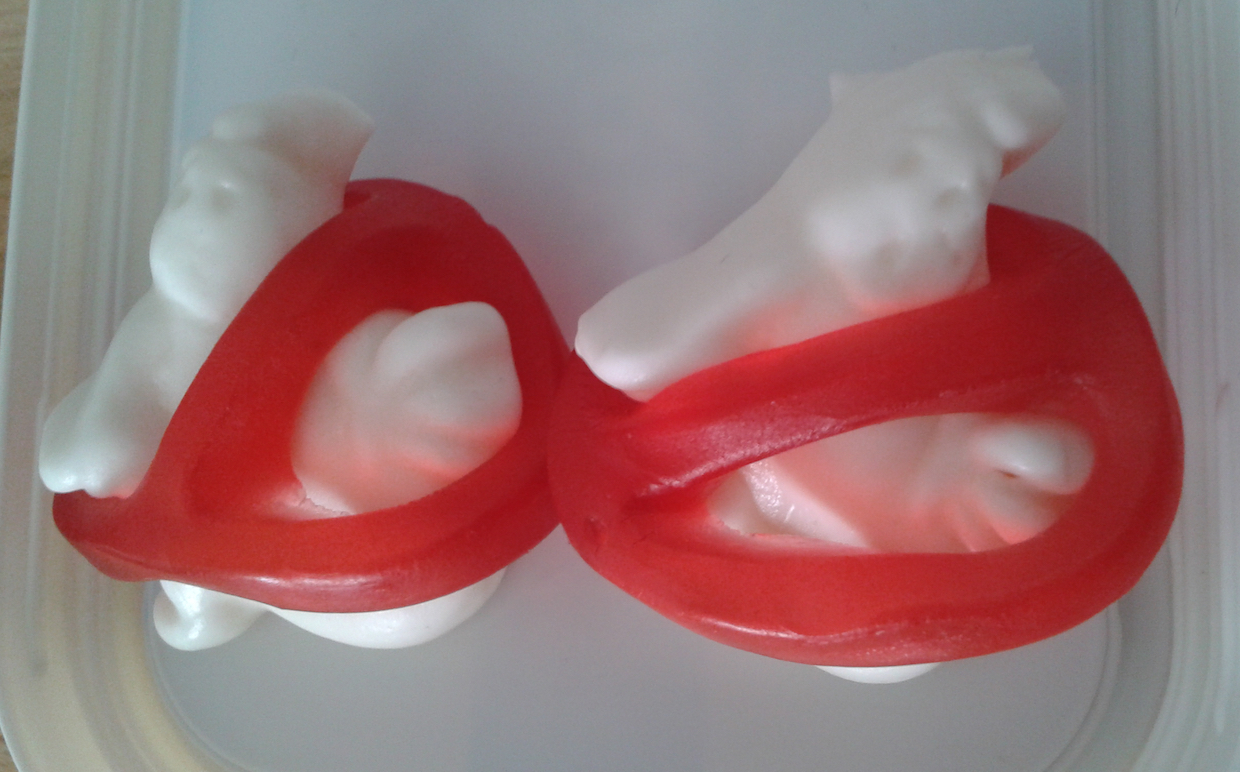 Ok, these are just wonderful. If I'd seen something like this when I was a kid it would have blown my little mind! The front of the bag tells you to "Make your own Ghostbusters logo" – and that's exactly what you can do! Some look better than others upon completion, but the concept is a ton of fun, and they seemed to be selling like crazy in the store I visited.
Ghostbusters Proton Beams – Sour Fruit Sugar Coated Laces.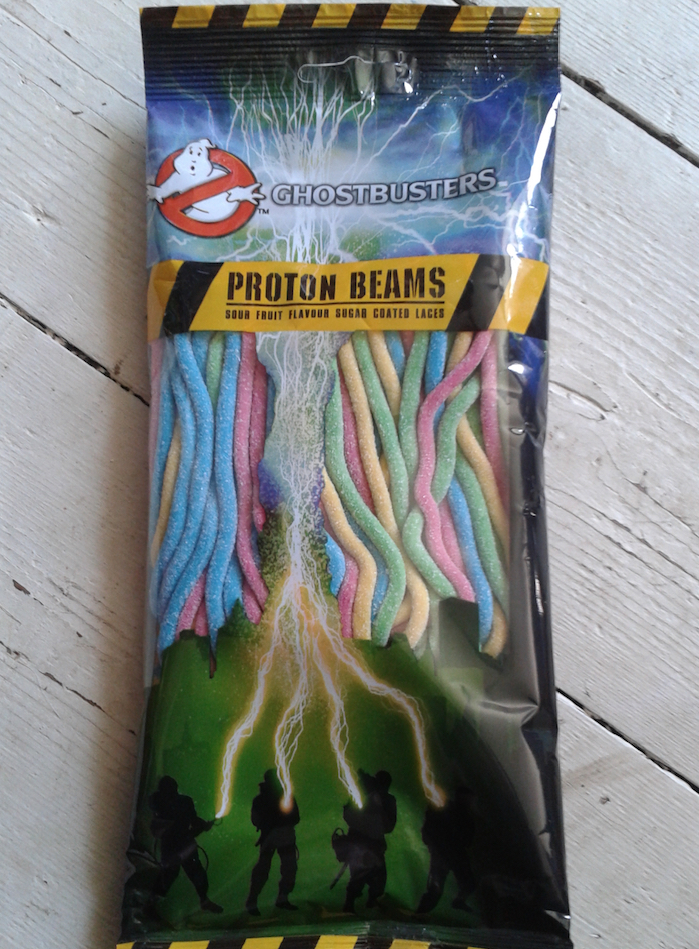 How fucking awesome do these look?! From the silhouettes of the guys at the bottom of the pack, to the explosion of proton energy at the top, these are simply impossible to ignore when they catch your eye in the store. SO sour, SO unhealthy, and SO GOOD!
Ghostbusters Proton Beams – Laser Picture Projector & Candy.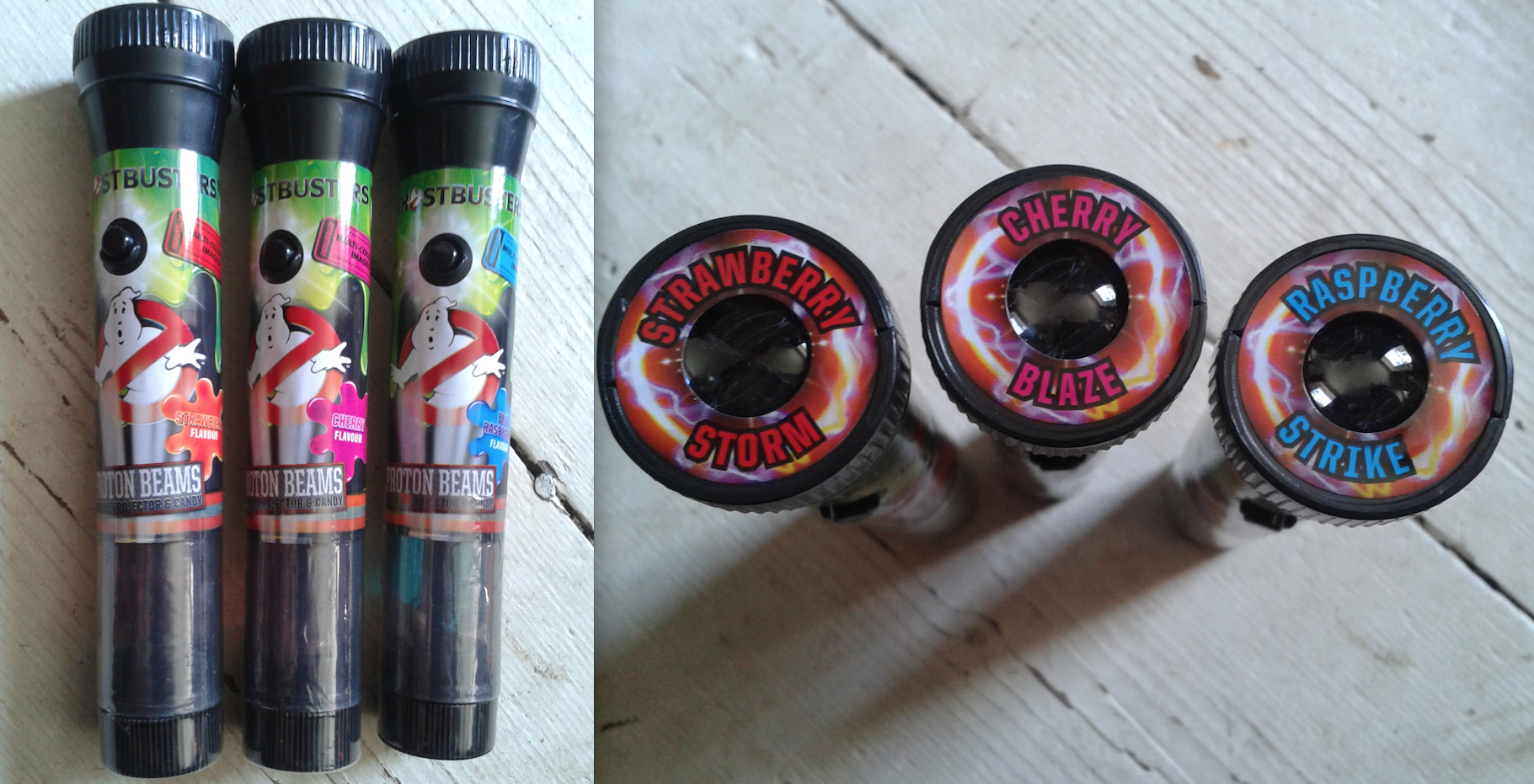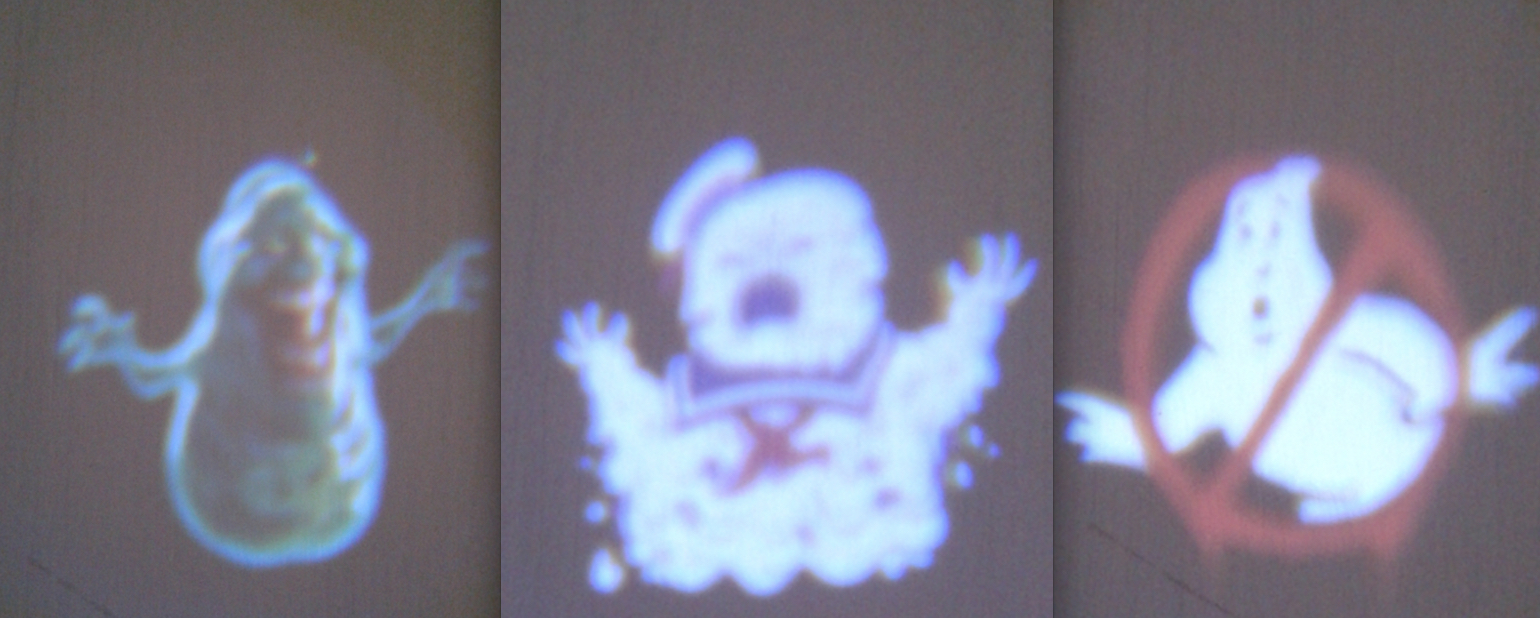 We finish for today with probably the coolest items released thus far. A beautiful combination of candy and toy, all stuffed into a small plastic tube that looks like a mini flashlight. There are three different flavors to collect, and each projects a different multi-colored image when you point it at a wall in a dark room and press the button. Cherry flavor features Slimer. Blue Raspberry flavor has the Ghostbusters logo. And Strawberry features Mr. Stay Puft, looking very angry as he starts to melt! I've ATTEMPTED to take some pictures to show you, which didn't turn out particularly well, but trust me – the images are surprisingly good and very clear, making these a potential collector's item in the future.
Buy a whole tray of them! You'll thank me later.
EVERYTHING listed here was just £1 each, making them affordable and basically impossible to resist if you have a passion for Ghostbusters and a sweet tooth. So get out there people of Britain! Find them, buy them, and show the makers how popular products like these can be. Your kids will love them, and those of us who are old enough to remember the last time Ghostbusters was a big deal can blissfully reminisce as we get fat and happy!
Support Halloween Love
If an item was discussed in this article that you intend on buying or renting, you can help support Halloween Love and its writers by purchasing through our links:
(Not seeing any relevant products? Start your search on Amazon through us.)