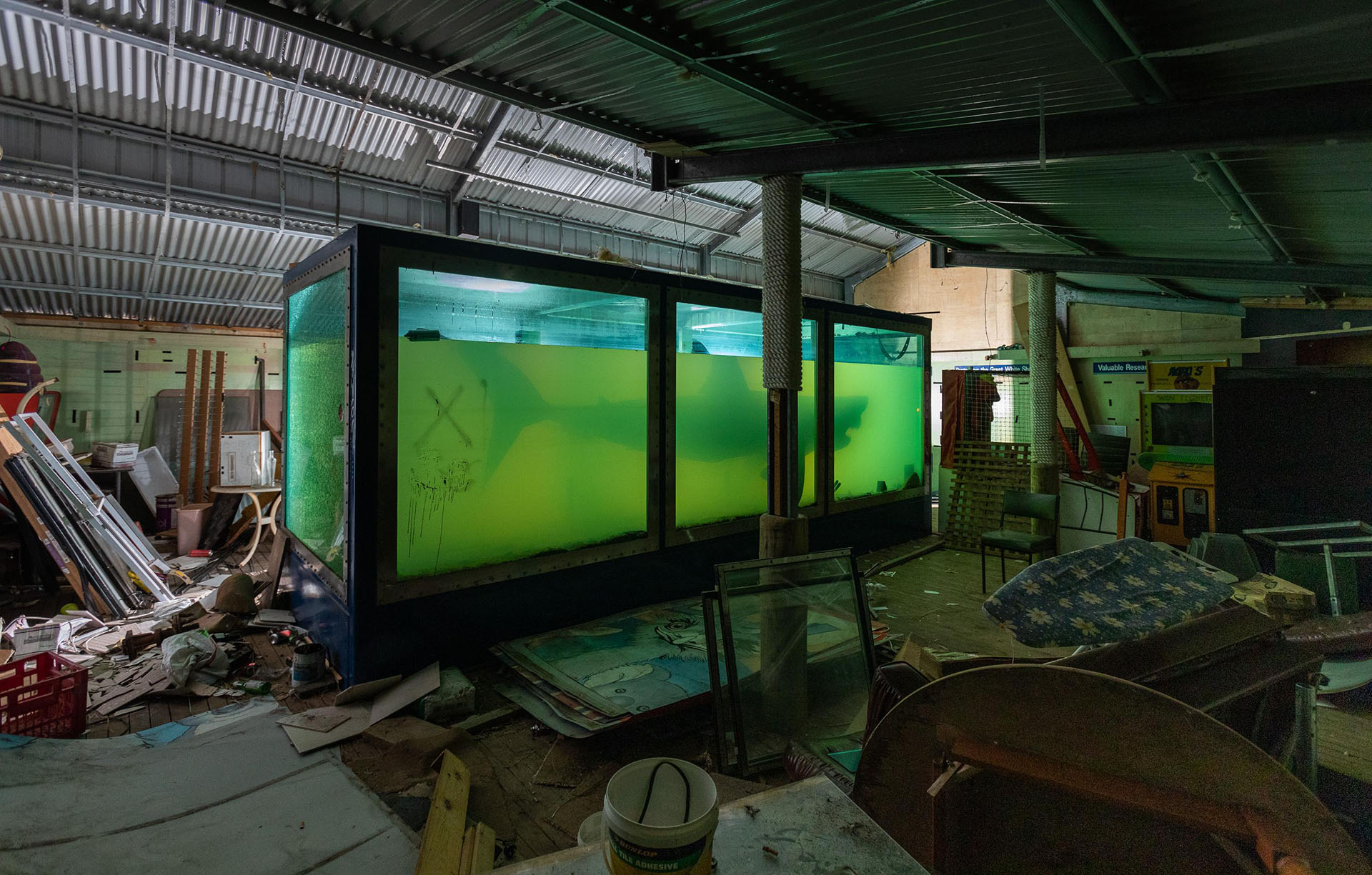 I love sharks; they're a big deal for me. I saw JAWS at a very young age (around 5-years-old or so), and it's been deeply embedded in my dreams, my nightmares, and my waking thoughts ever since. It's perhaps not a full-blown obsession, but definitely a fascination. I'm intrigued by both mechanical sharks and real sharks alike. Like my curiosity for Bruce the Shark and where he ended up, I've got a new mystery now, Rosie the Shark, only she's the real deal.
I personally only just learned about Rosie yesterday from my new Twitter friend @thatspicegirl, which then led to me seeing the first video about the abandoned Rosie (which has a whopping 14 million views — guess I'm not alone in my interest):
The abandoned shark might just be the coolest discovery ever made in urban exploring history (at least caught on camera anyway), and as I dig deeper, the whole story (which started 20 years ago) just keeps getting weirder. The shark itself is huge. At first, I thought it was a fake shark for display, much like fake dinosaur displays, because this is the biggest real shark I've ever seen in this context.
It probably doesn't hold the world record for great white sharks in written and photographic recorded history, but this is the only shark of this size that I'm aware of that has actually been preserved for all to see. Some attempts have been made to keep great whites in captivity, but they never seem to survive or there are other complications.
I didn't initially think there was anything here that deserved more than a tweet when I first heard about it, but like I said, the story just keeps getting more interesting. Let's break it down into a timeline of what I've discovered about this story so far:
1998 — Rosie Dies

The shark got caught in a tuna fishing net in Australia and had to be put down (I assume it was simply too dangerous, too difficult, or too late to release her).

---

1998 — Rosie is Purchased

A zoo/theme park of sorts called Wildlife Wonderland buys Rosie for the purpose of displaying and selling tickets.

---

1998 — Rosie is Impounded

During transport, Rosie was impounded by the Australian Government because it was suspected that Rosie may have eaten a missing woman, and therefore an autopsy needed to be done. No human body parts were found, and the shark was stuffed, preserved in formaldehyde, and released.

---

???? — Rosie is Put on Display

It isn't clear exactly when Rosie was first put on display (it may have been in '98 or over the next few years, but as early as 2000 at least), and she remained there until 2019. Wildlife Wonderland founder John Matthews said that it was a logistical nightmare, but with the assistance of the Melbourne Museum, was able to get Rosie on final display. It required a special room and tank to be built, and all-in, ultimately cost about half a million.

---

2012 — Rosie is Abandoned

Due to concerns for the welfare of the animals in the park and for the lack of the proper licensing, Wildlife Wonderland was forced to stop doing business. The whole thing gives me an Action Park vibe. It's not clear what the exact circumstances were, but I assume they were forced to leave abruptly, because in the video taken by the urban explorer, we see that everything, including items of value: TVs, furniture, etc. were all left behind.

---

2018 — Rosie is Found

Luke McPherson discovers the abandoned shark and posts the video to YouTube.

---

2018 — Rosie is Vandalized

After the video went viral, naturally other adventurers came looking. Some came just to explore, but of course, others came with less than peaceful intent, tagging the tank and trying to smash its glass.

---

2018 — Rosie is Deemed a Biohazard

Thankfully, due to the very thick and strong glass, the little shits weren't able to completely smash the glass, but they did cause enough damage to allow carcinogenic formaldehyde vapors to leak, and police barricaded the property.

---

2019 — Rosie is to be Destroyed

Many people that had been following the story took to social media (#SaveRosieTheShark) to try and save the shark.

---

2019 — Rosie is Saved!

Rosie was rescued by Crystal World and transported to their property, where they worked hard to clean and restore the tank, and of course preserve the shark. The formaldehyde had to be disposed of and was replaced with glycerine, which may cost up to $50k to fill the tank. There's a GoFundMe page to help with the costs.

---

2020? — Rosie Gets a Documentary

---
It's unknown where Rosie got her name, but she's got a Facebook page and is currently on public display during 10am-5pm on weekdays at:
Crystal World
13 Olive Rd
Devon Meadows 3977
Victoria, Australia
But, don't stop here! This is merely a summary of this crazy story, at best. There are a ton of videos, images, and articles about Rosie to check out.
Support Halloween Love
If an item was discussed in this article that you intend on buying or renting, you can help support Halloween Love and its writers by purchasing through our links:
(Not seeing any relevant products? Start your search on Amazon through us.)