I love the TV series and what they have managed to create but when I think of The Walking Dead I think of the comic book first and probably always will.
I've followed it from the beginning and despite the occasional bump in the road it remains an unmissable and truly unique publication where anything can, and normally does, happen. It's frequently uncomfortable and sometimes even upsetting, but it's this gut-wrenching excess that makes The Walking Dead truly stand out from the Zombie crowd.
At any given moment you can turn to a page that makes you feel like punching the air in delight then the following issue you have to witness characters you have come to care about and respect get brutally and mercilessly wiped from existence … This isn't the Marvel universe, these heroes and brave individuals aren't going to triumphantly return at some point in the future, they are gone for good and it can happen to any one of them in an instant.
In these articles I'm going revisit the series from the very start and attempt to select the genuinely crucial, pivotal and most significant moments from every issue released thus far. These are the moments that shaped the lives of the characters, moved the story forward into darker places and made The Walking Dead the most essential comic book of this generation.
It all began in a Hospital bed …
Rick Wakes Up – Issue 1.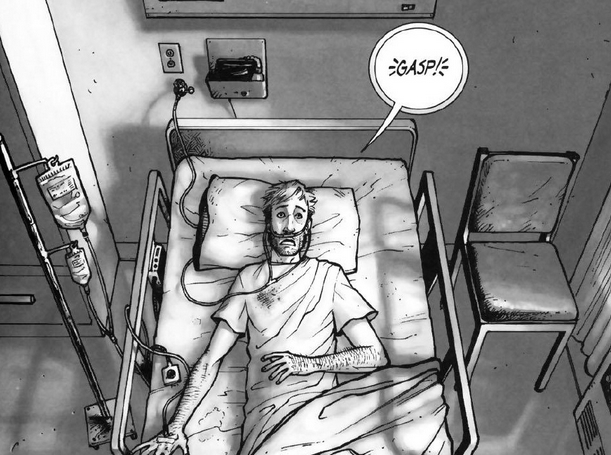 Many writers might have spent an entire issue building up to the moment Rick is shot and falls into his coma but Kirkman doesn't tease or delay the action in this first epic issue. Page one reveals the circumstances surrounding his injury then on just the second page Rick regains consciousness and he, along with all the readers, begins his journey into a world that has changed forever.
---
Rick Discovers The Bicycle Girl Zombie – Issue 1.
Rick first encounters the undead during his attempt to leave the hospital but these were sudden and panicked moments and combined with his disorientation and confusion there was very little time for him to truly understand what was happening. It is only after discovering this immobile and badly decayed female zombie that he can stop for a few seconds and properly begin to digest the pure horror of what has happened in his absence.
Issue one ends with Rick returning to the location to deliver a mercy 'killing' shot to the head … a moment that the TV series very successfully and powerfully reproduced.
---
Rick Meets Glenn – Issue 2.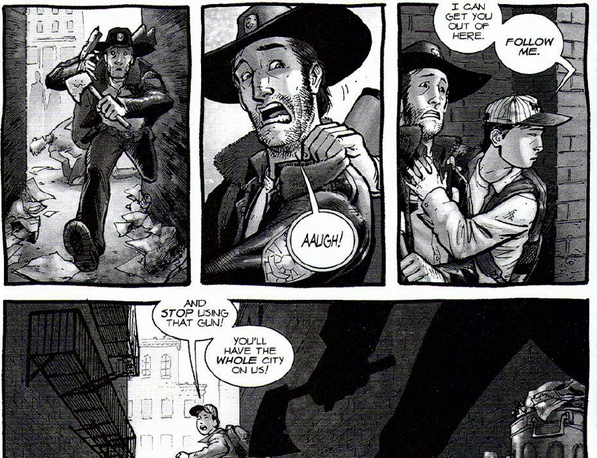 When Rick arrives in Atlanta looking for his wife and son he is totally unprepared for what awaits him on the streets of the zombie filled city, but a chance encounter with a street wise young scavenger named Glenn means he is able to narrowly escape the undead hordes. It is the start of a close friendship and leads to an unexpected reunion.
---
Rick Finds His Family – Issue 2.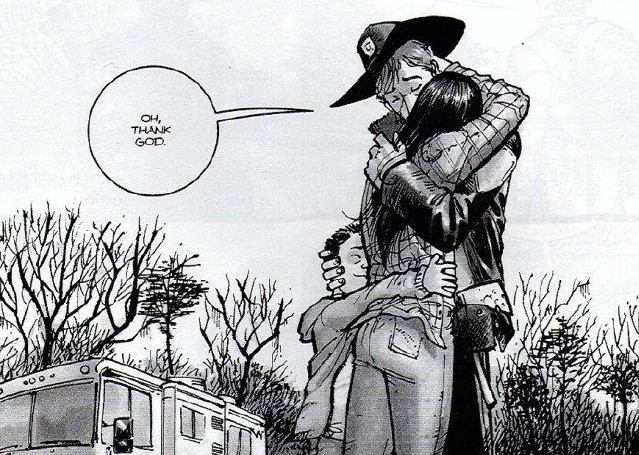 Glenn takes Rick to a camp where a small group of survivors are waiting for a military rescue that will never come, among them are his wife Lori, and son Carl. Protecting them and the other members of the group becomes Rick's main priority as the story moves forward.
---
Rick Is Warned About Shane – Issue 3.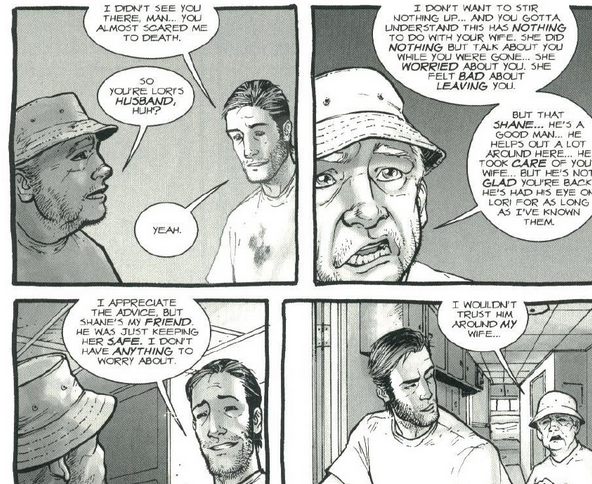 Moments after embracing his family Rick discovers that his partner from the police force Shane, is also alive and well and has been assisting Lori and Carl in his absence. During a brief conversation with an older group member called Dale, Rick is warned that Shane potentially has feelings for Lori but Rick laughs off the suggestion due to the strong bond he and Shane had during their time together as cops.
---
Rick And Glenn Return To The City For Guns – Issue 4.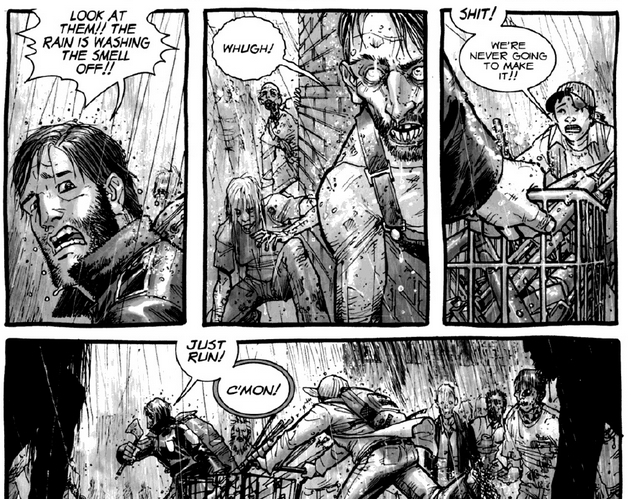 It quickly becomes obvious that the group do not have nearly enough weapons to effectively defend themselves from potential zombie attacks. Rick discovers the location of a gun store in the city and after smearing themselves with zombie flesh to hopefully disguise their 'living' smell he and Glenn make an attempt to reach the store and obtain the desperately needed guns.
The plan seems to be going smoothly … then it starts to rain.
---
Readers Discover The Truth About Shane – Issue 4.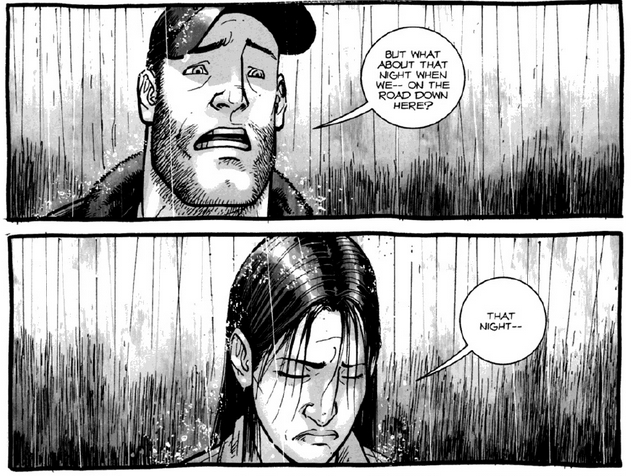 As Lori anxiously awaits the return of Rick and Glenn she is approached by Shane and readers discover they did indeed share an intimate moment during the time Rick was in his coma. Lori is full of regret and appears disgusted by what she did but Shane clearly maintains intense feelings for her and starts to resent the fact Rick survived.
---
The Camp Is Attacked – Issue 5.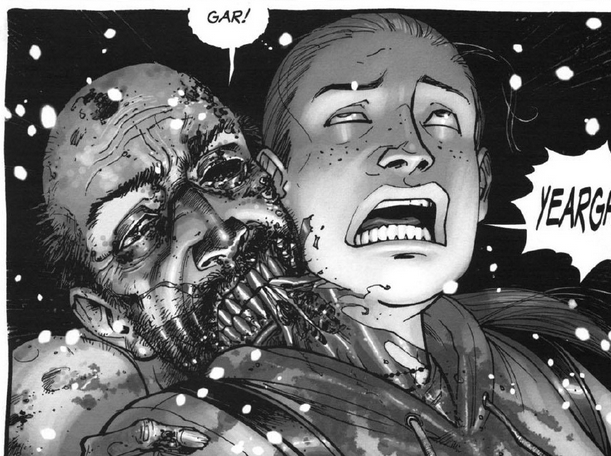 Rick and Glenn manage to escape the city and return to camp with a considerable supply of weapons and ammunition. Over the next few weeks Rick devotes much of his time to helping the group learn how to use and fire the guns safely, this includes teaching his 7 year old son Carl which Lori strongly disagrees with.
As colder weather arrives the camp is suddenly attacked one night by a large pack of zombies and a young woman named Amy becomes the first significant casualty of the comic book run after she is bitten and quickly dies from blood loss. Knowing that the bite will eventually lead to Amy becoming a zombie her sister Andrea, shoots her in the head to prevent it from happening.
The rest of the group survive the incident thanks to the weapon training but they start to realise the camp site is no longer safe and it might be time to move on …
Support Halloween Love
If an item was discussed in this article that you intend on buying or renting, you can help support Halloween Love and its writers by purchasing through our links:
(Not seeing any relevant products? Start your search on Amazon through us.)