We've reached the end of another week – thank god! – which means it's time to once again take a look at the coolest, weirdest and/or most awesome images that I've stumbled across on social media this past week.
So let's get right to it, shall we?!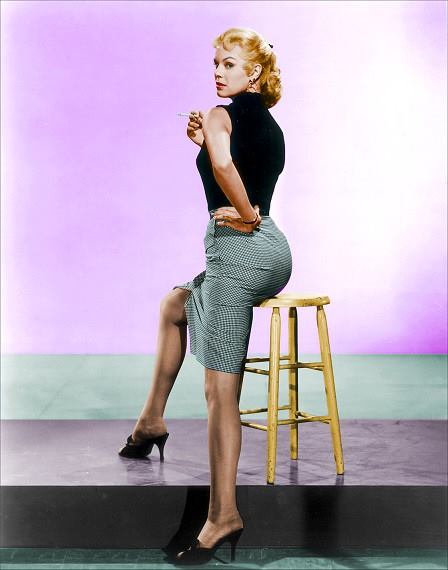 This vintage glamour shot has been circulating around the net this week, and I bet you can't guess who the model is.
Give up?
Why that's none other than Betsy Palmer, who played Mrs. Voorhees in the original Friday the 13th! Yep. Jason's mom was pretty damn sexy, in her youth. Who knew?!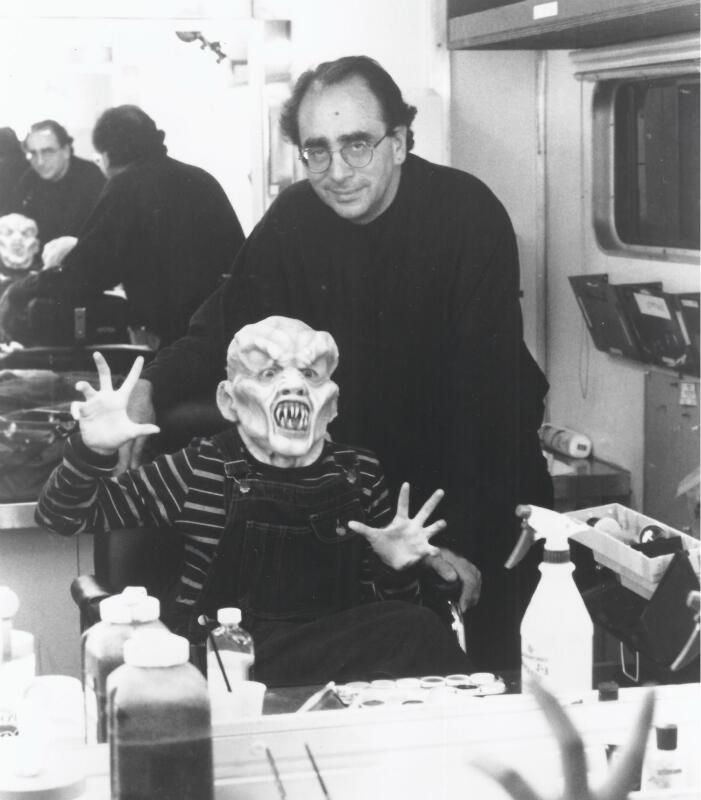 The Haunted Mask has always been my favorite Goosebumps story, and the absolute personification of what the series was all about. I believe it was R.L. Stine himself who tweeted out this behind the scenes shot from the set of the TV adaptation of the tale, which made me feel all warm and nostalgic inside. Now that's what I call Throwback Thursday done right!
Though I certainly won't be shocked or disappointed if it's a stinker, I can't help but look forward to Cabin Fever: Patient Zero, the third installment in the franchise that Eli Roth started in 2002. The main reason for my excitement is the incredible looking practical effects by Vincent J. Guastini, which we've seen a few pictures of in recent months. This latest one just hit the net this week, and you must admit that it puts you in the mood for more flesh-rotting fun… no?!
One of my favorite horror art companies in the game is Aaron Crawford's Cavity Colors, who put out this awesome Videodrome-inspired shirt earlier in the week. The design is also available on a tank-top and as a poster, and you can purchase the goods over in the Cavity Colors online shop. Be sure to browse around, as Aaron has a ton of awesome designs up for grabs!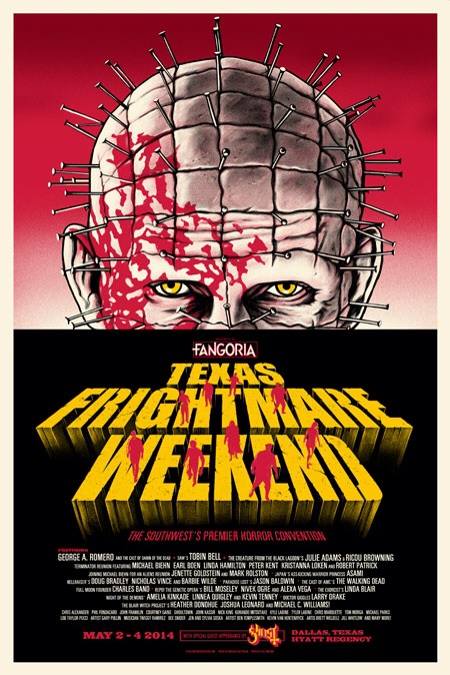 Next month is the annual Texas Frightmare Weekend convention, and I don't think you need me to tell you what state it's located in. They released this Gary Pullin-designed promotional poster for the event a couple days ago, which mashes together the worlds of Hellraiser and Dawn of the Dead. Reunions for both films are taking place at the convention, and you'll find full information over on the Texas Frightmare website.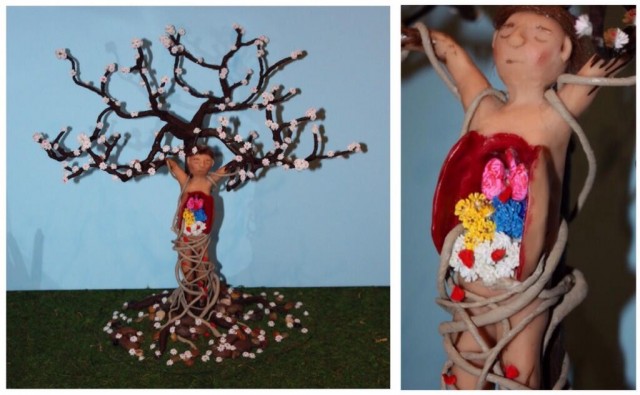 As I think I adequately established earlier this week, I'm a huge fan of NBC's Hannibal, which is the absolute pinnacle of television entertainment at the moment. Last week featured one of the show's most horrifyingly beautiful visuals thus far; a victim turned into a human tree, with colorful flowers growing out of his torn open stomach. This handmade recreation of the memorable moment was created by Twitter's @GrahamOffspring, and I'm mere seconds away from tweeting her and having her make me one.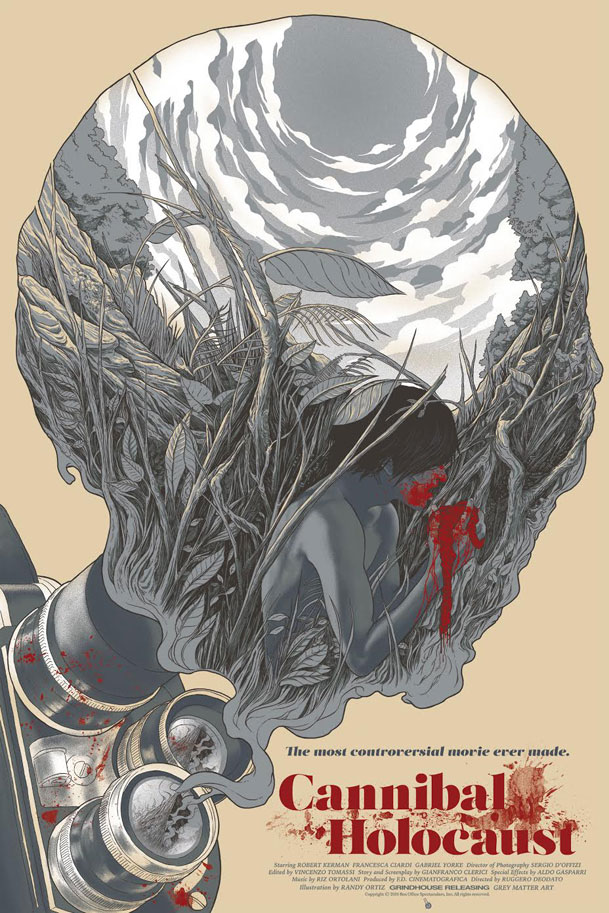 The last few years have seen a big time revival of movie poster art – not by the studios, but by fans who have had enough of the lame art that the studios slap on their releases. And fan-made movie art doesn't get much more stunning than this poster from Randy Ortiz, for the controversial flick Cannibal Holocaust. A truly beautiful piece of art, for a truly horrifying film. Unfortunately, the poster was available for a limited time earlier this week, and has already sold out.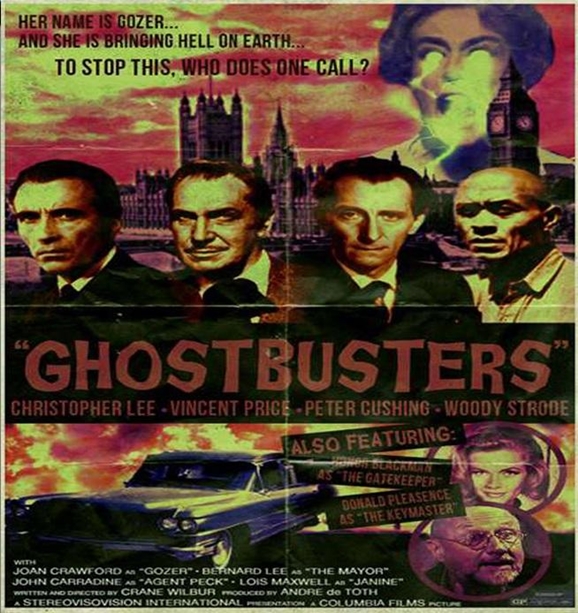 Artist Juan Ortiz has mastered the art of retro-style posters, and in his most inspired series, he imagines what it'd look like if fan-favorite movies were made decades prior to the years they were actually made in. He even goes so far as to re-cast all the roles, as he's done here with Ghostbusters. Cushing, Lee and Price as Ghostbusters? Count me right the hell in.
See ya next week, friends!
Support Halloween Love
If an item was discussed in this article that you intend on buying or renting, you can help support Halloween Love and its writers by purchasing through our links:
(Not seeing any relevant products? Start your search on Amazon through us.)