We've reached the end of another week – thank god! – which means it's time to once again take a look at the coolest, weirdest and/or most awesome images that I've stumbled across on social media this past week.
So let's get right to it, shall we?!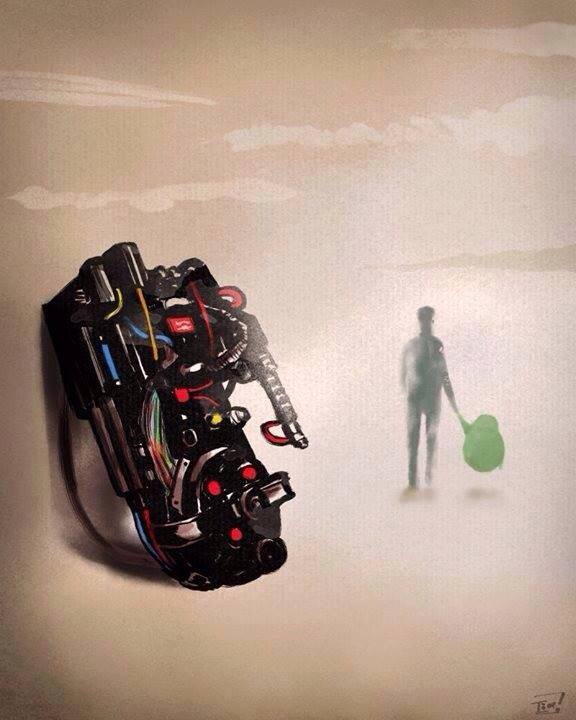 This week started off with the incredibly sad news that Harold Ramis passed away, at the all-too-young age of 69. Ramis not only wrote Ghostbusters and Ghostbusters 2 but also of course starred in both films as Egon Spengler, one of the titular ghost-busting heroes. Certainly one of the more depressing celebrity deaths in recent years, for a nerd like myself, and this piece of art really tugged at my heartstrings. It's been floating around Facebook all week, and if anyone knows who made it, I'd love to give them credit.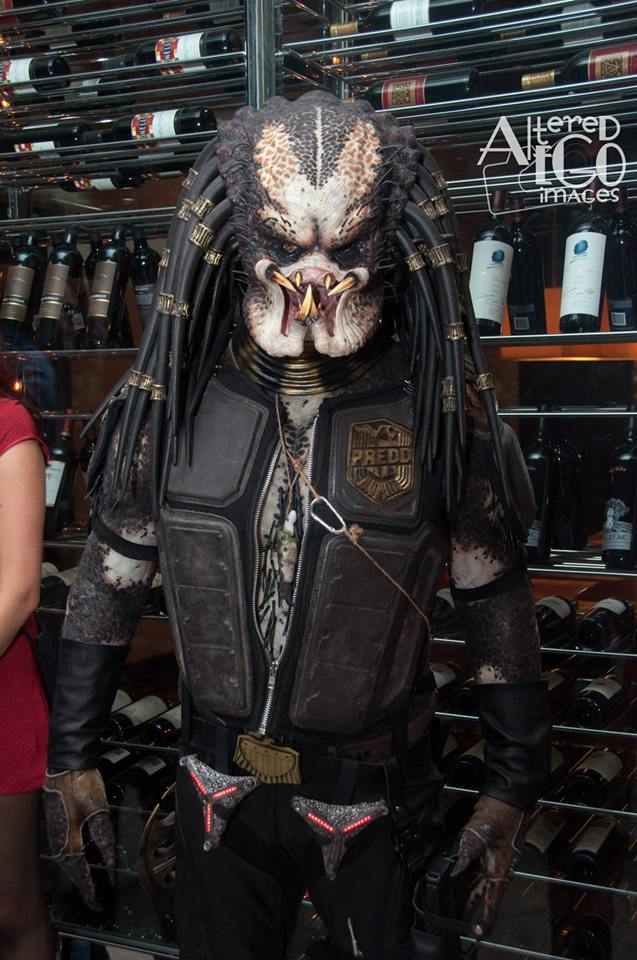 On a happier note, Dredd 3D star Karl Urban revealed this week that conversations are underway in regards to a Dredd sequel, which gives us a small glimmer of hope that it may actually happen. The film didn't do too well at the box office but has proven successful on home video, and Lionsgate is apparently taking notice of that. If you haven't yet seen Dredd, I encourage you to do so, because it's highly entertaining… and insanely gory.
Oh right, the image. I didn't say anything about the image. Well, it's a cosplay mash-up of Predator and Judge Dredd, dubbed Judge Predd. Need I say more?!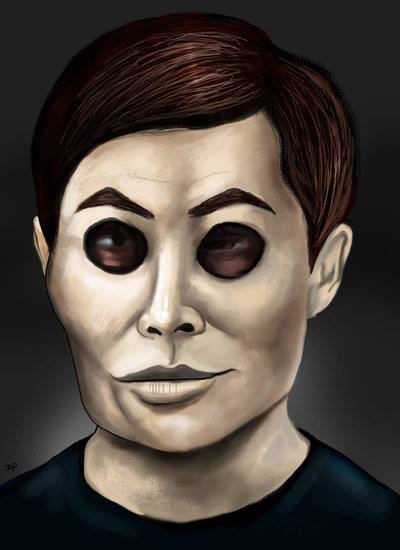 One of the more interesting bits of horror trivia is that the original Michael Myers mask was actually a William Shatner Star Trek mask painted white, which blew my mind the first time I heard it. But what if Carpenter had instead used a Sulu mask, rather than a Kirk one? Well, Halloween would've been a way different movie, as this brilliant art shows!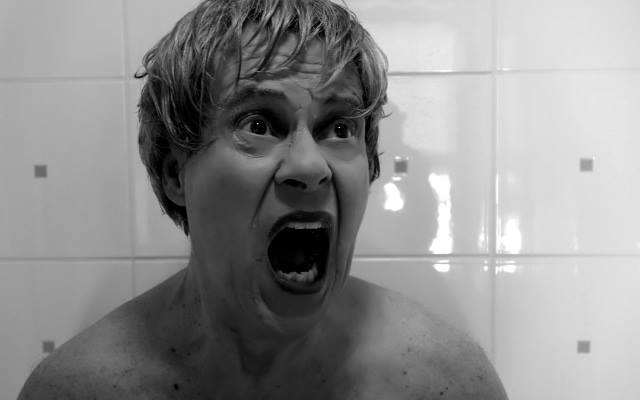 Fitness guru Richard Simmons is absolutely batshit crazy, and that's precisely why he's such a loveable little creep. Simmons has recently been recreating iconic images from movies over on his Facebook page, which not surprisingly often see him dressed up as a woman. Here's Simmons as Psycho's Marion Crane, in the moments before her memorable death scene. You're a national treasure, Richard, you really are.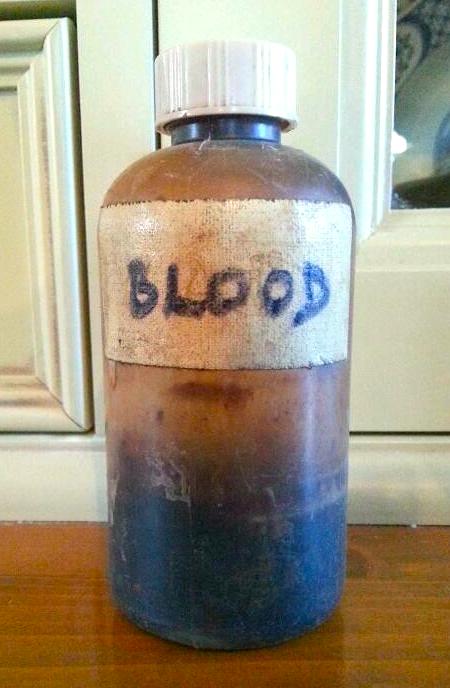 As I mentioned a few weeks back here on Halloween Love, the two actresses who played the creepy Grady twins in The Shining have recently come out of hiding, so to speak, and have set up Twitter and Facebook accounts. They just posted this picture over on their Facebook page earlier this week, which is not very exciting until it's explained; this is actually a bottle of blood used in the bloody hallway scene in the film, which the twins' mother kept after production wrapped. A real piece of horror history, right here!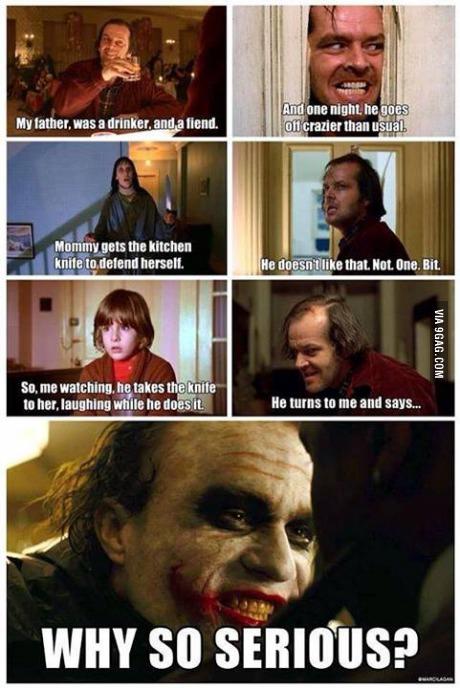 Speaking of The Shining, I found this fun image on Facebook this week, which suggests that maybe, just maybe, Danny Torrance from The Shining grew up to become The Joker. Of course, it's just a bit of fan-made silliness, but it kinda makes sense, doesn't it?!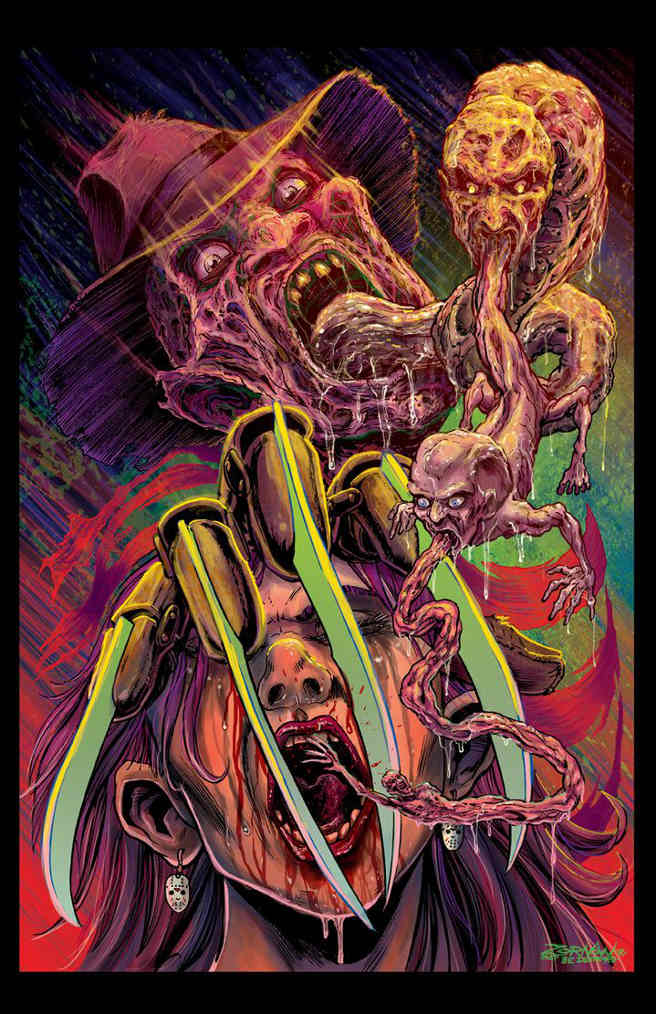 Horror artists don't get much more awesome than Jeff Zornow, who frequently designs t-shirts for Fright Rags. Zornow unveiled this Elm Street piece this week, which is one of the coolest pieces of Freddy art I've ever seen. Note the Jason mask, dangling from this unlucky gal's ear!
We wrap up this week's image roundup with another piece of Elm Street art, which Wes Craven himself tweeted out a few days ago. This is actually the original blueprint drawing for Freddy's glove, which I had never seen before. How cool is that?!
Support Halloween Love
If an item was discussed in this article that you intend on buying or renting, you can help support Halloween Love and its writers by purchasing through our links:
(Not seeing any relevant products? Start your search on Amazon through us.)