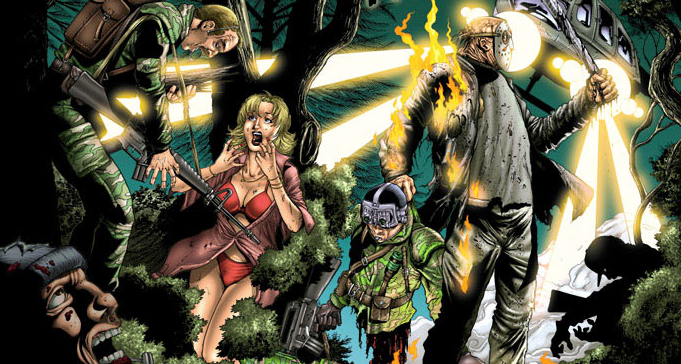 If you've followed my articles in recent weeks you will know I have a soft spot for horror comic books, especially books that feature the iconic characters we all know and love. Sometimes years can go by without anything being produced but occasionally the stars align, deals are made and good things happen.
In 2005 Avatar press captured the rights to produce comic books based on, Friday The 13th, A Nightmare On Elm Street and The Texas Chainsaw Massacre. Each title got launched with a 'Special' one-shot issue written by Brian Pulido before Avatar came out all guns blazing with longer story arcs.
Most issues featured multiple stunning covers you could choose from (Or just buy them all like I did) and the product as a whole was very high quality. They were comics worth collecting.
The art across all three titles perfectly fitted the characters involved and some of the stories were incredibly well constructed. The Nightmare On Elm Street comic for example, had some ideas that would have been very interesting in an actual movie!
Twisted humour, brutal kills, hot girls getting stalked … everything you could possibly want and expect. Avatar didn't need to worry about the visual content being censored so they splashed every page with as much carnage as possible.
My favourite of the three titles was the Friday The 13th book, Jason has been my main man since I was young and when I collect horror related stuff its normally connected to him and the Friday movies.
As with all the comic book reviews I write I decided to reach out to someone involved with the creation of the comic in the hope of getting some genuine insight and yet again I was humbled and delighted when Mike Wolfer, the artist AND eventual writer on Friday The 13th agreed to answer some quick fire questions.
Here's what he had to say …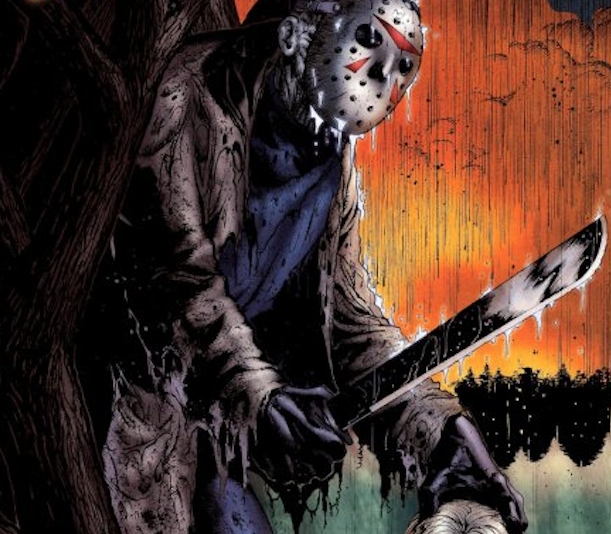 1: How did you get involved with the launch of the Avatar Friday The 13th comic book?
MW: "When Avatar Press obtained the licensing rights to FRIDAY THE 13TH, A NIGHTMARE ON ELM STREET and THE TEXAS CHAINSAW MASSACRE in 2005, I was asked if I'd like to work on one of the titles, and if so, which one. I was always a huge fan of F13, so naturally I jumped at it. I was originally the artist on the series, working from scripts by Brian (LADY DEATH) Pulido, but I eventually also assumed the writing of the property with JASON VS. JASON X and the FRIDAY THE 13TH FEARBOOK."
2: In your opinion what is the most challenging part of the whole process when you approach a new project?
MW: "I think my primary concern when approaching a new project is to identify what it is about the property which fans are reacting to, then taking it into a new direction which they haven't seen before. It's a balancing act of doing something new, while retaining everything which fans love about the series."
3: Did someone or something put you on the creative/artistic path or did you find your way there on your own?
MW: "Creating is something which has always been in me, since I was a kid. No one introduced me to the concept, I've just always done it, and was encouraged to continue with what made me happy. I've been lucky, in that I've always loved horror and have a wild imagination, but I'm also fortunate to be able to visualize those ideas and stories through my art."
4: Its a question I find near impossible to answer myself … but do you have a favourite Horror movie? Or at least a favourite 'type' of Horror?
MW: "I like a little of everything, and have certain favorites for each sub-genre of horror. "The Haunting" (1963) is at the top of my list, along with the first "Evil Dead," "The Thing From Another World" (1951 & 1982), "Caltiki, The Immortal Monster," and the original "The Night Stalker" TV movie are all up there as well."
5: You got to draw a huge amount of dynamic covers featuring Jason … Do you have a personal favourite?
MW: "One of my favorite images is the cover of FRIDAY THE 13TH: BLOODBATH #1 (regular cover edition), the closeup of Jason's face with his mask split in half. I think I managed to capture all of the gooey, maggot-filled grossness of his physical form, along with the berserk insanity of his psyche."
6: Finally, if you, Mike Wolfer could have a Beer and hang out with any Fictional character from Movies, Comics, Books and TV … Who would it be?
MW: "Carl, the greenskeeper from "Caddyshack." Or maybe Tony Stark."
A massive thank you to Mike for taking some time to do this from myself and everyone at Halloween love …
Support Halloween Love
If an item was discussed in this article that you intend on buying or renting, you can help support Halloween Love and its writers by purchasing through our links:
(Not seeing any relevant products? Start your search on Amazon through us.)