Given how many hoops any given movie must jump through before being made and released, it's quite frankly a miracle that so many of them do reach completion, and see the light of day.
But for every handful of movies that do, one or two slip through the cracks, and either never get made, or just end up sitting on a shelf somewhere.
In this new feature here on Halloween Love, we take a look at horror movies that have dropped off the face of the Earth over the years, either before production even started or after production was completed. Whatever happened to them? And when will we see them, if ever? These are the questions we hope to answer.
We kick off Volume 1 with the sequel to 2008's The Strangers, which just cannot seem to find its way in front of cameras…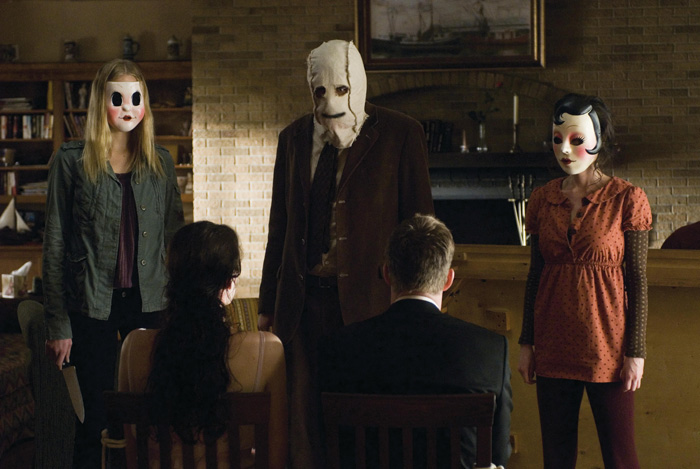 Personally, I'm a huge fan of The Strangers, and feel it's one of the most effective home invasion films to come along in recent years. The writing and directing debut of Bryan Bertino, the film centered around three masked maniacs who break into a vacation home out in the woods, where a freshly broken up man and woman are staying for the night.
The most effective thing about the movie is that the only motive for the murders was the victims being home, which helps make The Strangers a genuinely chilling piece of horror cinema, and reminds us that you need not piss someone off, to make them want to barge into your home and stick sharp objects into your organs.
Now THAT… is scary.
Way back in 2009, not long after the release of the movie, it was announced that a sequel was in the works, entitled The Strangers: Part 2. It was originally set to shoot in the summer of that year, but soon thereafter was put on hold.
Two years later, in early 2011, the sequel was back on, and we learned that Bertino would once again write, with French music video director Laurent Briet tapped to direct. Part 2 was to again feature the three masked characters from the first film, who this time around are stalking a family of four forced to live in an abandoned trailer, after being evicted from their home. Liv Tyler confirmed that she would be returning to briefly reprise her role of Kristen McKay.
A start date of April was planned, which again came and went without the cameras ever rolling.
In the past few years, we've heard little to nothing about the film, which seems to have found itself in Development Hell. Will it ever emerge from those fiery depths? Your guess is as good as ours.
The other project I want to talk about today also dates back to 2008, and was supposed to be Oren Peli's follow-up to the mega successful Paranormal Activity. A found footage film about three friends who travel to the titular extraterrestrial hotspot, Area 51 was actually shot way back in 2009, with a planned 2010 release through Paramount.
So what the hell happened? Well, it appears that the film just wasn't quite ready to be released, and a series of rewrites and re-shoots have kept it on the back burner over the course of the last few years.
After being pushed back several times, producer Jason Blum (Blumhouse Productions) revealed late last year that the film is completely 100% shot, and that Peli is still playing around with it in the editing room. "Hopefully one day we'll see the finished version," is the last thing he had to say on the subject, not sounding all that hopeful about the film's future.
In the years since Paranormal Activity, Peli has produced a slew of horror films, including Lords of Salem and Insidious, but Area 51 is the only film other than Paranormal that he's actually directed. Better get it out there in the world before the whole found footage thing completely dies off, Oren!
We'll talk about more horror flicks that mysteriously vanished in Volume 2… coming soon!
Support Halloween Love
If an item was discussed in this article that you intend on buying or renting, you can help support Halloween Love and its writers by purchasing through our links:
(Not seeing any relevant products? Start your search on Amazon through us.)