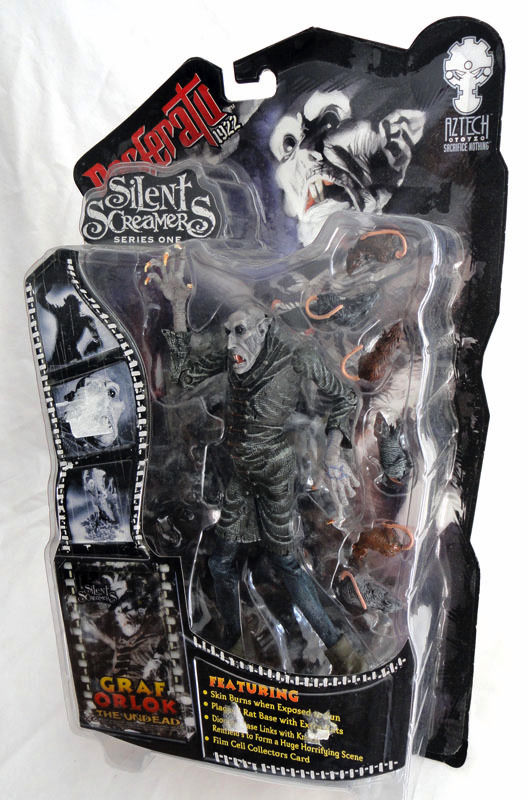 Do you love toys? Especially ones based on horror movies or with monstrous themes? Well we do too. And in this new feature here on Halloween Love, we dig into the ole toy box and pluck out some gems from the past, which are sure to have you reaching for your credit card and prowling the deepest, darkest recesses of eBay!
First up, we head back to the year 2000, when beloved company Mezco Toyz was known as Aztech Toys. Yep, before they made a name for themselves with the Living Dead Dolls and lines like Cinema of Fear, Mezco went by the name Aztech, and their most popular line was a tribute to the earliest of early horror icons, aptly dubbed Silent Screamers.
Series 1 of Silent Screamers was released in 2000 and comprised of four action figures, each of which were available in full color or muted sepia tone variants. Highly stylized and packaged with various accessories and detailed display bases, the inaugural series of the throwback line included Count Orlok and Knock Renfield from 1922's Nosferatu, as well as Dr. Caligari and Cesare the Sleepwalker, from 1920's The Cabinet of Dr. Caligari.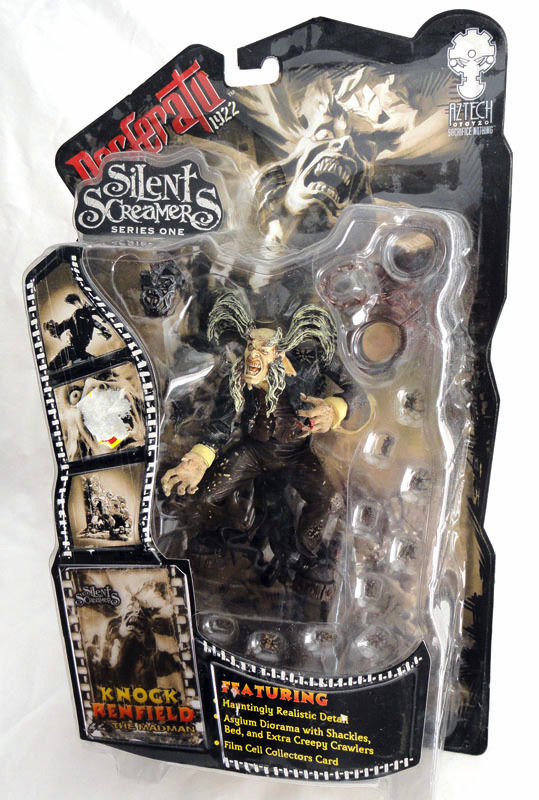 Perhaps the coolest figure in the first series was the blood-sucking Graf Orlok, which actually changes color when it's exposed to sunlight. The head and hands turn a bluish color when the sun hits them, essentially creating the effect of Nosferatu's skin 'burning.' The bases of Orlok and Renfield also join together, forming an impressive Nosferatu diorama.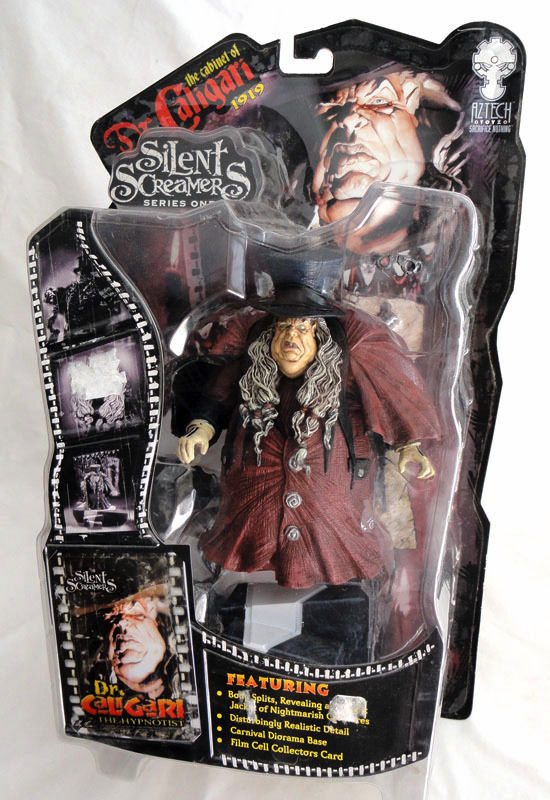 As for Dr. Caligari, his body literally splits open to reveal a hideous form underneath his red coat, while Cesare was packaged with the body of a damsel-in-distress, giving you two figures in one. All of the toys in the first series included collector cards, which were made to look like vintage film cells.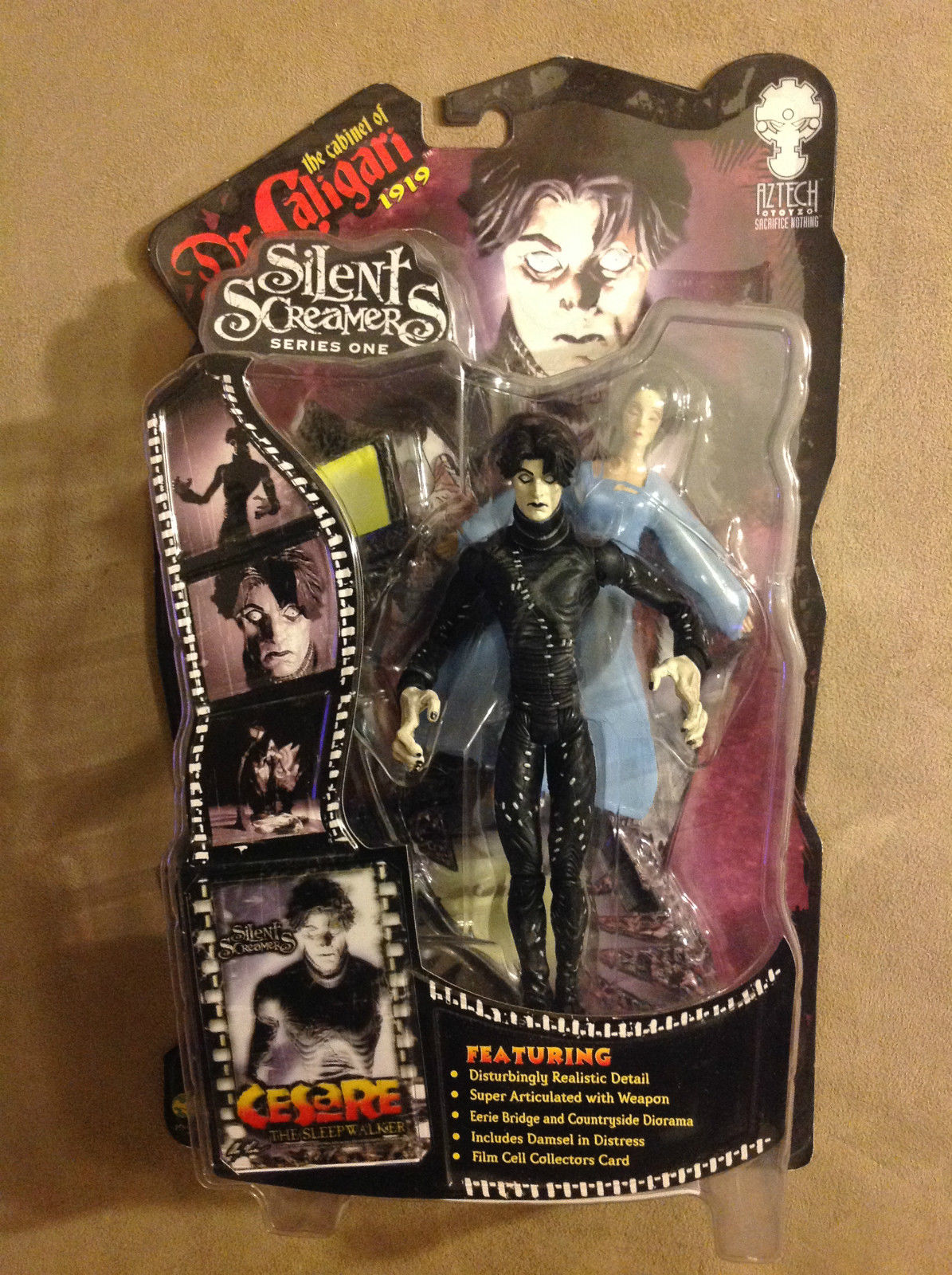 In 2001, after Aztech became Mezco, the Silent Screamers line continued for one more series, before the entire line came to an end. Series 2, which Mezco subtitled 'Reel Masters,' was again comprised of four figures, with 1920's Dr. Jekyll and Mr. Hyde, 1910's Frankenstein, 1927's Metropolis and 1915's The Golem being immortalized in plastic and rubber.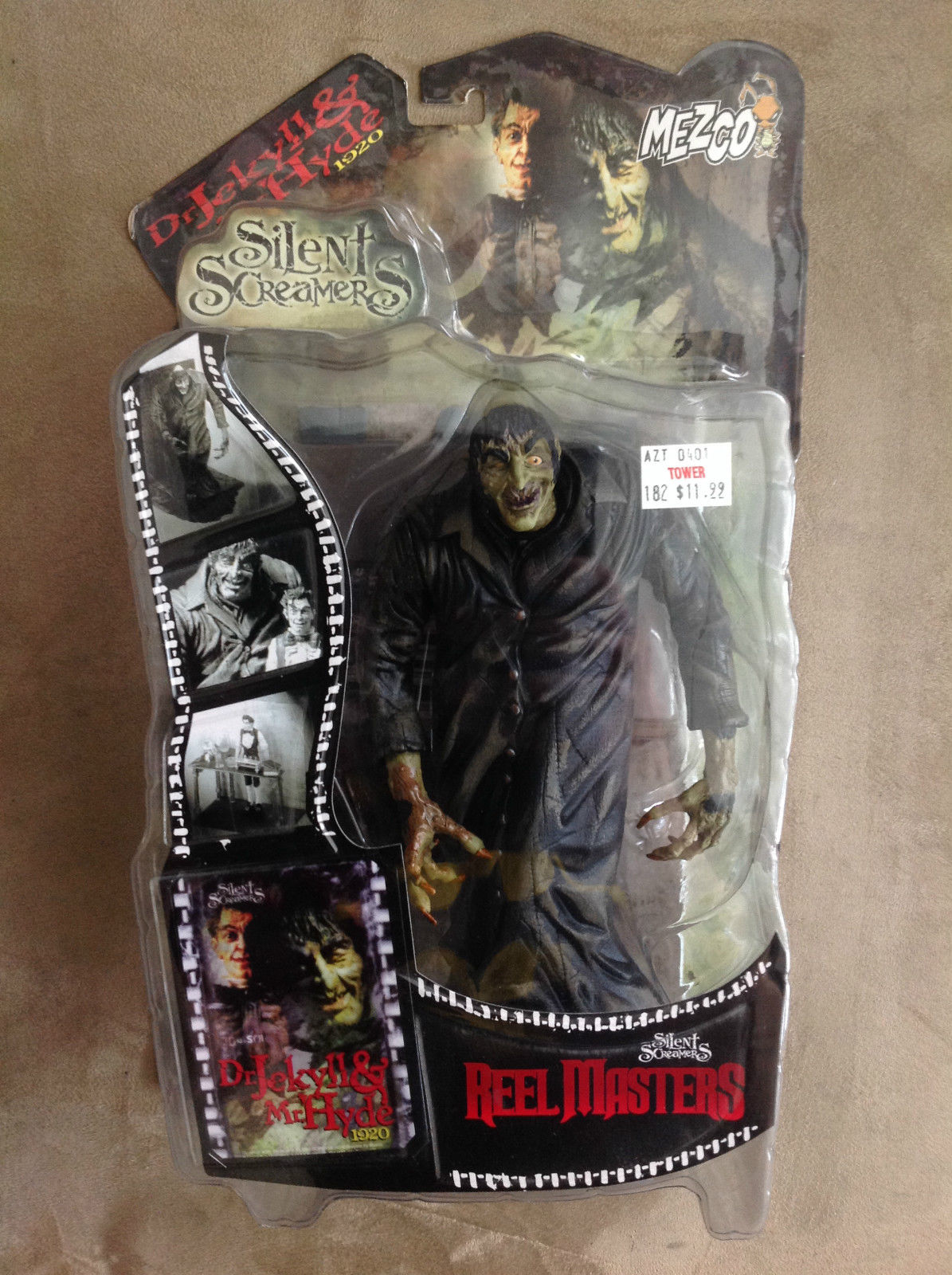 Impressively, the Dr. Jekyll and Mr. Hyde figure actually served as both characters, with the evil Mr. Hyde's body opening up to reveal the much smaller Dr. Jekyll, housed on the inside. A perfect example of the amount of detail and creativity that was consistently on display in this awesome line.
It's worth mentioning that the Silent Screamers version of Frankenstein's monster is based not on the beloved Universal film but rather on the very first adaptation of Mary Shelley's iconic story, which ran just 13-minutes long and was produced by Thomas Edison's Edison Studios. If you've never seen it, head over to YouTube to check it out, because it's a piece of monster history that all horror fans should experience!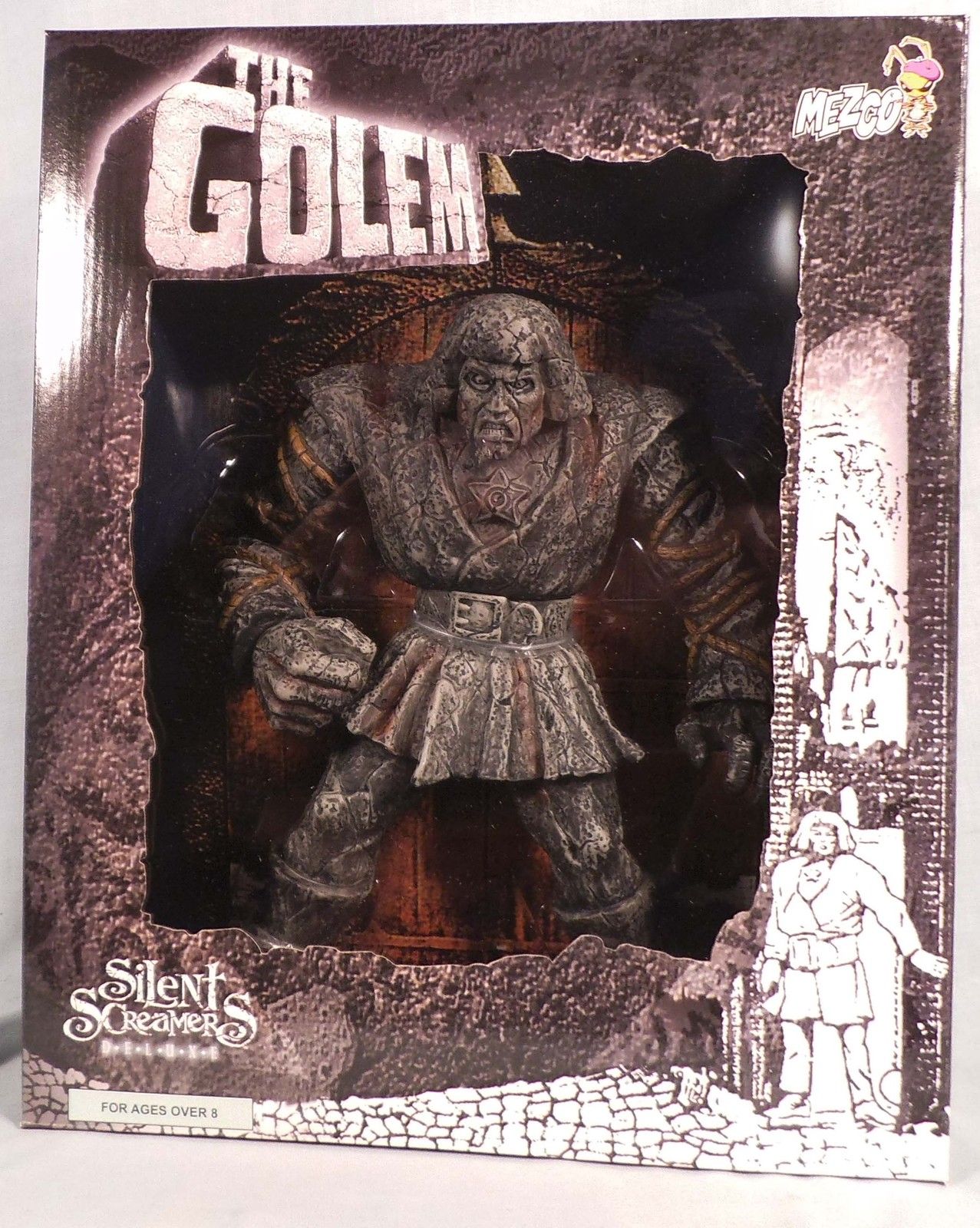 Series 2's figure of The Golem is noteworthy for being a massive 11″ tall, making it the largest of all the Silent Screamers toys. Unlike all the others, he was packaged inside of a special box, rather than the usual hanging package, and came with a display base that measured nearly 20″ high.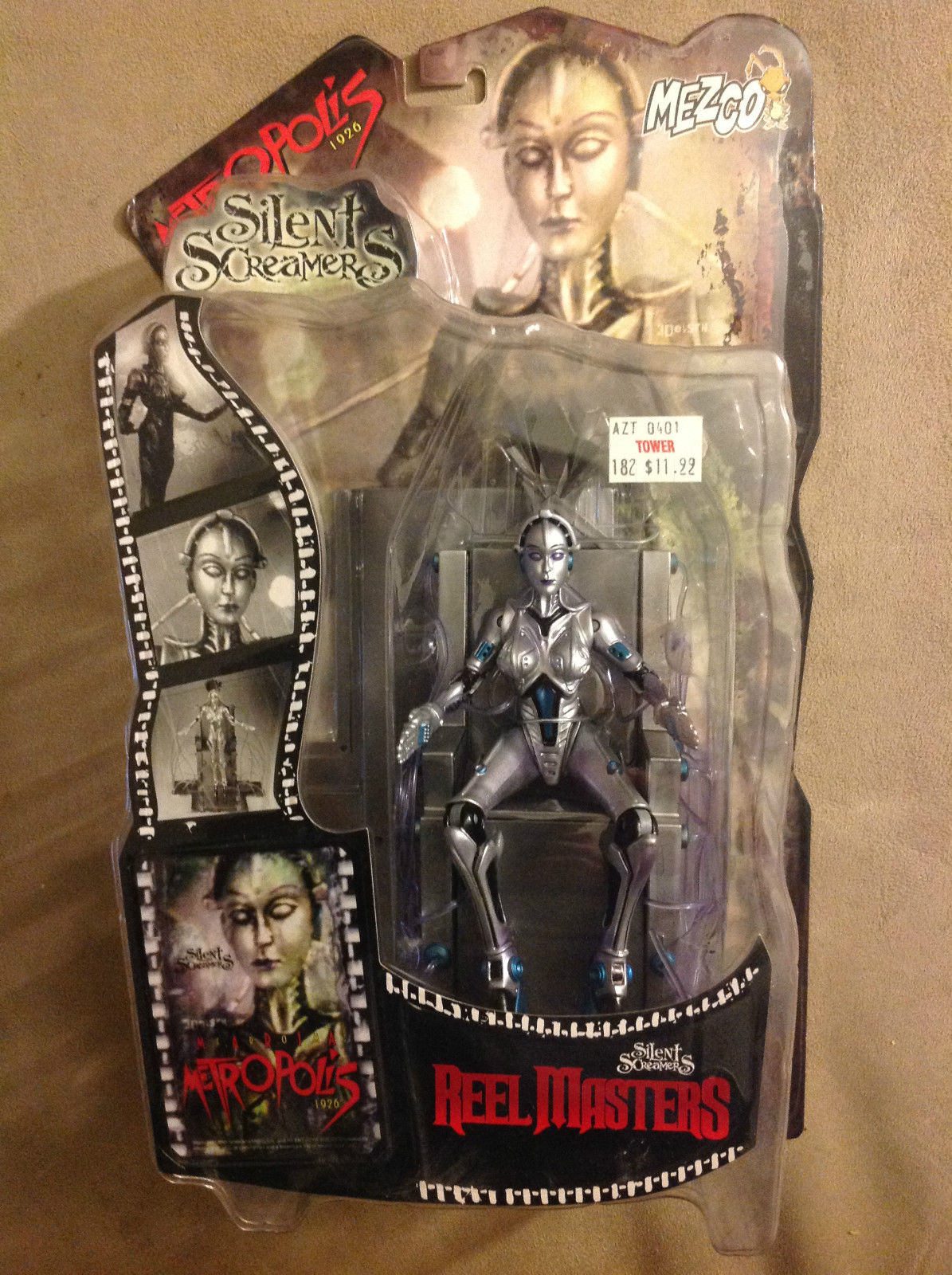 And that about does it for the Silent Screamers line. Shortly after the release of Series 2, Mezco carved out their own niche in the world of horror toys, rising to mega-popularity with the loveable Living Dead Dolls, which are still being produced to this very day. Though we only got eight figures out of the Silent Screamers line, it was nevertheless one of the coolest lines of horror toys that have ever been made, and a fitting tribute to the silver scream icons that paved the way for folks like Freddy, Jason and Michael Myers.
What will we dig up next, from the Halloween Love Toy Box? Stay tuned to find out!
Support Halloween Love
If an item was discussed in this article that you intend on buying or renting, you can help support Halloween Love and its writers by purchasing through our links:
(Not seeing any relevant products? Start your search on Amazon through us.)