This past Thursday marked the VOD release of Wolf Creek 2, the long-awaited sequel to Greg McLean's 2005 film. McLean once again wrote the script and directed, with Aussie actor John Jarratt returning to reprise the role of Mick Taylor; the most downright badass horror icon of this generation, if you're asking me.
While Wolf Creek was a grim, grimy and utterly horrifying affair, Wolf Creek 2 is a bit more upbeat and dare I say fun, with Taylor fully becoming the one liner-spouting horror icon that he was always meant to be. The best comparison I can make is that Wolf Creek 2 is to Wolf Creek what Texas Chainsaw Massacre: Part 2 was to Leatherface's inaugural outing; a fun and wildly over the top sequel that's a real treat for those who like their horror bloody.
I absolutely implore you to give Wolf Creek 2 an On Demand rental, whether you loved the original film or not, because it is in my opinion the very best horror film that has been released thus far, in 2014. It's the kind of movie that us horror fans absolutely need to support – if we support it, we get more horror films like it, and more horror films like it is precisely what the genre needs, right about now.
But I digress.
If you loved Wolf Creek and its sequel, and you're hungry for more Mick Taylor action, you may want to consider picking up the newly released Wolf Creek origin books, which were written by sequel co-writers Greg McLean and Aaron Sterns.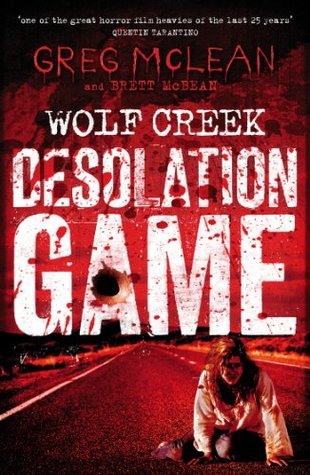 The first of two prequel tales, Wolf Creek: Origin of course tells the origin story of Mick Taylor, a past that the films have provided very little insight into. As a young boy, Mick witnesses the grisly death of his little sister, which contributes to him growing up with a killer impulse. Though he attempts to keep that impulse at bay, it's not long before the monster becomes unleashed, and the book recounts the events that turned Mick from a young jackaroo to a hardened, badass killer.
The second of the origin novels is Wolf Creek: Desolation Game, which sees Mick shipping off to the Vietnam war, where his bloodlust is not only accepted, but even appreciated. A sergeant takes Mick under his wing and turns him from an amateur killer to a stone cold professional, and he put those skills to use when he returns home to the Outback.
Both novels are intended to give us more insight into the character of Mick Taylor, and should hold us all over until Wolf Creek 3 makes its way into our lives. Of course, a second sequel will only happen if us fans show our support for the character, and the franchise, so if you want to see more of Mick in the future, be sure to pick up the books and give the sequel a rental.
Wolf Creek 2 hits DVD and Blu-ray on June 24th, and you can pre-order your copies over on Amazon.

One last thing I want to mention is that a company called Ikon Collectables actually put out a Mick Taylor bobble-head a couple years back, which is exclusively sold through Aussie retailer Pop Cultcha. Measuring 7″ tall, Mick is armed with a rifle, hunting knife and carrying the severed head of a female victim, and the toy is currently available for $28. Head over to Pop Cultcha to pick one up!
Want to learn about Ivan Milat, the real-life serial killer that Mick Taylor was based on? Click the link for the horrifying true story!
Support Halloween Love
If an item was discussed in this article that you intend on buying or renting, you can help support Halloween Love and its writers by purchasing through our links:
(Not seeing any relevant products? Start your search on Amazon through us.)