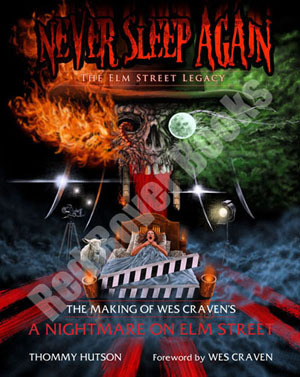 In 2006, author Peter M. Bracke released Crystal Lake Memories: The Complete History of Friday the 13th, a full-color 300+ page book that served as an exhaustive retrospective on the entire Friday the 13th franchise. Last year, that book was turned into an equally extensive and comprehensive documentary, with the written words on the page coming to life in the form of a 10+ hour DVD and Blu-ray set.
A few years after the release of the Crystal Lake Memories book, in 2010, the documentary Never Sleep Again: The Elm Street Legacy was released, which did for the Nightmare on Elm Street franchise what Crystal Lake Memories did for the Friday franchise.
And now, that documentary is set to become a coffee table book, thanks to the help of none other than Peter M. Bracke. But only if you pitch in and lend your support…
Thommy Hutson, who produced the Never Sleep Again and Crystal Lake Memories documentaries, has spent the last few years writing a 200+ page Never Sleep Again spinoff book, which chronicles the making of Wes Craven's original 1984 classic. The story behind its creation is that Hutson essentially realized after making the documentary that there was much more to tell – even though the doc ran an astounding four hours long – and so he set out to dig even deeper into all things Nightmare on Elm Street, and put together the be-all, end-all ultimate retrospective on the film that brought Freddy Krueger into our lives.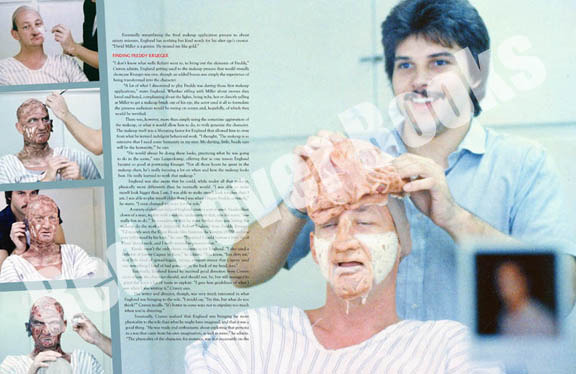 Never Sleep Again: The Making of a Nightmare on Elm Street has a similar layout to the Crystal Lake Memories book and includes interviews with everyone from Wes Craven to Robert Englund, actors to stunt people, many of whom have never previously spoken about their experiences with the film. Hundreds of rare and never-before-seen photographs, concept drawings and publicity materials fill out the hardcover book, which takes us deeper into the world of Elm Street than even the documentary it's based on did.
Though the book is fully written and put together, a Kickstarter campaign was recently started to raise the funds needed to print up enough of them so that every fan who wants one can get their hands on one, and $65,000 is needed to make that dream – or should I say nightmare – a reality. At the time of writing this, there are still 12 days left in the funding period, with nearly $15,000 raised thus far.
Perks for donating include copies of the book, signed posters and even special thanks inside the pages, and you can learn more about the campaign, and pitch in your support, over on Kickstarter.
If you're asking me, it would be downright criminal if this project didn't reach the funding goal, and I can't think of a more worthy cause to find its way onto Kickstarter in recent years than this one. As a lifelong fan of the Elm Street franchise, even I was absolutely blown away by the sheer volume of new information and material that was presented in the Never Sleep Again documentary, and I eagerly anticipate the day when I can crack open this book and learn even more.
If you're a diehard fan of the Nightmare on Elm Street series, you owe it to yourself to donate to this campaign, and I urge you to please consider doing so. Donate whatever you can, spread the word and let's bring this book from the dream world into the real world!
Support Halloween Love
If an item was discussed in this article that you intend on buying or renting, you can help support Halloween Love and its writers by purchasing through our links:
(Not seeing any relevant products? Start your search on Amazon through us.)