One of my biggest missions here on Halloween Love has been to seek out and make contact with as many talented and artistic people as possible. I love art … and I love horror … so when I see someone combine the two in interesting, unusual or just smile-inducing ways it makes me want to learn more AND talk to them.
I mentioned in an article just the other day that IF I have to write about something and simply include my own thoughts then that's cool, but to me there is nothing better than getting opinions AND facts, direct from the creator, artist or performer.
Now, normally blending the two is fairly easy. I know a lot about comic books so talking to artists and building articles about them is fun and it flows. I have been passionate about toys all my life so talking to someone who photographs action figures is, again, mostly straightforward, same with Lego, fan art, the list goes on.
This article was a bit more difficult to approach. Apart from an appreciation of what Banksy has been doing over the years I know very little about the world of street art and a lack of proper respectful knowledge always mildly concerns me. To contact people anonymously online and request they talk about what they do is a big ask which I never take for granted, but I desperately wanted to know more about what I had discovered a few days before so I threw together a short message, clicked 'send' and hoped for the best.
As it turns out my fears were totally unfounded. JPS (Jamie) replied within about 2 minutes and was polite, easy going and more than happy to start up some communication.
I first discovered his work when I happened upon a set of pictures taken at Barrow Gurney, Abandoned Mental Hospital, where he had used these crumbling, creepy surroundings as a concrete canvas and adorned the walls with some fantastic art that instantly made the horror geek in me very happy. Since then I've searched out much more of his work and to be honest, cannot get enough.
Jamie is a fellow Brit who has pushed through tough times to start realising his artistic potential and create work that people can experience, discover and enjoy. Here is the Q&A I had with him along with some more of his stunning creations …
Halloween Love: Were you artistic and creative from a young age?
"Yes, from the age of 4 I was always drawing and loved art. My dad taught me how to draw 3d cars when I was very young, he was a very talented artist however it was something he only seemed to do during his many stays in prison."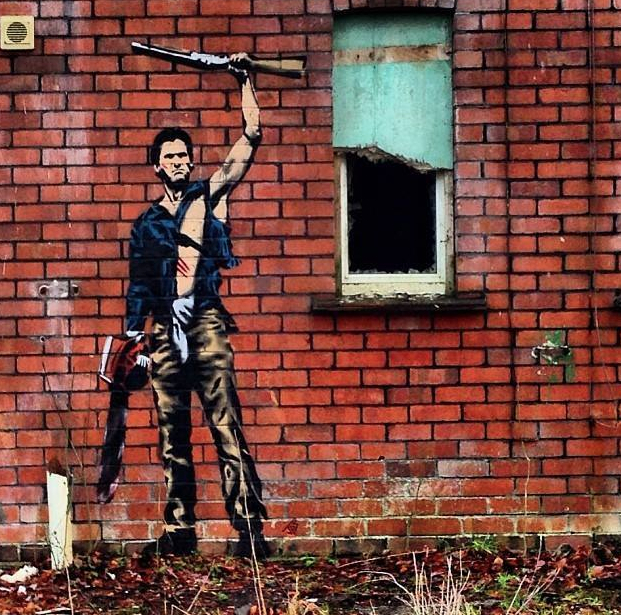 HL: Are the location and surroundings an important factor when deciding where to place your work. Creepy area for a horror character and so on?
"Yes I think everything should have its place so Barrow Gurney mental hospital was highly suitable for the works I painted there, however not everyone felt that way. Some said I should've used it to highlight mental illness, however I illegally painted this work out of my own money so painted things I loved."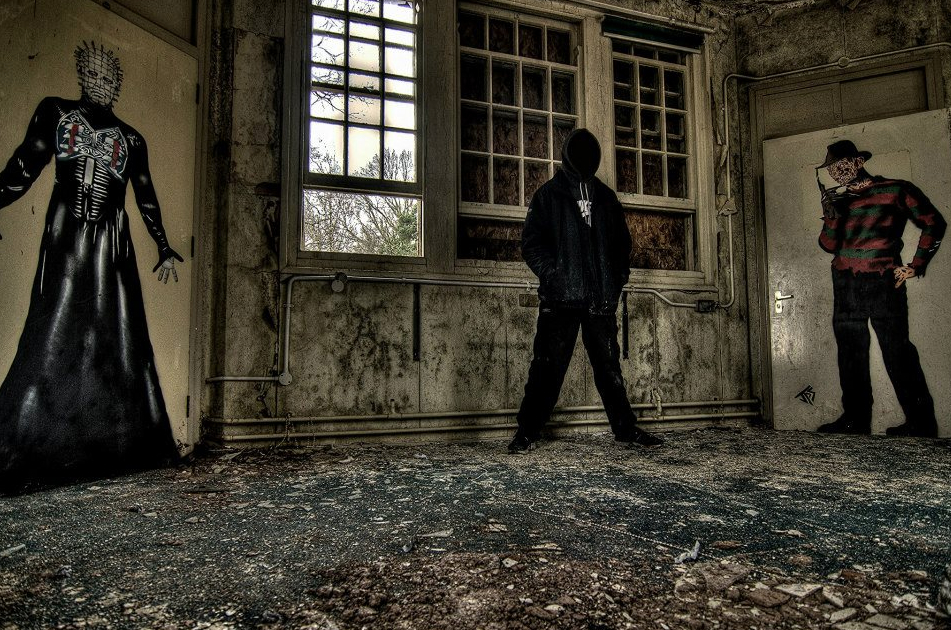 HL: Is photography and capturing your art an important part of the process for you considering the possibility of damage, demolition and natural erosion?
"At the beginning I never really thought about it but when you see the works survive the various seasons and images of them appearing online it's very good. It was technically an outdoor exhibition for over a year which drew many visitors and even drew in talented musicians who made videos featuring my works. I never really thought how it would all pan out, I just wanted to scare people."
(Those music videos can be found here and here)
HL: Does your art reflect the movies and characters you are passionate about?
"Yes they always either contain hidden messages/meanings, others are solely because they will look cool. It was like I was able to bring my favourite horror characters almost to life."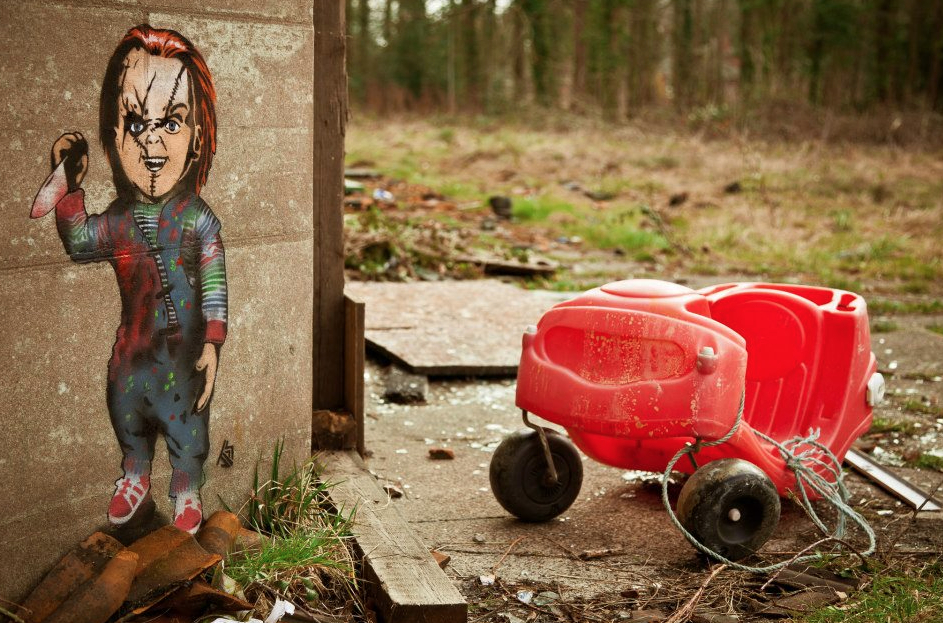 HL: Do you have a favourite horror movie or at least a favourite 'type' of horror movie?
"My favourite horror movie character would definitely be Jason Voorhees, I can strangely relate to him. The boy who was picked on coming back for revenge."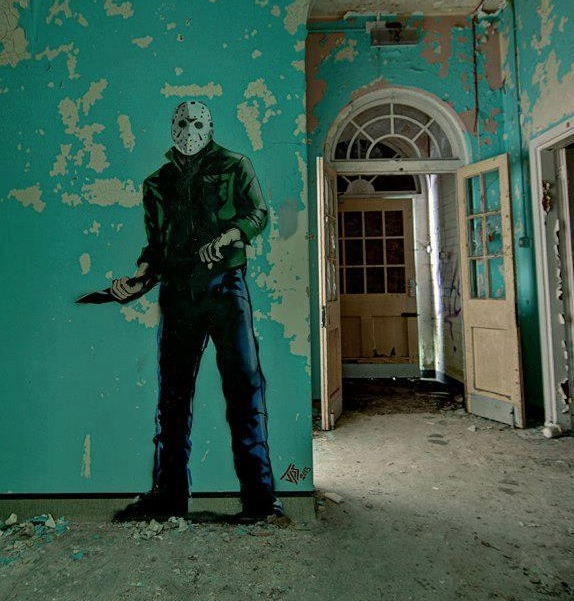 6. Where would you ultimately like to go as an artist? … Do you have an end goal or just taking each day as it comes?
"When I made the decision to change my life 5 years ago and beat my demons it was not a monetary aim, I set out to become number 1 in memory of my fallen friends. I'm scared of the money in some respects because I've never really had any."
7. Finally, if you had the chance to create some street art in one location anywhere on Earth, what would it feature and where would it be?
"I would love to paint in Detroit some pieces based around my all time favourite film Robocop, and also an Eminem piece there however I'm aware Detroit is extremely dangerous so it might be a while before I can afford the relevant security measures."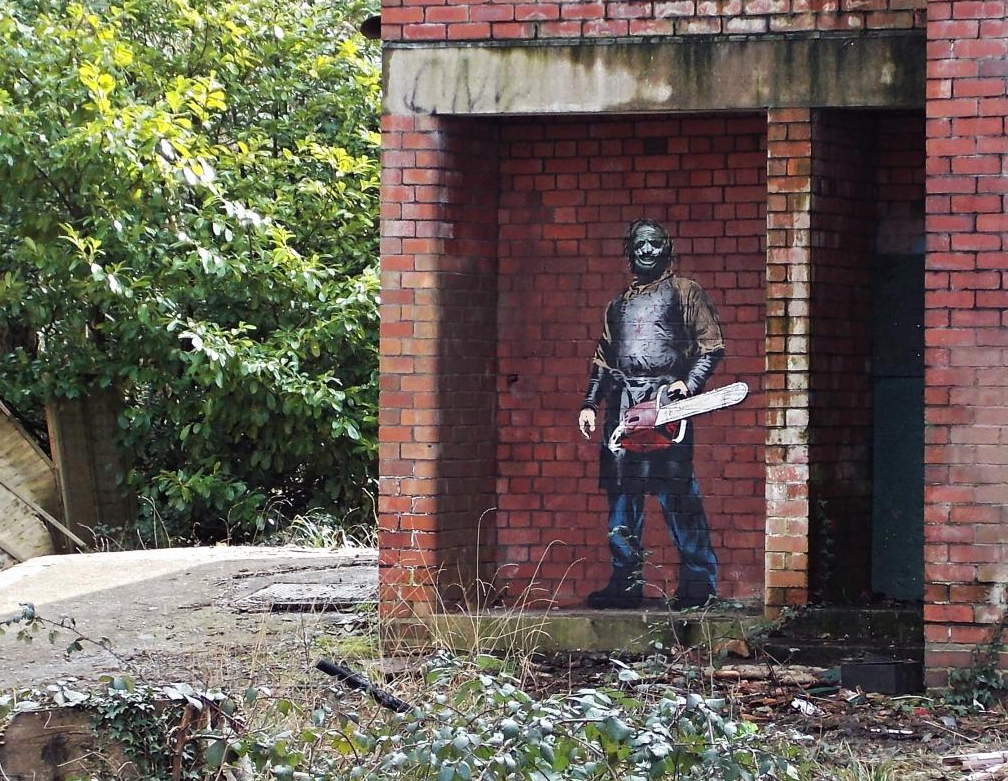 Robocop street art in Detroit?? … Needs to happen!!
A huge thank you to Jamie for taking some time to get involved, His site is located here and a quick Google search will bring much more information and incredible images … Take a look!
Support Halloween Love
If an item was discussed in this article that you intend on buying or renting, you can help support Halloween Love and its writers by purchasing through our links:
(Not seeing any relevant products? Start your search on Amazon through us.)