Alright, so here's the deal. I'm not just nearly 30 years old but I'm also a man, two things that needless to say make me pretty much the polar opposite of Mattel's target audience, when it comes to their Monster High line.
Regardless of this fact, I'm a huge fan of the line, and I absolutely love the fact that the female youth of today has monster dolls available to them. Let's face it, not all little girls are into Barbie dolls, and that's precisely where Monster High comes into play, giving kids with slightly different tastes super cool dolls of their own.
It was in the summer of 2010 that Mattel launched the line, which had the general premise of every student in the titular Monster High being the daughter of an iconic monster – from either cinema, books or folklore. Characters like Frankie Stein, Draculaura and Clawdeen Wolf comprised the inaugural wave, and much to my delight, it wasn't long before the line caught on… in a big way.
Four years and countless waves later, the Monster High line has become a true monsteriffic staple on the toy scene, with the original dolls undergoing oodles of makeovers and being joined by all sorts of other colorful and whacky characters. And the dolls themselves were only the beginning, with the franchise spawning books, video games, movies and anything else you can possibly think of.
But it's the dolls we're here to talk about today. Particularly, my personal favorites that have come along in the last four years. So after much hemming and hawing, and many tough decisions, I now present to you the 6 coolest Monster High dolls that have thus far seen release – according to a 28 year old dude who has no business buying dolls!
In no particular order…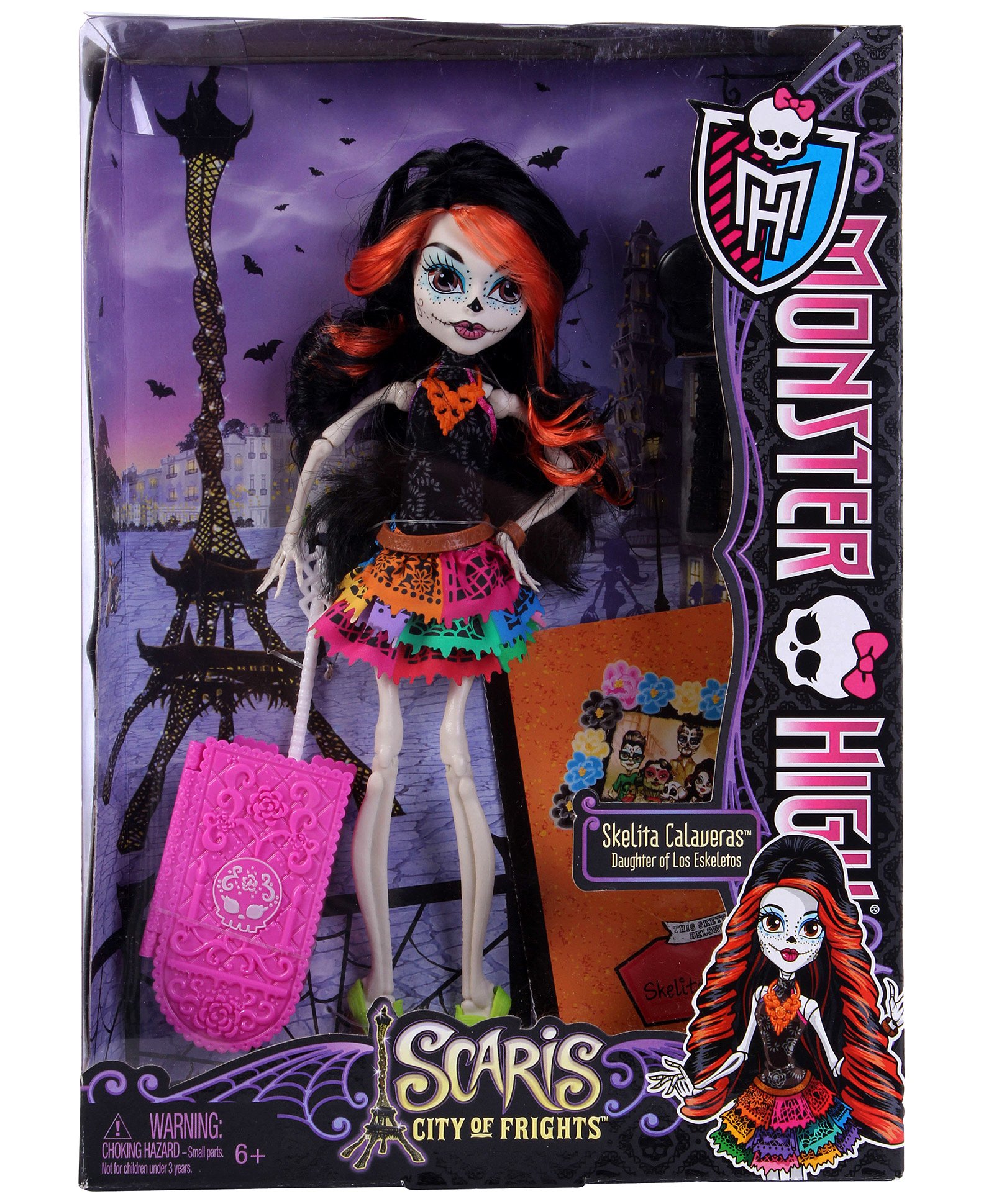 2012 saw the release of the 'Scaris: City of Frights' series, which had a travel theme and brought a few new characters into the mix. One of those brand new characters the wave introduced was Skelita Calaveras, which is my personal favorite Monster High doll of them all.
Presumably a big ole 'F off!' to everyone who got on Mattel's case for making the Monster High dolls way too thin, Skelita is a Dia De Los Muertos-inspired doll that is quite literally a skeleton, her face paint reflecting the Mexican celebration of the dead. Calaveras is actually the Spanish word for 'sugar skull' – one of the most iconic aspects of the celebration.
Skelita was subsequently added to the 'Art Class' and 'Scaritage' lines.
At each year's San Diego Comic Con, Mattel brings a special limited edition offering to the table, and in 2012 they released a box-set two pack comprised of two brand new characters; Scarah Screams and her stitched together voodoo doll friend, Hoodude Voodoo.
The thing I love about this particularly valuable set, which was brought to the event after winning a fan vote the previous year, is that it reminds me of Lucky McKee's film May, which is about a disturbed young woman who stitches together the ultimate friend, made from parts of people who turn out to be less than ideal companions.
With her pale skin, Scarah looks quite a bit like May, and her friend is of course very similar to the one she creates in the film. Certainly wouldn't be surprised if someone who works for Mattel is a big fan of Lucky McKee's work, that's for sure!
Another doll that was up for voting at the 2011 San Diego Comic Con was brand new character Headmistress Bloodgood. Though she didn't win the vote, she ended up becoming a Toys "R" Us Exclusive shortly thereafter, packaged with her blue horse Nightmare.
The coolness of this toy is pretty self-explanatory, as it's a doll – for children – that is packaged with its decapitated head separate from its body. There's little to not love about that, and I'm willing to bet many parents were outraged when they saw this macabre addition to the ever-expanding Monster High universe.
Not surprisingly, the headless Headmistress hasn't yet been given any subsequent releases, and I'm willing to bet she never will.
Not content with merely repainting existing dolls, giving them new outfits and inserting them into different social situations, Mattel has been pretty good at breathing new life into the line with outside the box concepts, one of which was this year's 'Freaky Fusion' series.
Living up to its name, 'Freaky Fusion' is all about mashing two different monsters together, and to date we've seen the fusion of existing characters as well as mash-ups of characters that hadn't previously been made available in the Monster High line.
It's more the line as a whole that I wanted to spotlight than any single doll from it, but if I have to pick a favorite I'm going with Sirena Von Boo, which is a fusion of a mermaid and a ghost. Despite the bound legs that the mermaid side of her family bestowed upon her, Sirena can still stand up without any assistance, so that's pretty cool.
Just a cool concept, all around.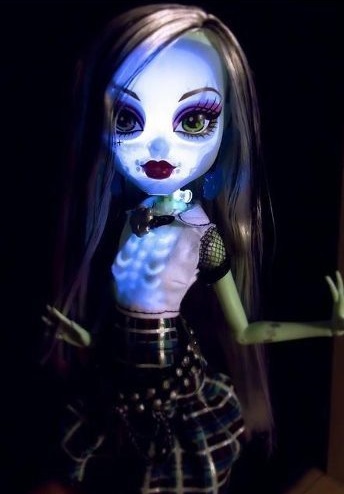 Another fun variation on the Monster High line was last year's 'Ghouls Alive' series, comprised of three of the most beloved characters from the monster-infested school. What was different about the series was that each doll was equipped with an action feature, allowing for them to do much more than merely stand there and inspire young girls to develop debilitating eating disorders.
Though it's again tough to pick a favorite, I'd have to say that the coolest of the three 'Ghouls Alive' dolls is Frankie Stein, who lights up with volts of faux internal electricity, with the push of a button. Spectra Vondergeist had a similar light up feature, while Clawdeen Wolf let out a fitting howl.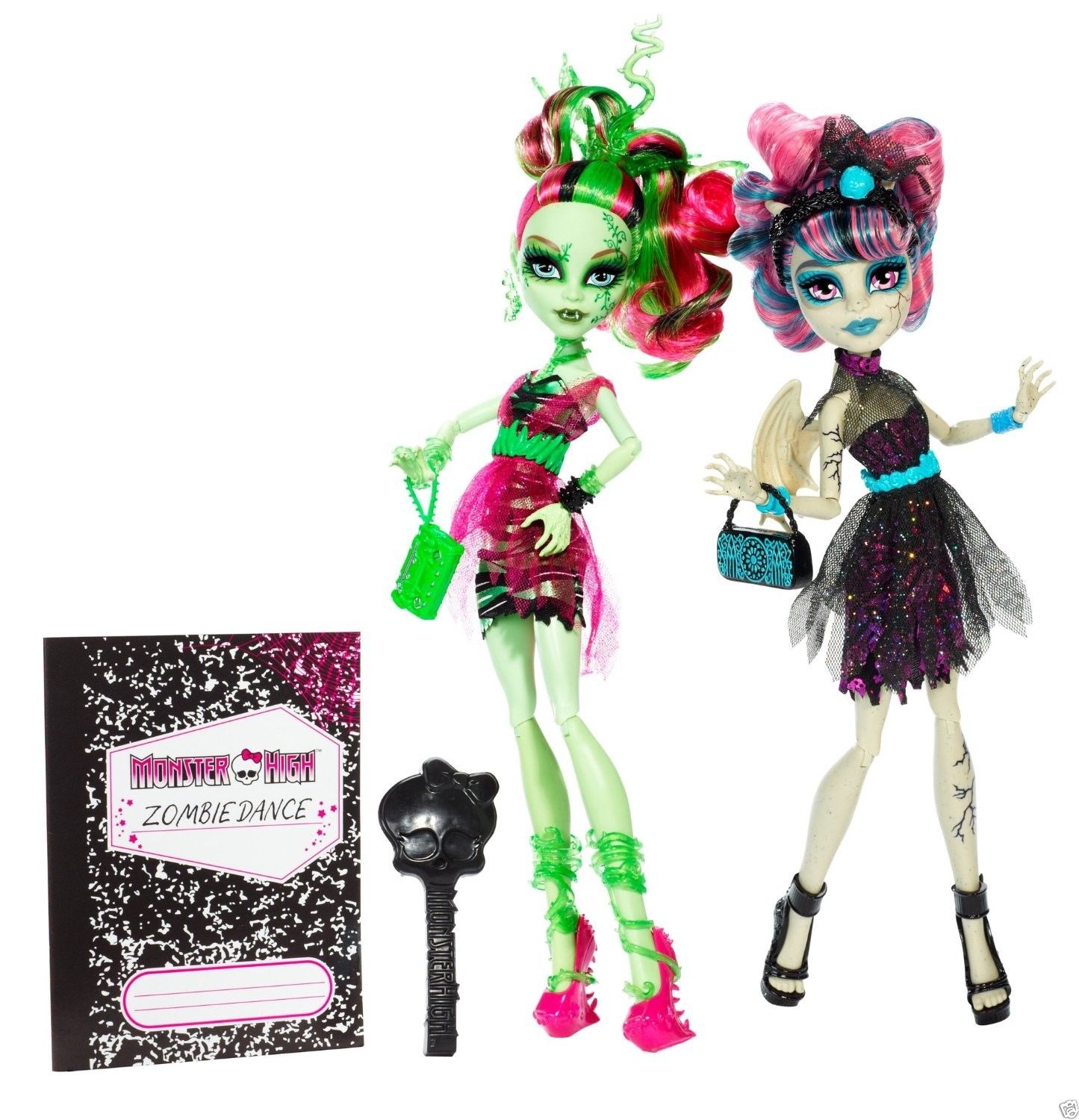 And last but certainly not least is another new offering for this year, which takes the monster concept of the dolls one step further. Dubbed 'Zombie Shake,' the series collects together four previously released characters in two separate two-packs – with an undead twist.
In my favorite of the two sets, Rochelle Goyle and Venus McFlytrap get the zombie treatment, with their face and body paint conveying the idea that both died and then came back from the grave. Once again, it's a pretty bold move from Mattel, given the audience the dolls are marketed toward, and you've gotta respect that.
The other 'Zombie Shake' set is comprised of Were-cat sisters Meowlody and Purrsephone.
Be sure to follow Monster High on Facebook to check out this year's San Diego Comic Con Exclusive, along with the new dolls Mattel is showing off at the event!
Support Halloween Love
If an item was discussed in this article that you intend on buying or renting, you can help support Halloween Love and its writers by purchasing through our links:
(Not seeing any relevant products? Start your search on Amazon through us.)