Sometimes I hate the internet. Like, totally hate it. But in October, as Halloween inches closer, the spirit of the season seems to bring out the best in people. Sure, message boards are still cluttered with the usual banality and yes, everyone still hates everything, but there's just something about Halloween that makes the internet seem a little less… awful.
One of the true joys of Halloween for someone like myself, who spends 90% of waking life on the computer, is sitting back and looking at all the awesome costume photos that flood social media platforms like Facebook and Instagram. It's like a front row seat to the most creative costume contest in the world, and the best part is that you don't even have to leave the house and pretend you like people.
Since I created a little folder on my desktop to collect together my favorite costumes I saw this year, I figured it'd be fun to bring a little of that Halloween spirit to November, and show some of those costumes off. After all, it's Halloween all the time here on HL, which means we don't have to play by the internet's rule of keeping the holiday confined to October. Because we're cool like that.
So without further yapping, here are ten of my favorite Halloween costumes from the 2014 season… in no particular order!
*If you spot yourself in any of these pictures, please do drop a comment down below and let me know. I'm happy to edit the post to add in your name and give you the credit you deserve*
1 – As some of you know, we have our own annual Halloween costume contest here on Halloween Love, and this year's winner was Shit Movie Fest's Thomas Bryce, who dressed up as Freddy from Return of the Living Dead. He's pictured here with his friend Nick, who spent the night donning the red gym shorts of Pet Sematary's Victor Pascow.
Congratulations, Tom. Nice to see someone dress up as a different Freddy for a change!
2 – A different Freddy was also what this guy was going for, slapping on the cape and becoming Dream Child's comic book-style 'Super Freddy.' With NECA recently releasing a limited edition action figure of Freddy's turn as a super villain, it was only natural that we'd be seeing a few of these costumes this year, and this dude totally nailed it. He truly is faster than a bastard maniac!
3 – Though Freddy Krueger has been a popular Halloween costume since the character burst onto the scene back in the 80s, it's pretty rare that you see someone dressed up as any other character from the Elm Street films. Actress Minae Noji gave the original film some feminine love this year, with this incredibly clever Nancy Thompson costume – an homage to the iconic bathtub scene. Now that is some truly inspired Halloween creativity right there!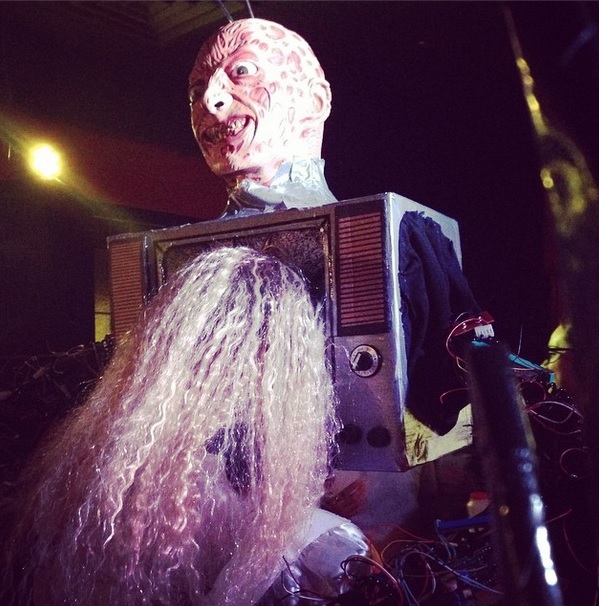 4 – Why so many Elm Street-themed costumes this year? Well, that probably has a little something to do with the fact that the film is currently celebrating its 30th anniversary. The magazine Rue Morgue had a Halloween party/costume contest this year, and the second place prize went to Eric and Genevieve Gaudet, who built this epic Dream Warriors costume. It was Genevieve who wore the clever contraption, which officially brought Halloween into prime time… bitch!
Credit for the above image goes to 'Ghoulish' Gary Pullin.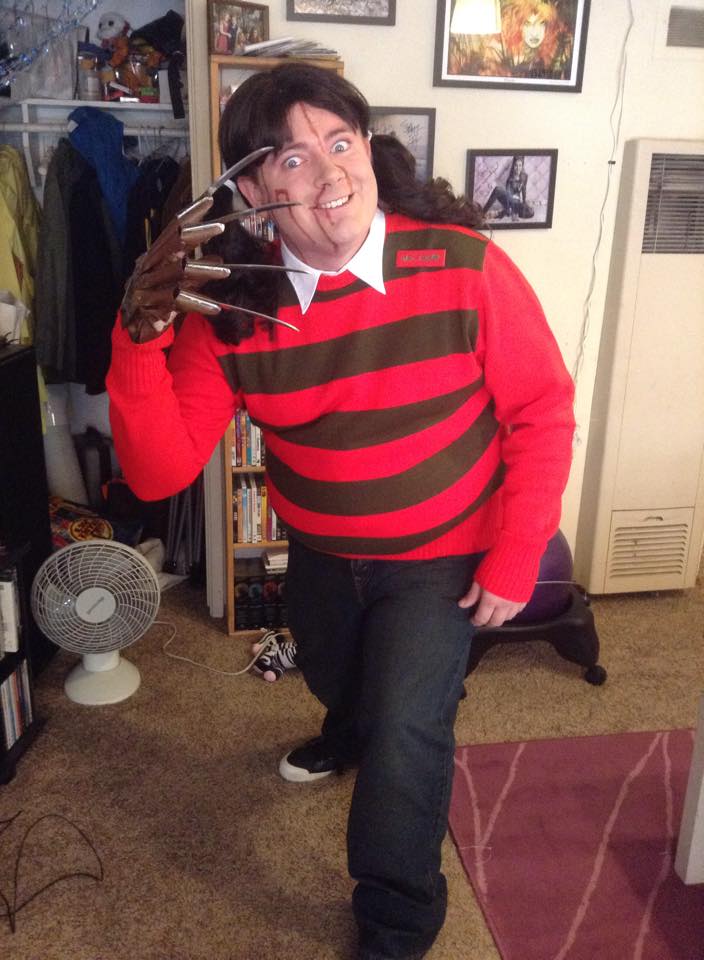 5 – It wasn't until I started putting this list together that I realized just how many of my favorite costumes from this year were Elm Street-inspired, though I promise this is the last one. Yet another original spin on the tired Freddy costume, Robert Trippett dressed up as the hall monitor from the original film, who gets her Freddy on in one of Nancy's nightmare sequences. Hope you brought your hall pass, Rob!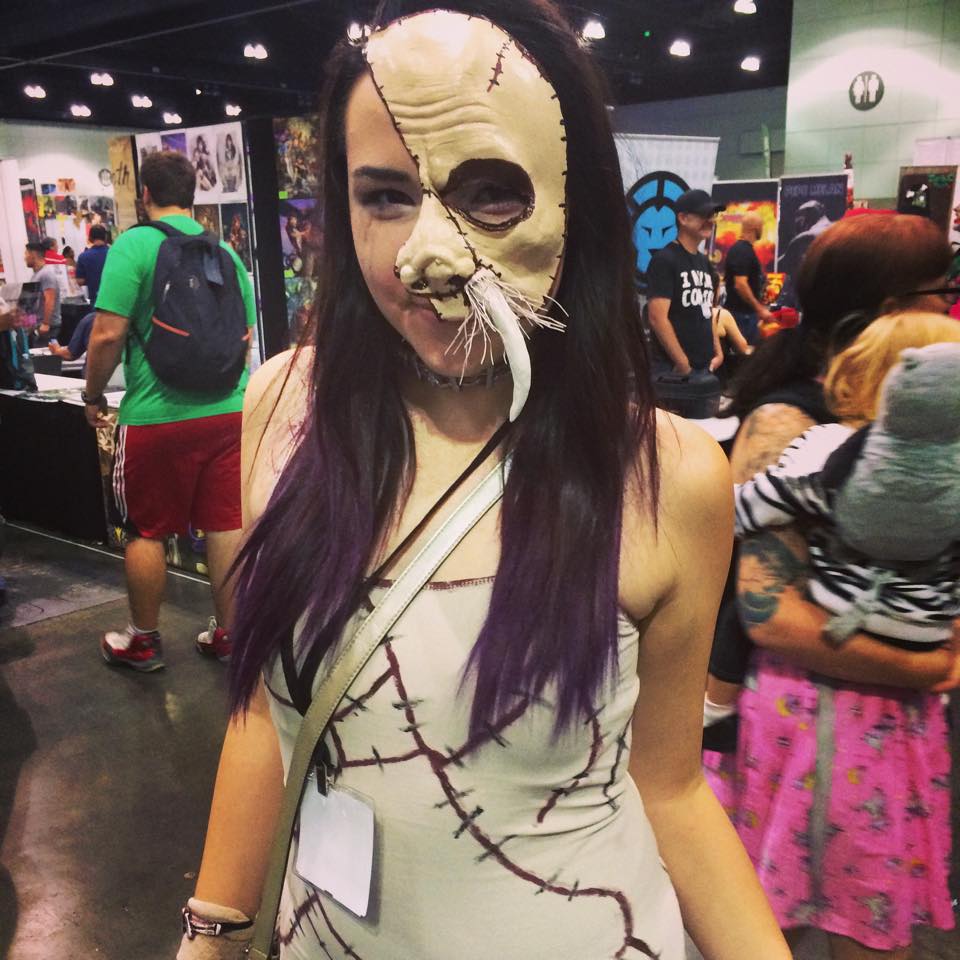 6 – Kevin Smith himself shared this fun cosplay, which puts the 'sexy costume' spin on his recent horror movie Tusk. I'm actually surprised there weren't more costumes inspired by the film this year, though that's probably because there were only about 15 people who saw the movie. Guess we'll have to wait until next year for some human walruses to waddle into Halloween parties!
7 – A graduate of the Tom Savini school, special effects makeup artist Dan Diana went all out this year for his friend John Conway, utilizing his skills to make him the sort of costume you just can't buy in the store. That's John dressed as Duane Bradley from Basket Case, and he brought his siamese twin brother Belial along with him!
8 – My friend Tiffany Santiago snapped this picture of herself at New Jersey's Chiller Theatre convention, with the winner of their Halloween costume contest. That's Tiffany's friend David dressed as Upson Pratt from the Creepshow segment 'They're Creeping Up On You,' and though I wasn't at the event, I feel pretty comfortable saying that the judges made the right call!
9 – It was a guarantee that we'd be seeing many Twisty the Clown costumes this year, as the American Horror Story character has already become a beloved horror icon. I have no idea who the man underneath the makeup of this particular Twisty costume is, but nobody nailed the look better than he did. Holy shit, is that photograph nightmare fuel or what? Good luck sleeping tonight.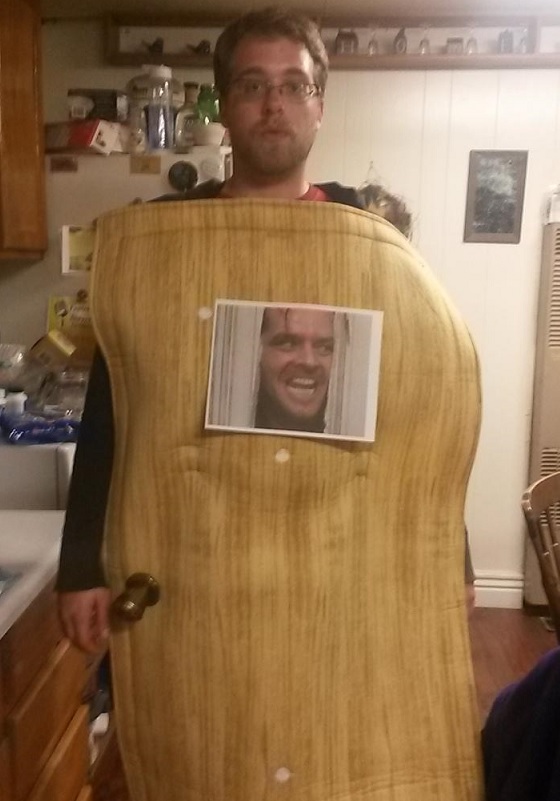 10 – While some use Halloween to be sexy, others use it be scary. And then there's those people who just want to make you smile. I'd have to lump this particular dude into the latter category for his clever 2014 costume, which saw him become the ill-fated door from The Shining. I've seen many Shining costumes in my day but I can't say I've ever seen anyone actually dress up as the door. Bravo, sir. Bravo. You made me smile this year, even if you couldn't force a smile of your own.
If you spotted any other creative costumes that belong on this list, comment below and show them to us!
Support Halloween Love
If an item was discussed in this article that you intend on buying or renting, you can help support Halloween Love and its writers by purchasing through our links:
(Not seeing any relevant products? Start your search on Amazon through us.)