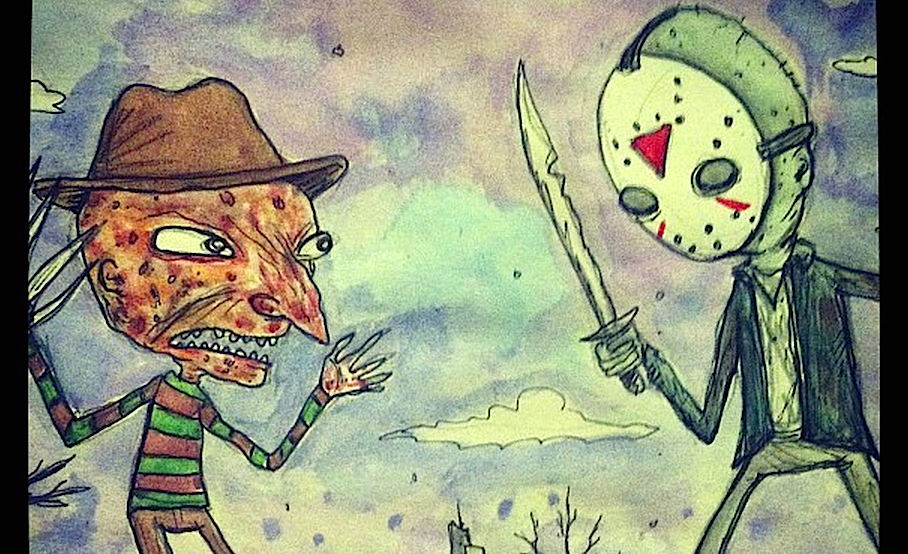 I've always believed that one of the biggest moments in any new relationship is the first time you visit your partners home. You can THINK you know someone fairly well after a few dates and a trip to the cinema, but if you want to REALLY know what you are getting into you need to see what they surround themselves with on a daily basis. It's a peek into their personalty …
I'll never forget the first time I saw my girlfriends apartment. She had informed me that she collected old toys, action figures, horror memorabilia and art, but nothing could prepare me for the sheer amount of stuff on display! It was like an explosion in a pop culture warehouse combined with a Toys R Us storage unit. My eyes darted from shelf to shelf trying to take it all in, but one of the first things that properly caught my attention was the creepy little guy pictured below …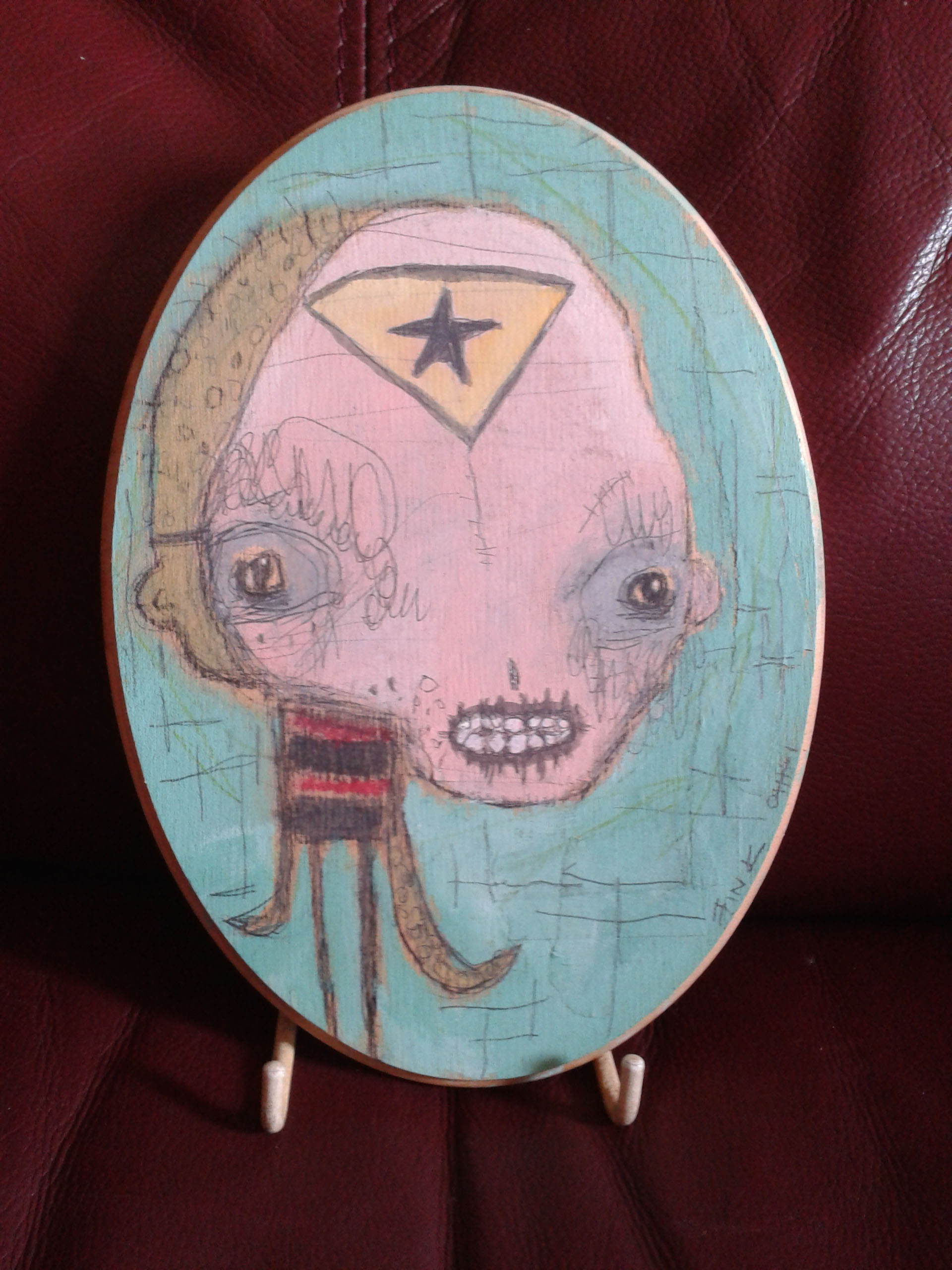 This original piece of art was created by a gentleman called Gus Fink, and over the following weeks and months I would learn a lot more about him due to my girlfriends passion for his work. She is crazy, cool and unusual, and I think that's a pretty good way of describing much of the art Gus produces. So in a way, my little theory had delivered!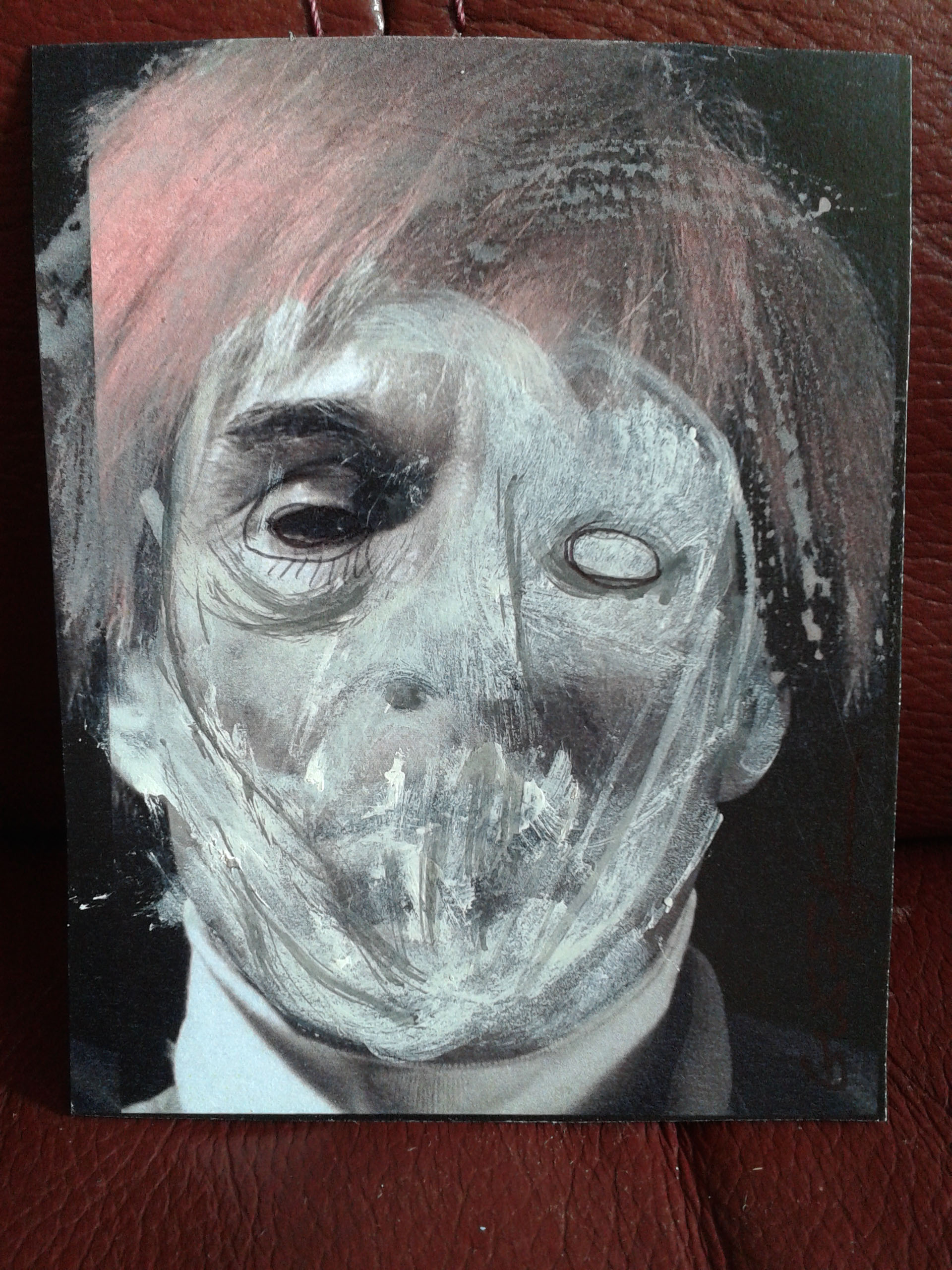 What I like most about Gus is the sheer diversity and imagination you get from his work. Many of the artists I talk to and follow are very clean and clinical, which is the kind of art I personally enjoy the most. But I've found it impossible not to fall in love with what Gus creates, and it's now reached the point where he is one of my favorite artists working today.
I was fortunate enough to be able to briefly communicate with Gus recently. It was the perfect opportunity to ask him about the origins of his style and to learn more about his exciting move into the world of video games. Take a look …

Halloween Love: First of all, can you tell me a little bit about your creative journey. Do you think art and design was a destiny from a young age?
GF: Yeah, as a kid it was something I really enjoyed and felt was my thing above all else. I remember being little and thinking, everyone can just see another world full of creatures and continuous new things. When I got older, maybe 19 or so, I realized it wasn't a common thing at all. Being creative is my favorite part, the process of coming up with something new and getting that excitement out of creating the new.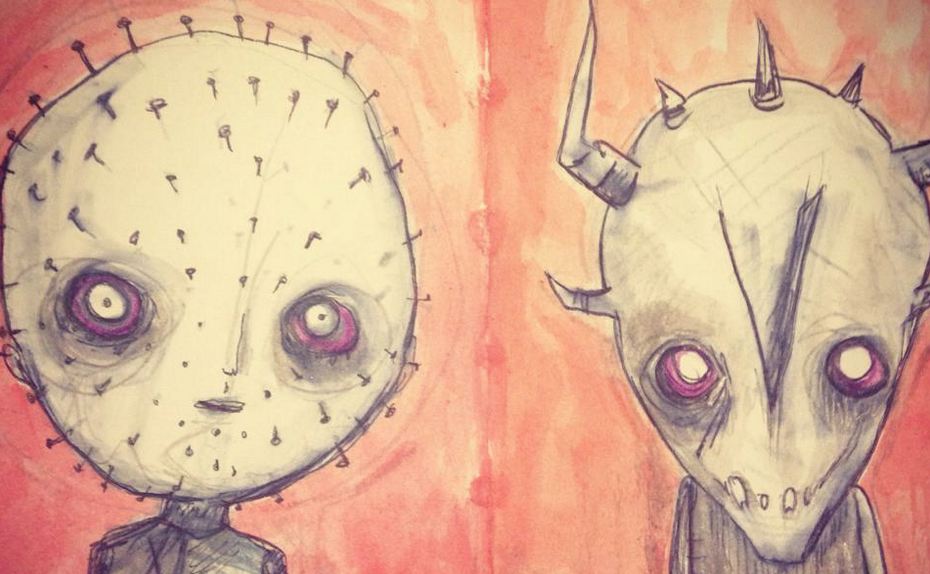 HL: As a horror fan I've become attracted to your work because I find it imaginative and beautiful, but with a dark edge. To me it embraces weirdness. Do YOU have a way of describing your style and output?
GF: I would say my style is truly me. It's an exploration of all that's inside – The darkness, the light, the silliness and the strange. Most people have all sorts of traits and things that make them who they are. Maybe they try to change those things or hide them. I just grab them all and share to the world. It's ok to have this different energy and feelings inside, it's who you are. Accept it and let it flow. As long as you're not hurting others, you're doing good by being your true self.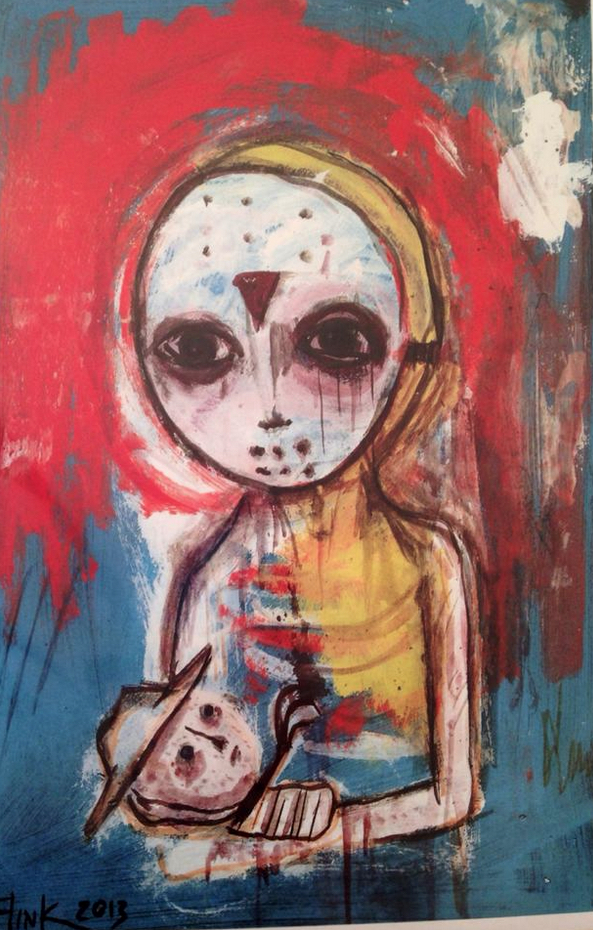 HL: Many of your pieces are painted/illustrated onto old and classic items, such as a vintage envelope to have camera films developed. Is it difficult sourcing these supplies, and what do think it adds to a piece?
GF: Yeah, I don't have unlimited supplies of it. A lot is given to me by some great people and collectors and I go out and look for it when I need to. But that all started from being a poor artist and grabbing anything I can find and making art on it. Whatever I came across I've made art on and sold. Paper wrappers on straws, sugar packets, old newspapers, pizza boxes – it didn't matter to me. The first old thing I used a lot was an old dictionary I found in a goodwill dumpster.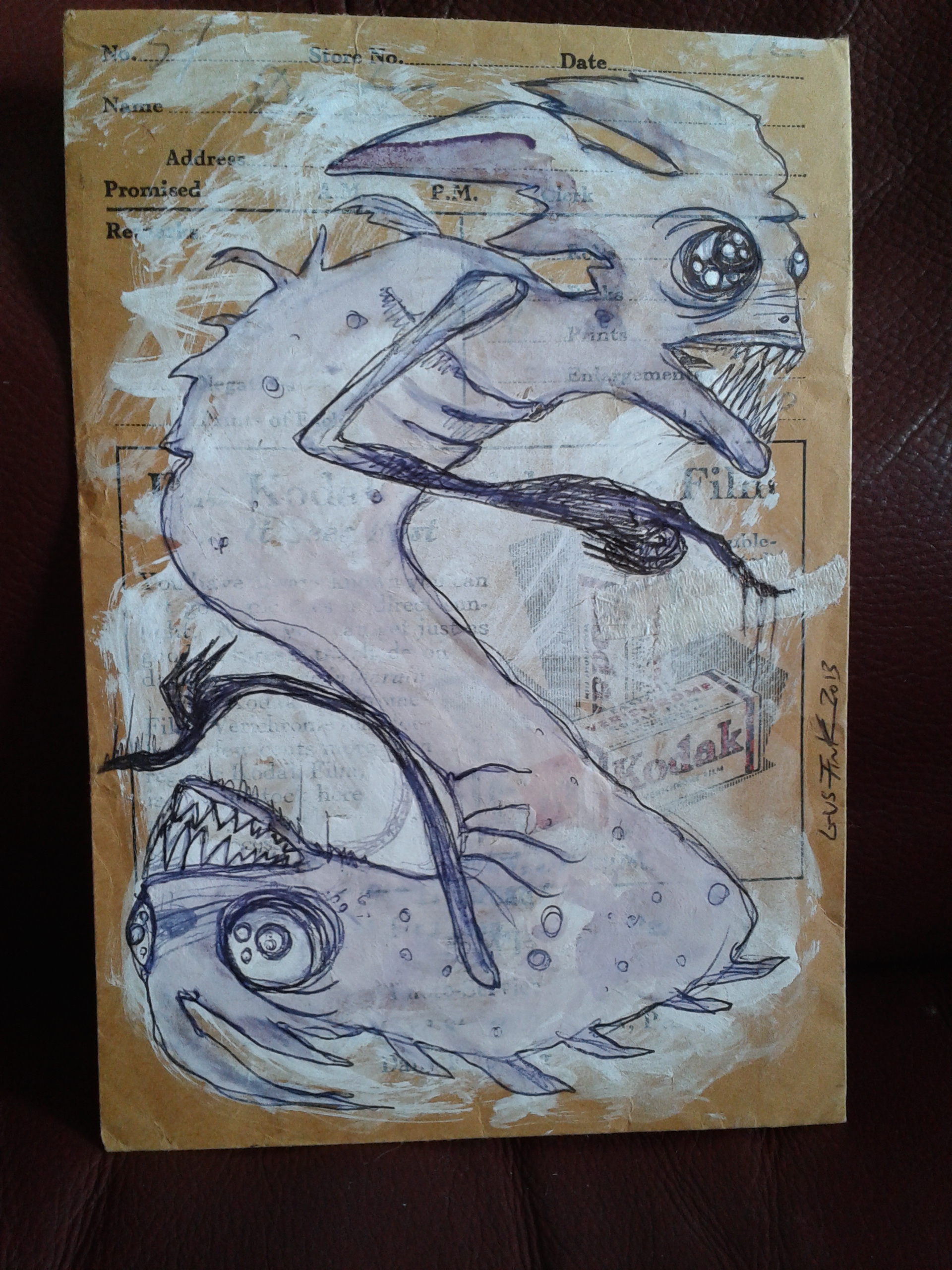 HL: Toys have been a big part of your creative output in recent years. Is that an enjoyable direction to take?
GF: Yes, I love toys. They give kids such an incredible feeling and a self escape into play and give me a creative energy of my own. When I was 10 my older brother was about 12 and he said, "We're no longer playing anymore. I'm too old." He retired. And that devastated me at the time. I felt like, well I should at least get 2 more years. He did! So for many years after, I felt like I was cut short on toys and playing. I remember being 12 and feeling like a weirdo looking at the toy section. I felt like they knew I was the old kid! And this was before toy collecting really was acceptable by the masses. Now you see guys in their 40s buying it for themselves. And now I don't collect toys, not even my own. I get joy out of making them and letting others have them.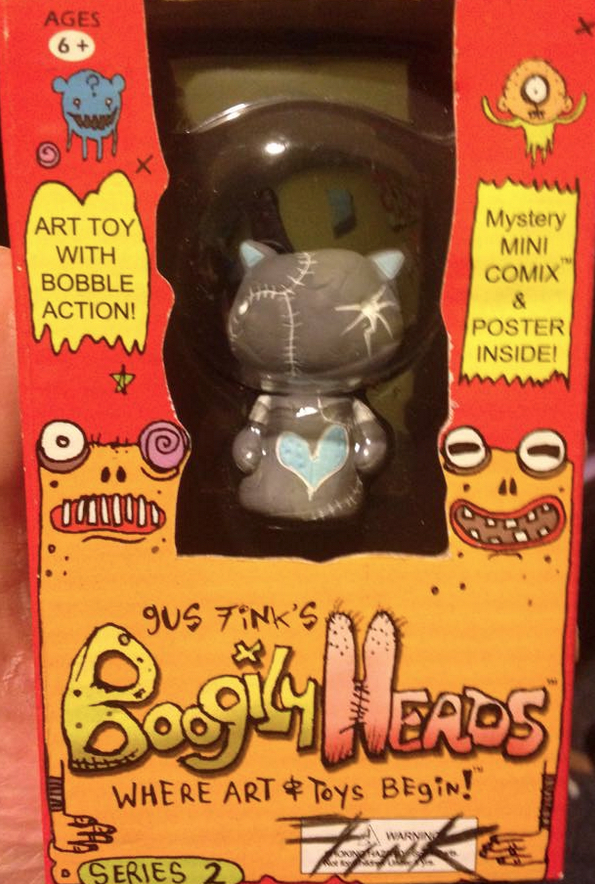 HL: Most recently I've seen you attached to the development of an awesome looking indie video game that features your characters as fighters. Can you tell me how 'FrightShow Fighter' came to be, and are you a fan of video games in general?
GF: I grew up with Atari 2600 as my first system and loved it! And then Nintendo and so on and so on. Video games were always important to me, I saw them grow from nothing to anything possible. 'FrightShow Fighter' came about in an odd way. I first wanted to make an interesting fighting game based on my art, and was thinking of a game where they were kinda box shaped with my art plastered on the fighters.
I met a guy (Jeff Brown), it was by chance, and I did something I never do, I planned for us to hangout immediately. It was to make toys together, and I found out he worked at a place that made boring video games for drug companies. That got me thinking maybe he would want to make a game. I asked and we talked and joked around and quickly I was talking to him about the game we have today. That was over 3 years ago in his apartment. Hard work and not giving up got us here. He knew a programmer and we got him on board. Luckily all the pieces fit and we really get along and have a passion for the game we are creating.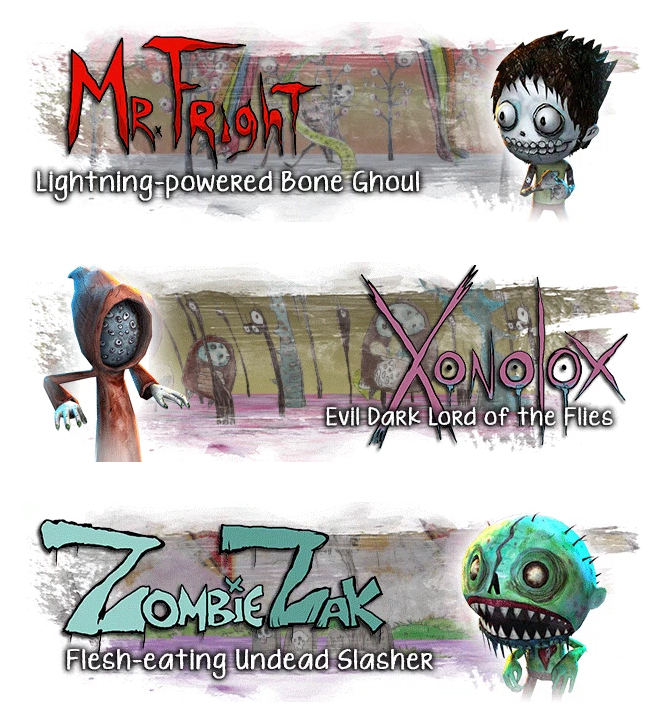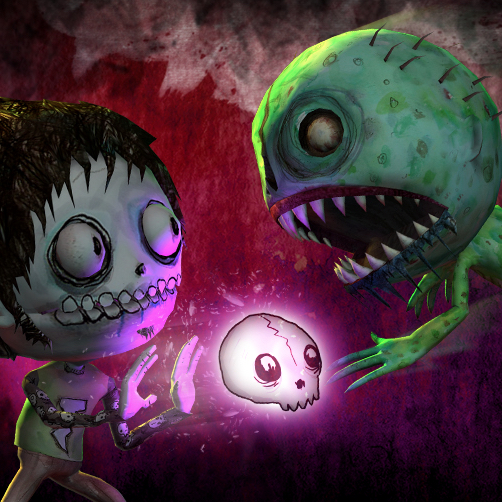 HL: What has the Kickstarter experience been like, and have you been getting positive feedback?
GF: Lots of positive feedback. Maybe 99% positive, with negatives at 1%. Stuff we're going to fix mostly. Kickstarter is brutal though. It's not as easy as it looks. It's hard work and you get more than 20 no people before you get a backer, but it's still a great way to set a goal and work toward it. I've had a Kickstarter that didn't make its goal in the past, but I didn't really understand Kickstarter at the time. I learned from that.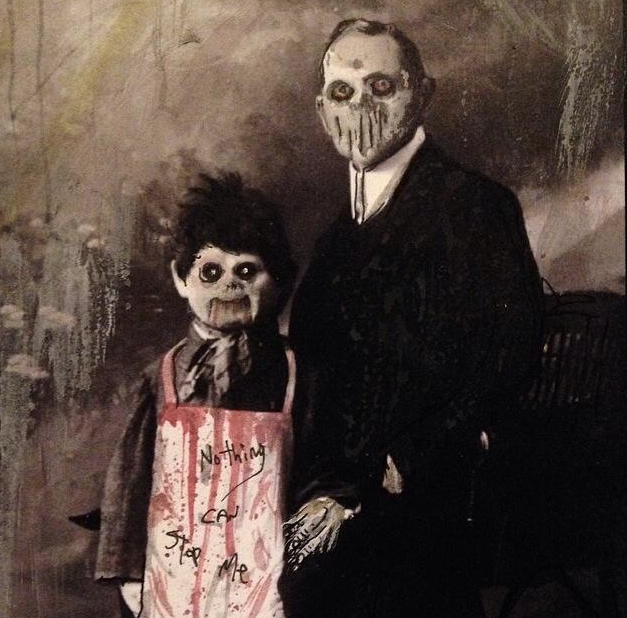 HL: Finally, what does the immediate future hold for Gus Fink apart from the continued work on the game?
GF: Besides this game, I'm working on other video games. One called SkullFist. Also a new apparel line is in the works, and I've been writing and creating as well as co-creating different cartoon ideas for TV shows.
A HUGE thank you to Gus for taking the time to be involved. To keep up to date with all of his news and work give his facebook page a LIKE. And to learn more about the Kickstarter for FrightShow Fighter go here.
Until next time, stay safe and keep it horror!
Support Halloween Love
If an item was discussed in this article that you intend on buying or renting, you can help support Halloween Love and its writers by purchasing through our links:
(Not seeing any relevant products? Start your search on Amazon through us.)