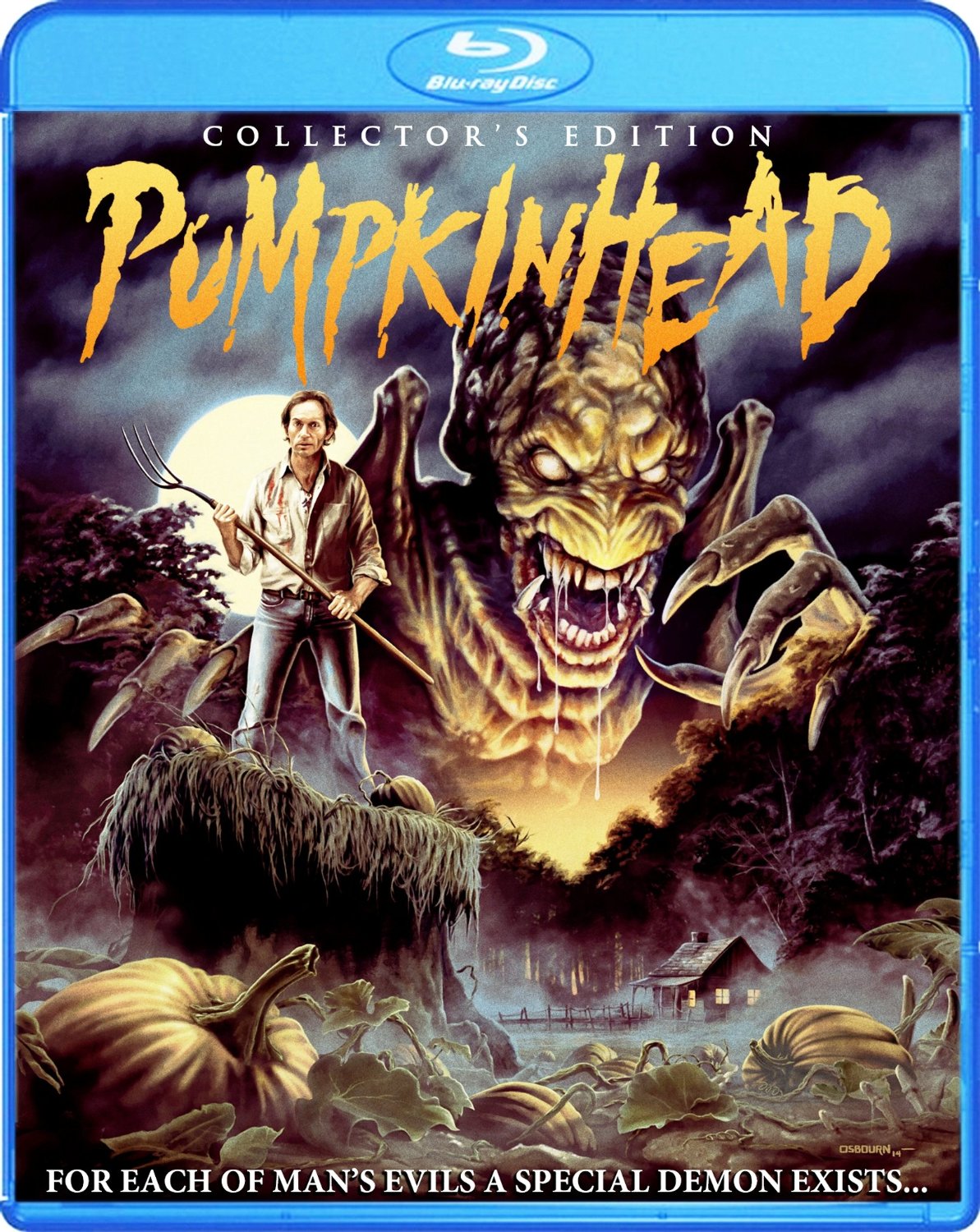 Pumpkinhead is a movie that's all too often not considered to be one of the best horror exports of the 80s golden age. But if you're asking me, it should be. Because quite frankly, it's better than most of the films that are, and far better than it ever really seems to get credit for.
It's for this reason that I was so happy to hear that Scream Factory picked up the 1988 creature feature, as Stan Winston's directorial debut is a movie that's incredibly deserving of the prestigious treatment they've become known for giving fan-favorite films.
Finally, after all these years, THIS is the release of Pumpkinhead that the home video world has been missing.
Before we crack into the movie itself, I want to talk packaging for a second, which is a major aspect of the overall Scream Factory experience. As always, this Collector's Edition affair features a slip-cover with brand new art as well as a reversible case sleeve, with that new art on one side and the original Pumpkinhead poster art on the other.
I think I speak for all horror fans when I say Scream Factory's box art is one of the company's many big draws, and artist Justin Osbourn knocked this particular one right out of the pumpkin patch. In fact, this is probably my favorite Scream Factory art to date, as it manages to effectively convey the feel of the film. It's totally evocative, as a piece of Pumpkinhead art by all means should be.
Must also give a special shout-out to the art on the actual disc itself, which has always been my personal favorite piece of the film's vintage promo art. Far too many companies skimp when it comes to disc art, and though I suppose it ultimately doesn't matter what the disc looks like, the fact that Scream Factory bothers to go that extra mile just makes their offerings that much more appealing.
Whenever I review Blu-rays, I always like to point out that I'm not the type of person who notices much other than 'this looks really good' or 'this doesn't look so good,' when it comes to transfers, so let's just get that out of the way, before we segue into the picture quality portion of this here review.
One of the main reasons I felt compelled to drop the dough on this release is because I felt Pumpkinhead was a film that could really benefit from being watched in the highest definition possible, as the visuals, atmosphere and overall ambiance have always been perhaps the biggest appeal of the film, for me.
As expected, the high-def format fits Pumpkinhead like a glove, and the film looks exactly the way I imagine it must've looked up on the big screen, back in 1988.
There's a common misconception that Blu-rays of older films should look as pristine and crystal clear as Blu-rays of films shot digitally and released today, and though I'm again not the kind of guy that Blu-ray.com would ever hire to tackle reviews, even I know that it's the transfers that don't scrub out that inherent film grain that are the best representations of the format.
In this release of Pumpkinhead, every bit of that beautiful grain is present, proving once again that Scream Factory understands the Blu-ray format. Aside from just generally looking good, several choice scenes particularly shine, mostly when the film's visual style is at its most stylish. Ed Harley's meeting with backwoods witch Haggis, for example, is a visual feast, the entirety of the scene bathed in a shade of Halloween orange that really pops in 1080p. It's truly a world of difference, when compared side by side with the old MGM DVD that I've been holding onto for so many years.
Other standouts include the 'holy shit I want to hang this screen-grab on my wall' scene of Harley digging up Pumpkinhead in the pumpkin patch, as well as every scene that the titular creature shows up in. To this day, Pumpkinhead is one of the most awesome creature designs in horror history, and it's the way the massive rubber suit was shot that makes it look so damn cool. Not to tread too far into cliche Blu-ray review territory, but the monster has genuinely never looked better than he does on this disc.
Now that we've talked picture quality, let's dig deep into this bad boy and pull out its pumpkin guts, shall we?!
On the special features front, everything from MGM's relatively recent Collector's Edition DVD was ported over, including the 64-minute long documentary 'Pumpkinhead Unearthed,' seven minutes of vintage behind-the-scenes makeup FX footage, a five-minute featurette about SOTA Toys' 18" Pumpkinhead figure and an audio commentary with co-writer Gary Gerani and creature designers Tom Woodruff Jr. & Alec Gillis.
Though all of the above are likely old hat to most fans of the film, I for whatever reason never got around to upgrading from the original bare bones DVD, so it was all new to me. I haven't yet listened to the commentary track but the six-part documentary is a must-watch, covering everything from the film's 70s short film origins to the production design, and featuring reflections from many members of the cast and crew, including Lance Henriksen and even the woman who played Haggis.
As far as brand new features are concerned, exclusive to this release, the highlight is a 49-minute tribute to the late Stan Winston, which absolutely dwarfs a mini tribute included in the aforementioned documentary.
Interviewed for this new tribute were members of the makeup FX team as well as Lance Henriksen and Brian Bremer (Bunt), all of whom share stories that provide some insight into Winston's personality, and the collaborative process that resulted in so much great work throughout the 80s and beyond. It's a really nice little mini-documentary, full of some great stories and memories.
Three interviews fill out Scream Factory's new contributions to the disc, with producer Richard Weinman and stars John D'Aquino (Joel) and Matthew Hurley (Billy Harley). Collectively, they run about 45-minutes long, with Hurley's segment in particular being a must-watch. He hadn't previously been interviewed in any Pumpkinhead home video features, so it was really nice to see what he looks like nowadays, and hear some on-set stories from his childhood point of view.
The new special features add a whopping 90-minutes to MGM's previous DVD release of the film, bringing the total run-time of the bonus content to somewhere in the ballpark of three hours. Add on top of that the tasty new art and the fact that this release marks the Blu-ray debut of Pumpkinhead and we've got on our hands here a disc that is a MUST for all fans of the film – as is always the case, when Scream Factory gets their hands on a classic gem.
What makes Pumpkinhead stand out from the endless stream of 80s horror movies is that it's the rare teens in a cabin 'slasher' flick that's actually so much more. Thanks to things like the incredible creature design, a fantastic performance by Lance Henriksen, a visual style all its own and a story that infused a whole lot of pathos into what is on the surface your run of the mill 80s bodycount film, Pumpkinhead is one of the decade's most finely polished gems, and what Scream Factory has done here is give it the justice it has long deserved.
In many ways, Pumpkinhead is a visual representation of everything that I love about the Halloween season, managing to be way more 'Halloweeny' than most films that are actually set on Halloween night. So I can't possibly think of a better disc to cuddle up with during the impending fall months than this one, which I personally will be enjoying for many Septembers and Octobers to come.
Without this disc in it, your horror Blu-ray collection is quite frankly ike a pumpkin with no face carved into it, so be sure to pick it up at your earliest convenience. It's well worth the money, and you can trust me on that.
If you love Pumpkinhead as much as I do, check out HL's exclusive interview with Gary Gerani and learn five fun facts about the film!
Support Halloween Love
If an item was discussed in this article that you intend on buying or renting, you can help support Halloween Love and its writers by purchasing through our links:
(Not seeing any relevant products? Start your search on Amazon through us.)