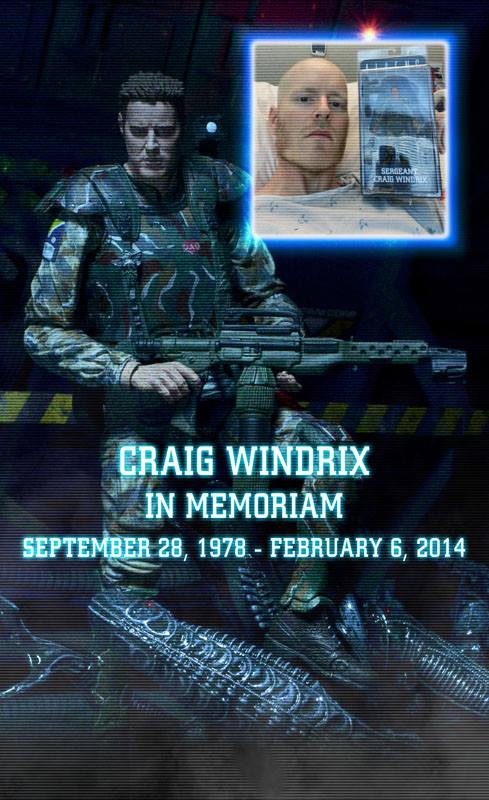 I'm normally not the type of person to turn someone's passing into a blog post, but since I know most of the horror sites likely won't be covering this one, and since it's a story I've been following over the course of the last several months, I feel it's important to use my little soap box here in the horror community to tell it.
Back in April of last year, a 34-year-old Oklahoma man by the name of Craig Windrix was diagnosed with advanced Stage-4 stomach cancer. His horrifying ordeal began with a trip to the hospital, and complaints of stomach pains, and unfortunately Windrix soon found himself at Tulsa's Cancer Treatment Center, his condition so grave that doctors gave him just six months to live.
How does this relate to horror movies, you ask? Well, here's where this tragic story gets just a little bit brighter.
Craig Windrix, who unfortunately lost his battle this week, was the brother of Kyle Windrix, the lead sculptor for renowned toy company NECA. The leading horror toymakers in the world, NECA has released some of the coolest figures us horror fans have ever had the pleasure of displaying on our toy shelves, including their recent NES-inspired Freddy and Jason toys. Gremlins, Predator and Alien are just a few of the other licenses the company has in their repertoire, and they've been doing a bang up job over the last several years of giving us as many different additions to those lines as possible, which are oftentimes quite unique and unexpected.
When NECA's Director of Product Development, Randy Falk, found out about Craig's diagnosis, he immediately set out to do something really special for him and his family. Craig was a big time fan of Aliens, just as his brother is, and Randy decided to take advantage of the fact that NECA holds a license to the film, and make an action figure of Craig, as a Colonial Marine. He contacted Fox for approval and once he got it, he had one of his sculptors make a Sergeant Craig Windrix action figure, unbeknownst even to Kyle.
The plan was for the figure to be a one-shot deal, for the Windrix family, but Falk soon thereafter one-upped even himself, when he decided to add the special tribute figure into the second series of NECA's Aliens line. Aliens: Series 2 just hit toy shelves last month and Sgt. Craig Windrix is indeed included in it, right alongside the original 1979 Xenomorph and one of the alien warriors from the sequel.
The figure joins the previously released Colonial Marines Hudson and Hicks, and it forever immortalizes Craig Windrix as the badass hero that he was, never giving up in the face of an enemy more vicious and life-threatening than even a Xenomorph could ever hope to be.
Much the same way the Colonial Marines in the film had personalized inscriptions on their armor, so too does Windrix' figure, which includes a heart with his girlfriend's initials on the front and a bowling ball and pins with his late father's initials on the back. His dad loved to bowl, and he died just one year prior to Craig being diagnosed.
Windrix passed away earlier this morning, around 10 months after that fateful trip to the hospital. As you can see at the top of this post, he lived long enough to witness the release of his very own action figure, and I can only hope that becoming an honorary star of his favorite film brought him a whole lot of joy, in his final days here on this Earth.
If you'd like to help out the Windrix family, and pay tribute to a young man gone way too soon, I encourage you to pick up the Sgt. Windrix action figure, and proudly display it in your home. Put him right next to heroes like Hudson and Hicks, where he belongs.
Rest In Peace, Craig.
Support Halloween Love
If an item was discussed in this article that you intend on buying or renting, you can help support Halloween Love and its writers by purchasing through our links:
(Not seeing any relevant products? Start your search on Amazon through us.)