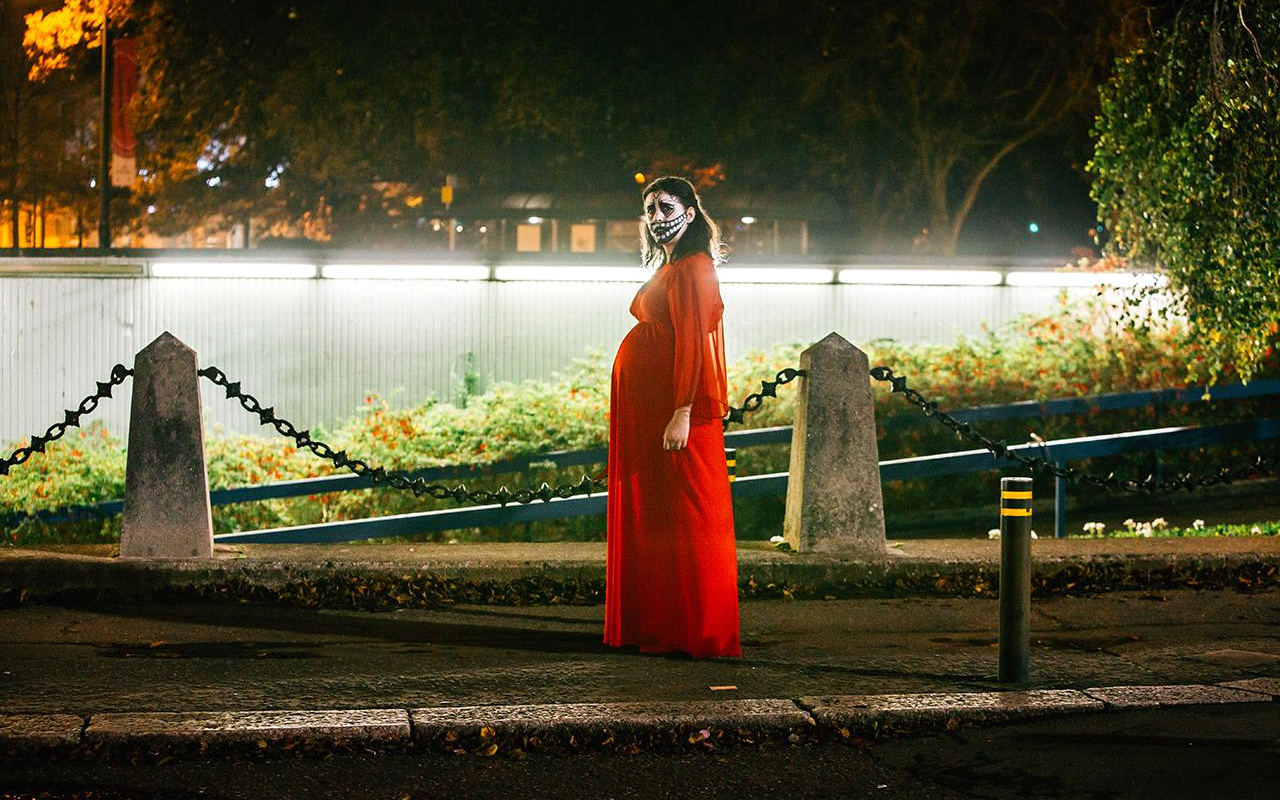 I'm sure most of you horror nerds out there are at least familiar with the streaming service Shudder. Basically the "Netflix" of the horror genre, for just $4.99 a month you can have access to countless genre classics both new and old. This isn't some paid ad or anything like that, I've been using the service since beta and have been thoroughly impressed since its launch. Boasting guest curators and constantly adding new titles to the library, there is always something new and interesting for me to watch. They are even taking a queue from Netflix and have been acquiring their own exclusive horror content, which is why I am writing this article for you today.
Their most recent acquisition that went live on the streaming service is Prevenge, a modest horror comedy from Alice Lowe (Sightseers). She wrote, directed, and starred in the movie which shot in under two weeks and on a shoe-string budget. She was very much pregnant at the time and incorporated that as a key plot point to the film, which revolves around her unborn child telling her she needs to kill a bunch of "bad" people. It's super dark, hilarious and an all-around impressive outing for any filmmaker, let alone one that is pregnant and making her feature debut.
You can tell throughout that the film was made for next to nothing, but it never takes away from what's going on. With Alice Lowe giving a stellar performance along with the rest of the supporting cast it is easy to overlook some cheap-looking production design. She also voices the baby, which means she accounts for 90% of what's going on in the story and she is always giving it her all thus selling us on the wacky plot. I reiterate that the comedy here is insanely dark and that it will surely turn some people off to it, but if you tend to learn toward the kind of stuff Lowe makes then surely check this out.
When Shudder is constantly adding titles like this to their library that $5 monthly charge seems dismal, I'd have paid that just to rent a film like Prevenge. Just back in February, I reviewed the film We Go On, a cool little ghost story they acquired and that I probably would have never seen if it weren't for them. They are constantly grabbing more stuff and as they do, the quality and size of those films tend to grow as well.
Maybe you're one of those fans who likes to complain way too much about new horror (come on, it's really good these days) well, there is more than enough for you guys here as well. Shudder has a huge cache of classic horror from all over the world streaming at any time on their service. Films Like Demons, Deep Red, and Fright Night are available right now. They are also the exclusive streaming home for the stunning Phantasm 4k transfer done by JJ Abrams and company last year. There is so much to dig into with this service.
Are you a physical media collector? even better, with all of the incredible boutique labels around these days, plenty of their films are streaming here for you to test drive. Don't want to drop $30 on that new Arrow release you've never seen? no problem, here are 32 of the Arrow US releases currently streaming. I've found it to be a must-have service for horror geeks, especially younger ones like myself who have a lot of catching up to do with the older stuff.
I know it may seem like I'm just trying to sell a product but as I was watching Prevenge it dawned on me just how valuable this service is for the genre and how much of a steal the price tag is. Every time I open up Shudder there is something new streaming and there is always something on my list that I've never seen and can't wait to check out. This is making me a better-versed horror fan by the day and if you want to have access to an incredible library of horror cinema I highly suggest taking up the service. To get you started, here are five titles currently streaming that I believe all horror geeks should check out immediately.
Sightseers – The Ben Wheatley film starring Alice Lowe
Behind the Mask: The Rise of Leslie Vernon – A brilliant new take on slasher cinema
Murder Party – The directorial debut of Jeremy Saulnier (Green Room)
Digging Up the Marrow – The latest from Adam Green (Hatchet)
Almost Human – The feature debut of Joe Begos
Support Halloween Love
If an item was discussed in this article that you intend on buying or renting, you can help support Halloween Love and its writers by purchasing through our links:
(Not seeing any relevant products? Start your search on Amazon through us.)