House
House is yet another cult horror movie from the vault that I'm delighted, but surprised to see get the royal Blu-ray treatment. It's an absolute gem of a film and one of my favorites. I feel like Scream Factory really paved the way to show movie studios that it was worth the time and effort to restore these mostly long-forgotten titles, that there was a strong enough cult following and demand in them to justify the cost. I've also been enjoying the new Vestron Video series, who seemed to have taken a cue from Scream Factory. And now, I've just experienced my first Arrow Video release, House: Two Stories. Things have gotten really, really good for horror in the last couple of years.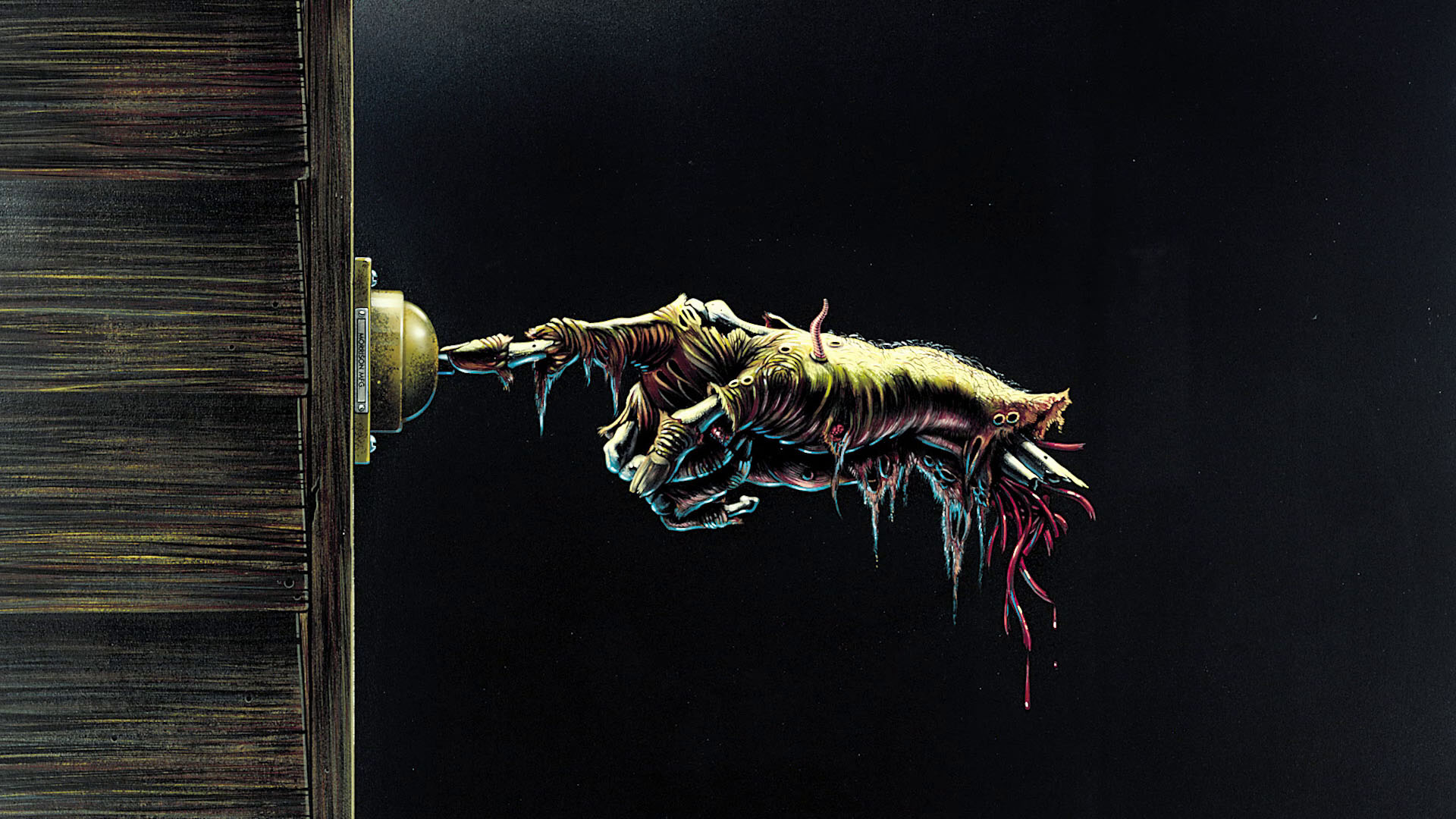 Such an incredibly fun, funny, and still creepy movie. Probably one of the most successful horror-comedy crossover movies ever made, in that it accomplishes both without one smothering the other. The montage of our protagonist (Roger) disposing a monster's body against Linda Ronstadt – "You're No Good" (Betty Everett cover?), is one of the funniest scenes in movie history of any genre, and one of the best examples of the power a licensed song coupled with thematic imagery can have in elevating an emotional response:
The house is full of "monsters" or at least the occupant's imagination of scary things as the house shows to them. Though it's never explained exactly what's going on with the house (which would probably be too distracting anyway), it's revealed that it doesn't actually have the power to kill, but only the ability to try and trick its occupants into committing suicide. And it's very convincing when Roger's imagination (or fear) conjures up a zombified version of his friend ("Big" Ben) who died in Vietnam, capturing Roger's son and threatening to slit his throat:
I remember being terrified of Ben when I was a child. Also, they did such and amazing job with the facial animatronics, I never even knew it wasn't just an actor with make-up on until watching the new special features.
Special Features
Audio commentary with director Steve Miner, producer Sean S. Cunningham, actor William Katt and screenwriter Ethan Wiley
Ding Dong, You're Dead! The Making of House – brand new documentary featuring interviews with Steve Miner, Sean S. Cunningham, Ethan Wiley, story creator Fred Dekker, stars William Katt, Kay Lenz, and George Wendt, composer Harry Manfredini, and more
Stills Gallery
Theatrical Trailers
Re-watching the movies (it had been a few years) and watching the new special features, I was surprised to learn how many people from the Friday the 13th films were involved in House and House II. But, the inclusion of George Wendt (most famously Norm from Cheers) as the obnoxious, but lovable neighbor, I think was the best final touch to bringing it all together.
House II: The Second Story
Hahahahahahahaha! This. Is. An. '80s. Movie. House II: The Second Story has always had a very special place in my heart. It's like one big episode from Amazing Stories. If you're depressed, I'd actually recommend this movie to cheer you up. It's so funny, weird, wonderful, and ridiculous that it has me ear-to-ear grinning all the way through.
This movie goes after adventure and comedy more than it does horror, and it's a gem for it. We've got an amazing rag-tag crew here with of course the Caterpuppy as shown above, the mischievous, crystal-skull-stealing (the skull which makes an appearance again in Indiana Jones and the Kingdom of the Crystal Skull by the way) Baby Pterodactyl: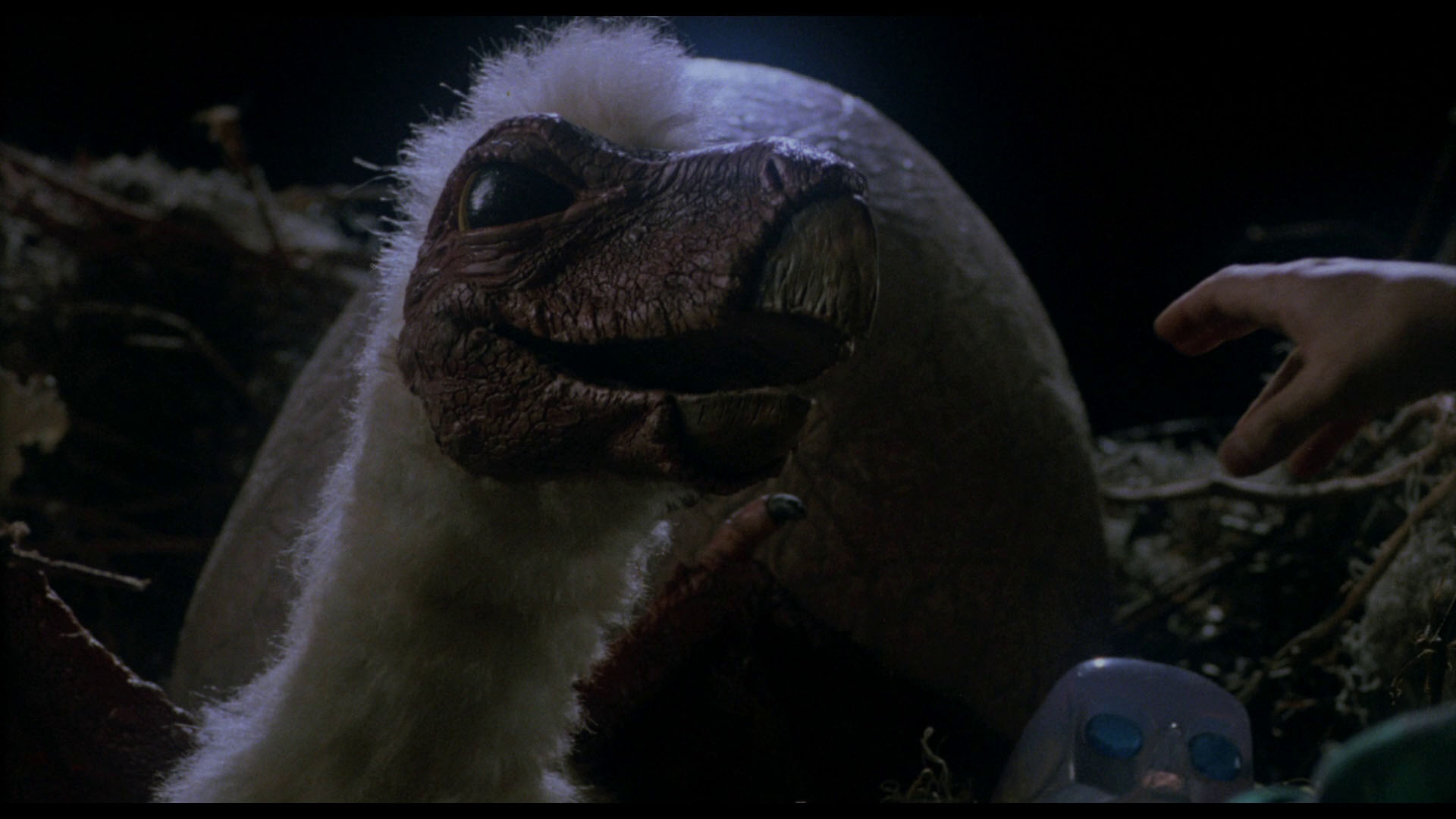 And Gramps!:
How could you not want to spend an hour and a half with this funky crew? I also think it was very much a big influence on The Frighteners.
Borrowing from Cheers again, we're treated to a hilarious cameo from John Ratzenberger (most famously Cliff from Cheers).
The best part that had me burst out laughing is when he delivers the line:
"Looks like you got some kinda alternate universe in there or somethin'."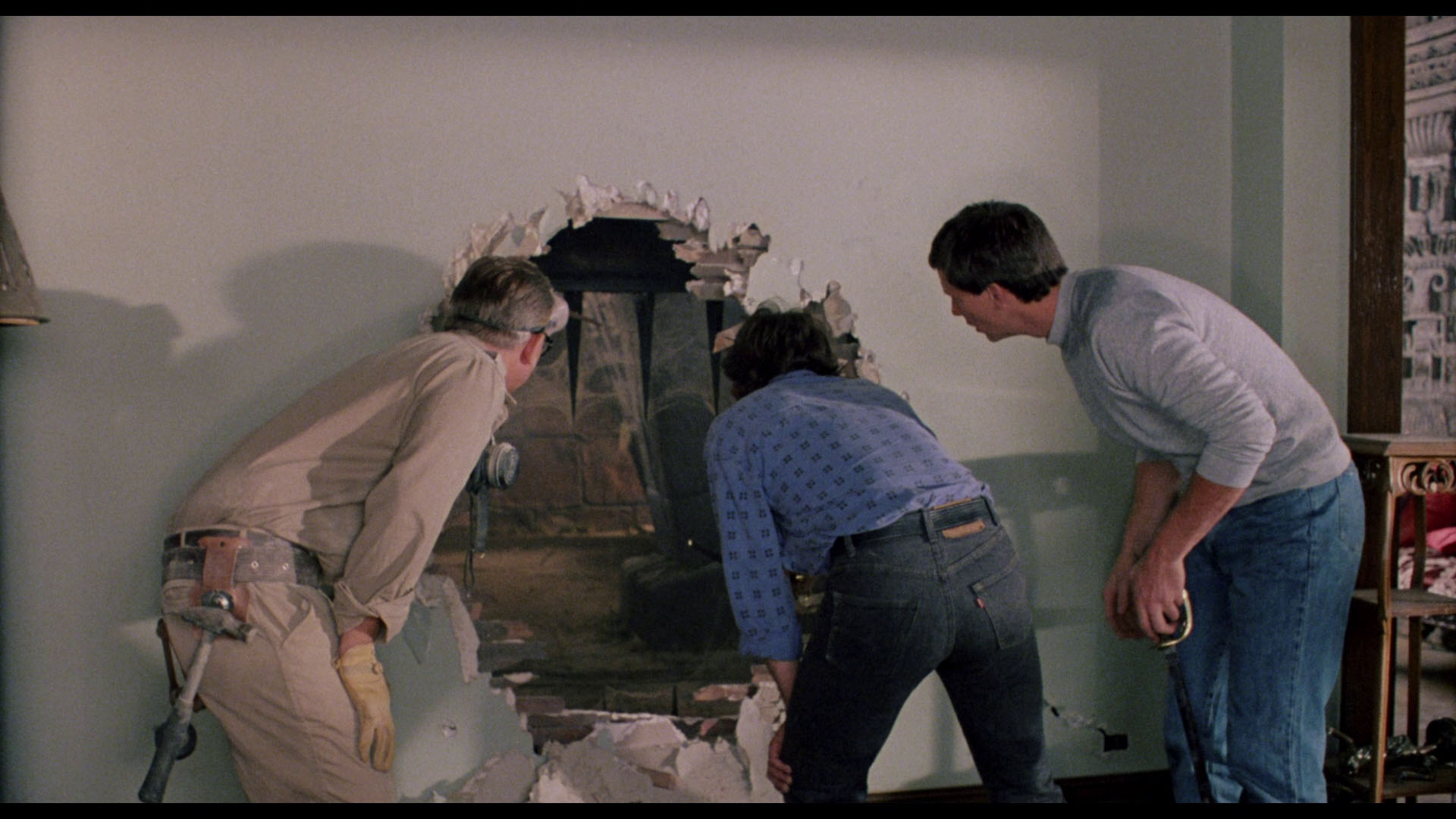 Kane Hodder also plays a small role where he's dressed in a gorilla costume and meets his match, getting punched off a railing.
Special Features
Audio commentary with writer-director Ethan Wiley and producer Sean S. Cunningham
It's Getting Weirder! The Making of House II: The Second Story – brand new documentary featuring interviews with Ethan Wiley, Sean S. Cunningham, stars Arye Gross, Jonathan Stark, Lar Park Lincoln, and Devin DeVasquez, composer Harry Manfredini, and more
Stills Gallery
Theatrical Trailer
The Horror Show (House III)
While not included in this box set, I wanted to mention the other two House films. The Horror Show (House III), in the same vein as Halloween III, is an offshoot of the franchise and really has no relation to the other films, except for in name only. Also like Halloween III, I think The Horror Show is a pretty cool little standalone film on its own merits. But, either because of a problem with execution (not being able to avoid audience confusion), or audiences just not being ready for that kind of anthology storytelling, it just didn't work, and returned to the familiar formula in the next sequel.
This movie, too, was also made by a lot of the same people involved in the Friday the 13th films. Interesting little factoid, James Isaac, its director, also went on to direct Jason X.
House IV
House IV has never been released on DVD, let alone Blu-ray. There was a foreign DVD release, but as far as I know, there's only ever been a VHS release in English (the film's native language). A surprisingly decent quality copy appears to have made its way onto YouTube though (perhaps not for long). Though the movie was direct-to-video, I remember it fondly, especially this bizarre scene (which I recently Tweeted about as best as I could remember it):
Future
There was some random murmuring of remake talk on the new interviews and I found an old article here, but it doesn't really appear that anything is happening on this front. I'd kind of like to see it turned into a television series, where it could really be a proper anthology as it was always meant to be.
Final Verdict
I was actually just about to say that while I recommend picking up a copy, that the current price of $60 is a bit much, so you might want to wait for the price to come down. But, as usually happens with Amazon pre-orders, the price has come down from the suggested retail price to a more reasonable price, $37.99. So, definitely order a copy now since this is a limited release. The problem is that when limited copies are sold out, the vultures swoop in with copies they've held hostage in order to sell for ridiculous prices. The street date is April 11th.
Support Halloween Love
If an item was discussed in this article that you intend on buying or renting, you can help support Halloween Love and its writers by purchasing through our links:
(Not seeing any relevant products? Start your search on Amazon through us.)