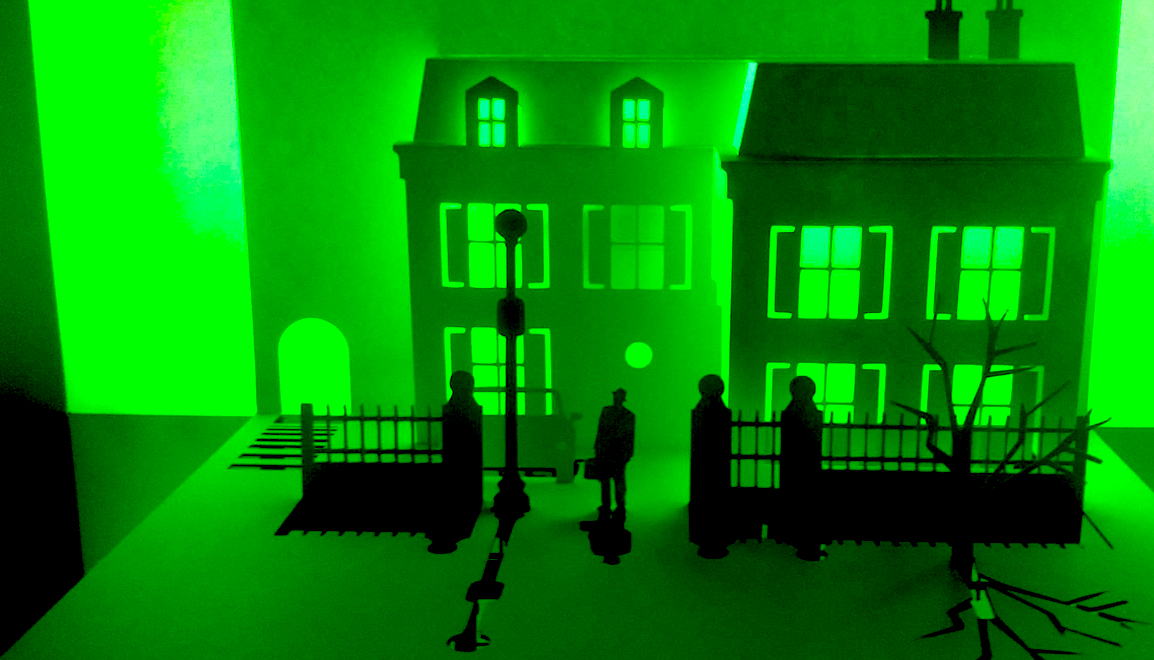 Early last year I posted a picture on the Halloween Love facebook page that featured a recreation of the Overlook Hotel from The Shining, made from a single sheet of paper. And when I say a single sheet I MEAN a single sheet! Nothing is added, taped, glued or attached in any way. The building was carefully laid out on the paper with genuine architectural planning and precision, then a razor sharp blade is introduced and some time later the whole thing is carefully bent, pushed and raised into position. It's a mind-blowing ability and the 'man who can' goes by the name of Marc Hagan-Guirey aka Paper Dandy.
It's called Kirigami, and it's a variation of the more well-known origami, but unlike origami cutting is allowed. I struggle to make a paper airplane that can stay aerodynamic for more than three seconds, so this was a skill that fascinated me from the get-go. Throw thirteen classic horror movie buildings and locations into the mix and you've got me hooked!
I remember contacting Marc at the time for his permission to share more images and hopefully get some genuine insight into these fantastic pieces of art but a combination of other articles I was working on and Marc being an incredibly busy guy meant it was an idea that ended up on my to-do list – until recently.
Marc's latest Kirigami project (classic scenes from the Star Wars saga) is all over social media right now, and seeing this new work once again reignited my passion for his original "Horrorgami" pieces. So, today I'm going to take a look at ALL of the horror locations Marc created, AND I was able to arrange a quick-fire Q&A with the man himself. I'll sprinkle the questions and answers among the images and be sure to enlarge each and every one of these. When it comes to unique and eye-catching art, this is about as good as it gets!
We start with the Horrorgami model I encountered first – The Overlook Hotel.

When each model is completed, the magical finishing touch is to seal it within a custom made lightbox, it's at this point that the buildings truly come to life. Shadows are formed, you get a true sense of depth, and atmosphere just explodes from every tiny window and doorway. The colors tend to complement the movie in question and the end result is a creation you can't help but stare at for minute after minute – absorbing all the detail. Did you see the tiny Jack Torrance limping through the snow carrying his trusty axe?
The rest of the buildings in order working downward are:
Rosemary's Baby – The Dakota Building.
The Amityville Horror – 112 Ocean Drive.
Psycho – Bates' Motel.
The Exorcist – MacNeil Residence.
Ghostbusters – The Fire Station.
Dawn of the Dead – Monroeville Shopping Mall.
The Munsters – 1313 Mockingbird Lane.
The Addams Family – 0001 Cemetery Lane.
Don't Look Now – Venice.
The Haunting – Hill House.
Beetlejuice – Deetz Residence
AND, House on Haunted Hill – The Ennis House …

Halloween Love: First of all can you tell me a little about your creative history, have you always been artistic?
Marc: My grown-up job is a Digital Art Director. I went to art school in Manchester and afterward moved to London to start my career. I'm self employed now so I can take time off to concentrate on kirigami making. I've always been creative. As a kid I was always hoarding toilet roll tubes and cereal boxes in order to make a fortress for my action figures. It's not that much different now, except I get paid for it!
HL: How did you discover you had a talent for the art of Kirigami?
Marc: Well, as I said I've always made stuff from when I was a young age. Talent is something that comes from practice so I've been practicing making things most of my life. A steady hand for cutting comes from years of working with my hands. I've always been interested in architecture and craft so when I happened upon kirigami it was a happy marriage of the two.

HL: Do the structures require a huge amount of planning / measurements and so on, before you actually start 'cutting'?
Marc: Yes. I design templates and make simple prototypes to cut first (without any detail) so I know I've got the structure right. It's very easy to make miscalculations.

HL: You gained quick recognition due to your stunning Horrorgami work – Why did you choose buildings from horror movies as the subject matter? And is horror a big passion in your life?
Marc: I grew up with Horror. Although I'm a humanist now, I grew up in a very religious town. Irish Catholics are as obsessed with the darker side of superstition as they are the 'ceremony' side. I was no exception. Witches, ghosts, urban legends everything occult always has some link back to 'God'. My brother loved horror films and he would often let me stay up late to watch them with him.

HL: What was the most challenging horror location to plan and complete?
Marc: The Ennis House design went through a lot of revisions. I sold every edition of the Rosemary's Baby Horrorgami. It was easy to fold, but to cut it!!! SO many windows. I hated it by the end. It's one of my favourites now though.

HL: Were there any Horror movie buildings you didn't get a chance to try but would like to attempt in the future?
Marc: Yes there were but they're all in my upcoming book: 'Horrorgami – 20 Gruesome Scenes to Cut and Fold'. It's out on Sept 7th.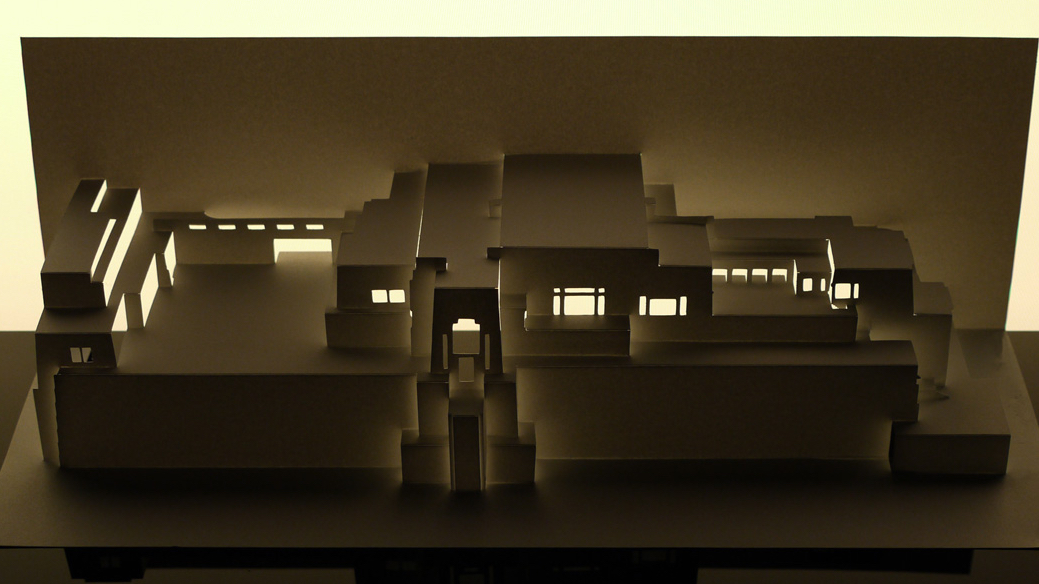 HL: Finally, do you have any new projects on the way that you can talk about?
Marc: Well you might have heard about my new project. Cut Scene – inspired by Star Wars.

A BIG thank you to Marc for taking some time to be involved. To see more regarding his Star Wars project then follow the link above – More images from the Horrorgami collection can be found at the official site!
Support Halloween Love
If an item was discussed in this article that you intend on buying or renting, you can help support Halloween Love and its writers by purchasing through our links:
(Not seeing any relevant products? Start your search on Amazon through us.)