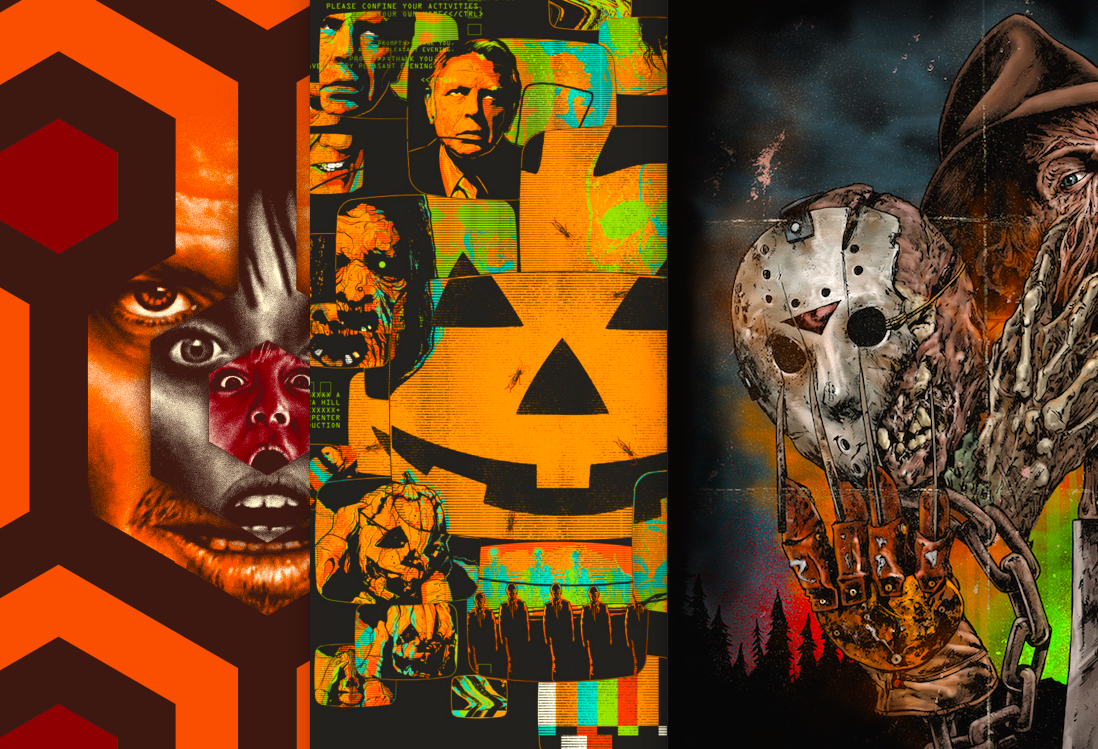 2015 was an INCREDIBLE year if you have a passion for alternative movie posters, with nearly all of the highly skilled artists we have come to know and love producing a staggering amount of new pieces that pay tribute to movies across every genre. Their ideas and creativity has reached an almost overwhelmingly high standard, and today I'm revealing my personal favorite new horror movie posters that were unleashed over the last 12 months.
It was near impossible to narrow it down, but these are the select few that made me weep with joy a little more than the rest!
Jaws – Amity Island: Beach Open / Beach Closed – (Ape Meets Girl aka Kevin M. Wilson)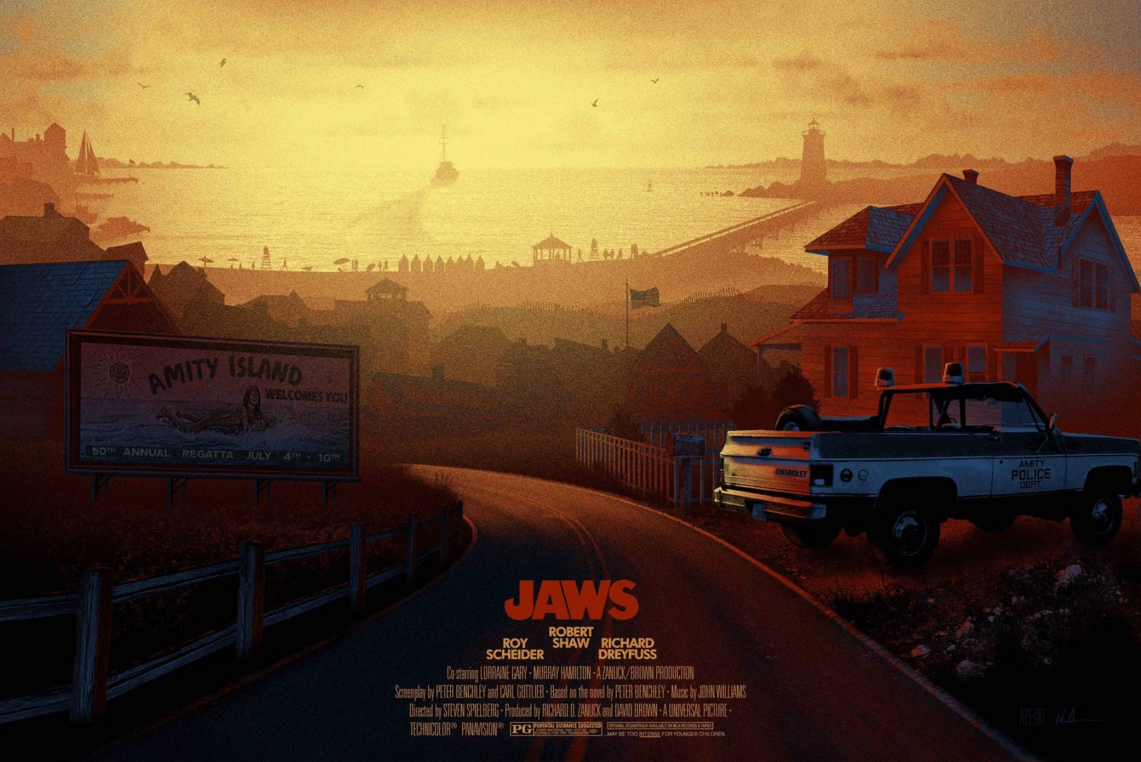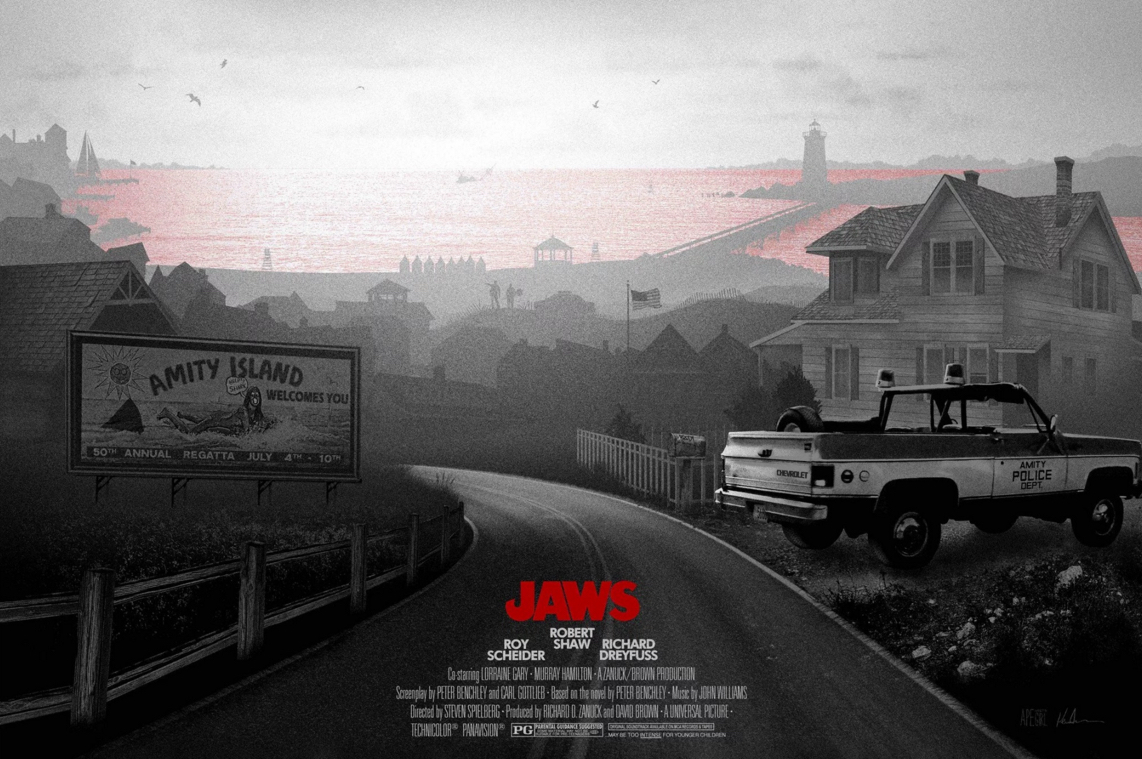 Kevin is one of my absolute favorite artists working out there right now, and he mentioned to me in an interview I conducted with him last year that he really wanted to attempt a Jaws piece, but it had to be something fresh – something different. I can comfortably say that the TWO posters he ended up creating for a private commission shortly after we had our little chat are beyond anything I could have imagined. A truly magical and unique concept that celebrates the tone and atmosphere of the movie – not just the shark.
Halloween 3 : Season of the Witch – (Matt Ryan Tobin)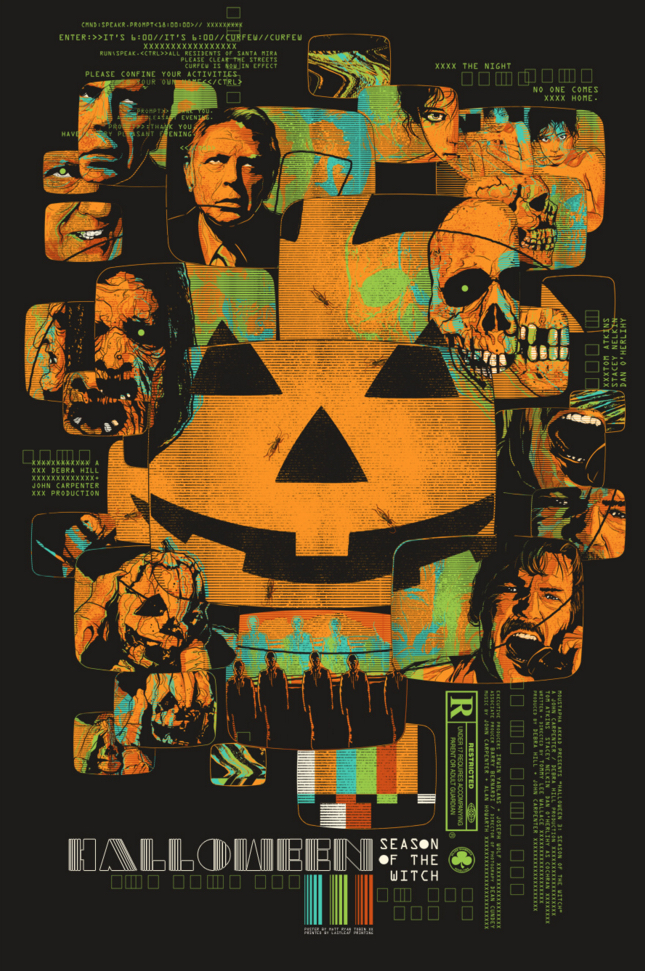 I praised the SHIT out of this masterpiece when it was featured in my Halloween 3 alternative art list a few months ago, and how I feel about it hasn't changed in the slightest. It's an epic design that includes EVERYTHING you could possibly hope to see if you love the movie. One of the most perfectly executed alternative posters I've ever seen.
A Nightmare on Elm Street – (Gary Pullin)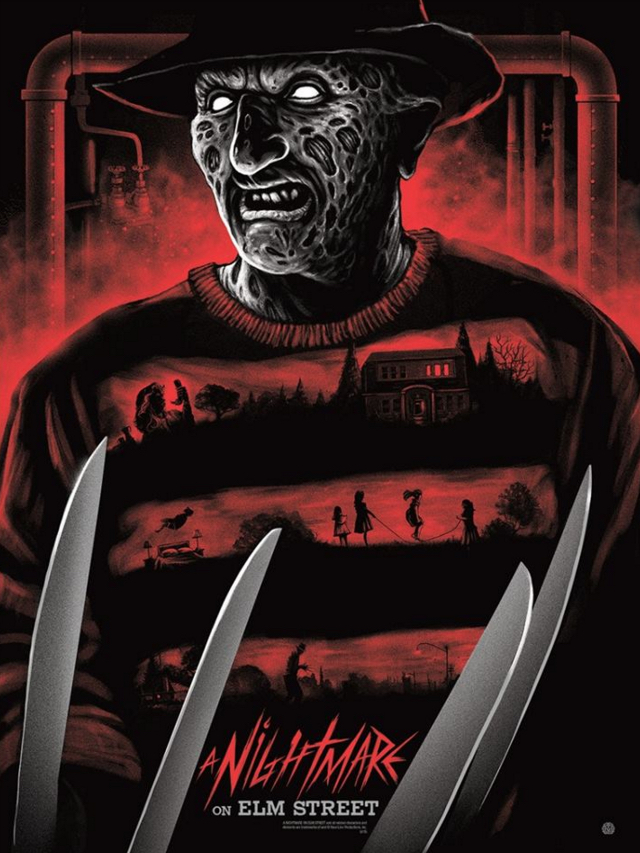 Gary has taken Freddy's iconic striped sweater and turned it into a canvas that reveals several classic moments from the original movie, in this incredibly clever and refreshingly unique poster. Familiar images emerge from the dark stripes and are silhouetted against stormy blood red skies to create a design that should make every single fan of the franchise grin like an idiot. It's cool, clever and packed with more atmosphere than a weekend in Transylvania!
The Shining "We All Shine On" – (Tom Hodge aka The Dude Designs)
Tom's poster is a hypnotic and layered triumph which brings together the doomed Torrance family in a visually brilliant way. The iconic carpet pattern becomes a maze, trapping their individual expressions and revealing how the dark forces within the hotel swiftly altered their emotions and personalities. From Jack's brooding anger and hatred toward his wife and son, to the look of pure terror on Danny's face – this poster gets everything right!
Halloween – (Jason Edmiston)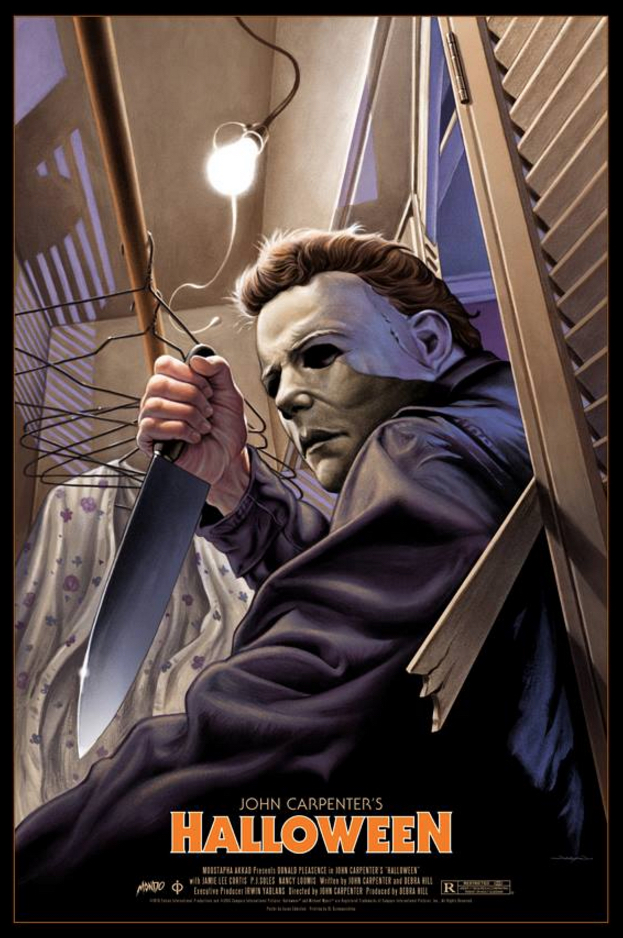 Jason produced multiple pieces of art during 2015 that caught my eye and made the hairs on my horror loving arms start to twitch. But it's his recent Halloween piece that effortlessly became an instant choice for this list. The artwork is clean and sumptuous, it features Michael at his unstoppable best, and it's just SO skillfully illustrated!
From Hell – (Dan Mumford)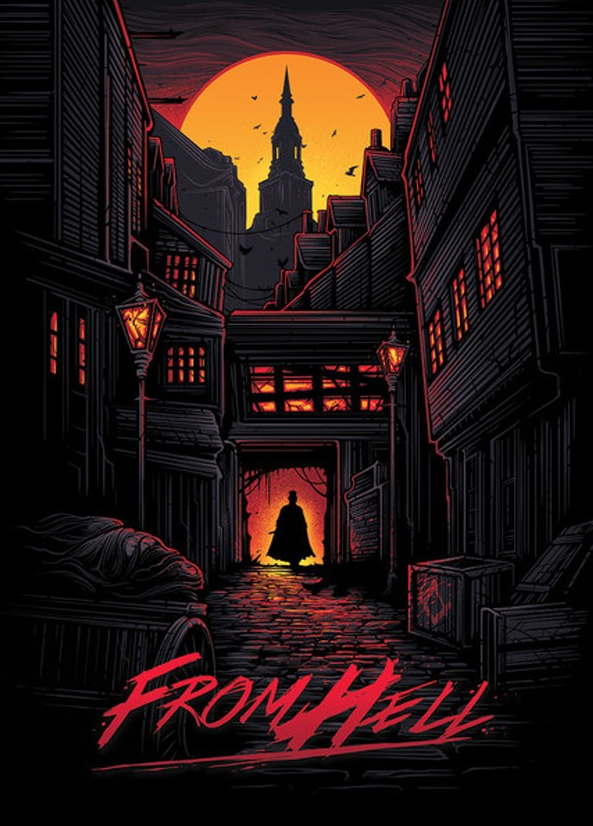 Dan has been working like a demon this year, and it feels like he is revealing a new incredible poster almost weekly! He's probably the name that features the most in my regular alternative art posts, but the piece of new art that caught my eye more than the rest during the last 12 months is his atmospheric and menacing From Hell effort. Anyone who is familiar with the Hughes Brothers adaptation of this story will know it's an entertaining movie with its fair share of problems. But something that cannot be denied is how perfectly dark and dangerous they made Victorian London look. The skies are constantly blood red and almost apocalyptic during the scenes where Jack is travelling the streets in search of his victims, and this poster really captures that feeling of being faced by someone who is very much – from hell!
Psycho – (Adam Rabalais)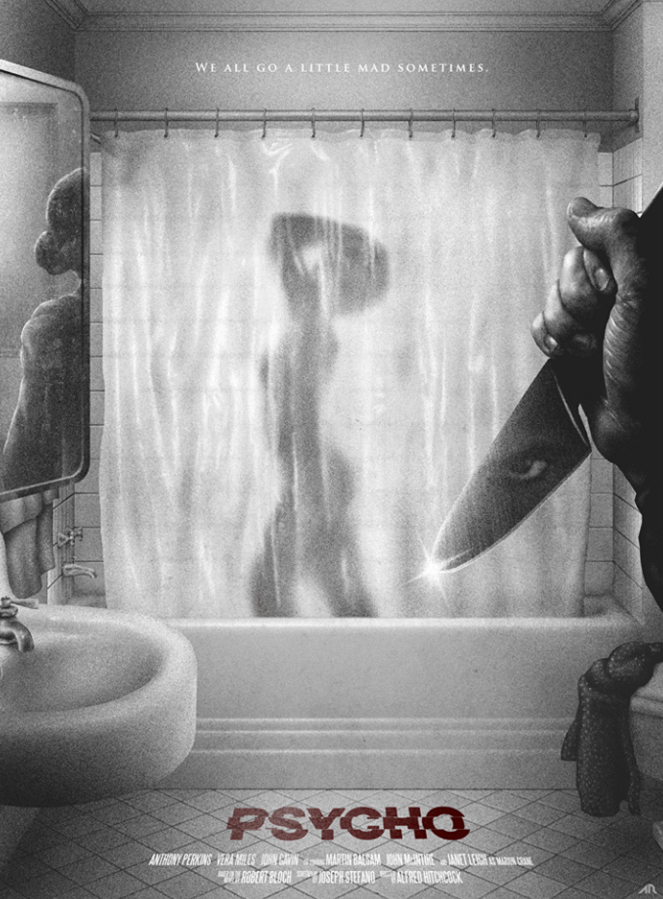 From the perfect grainy texture of the highly detailed artwork, to the brilliant decision to make us see things from Norman Bates' POV – this poster is just all kinds of awesome! The shower scene from Hitchcock's psychological horror masterpiece is easily one of the most iconic moments in movie history, so the problem Adam faced was how do you illustrate it in a new way? How do you give the public something that doesn't feel like another 'shadow holding a knife behind the curtain' piece of art? Adam's magnificent solution was to pull us away from Janet Leigh, move across the bathroom floor, and jump into Norman's seriously disturbed head! A truly KILLER concept!
Jason Vs Freddy – (Nathan Thomas Milliner)
What if… the two most popular icons in the modern era of horror had clashed in a movie that was made when they were both in their prime? A time when Kane Hodder was kicking ass under the hockey mask, and Robert Englund's Freddy was still appearing regularly on the big screen. Nathan's incredible poster allows us to ponder that impossible dream, and the colorful art instantly reminds me of the stunning Elm Street posters Matthew Joseph Peak was painting back in the day. It's an utterly desirable creation, and probably the coolest poster I've seen this year!
For further information on any of the posters you have seen here today or the artists who created them you are only a Google search away.
Bring on 2016!
Support Halloween Love
If an item was discussed in this article that you intend on buying or renting, you can help support Halloween Love and its writers by purchasing through our links:
(Not seeing any relevant products? Start your search on Amazon through us.)