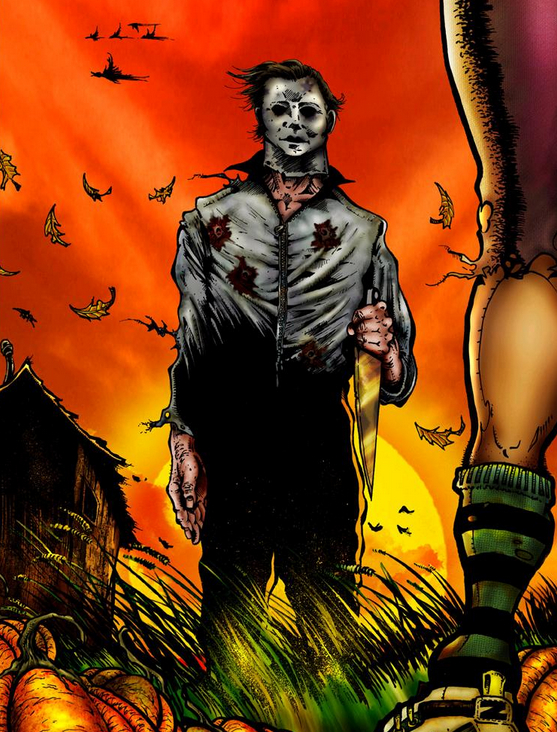 In 2003 Pasadena, California played host to the 'Halloween Returns To Haddonfield' 25th Anniversary Convention … Living in the UK meant it was impossible for me to get there (financially) but I contacted a good friend who WAS attending and asked him to grab me as much merchandise and goodies as he could.
When I finally got my grubby hands on everything the one item that stood out was the Official Convention Magazine. It was about the size of a standard American comic book but much thicker with a stunning glossy, card stock cover and a free Soundtrack CD carefully attached at the back. It was a 'Total Package' … Interviews, maps, articles, pictures and much, much more but the part that really caught my eye and I kept coming back to was an illustrated comic strip story by an artist called Derek Rook.
Something about his style just pushed my comic-art 'buttons', it was bold, colourful, smash-mouth, unapologetic and intense. I can now INSTANTLY recognise a piece of art that has been created by Derek Rook anywhere at anytime and to me there is nothing better than an artist who is unique, original and puts his soul onto the page.
A couple of years later I was incredibly fortunate and actually managed to purchase (via online auction) a single page of the original artwork directly from Derek himself … It is, by far, my favourite piece of Horror memorabilia and something I will always treasure. It features an unmasked Michael Myers calmly sitting in his asylum cell covered in blood (If you have read the story you will know why!) …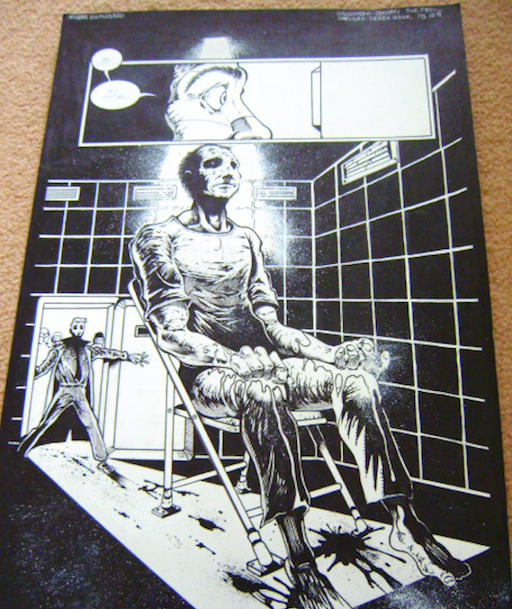 When I decided to write this article I also decided I was going to summon the courage to contact Derek and ask him if he would consider allowing me to send him a few questions … About getting involved with creating the magazine, his art and other musings … My courage was rewarded and here is what he had to say:
HL: How did you get involved with the creation of the Halloween Returns To Haddonfield 25th Anniversary Convention Magazine?
DR: "I got involved with the "Halloween Returns to Haddonfield" project back in 2003 with my first comic book company, Xmachina. I got a call from one of the people running that show, who was also working for Joe Wolf. I got the call at 2am EST (they were calling from Cali) and they were originally requesting that we publish their new Halloween comic book series that they were pushing at that time. At the time, we were producing small indi comic books based on horror films like Phantasm and Fulci's Gates of Hell. They must have heard of us through the vine.
We couldn't reach a deal with the comic book series, but we were offered to produce the program for the convention, which ultimately turned out to be "Halloween Returns to Haddonfield 25th Anniversary Souvenir Magazine".
HL: In your opinion what is the most difficult part of the writing/drawing process when you approach a new project?
DR: "The hardest part when drawing/creating for myself or a client, is getting into "the zone". That mindset where all you can do is create and produce your best quality of work. For me, it can be difficult to get there and even more difficult to stay there. During those times when I can, the creativity just explodes out of me. I rarely answer my phone, have any concept of time, eat, sleep or socialize in any capacity. I'm one of those guys who completely immerses myself in my work. All or nothing. The end of most projects for me are very exhausting and I'm at my most unhealthy because of it."
HL: Did someone or something put you on the creative/artistic path or did you find your way there on your own?
DR: "I'm a predominately self-taught artist and have been doing so for most of my life. My mind was always working overtime when I was a kid. Writing books, drawing posters and pictures and scenes mostly out of movies and TV shows. …comic books and sequential art has always been my favorite medium of storytelling, even back then. I was always encouraged to become an artist by my family, but the dichotomy was that no one ever said that is a legitimate way to earn a living. I studied some different mediums as I got older (Claymation, 2D animation, storyboarding) I always wanted to be a practical effects artist in movies and those formative years were mostly spent gearing myself toward that field."
HL: Its a question I find impossible to answer myself … but do you have a favourite Horror movie? Or at least a favourite 'type' of Horror?
DR: "My all time favorite horror movie is Lucio Fulci's Zombie. I'm never scared of horror movies, …EXCEPT for this one. Not so much now, but there was a time when I was paralyzed with fear after seeing it. The concept alone petrified me, of dead people cannibalizing the living, but nothing more masterfully committed that concept to film like Fulci did. To me, it's a perfect horror/monster movie. The cinematography, the slow burn, the impending sense of dread, the soundtrack….perfect. I love MANY, but I judge my favorite films by how they made me feel, and horror films are supposed to scare the shit out of you, …and this one did in spades."
HL: Finally, if you could have a Beer and hang out with any Fictional character from Movies, Comics, Books and TV … Who would it be?
DR: "I'll separate that answer into four parts. Movies, Comics, Books and Television.
Movies – Snake Plissken. My favorite horror movie is ZOMBIE, but my all time favorite film will always be John Carpenter's ESCAPE FROM NEW YORK. I think Snake is the ultimate mix of bad and cool motherfucker. We share a lot of the same outlooks on life. Domestic Beer only with this guy.
Comics – Eric from James O'barr's The Crow. It wouldn't be a happy conversation. More tears in beer and bullets. but hey, that's what love will do to ya.
Books – Harry Goldfarb from Requiem for a Dream. I'd want to reach out to the guy. Be a friend to him. Offer a better path. Encourage his talents. Tell him to take care of and love his Mother. Come to think of it, all this over alcohol might be counter productive, all things considered.
TV – Bill Bixby as David Banner. I wouldn't talk at all. I'd just listen.
There was a lot of amazing ladies in each of those categories too. But I'd be lying if I was doing little more than getting drunk and hitting on them. I'd end up with an 800 number on the back of a cocktail napkin."
A HUGE thank you to Derek for taking the time to have a digital chat with me … meaning I could expand this piece into what it became and share it with all of you.
Support Halloween Love
If an item was discussed in this article that you intend on buying or renting, you can help support Halloween Love and its writers by purchasing through our links:
(Not seeing any relevant products? Start your search on Amazon through us.)