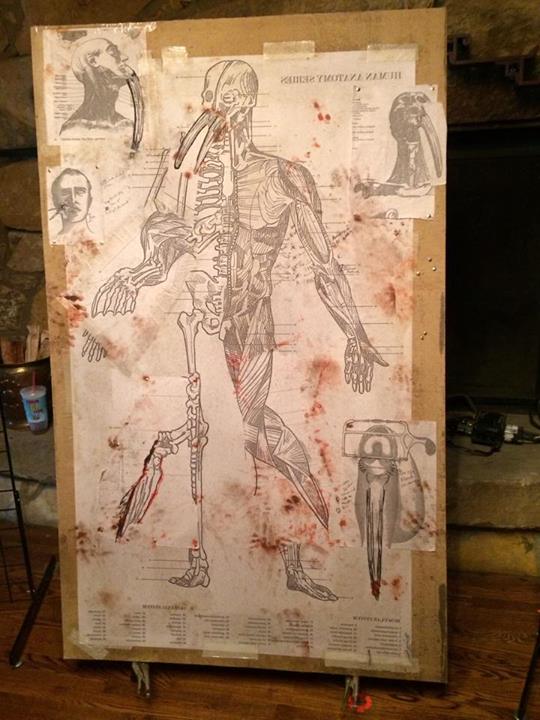 After nearly two decades of making a name for himself with dick and fart jokes, Kevin Smith blazed a bold new path for his career in 2011 with Red State, a tale of religious beliefs taken to frightening extremes. The first horror film from the funny fat man, Red State proved that Smith has a whole lot more going on in his brain than stories about friends who work in convenience stores and the stoners who loiter outside of them.
But where does he go from here? Back to his comedic roots, or continue down the path of horror? Well, if the next few projects he's got lined up are any indication, Kevin Smith may soon be a name that's not out of place alongside the likes of Wes Craven, George Romero and John Carpenter.
Kevin Smith; the future of horror? He just might be!
Smith currently has three horror films in the works, which we take a closer look at today, here on Halloween Love!
First up is Tusk, which is scheduled for a late 2014 theatrical release from A24, the company who brought us last year's Spring Breakers. The idea for the film was inspired by a discussion Smith and producer Scott Mosier had on a June 2013 episode of Smith's SModcast, where they talked about an ad that advertised a free living space, for anyone who agreed to dress up as a walrus. Though the ad turned out to be a prank, it resulted in Smith conceiving a story about a killer who attempts to turn a human being into a walrus (creature concept seen above), and Tusk was born.
It wasn't long before the 80-page screenplay was banged out and Tusk found its way in front of cameras, with veteran actor Michael Parks playing the killer and Justin Long playing his victim. Not all that much is known about the film aside from the fact that Long's character is a podcaster, and that it will center around his friends' pursuits to find him after he goes missing in the backwoods of Manitoba. Sixth Sense's Haley Joel Osment also stars, as Long's podcast co-host.
Though Smith had recently considered hanging up the typewriter and camera, comments on his Facebook page indicate that the creation of Tusk reinvigorated his passion for filmmaking, and he's now committed to only making the kinds of films that couldn't possibly come from anyone's mind but his own – just as he did earlier in his career.
As a result of this desire, two other horror films have recently been announced by Smith, both of which are also based on SModcast discussions…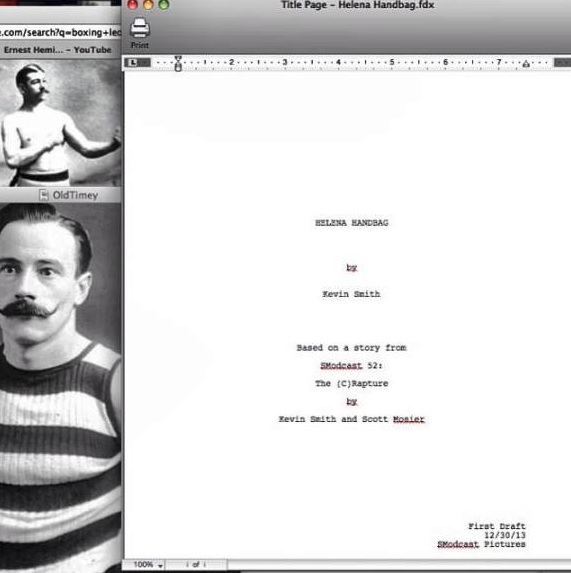 Inspired by a 2008 episode of SModcast, Helena Handbag is set to be a Kevin Smith-style epic about a "giant rapturing Jesus," who threatens to destroy all humanity. The only thing standing in his way is mankind itself, who are forced to team up with the forces of Hell. I shit you not.
As of December 30th of last year, Smith says he's working on the screenplay for Helena Handbag – originally titled Christzilla – and that he hopes it'll turn out funny enough that someone will be willing to fork over the cash to make the batshit crazy story leap off the page and onto the screen. Will it happen? Only time will tell. But as Smith said when he made the announcement on Facebook, he never quite expected Tusk to find its way in front of cameras, so you never know.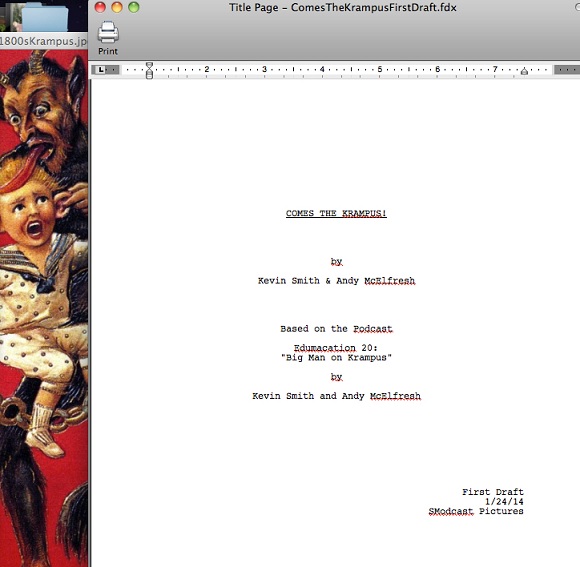 Smith heads into anthology territory with Comes The Krampus!, which is fully scripted as of last week. Based on a December 2013 SModcast, Smith describes this one as his version of Creepshow, comprised of four tales that center around the mythical creature known as Krampus – who is, essentially, the evil kid-eating Yin to Santa Claus' Yang.
Though all of the stories, including the wrap-around, are co-written by Smith and friend Andy McElfresh, each of them will be directed by a different person, with Smith helming one and even Jason "Jay" Mewes directing another. Here's the full rundown, from Smith's blog…
"Andy McElfresh will direct the "The Krampus vs. The 3rd Grade" episode (SO fucked up), Jason Mewes (yes – THAT Jason Mewes) will direct the "Hitler's Krampus" episode (twisted period piece), I will direct the "Mask Maker" episode (the Gothic horror piece), Carol Banker will direct the "The Proposal" episode (which is fucking nuts), and Jennifer Schwalbach will direct "The Bad Babysitter" – which is the framing device that holds the whole mess together."
Smith hopes to begin shooting Comes The Krampus! after he's done with Clerks 3, which he's looking to start in early April of this year.
Though I've always been a huge fan of Kevin Smith's comedies, I must say that I am extremely excited to see the many films he's set to bring into the horror genre – a genre that, if you're asking me, desperately needs an injection of life from a creative and whacky dude like Smith. I found Red State to be an absolutely terrific horror film, and if that was any indication of what Smith's capable of in the world of horror, then I'd say films like Tusk, Helena Handbag and Comes The Krampus! are going to be real treats for us horror fans.
So often we see guys that start out as a fresh independent filmmakers get bogged down by the Hollywood system, and turned into for-hire directors, and I absolutely love the fact that Smith has reverted back to his ways of old, and brought that independent spirit back into his career. He seems to be more passionate about making movies than ever before, and as a horror fan I consider myself quite lucky that it's the horror genre he's having so much fun playing around in.
Bring it on, Silent Bob!
Support Halloween Love
If an item was discussed in this article that you intend on buying or renting, you can help support Halloween Love and its writers by purchasing through our links:
(Not seeing any relevant products? Start your search on Amazon through us.)