For non-lovers of Halloween and horror, it's difficult to describe the appeal. Their misconceptions can run wild from us simply being sick, to something actually being wrong with us, that we might emulate what we see on the screen as if the movies we watch are guidebooks on "How to Murder".
The truth that we find at HL over and over, is that it's quite the opposite. People that are drawn to the dark and strange tend to be very thoughtful, intelligent, and warm people. Someone on the outside looking in might find that to be an odd correlation, but I think the explanation is very simple. Because we open ourselves to the macabre and melancholy, we quench the morbid curiosity thirst that's in all of us.
And because we do that, because we face our fears, we become stronger and more open. On the surface, it might seem unhealthy and negative to explore death so constantly, but the truth is that it's really a positive to explore all aspects of life, which inevitably includes death for us all. When you can embrace the night, you can also appreciate the sunshine so much more vibrantly. Although we might get a little carried away sometimes, the greatest irony here is that those of us who love death, may even love life more than those who avoid the topic altogether.
Putting my psychological and philosophical babble away for the moment, the best explanation is that in the way people get that Christmas feeling, that Christmas spirit, we in turn get a special Halloween feeling, the Halloween spirit!
John (read his thoughts here) and I have been getting a bit giddy lately about something he discovered called: WNUF Halloween Special that perfectly captures that special Halloween feeling I tried describing above. We absolutely agree that like on par with Roseanne's Halloween specials and The Simpsons' "Treehouse of Horror" specials, WNUF Halloween Special needs to become a staple of Halloween tradition, it's that good.
With that intro out of the way, onto the man himself, Chris LaMartina: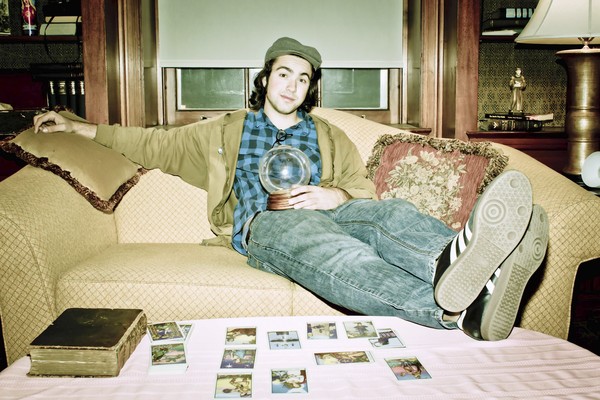 HL: WNUF Halloween Special II. You know we were going to ask, so let's get this one out of the way. Anything in the works along these lines? I'd love to see the original get a cult status, but also we at HL would love to see new anthology-like spin-offs every Halloween.
CL: You're in luck! While it's not a feature film, WNUF TV28 Presents Frank Stewart Investigates: Halloween an audio sequel/prequel of sorts released in partnership with Terror Vision Records. It's essentially a spoken word scary story record in the same vein as the original WNUF, which is extremely exciting for me since producing something like it has been on my bucket list for years. Terror Vision Records contacted us because they loved the film and wanted to put out the soundtrack, but we counter-offered with something much weirder! The whole joke is that it's a re-issue of a vinyl album the station produced to fund search efforts for Frank Stewart and his guests.
Side A presents some "lost" Frank Stewart on-air news packages, and Side B features excerpts from paranormal research couple Louis and Claire Berger's "hard-to-find" album Sounds of the Spirit World. The record comes out October 20th. It's also available on cassette and digital download. If you buy direct from Terror Vision, there is an option to get a button and a "Frank Stewart Fan Club" t-shirt as well. Check out www.terror-vision.com for all the gory details! Anyone who loves those kitschy Halloween specialty albums will really dig it.
---
HL: You're clearly an up and comer along the same lines of what I would say was Eli Roth's and Rob Zombie's early career. When you inevitably get your first big budget for a theatrical release, what are some ideas you've got waiting on the back-burner?
CL: Honestly, man… I don't think a big budget or theatrical movie is inevitable. We're not rich kids. We don't live in major film production markets. None of our uncles are studio execs. We're just a bunch of jokers who love telling stories and making weird stuff.
In WNUF's wake, we were contacted by a couple folks who were excited to work with us, but the budget offers weren't big enough for us to pack our bags and move to LA. And y'know, that's okay! Maybe one day, though. Who knows? There's a lot to consider when you decide to turn making feature films into your career. The expectations are higher. You have less control. Maybe an offer will eventually win us over. Fingers crossed!
As for movie ideas, we have dozens upon dozens of stories we'd love to tell. Some would need big budgets. Some wouldn't. When you're producing these little movies, it comes down to the question, "What do I want to spend 2 years of my life making/marketing/killing myself for?" We quite literally have over fifty loglines for movies we want to make, but I'd feel a little uneasy blabbling them all here. Here's a few just to pique interest… a paranormal rape revenge flick somewhere between Ms. 45, The Craft, and The Changeling… a killer comic book flick that's heavily inspired by Something Wicked This Way Comes… a Nightmare on Elm Street-style supernatural slasher flick about a dead tv horror host… a faux documentary about a group of murderous 1980s metal heads… and… well, that's probably enough for now…
Real talk: If anyone reading this has the money to produce a feature, hit me up and I can send you a long list of loglines. Maybe we can make something happen!
HL Final Thought: It's a small world, and it's getting smaller all the time. There are many people that believe in your work, and some of them will have money. On your journey you may have to suffer compromises as all creative people do, but I 100% believe just around the corner, there will be a package that gives you both a budget and largely, creative freedom.
---
HL: Along those same lines, if money were no object, what would be your dream project (film or otherwise)?
CL: I have three "big budget dream projects." Two are adaptations. I'd love to make a feature out of David J. Skal's amazing Tod Browning biography, Dark Carnival. It's a fantastic book and great story. The other adaption would be a motion picture version of the almost-forgotten DC comic series, Scare Tactics, which was about a rock-n-roll band of monsters. I loved that book! The run was sadly cut short.
As for original stories… I would completely freak out if I could produce "The Bogies" – my Gremlins meets Caddyshack golf/mini-monster movie. There's so much material there. That would be a dream project!
And I almost forgot about our stoner horror flick Tombstoned. That was in development hell for a few years when we optioned it; it's back in our possession, so maybe that could still happen!
---
HL: Being the director of a film is of course similar to being the lead singer of a band; they're usually the ones that get all the attention and credit. What are some of the other names in your corner that we should know about, the people that you're most likely bringing with you when you make it to the big leagues?
CL: The majority of my work has been co-written and/or co-produced with Jimmy George. I love the dude like a brother, and that's why we refer to ourselves as Fake Blood Brothers. Hell, the guy was best man at my wedding. I've been incredibly fortunate to take this insane journey with him, and he doesn't step into the limelight as often as I get to. Other folks change project to project as needs and resources are figured out. Writer Patrick Storck helped out quite a bit with some of the WNUF Halloween Special commercial scripts. DP Nick Baldwin did a great job transforming my visual ideas in Call Girl of Cthulhu, and in our new flick, What Happens Will Scare You, my wife Melissa and Jimmy's wife Jill stepped in to help produce, and they have both been fantastic. Melissa actually played the title role in Call Girl of Cthulhu and subsequently has become a crucial part of our film team.
---
HL: Are you interested in storytelling in other mediums: books, video games, etc.?
CL: Without a doubt! I could definitely see myself producing more audio content (there's a super secret project I'm going to be pitching to Terror Vision Records very soon), and a book is certainly on my to-do list. Jimmy and I actually wrote an EC-style horror comic called Burial Plots that is currently being drawn by artists John DeCampos (Ghost Bat) and Haleigh Buck (Hey Boy! Press). I'm hoping it will be finished before next Halloween!
---
HL: What are some actors you'd love to have in one of your movies?
CL: Years ago, we wrote a script for Barmageddon, which was basically an episode of Cheers set during the apocalypse. In that script, we specifically wrote roles for Bill Moseley and Tony Todd, and I'd love to see them bring those characters to life. Outside of them, I'd love to get an opportunity to work with Dick Miller, Robert Englund, Fairuza Balk, Jeffrey Combs, or Lin Shaye.
HL Final Thought: Hey, well both Tony Todd and Lin Shaye follow us on Twitter. You never know, maybe they'll read this. Like I said, the world is getting smaller all the time to where almost nothing is out of reach. Besides our master, money of course, the only difference between doing something you want and not, is determination, and you clearly have it in spades.
---
HL: What are some songs you'd love to have in one of your soundtracks?
CL: I've always imagined a werewolf movie where I could use The Cramps' "I Was a Teenage Werewolf" as the title theme or Sam the Sham's "Little Red Riding Hood" during the final pre-showdown. (I know they use the latter in the TV Halloween classic The Midnight Hour, but they blow it just as background noise! Total missed opportunity!). Besides that, I'd lose my shit if I could find a way to get Papa Celestin's "Marie LaVeau" voodoo queen song onto a soundtrack.
---
HL: What are your fondest childhood memories of Halloween?
CL: Full disclosure: Halloween is one of the most depressing holidays for me, because I build it up in my mind so much and those expectations are impossible to hit. When I was a little kid, it was the weeks before Halloween that seemed the most magical… full of crisp air and dreadful promises of ghouls and ghosts. I told Melissa that Halloween was always a letdown for me when we first dating, and she remembered it and set out to make our first Halloween perfect… and it was…
She took me to Sleepy Hollow, NY, and we went to this crazy scarecrow collection (It looked like something out of The Wicker Man), followed by a really unique theatrical haunted house and capped off with a walk through the most impressive display of jack-o-lanterns I have ever seen. (It's called the "Great Jack O'Lantern Blaze" — It's literally THOUSANDS of them). But what was even better was that, in front of a gorgeous spider-web of carved pumpkins, I got down on one knee and asked her to marry me. Lucky for me, she said yes! Then we got a celebratory drink at a local dive bar where a two-bit Captain Kirk sang karaoke surrounded by an awkward, aging Addams Family gang. It was the most perfect Halloween I have ever had. That's my favorite Halloween memory.
HL Final Thought: That's a great story. Thank you for sharing it.
---
HL: At HL, we love getting weird. Anything bizarre, random, or off-topic you'd like to share?
CL: Hmmmm… Not that I can think of. Thanks for saying our launchpad into bigger budgets is inevitable. It means a lot to me, but I wish it could be that clean-cut. I'll just take this opportunity to say that if everyone who has seen our films actually paid for them, perhaps we *could* make a living doing this… Until then, I can't subscribe to that. Whether that happens or not, I'll still keep scrounging up coins and scheming up plans to make my movies.
HL Final Thought: You're welcome. And I'm not just blowing smoke up your ass here. Next time you've got a Kickstarter campaign going, I fully intend on digging into my own pockets and promoting the hell out of it on HL as well. The issue of getting money into the right hands, the creative hands behind the works we love has come up a few times on HL. One of our own, John, has been very vocal about this issue. While I don't personally demonize torrenting (it has many legitimate uses – which is a whole other discussion that may need to happen here on HL at some point), I will say this: if you're interested in seeing WNUF Halloween Special, and you have the money, you can buy it here.
---
HL: This last one is purely for selfish reasons and will probably benefit no one else here as I geek out, but a fun anecdote all the same. I read in another interview that one of your favorite films is Lady in White, is that the 1988 Lady in White?
If so, that makes me very happy. Lady in White is one of my absolute favorites as well and I've actually never come across anyone else who's even seen it, let alone considers it one of their favorites. An incredibly beautiful, sad, and obviously underrated movie. Makes me cry every time.
Mr. LaMartina, serious question (sticks mic up to your mouth), does this movie also make you cry? Journalism at its finest!
CL: Brother, that is one of the six films that makes me cry EVERY GODDAMN TIME. Just an incredibly touching film. Really powerful. It doesn't hurt that Alex Rocco reminds me very much of my father. Holy fuck. I'm tearing up right now. Gotta stop typing. Love that movie. So glad you do too.
HL Final Thought: Hurrah! Like WNUF, this is one movie more people need to see.
---
HL: Thank you Chris.
CL: Thank you, man. I'm so glad our films have found an audience that appreciates them. They're not for everybody, but the folks that "get" 'em… I have a special connection with those people. It's a unique experience, and its fortune is not lost on me. It makes me so happy to hear WNUF referred to as "Required October Viewing" by so many horror fans. I am truly humbled by its mere mention. Even if its a footnote, it's a badge I wear proudly.
How to reach out to Chris:
Twitter / Facebook / LinkedIn / Kickstarter
Other links of interest about Chris:
IMDb / Wikipedia / Midnight Crew Studios / 15Four
Support Halloween Love
If an item was discussed in this article that you intend on buying or renting, you can help support Halloween Love and its writers by purchasing through our links:
(Not seeing any relevant products? Start your search on Amazon through us.)