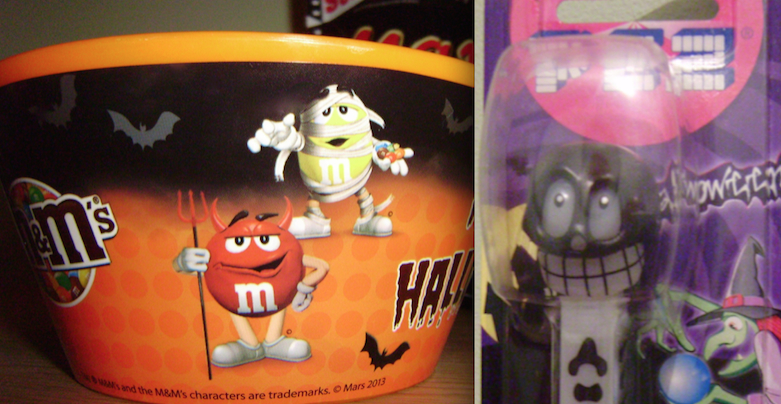 The last few weeks have really felt a little bit magical, and the best is yet to come! I'm going to give my small corner of the UK a firm pat on the back this year, retailers have really stepped up and embraced Halloween 2014 in a way I've never seen before over here. The shops are PACKED with awesome stuff and it's been a joy to just mosey from shop to shop and explore what's on offer. I've bought far more than my wallet should be allowing and over the next few days I'd like to share some of my favorite items that are eating into the cash stuffed under my mattress … Errr, in the bank! I meant in the BANK!!
Co-Op Halloween Monster Muffins.
We begin with some awesome Halloween Muffins that have been laced with a brilliantly disgusting dirty green food coloring. The taste hasn't been altered (Vanilla with chocolate chunks), but the color is just wonderfully vile. It's an authentic look of faded mold, and they challenge your mind when you are about to bite into one. You KNOW it's perfectly fine, but it still feels a little weird. I really like them. They taste great, look AWFUL and will amuse friends and family.
M&M's Halloween Promo Dish.
I LOVE free promotional items, so this Halloween candy dish featuring the M&M's characters was an instant must-have item when I spotted it in a local gas station shop. That said, I DID have to purchase TWO bags of chocolate chunks before I qualified to get the dish, which cost me £3 for the pair. THEN I wanted to photograph it with a bag of Limited Edition Halloween Peanut M&M's at a price of £1 … So in the end the damn thing cost me £4!
Meh' totally worth it!
Lego Friends UK Comic Magazine + Free Lego Halloween Toy Shop.
It was my Daughters birthday this week so I decided to purchase her a magazine based on the Lego Friends line of toys. It wasn't until I had placed the magazine in my basket that I noticed the insanely cool free Lego Mini Set attached to the front cover, which this month was a brilliant little Halloween toy shop! I'm not ashamed to say I gave very serious consideration to keeping the set for myself … You know, tell the little angel that "Daddy must have dropped it somewhere" … Then throw a bag of sweets at her to seal the deal.
Oh relax, I'm kidding (more or less). But seriously … It's awesome to see this kind of 'gentle' promotion for the Halloween holiday. Showing young kids how exciting and fun it can be by firing their imaginations with magical little items like this.
Halloween Fun Cake Decorations.
We also decided to give my Daughters birthday cake a spooky theme this year by purchasing a plain iced version and decorating it ourselves. When you have a child who was born in October, on the 13th, I think you are allowed to do this. At least I personally think so! Our efforts were greatly helped by these surprisingly brilliant iced sugar decorations. They were nice and solid and VERY well made, I'm not sure my picture does them justice but they looked incredible, with Nosferatu and the severed fingers being my personal favorites.
It proved to be a great success thanks to my girlfriends artistic flair and the little lady loved it.
Halloween Pez Dispenser.
Halloween wouldn't be Halloween without purchasing at least one seasonal Pez dispenser. I'm no expert when it comes to these eternal wonders, all I know is that I've seen them in shops my entire life and I still love them. I believe they rerelease the same models every few years so only the packaging might be new, but I had to have this glow-in-the-dark skeleton flashing his mischief filled grin.
McVitie's Spooky Jaffa Cakes.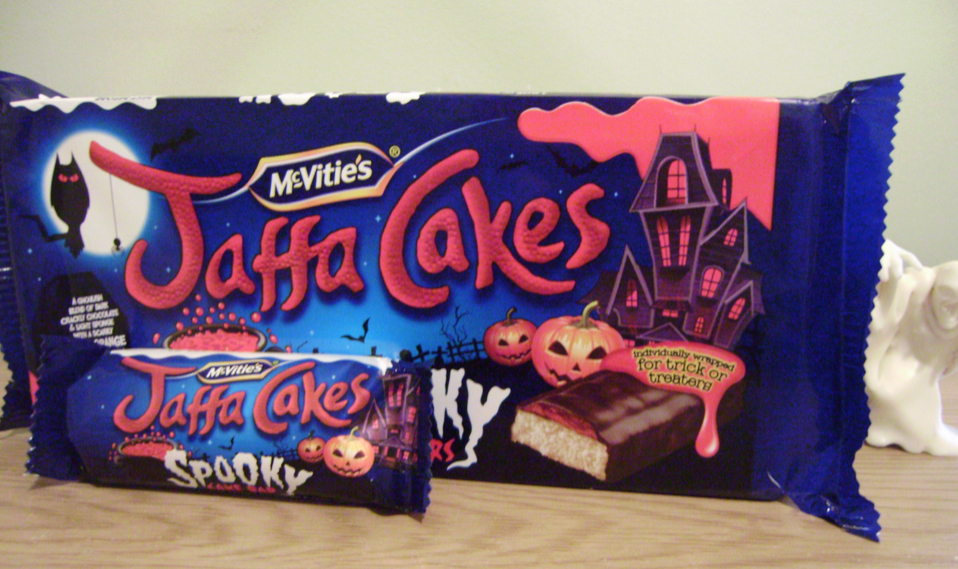 We finish this article with another taste test involving one of my favorite things in the universe … cakes. You can buy regular Jaffa Cakes all year round but for the Halloween season they swap the normal orange jam filling for a 'zingy' blood orange taste. It's very sharp and delicious. Combined with the fantastic packaging this is a great effort to promote October 31st and excite cake eaters young and old with something just different enough to be very enjoyable for its limited time on the shelves. Two thumbs up!
Stay safe and I'll be back soon with another selection of glorious Halloween treasure.
Support Halloween Love
If an item was discussed in this article that you intend on buying or renting, you can help support Halloween Love and its writers by purchasing through our links:
(Not seeing any relevant products? Start your search on Amazon through us.)