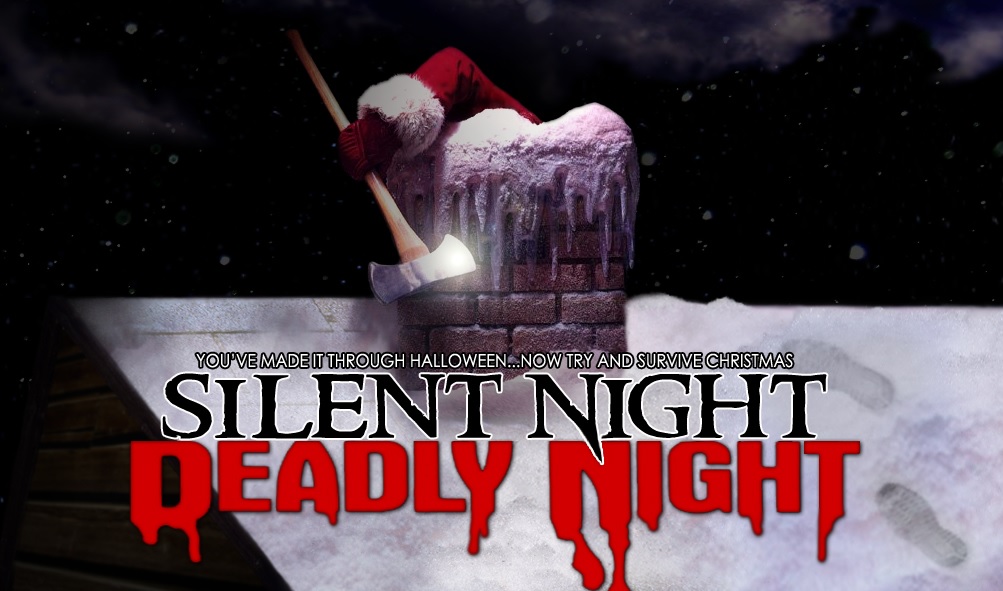 At the time of writing this, Michael Dougherty's Krampus is resting comfortably at the number 2 spot on the box office charts, and I think it's safe to say that nobody expected the film to be such a hit with the masses. It's pretty crazy when you think about it, because it was just 30 years ago that a Christmas horror film caused such an outrage upon its theatrical release that it had to be pulled from theaters.
I'm of course talking about 1984's Silent Night, Deadly Night, a Christmas slasher film that is still to this day an annual holiday viewing tradition for most horror fans. Centered on a troubled man named Billy who puts on a Santa suit, picks up an axe, and goes on a bloody rampage through town, the film is both a holiday classic and one of the downright best (as well as most unique) slashers to come out of the '80s.
Before you revisit Silent Night, Deadly Night this year, check out five fun facts about the film!
1) As we've talked about in the past here on HL, 1984 was a pretty damn good year in the world of horror movies, with films like Gremlins, Ghostbusters, and Friday the 13th: The Final Chapter all coming out in that same year. Of course, A Nightmare on Elm Street was also released in 1984, but did you know that Freddy's debut on the horror scene hit theaters on the exact same day as Billy's reign of terror?
It was on November 9th that both Silent Night, Deadly Night and A Nightmare on Elm Street were unleashed, and though the former was quickly pulled from the theaters amid parental complaints, it actually out-grossed Elm Street by a few hundred thousand dollars in its opening weekend. An impressive claim to fame, though one must take into account that Elm Street was released into half as many theaters.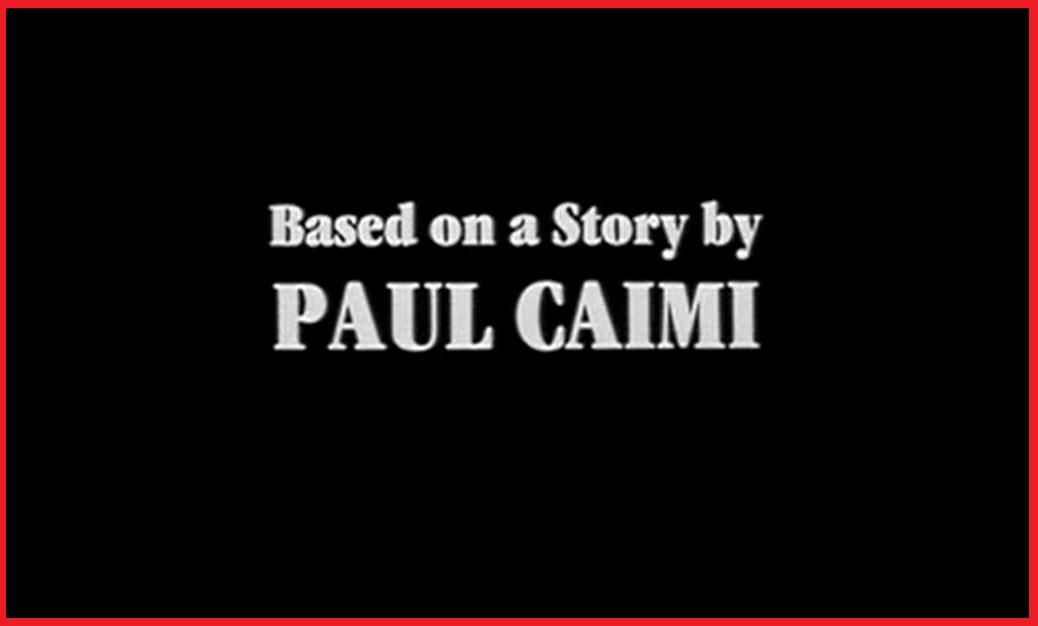 2) If you go back and watch SNDN this year, you'll notice that Paul Caimi is given a "story by" credit in the opening credits sequence – and according to various sites on the internet, the film was based on a novel he wrote called Slayride. The book, however, simply does not exist. The reason Paul Caimi (writer of the nonexistent book) is given a story credit is because the movie was loosely inspired by a script he wrote.
The script was titled He Sees You When You're Sleeping, and it was Silent Night, Deadly Night producer Scott Schneid who saw potential in the concept of a Santa Claus slasher film, taking that kernel of an idea and getting to work on the screenplay for Silent Night, Deadly Night. At the time, the project was given the working title Slayride, which explains the confusion. So no, the film is definitely not based on a book.
3) Silent Night, Deadly Night features a few original songs from Morgan Ames – most notably the tunes 'Santa's Watching' and 'The Warm Side of the Door' – but what you might not know is that the musician recorded an entire Christmas album that was to be released in conjunction with the film. Unfortunately, due to all the negative press and the fact that the movie had to be pulled from theaters, the album was cancelled.
After sitting on a shelf for 30 years, Death Waltz Recording Company dug up and released the Silent Night, Deadly Night Christmas album last year, as part of a two-disc set that also included Perry Botkin's original score for the film. The spinoff album includes 10 original Christmas songs written by Ames, only a few of which had ever been heard prior to last year. Needless to say, the release is a must-own for all SNDN fans.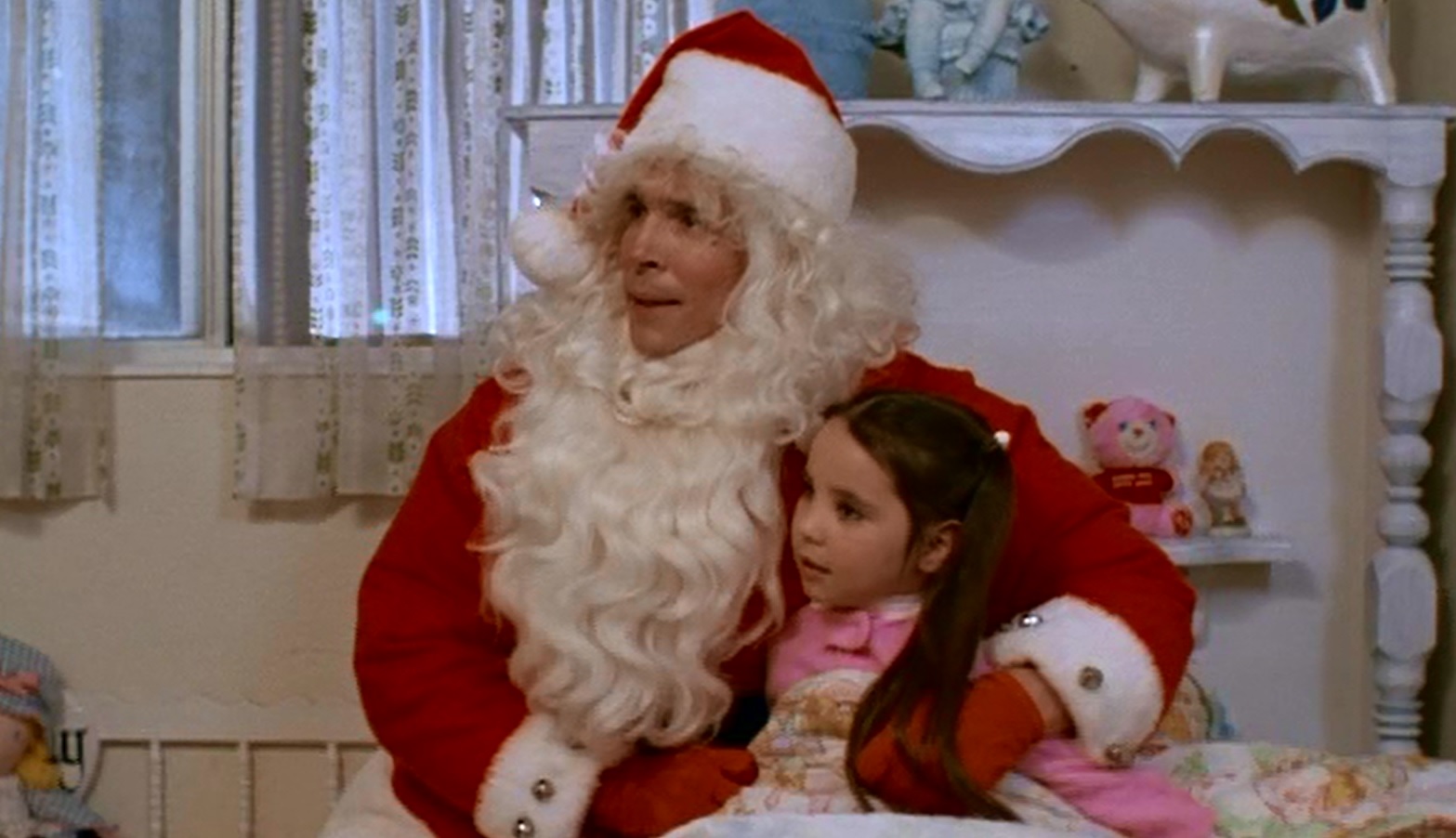 4) About an hour into SNDN, when the cops are driving around looking for Billy, they spot a man dressed as Santa climbing up a ladder and entering a bedroom window. Thinking it's Billy, they burst into the house and point their guns at the man, who turns out to be a harmless father surprising his daughter. Who played the man, you ask? That'd be Don Shanks, who went on play Michael Myers in Halloween 5.
Shanks, who had just gotten started doing stunt work at the time, was as a stuntman on Silent Night, Deadly Night, and because the role of the harmless father called for an actor to climb up a tall ladder, it was only natural that Shanks was given the brief on-screen appearance. He had previously starred in the TV series The Life and Times of Grizzly Adams, which was created by SNDN director Charles E. Sellier Jr.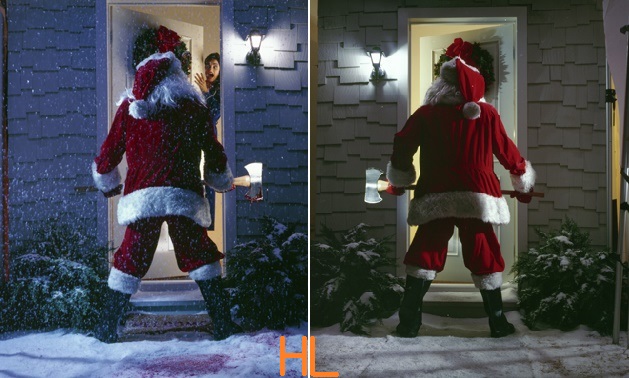 5) One of the most iconic things about Silent Night, Deadly Night is undoubtedly the poster, which shows "Santa" carrying an axe and going down a chimney. Since most people who picketed the film's release never even bothered to see the movie, it's not a stretch to credit that simple image for causing much of the controversy, and designer Burt Kleeger is the man who took the eye-catching photograph.
As revealed exclusively here on HL by Kleeger himself last year – click here to read the full interview – several other concept photos were taken before deciding on the one we all know, love, and have hanging on our bedroom walls. Up above you'll see two of those alternate poster concepts, which were ultimately tossed aside by the marketing department. You'll find those rare images only here on Halloween Love.
Remember, friends: Santa's always watching. And waiting.
Support Halloween Love
If an item was discussed in this article that you intend on buying or renting, you can help support Halloween Love and its writers by purchasing through our links:
(Not seeing any relevant products? Start your search on Amazon through us.)