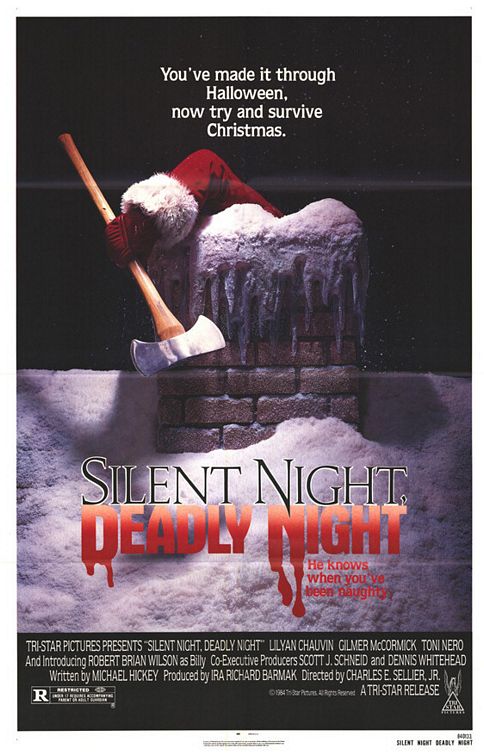 A few weeks back here on Halloween Love I reviewed the 30th anniversary Silent Night, Deadly Night Blu-ray, a disc that was unfortunately devoid of the special features you'd expect to find on a big anniversary release of a fan-favorite movie.
Not long after posting the review, I was chatting with the film's executive producer Scott Schneid, who informed me that several new special features were at one point planned for the disc. For whatever reason, Anchor Bay didn't end up filming them, leaving us with a release that was hardly a fitting 30th anniversary tribute to the controversial killer Santa classic.
One of the features that Scott pushed for was an interview with Burt Kleeger, the man responsible for Silent Night, Deadly Night's original poster art. Kleeger has never before been interviewed about the film and Scott told me he's still in possession of alternate photographs from the poster shoot that didn't end up being used, which would've made the feature a real treat for hardcore fans.
Stepping in where Anchor Bay stepped out, I got in touch with Burt Kleeger to bring that lost special feature to you fine readers of HL, in an effort to celebrate Silent Night, Deadly Night's 30th anniversary proper. And yes, I was able to get my hands on those unused poster concepts, which have NEVER before been published or seen.
You'll find this exclusive virtual bonus feature only here on Halloween Love!
November 9th of 1984 was the date that Silent Night, Deadly Night was released into theaters, the very same day that Freddy Krueger began his reign of box office terror. In promotion of the release was a piece of poster art that played a huge part in the enduring legacy of the film, depicting what appeared to be Santa Claus going down a chimney, with a big ole axe in his hand.
If movie posters are supposed to get people talking then Silent Night, Deadly Night's more than did the trick, and the lurid art is often cited as one of the main reasons why parents were so up in arms about the film's release. Coupled with TV spots that similarly depicted an axe-wielding Santa Claus, Silent Night was picketed and denounced upon release, despite the fact that it wasn't the first film to feature a killer dressed in a Santa suit.
Nevertheless, Silent Night, Deadly Night is the film that took the full brunt of outrage over the concept, and it's again that poster and those TV spots that were responsible for the public lynching of the film. Truth be told, nearly everyone who was so against the movie hadn't actually bothered to see it, basing their opinions entirely on the promotional materials that they were unable to avoid.
It was graphic designer Burt Kleeger who came up with the poster concept and took that iconic photograph, his partnership with TriStar Pictures resulting in the job landing in his lap. Kleeger was given free rein to do whatever he wanted with the poster, and he says that he was well aware that his idea would spawn controversy.
"When you turn the image of Christmas upside down, you produce controversy," Kleeger told me, noting that he had seen the movie prior to taking on the job, and therefore knew full well what he was getting into.
Of course, I pressed Kleeger for information about the actual photo shoot, and though he didn't have all that many memories to share, he was able to provide a tiny bit of insight into the process that resulted in one of horror's most memorable posters.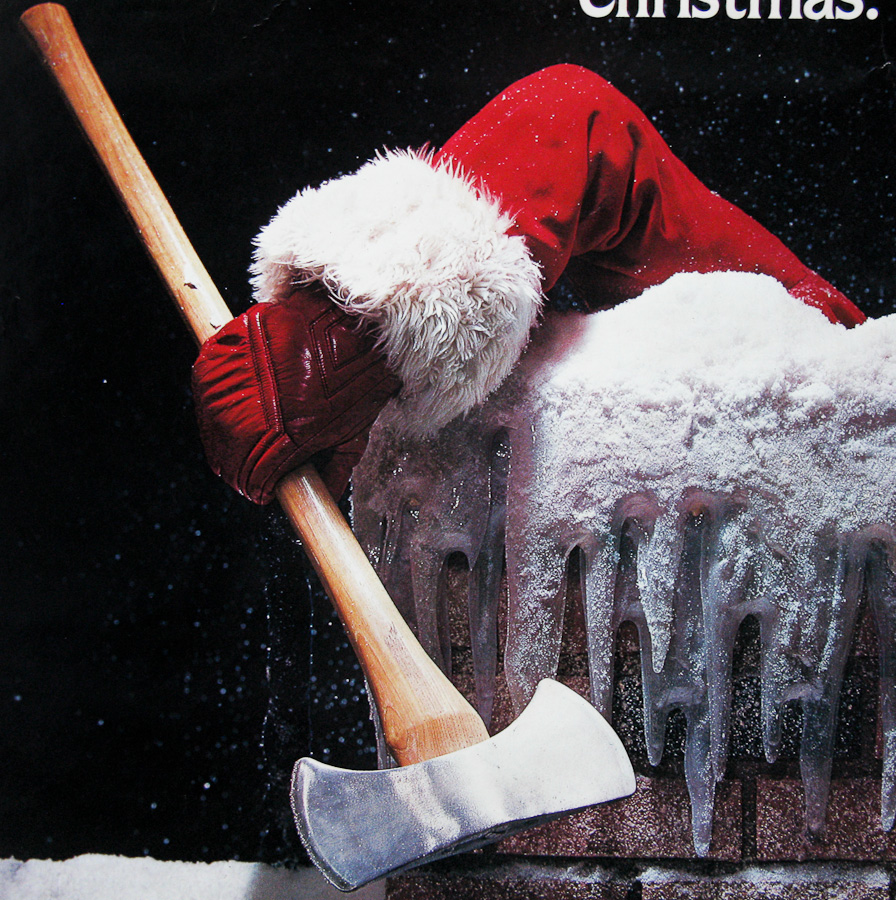 "The shoot was done during the summer," Kleeger revealed. "Santa was very hot in his red suit. The axe handle was too short, so we had to get another axe to make the handle longer (see poster: there's tape over the screw, as there was no time to retouch). We couldn't find red leather gloves, so we painted the gloves red. Santa could not fit in the chimney, so we had to alter it."
Unfortunately, Kleeger was unable to recall who played 'Santa' in the photograph, though we can be almost 100% sure that it was not the film's star, Robert Brian Wilson. It was not uncommon at the time for horror posters to feature actors not in the actual movies, and it was likely a model or a random stand-in who portrayed Billy Chapman for the shot.
Nearly as iconic as the photograph itself is the tagline that accompanied it, stating that 'You've made it through Halloween, now try and survive Christmas.' Kleeger informed me that he also played a part in the tagline, which played off the success of John Carpenter's slasher classic.
"I worked on the line with a copywriter," he said. "I wanted a macabre, edgy feeling for the holiday spirit."
So, how about the other photographs that were taken for the shoot, and never saw the light of day? Kleeger was kind enough to grant me access to them, allowing me to share them with other fans for the very first time…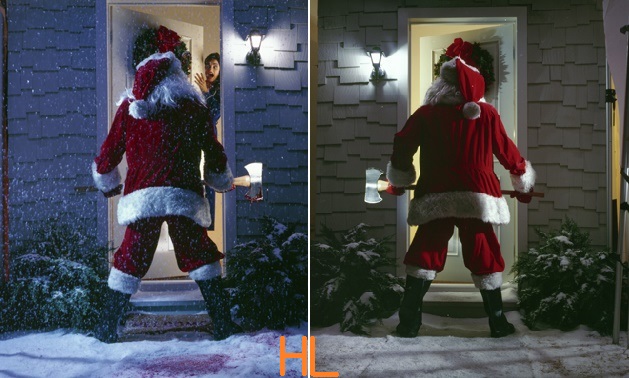 "There was another concept I explored," said Kleeger. "Santa, seen from behind holding an axe, ringing the door bell, the front door decorated with a Christmas wreath."
This particular idea was photographed from several different points of view, in a few different ways, and those are two of the original photos above.
Though the film's poster designer was well aware of the controversy his poster was going to conjure up, even he was likely taken by surprise when TriStar Pictures pulled it from release, despite performing well at the box office.
At the time, TriStar was owned by Coca Cola (known for creating the modern image of Santa Claus), and so it's quite frankly a miracle that the film ever ended up being made in the first place. The public outrage was the proverbial final nail in the coffin, leading TriStar to cut all ties with the movie.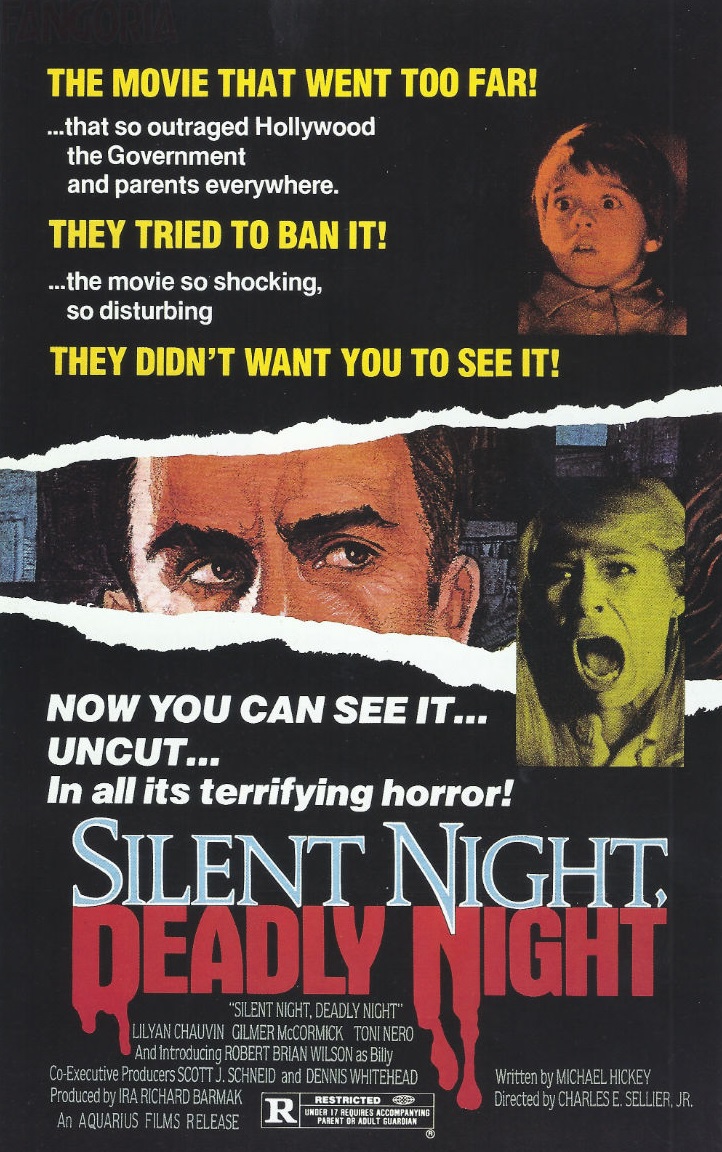 When Silent Night, Deadly Night was brought back to theaters in 1986, by Aquarius Films, a new piece of art was whipped up, playing up the controversy while removing the rage-inspiring imagery of a killer Santa.
Nobody bothered to picket the release or raise a stink about the film, and it's not in the least bit preposterous to assume that Silent Night, Deadly Night never would've become as infamous as it did, if it weren't for Burt Kleeger's eye-catching original poster art.
Sometimes, a poster can either make or break a movie, and Silent Night, Deadly Night's is noteworthy for, in many ways, doing both. Though it seemed to break the movie, when it was pulled from release, the controversy actually ended up making the movie in the long run, and helping to cement its status as an iconic export of the 80s slasher boom.
Thank you for taking the time to chat about your contributions to that enduring legacy, Burt, and also a huge thanks to Scott Schneid for making this interview happen.
Happy 30th, Silent Night, Deadly Night!
Support Halloween Love
If an item was discussed in this article that you intend on buying or renting, you can help support Halloween Love and its writers by purchasing through our links:
(Not seeing any relevant products? Start your search on Amazon through us.)