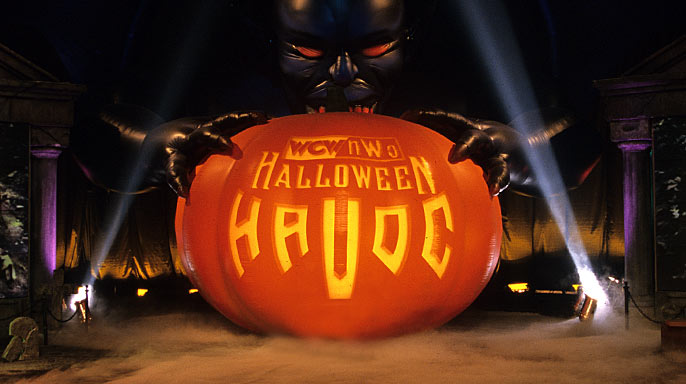 The worlds of wrestling and horror have collided many times over the years, giving us characters like The Undertaker, Papa Shango, Kane and Gangrel. Kamala, too. Can't forget Kamala. He ate live chickens.
But there's never been a more majestic partnership between those worlds than Halloween Havoc – the now-defunct WCW's annual pay-per-view that served as a body-slamming love letter to the best holiday of the year.
With ornate entrance stages that included things like tombstones and giant inflatable pumpkins with giant inflatable demons looming over them, Halloween Havoc was wrestling's greatest contribution to the world of horror, running from 1989 through 2000.
Yes, that's 12 wrestling events full of Halloween glory (and Ric Flair's boobies), and you can revisit each and every one of them for just $9.99, courtesy of the WWE Network!
Today, in celebration of Halloween Havoc here on Halloween Love, we rank each of those twelve events not on the merits of their matches but rather on the poster art that was used to promote them. Because trust me, that's more fun than reading my play-by-play on the Junkyard Dog vs. Moondog Rex.
Without further delay, let the HALLOWEEN HAVOC begin!!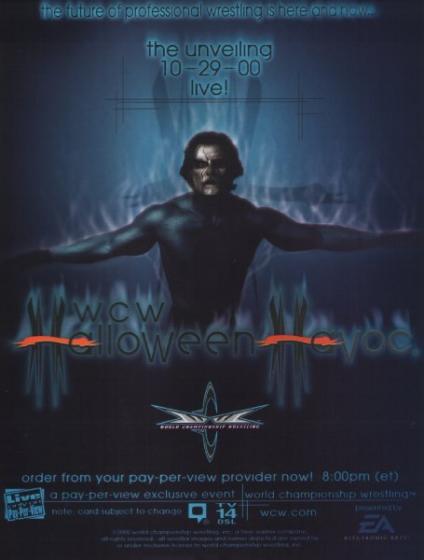 12 – HALLOWEEN HAVOC 2000
Despite this poster touting that 'The future of sports entertainment is here and now…,' World Championship Wrestling became a thing of the past just a few short months after Halloween Havoc 2000, when Vince McMahon bought the company and folded it into the real future of sports entertainment: WWE.
It's been well documented that WCW wasn't exactly at its best in its final years of existence, and Halloween Havoc 2000 is as good a reflection of that as any. In fact, many consider it to be one of the company's worst pay-per-view events of all time.
Looking more like the poster for a porno film starring WCW icon Sting than the poster for a wrestling event, this bizarre art serves as proof that WCW had all but given up, by the time we crossed over into a new millennium. I mean… what the hell is even going on here? Why is Sting unveiling himself? And why is he pretending he's Freddy from that alley scene in the original Elm Street?
If there's anything the 2000 Halloween Havoc is noteworthy for it's the appearance of several 'ghosts of Stings past,' as a handful of unknown wrestlers dressed in outfits Sting wore at past Halloween Havoc events and interfered in his match with Jeff Jarrett. So yea. That was kinda cool. I guess.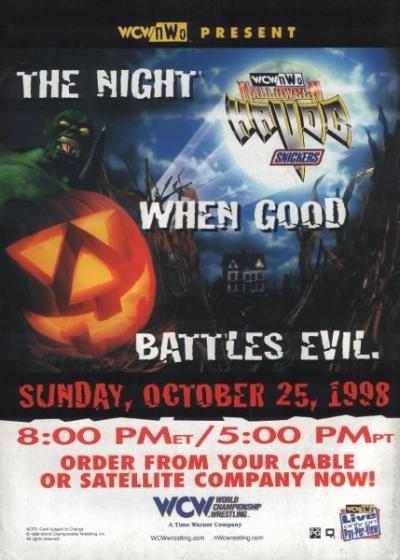 11 – HALLOWEEN HAVOC 1998
Another low point in WCW history was without question 1998's Halloween Havoc, which boasted a main event match-up nearly a decade in the making. After WWF's Ultimate Warrior was brought into WCW, someone thought it was a good idea to try and capture lightning in a bottle by recreating his classic 1990 WrestleMania match with Hulk Hogan – a decision that resulted in one of the worst matches in recorded history.
As it turned out, watching two geriatric superstars fumble around in the ring, well past their prime, wasn't quite as entertaining as it seemed on paper, and the match is notable for featuring a botched 'fireball-to-the-face' finale that ranks as one of wrestling's most memorably awful moments.
Despite the horrible match Warrior vs. Hogan 2 ended up being, it's the lack of the two wrestlers on Halloween Havoc 1998's poster that makes this uninspired art a dud. If you've ever seen The Ultimate Warrior, you'd know that he's the perfect wrestler to spotlight on a poster for a Halloween-themed event, so somebody seriously dropped the ball on this one.
But hey. At least that inflatable demon made it on there, which shows some semblance of advertising smarts.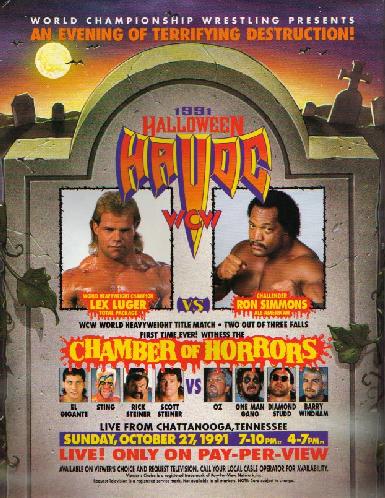 10 – HALLOWEEN HAVOC 1991
Though the main event of Halloween Havoc 1991 was Lex Luger vs. Ron Simmons, the hands down highlight of the show was the first (and only) 'Chamber of Horrors' match, wherein eight superstars duked it out inside of a steel cage. But not just any steel cage. Oh no.
Inside of the big cage was a smaller cage with an electric chair in the center of it, and the object was to put your opponent in the chair, pull a switch and 'electrocute' him. The match is often regarded as a terrible idea that should've never left the writers' room, but it's hard not to love the deliciously cheesy special effects spectacle that it provided.
Needless to say, this poster isn't nearly as awesome as the infamous match that highlighted the card. But it's still pretty awesome, as are all the subsequent posters on this list.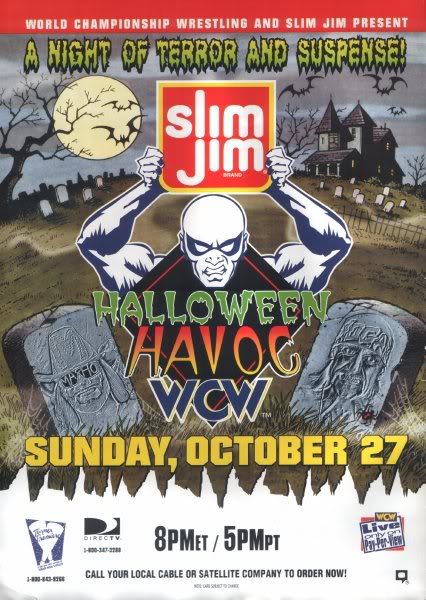 9 – HALLOWEEN HAVOC 1996
In 1996, Halloween Havoc took over the MGM Grand Garden Arena in Paradise, Nevada, where the event emanated from for the subsequent four years. Like at the 1998 event, WCW tried to capitalize on a WWF bout from the previous decade, pitting Hulk Hogan up against Randy Savage, both of whom were carved into tombstones for the event's poster – in other words, somebody took pictures of them and slapped a 'negative' filter on top.
This poster marks the first appearance of the official Halloween Havoc mascot, who also appeared on the following year's poster. The muscle-bound, mask-wearing mascot was brought in as a replacement for the event's original 'long V' logo, though he was ousted in favor of that logo's return once 1998 came around. And I've missed him every Halloween season since then.
One thing worth mentioning about 1996's show is that it's the only Halloween Havoc event to feature a wrestler named Halloween – a masked Mexican wrestler who wore an orange and black outfit. He competed in a 'dark match,' meaning the live audience saw it but it wasn't televised.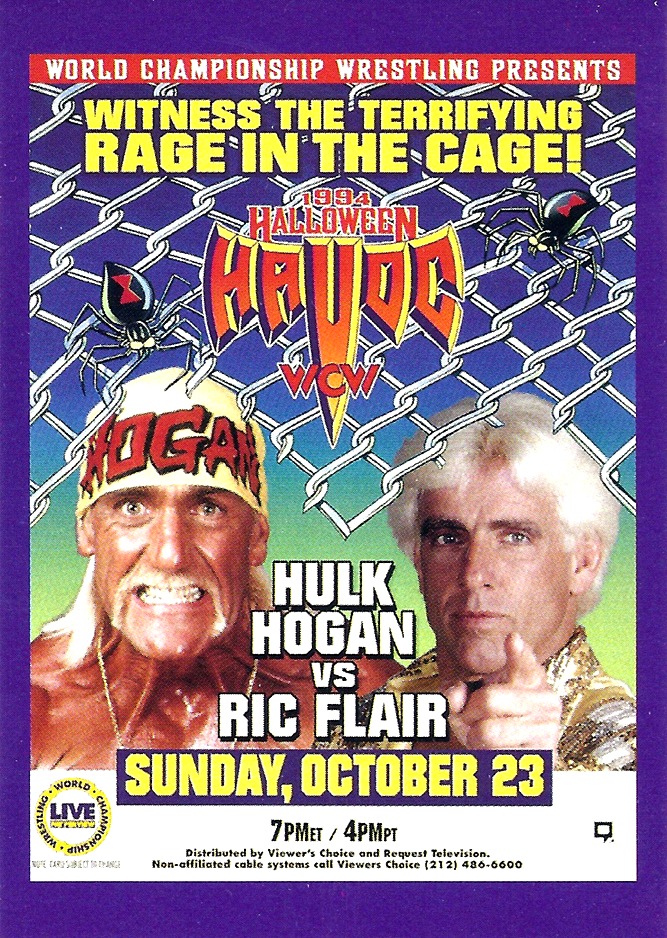 8 – HALLOWEEN HAVOC 1994
If there's anything most wrestling fans remember from 1994's Halloween Havoc it's the steel cage match between Hulk Hogan and Ric Flair, which was contested under career vs. career rules, stipulating that whoever lost the match had to retire from the sport. Hogan defeated Flair in the main event, which kept him off TV for a mere matter of months, before making his triumphant return.
Unfortunately, no spiders actually appeared in the match, though we'll let the false advertisement of this poster slide. Because it has red and yellow Hulkamania spiders, a steel cage, Hulk Hogan and Ric Flair on it, which are four of the things I'll surely rattle off if I ever end up recording my own version of 'My Favorite Things.'
If you're going to revisit Halloween Havoc 94 on the WWE Network, I'd recommend making a pit stop at the Nasty Boys vs. Terry Funk and Bunkhouse Buck match, which ends with Funk's head being slammed into a jack o'lantern. One of those things you've just gotta see – after all, nothing quite says Halloween like an old dude crashing through a pumpkin.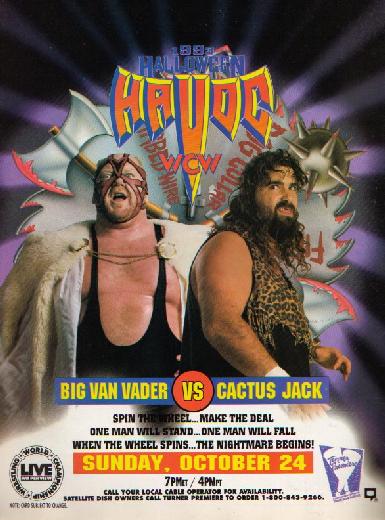 7 – HALLOWEEN HAVOC 1993
The 1992 Halloween Havoc started the tradition of a 'Spin the Wheel, Make the Deal' match, wherein a giant roulette wheel decided the type of match the main event would be. The tradition carried over to the 1993 event, where Cactus Jack and Big Van Vader ended up competing in a violent Texas Death Match.
I can't think of two better wrestlers in WCW at the time to be highlighted on the 1993 poster than these guys, as both Cactus Jack and Vader were madmen ripped straight out of horror films. Their crazy faces on the poster tell the whole story, and the cartoon-like weaponry behind them earns this one the lucky seventh spot on the list.
Worth noting that Mick Foley lost one of his ears in a match with Vader not long after Halloween Havoc 1993, while WCW was touring Europe. His head got hung up in the ropes and his ear was ripped clean off, and surgery was required to reattach the remaining cartilage. Yum.
6 – HALLOWEEN HAVOC 1997
There's not all that much of a difference between the 96 and 97 Halloween Havoc posters, both events being presented by Slim Jim and featuring the new mascot and logo. But what sets this one apart is the graveyard appearance of the "Macho Man" Randy Savage, who at the time was the spokesperson for Slim Jim. Oooh yea.
Since Randy Savage is no longer with us, the poster takes on a sad tone nowadays, but back in 1997 it was awesome enough to have a prominent spot on my bedroom wall. And it still would, if I didn't throw it out during that awkward phase where I denounced pro wrestling in favor of a sad attempt to lose my virginity – it lasted all of 24 hours.
Note the tombstones on either side of the Macho Man, which depict the war between WCW and 'bad guy' faction NWO that was raging at the time. The battle between the two groups was played out in the main event, which saw Hulk Hogan and Roddy Piper fighting inside the confines of a steel cage. Thanks to interference from Savage, Piper won the match, and the event ended with Hogan and Savage beating down a fan who climbed into the cage. Oh, the memories.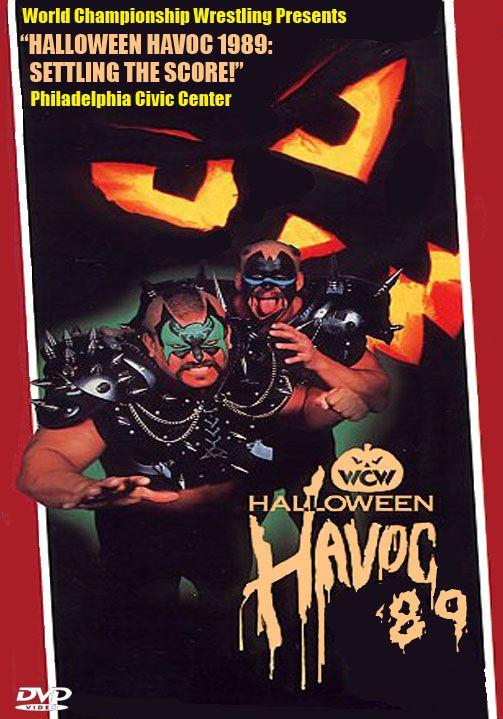 5 – HALLOWEEN HAVOC 1989
Hailing from the Philadelphia Civic Center, 1989's Halloween Havoc was the very first incarnation of the event, headlined by a match that saw two teams competing inside an electrified 'Thundercage.' Decorated with skulls and various other Halloween trinkets, the massive steel cage was electrified on top, preventing the superstars from exiting the demonic structure.
Despite what the poster may lead you to believe, the tag team known as the Road Warriors were not involved in the main event match, though I can only assume they were chosen to promote the show due to the fact that they looked like Halloween decorations come to life.
With spiked shoulder-pads and painted faces, Hawk and Animal are one of the most badass teams to ever step inside the squared circle, and they went on to achieve great success in the WWF as the Legion of Doom.
It wasn't until writing this post that I realized just how much WCW 'borrowed' from the Mad Max franchise, in the late 80s. Thundercage. Road Warriors. The company never did have many original ideas of their own. Not many good ones, at least.
4 – HALLOWEEN HAVOC 1999
Santa's Slay star Bill Goldberg was the dominant force at the 1999 Halloween Havoc, reducing Psycho Sid to a bloody pulp and then going on to win the World Heavyweight Title. Though the title was stripped off his waist the following night, the event nevertheless ended with Goldberg's victorious celebration, the Steve Austin-ripoff standing over the prone body of Sting.
It takes a healthy appreciation of terrible, awful, no good, very bad things in order to appreciate that year's Halloween Havoc poster, which fused Goldberg with some sort of angry battle-cat. It's without question one of the more ridiculous pieces of pro wrestling imagery the world has ever known, and it's for that reason that it's hard not to love it.
Again, WCW was pretty awful around this time, and this gloriously bad poster is yet another reflection of their creative bankruptcy. And thank god for that. Because it is one of the best worst things I've ever seen.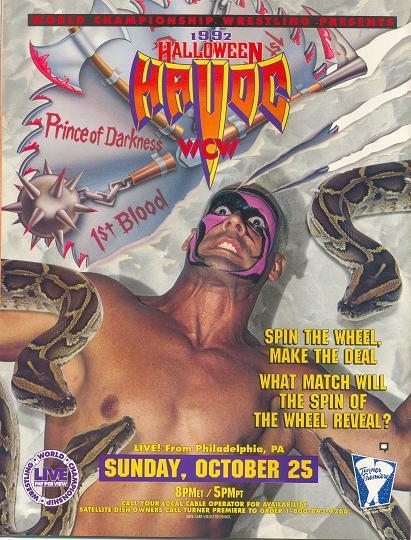 3 – HALLOWEEN HAVOC 1992
If there's any wrestler who's most synonymous with Halloween Havoc it's Sting, who was on nearly every card in the event's history. In 1992, he main-evented the show with Jake "The Snake" Roberts, a spin of the wheel putting them into a Coal Miner's Glove match – a gimmick match that saw a glove hanging from a pole, with the one who retrieved it being free to hit their opponent with it… or something.
Though it's still to this day unclear what exactly the concept of the match was and why a black glove was placed atop a pole, the match is notable for ending on an absolutely horrifying note, with Jake being attacked by his own pet snake. The event came to a close with the snake literally attached to his face, allowing Sting (with the mysterious glove on his hand) to score the victory.
Though the poster eerily foreshadowed the events to come, it totally got the victim wrong, as Sting was spared the humiliation of having his nipples attacked by Jake's snake. It's wrestling legend that the picture of Sting used here was taken at the exact moment WCW officials tried to explain to him what the fuck a Coal Miner's Glove match is, though I can't confirm or deny those rumors.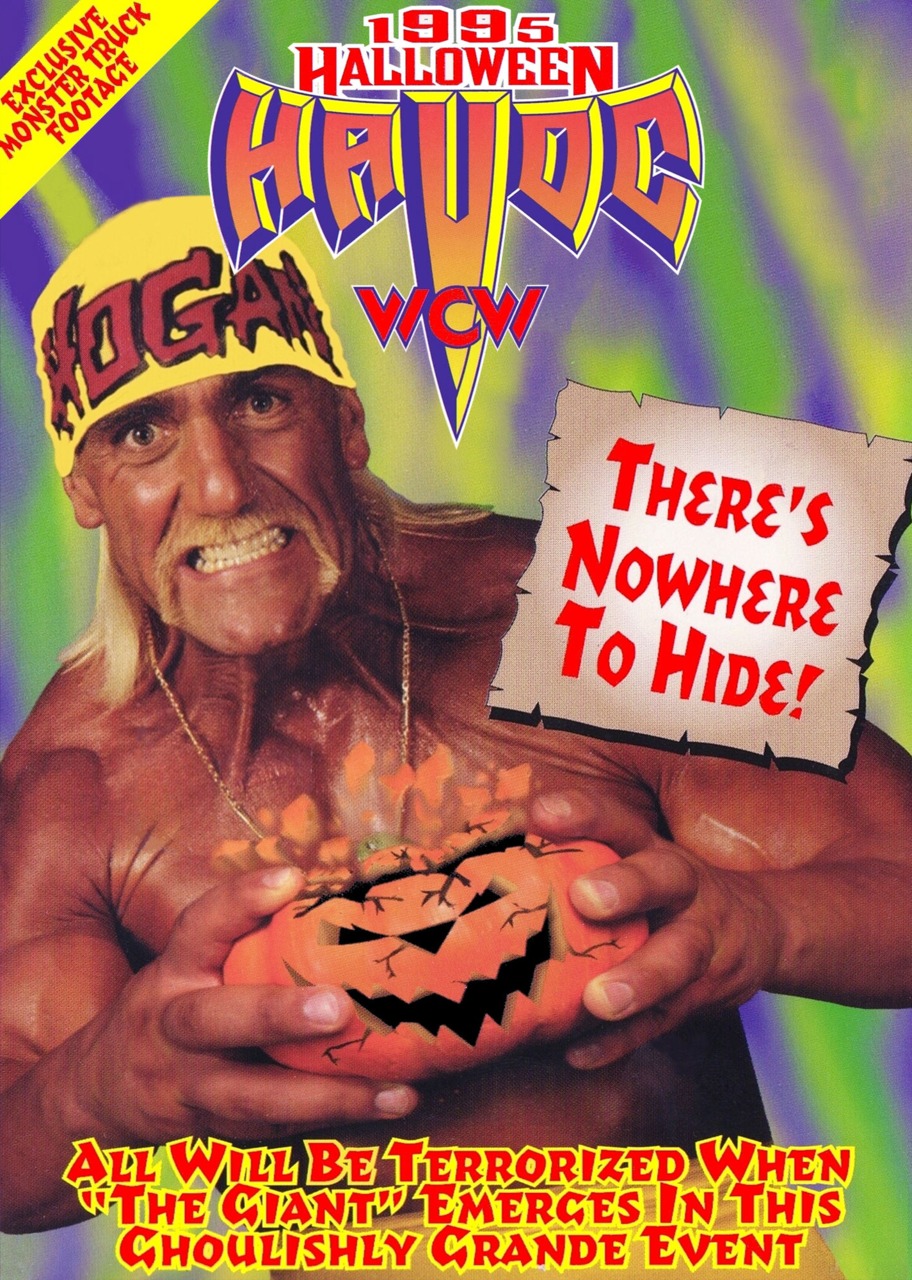 2 – HALLOWEEN HAVOC 1995
One year prior to aligning himself with the NWO, Hulk Hogan was on the last legs of his run as the ultimate 'good guy,' and 1995's event was the last Halloween Havoc where he played that role. He competed in two matches that night, both against the debuting monster known as The Giant (aka Big Show).
First up, Hogan and the Giant engaged in a roof-top 'Sumo Monster Truck Match.' Just as it sounds, both wrestlers piloted their own themed monster trucks, and the object was to push your opponent's truck outside of a designated area. Hogan won and then proceeded to 'accidentally' knock The Giant off the edge of the building, presumably plummeting to his death.
It wasn't long before The Giant returned to the arena in one piece and a re-match was kicked off between the two, this time taking place as a more traditional wrestling match. The Giant beat Hogan to win the title, which was later stripped off his waist and vacated. The event ended with an appearance from The Yeti (The YEH-TAY?), a giant mummy-like character who tried to rape the Hulkster.
Hulkamania ran wild on a jack o'lantern for the 1995 Halloween Havoc poster, the gourd crushing under the powerful weight of Hogan's patented 24-inch pythons. I'd dig deep into the formative childhood events that have led me to view this poster as proof of the existence of God, but since I'm already at the 2,300 word mark, I'll just let it speak for itself.
It's Hulk Hogan crushing a pumpkin. And anyone who's still reading this painfully long post surely already knows why that's awesome.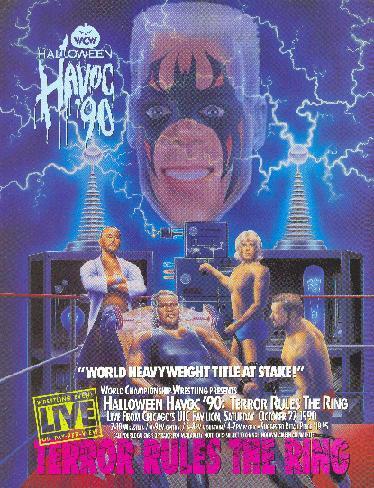 1 – HALLOWEEN HAVOC 1990
Regarded by fans as one of the best wrestling factions in the history of the sport, 'The Four Horsemen' group has had many different incarnations over the years, and by October of 1990 it consisted of Ric Flair, Arn Anderson, Barry Windham and Sid Vicious.
The 1990 Halloween Havoc was headlined by a World Title bout between Sting and Sid, wherein Windham dressed up as Sting, swapped places with the real Sting behind the referee's back and then allowed Sid to pin him. Once the ruse was revealed and the match restarted, the real Sting pinned Sid, retaining his title.
1990's Frankenstein-inspired poster for Halloween Havoc is in my opinion the best of the bunch, depicting the members of the Four Horsemen giving life to the monstrous Sid – with Ric Flair pulling the switch. Oddly enough, the poster foreshadowed 1991's aforementioned Chamber of Horrors match, and you can't help but wonder if the art is what inspired WCW to bring an electric chair into the ring, the following year.
In addition to the horror movie-style poster, Halloween Havoc 1990 is also the most true-to-Halloween event of them all, with orange ropes surrounding the ring and orange/black balloons falling from the rafters, at the end of the show. Also worth mentioning that Paul Heyman was dressed as Dracula while commentating the event, a sight that alone makes it worth revisiting.
Unfortunately, though WWE owns the rights to all WCW events, they currently have no plans on ever bringing Halloween Havoc back, and adding it to their annual roster of pay-per-views. For now, revisiting past shows from the October event's 12-year history is all we can do ($9.99), though there's always a small glimmer of hope that WWE will one day listen to the fans and bring this Halloween treat back from the dead.
Please, WWE? Pretty please, with a Coal Miner's Glove on top?
Support Halloween Love
If an item was discussed in this article that you intend on buying or renting, you can help support Halloween Love and its writers by purchasing through our links:
(Not seeing any relevant products? Start your search on Amazon through us.)
The following two tabs change content below.
If you don't get enough of me here on Halloween Love, you can also find me on Dread Central, iHorror and Shock Till You Drop. Contact me via john@halloweenlove.com.
Latest posts by John Squires (see all)