From Freddy Krueger smacking Johnny Depp in the face with a frying pan in Freddy's Dead to Bill Murray popping up as a 'zombie' in Zombieland, the horror genre has seen some pretty awesome and totally unexpected cameos over the years. Back in 2010, on my blog Freddy In Space, I highlighted the top 20 greatest horror cameos of all time, and here tonight on Halloween Love I'd like to update and add to that list, with my favorite cameos from the past year of horror cinema. 2013 had some pretty badass cameos of its own, so let's take a look at the five most memorable ones!
CURSE OF CHUCKY – ALEX VINCENT
Curse of Chucky was one of my favorite horror movies released last year, and I got such a kick out of seeing the good old fashioned killer doll back in action, rather than the wise-cracking, over the top and totally goofy one we saw in both Bride and Seed of Chucky – two movies I don't care very much for. As if the movie wasn't already awesome enough, a post-credits scene picked up six months after the events of the film, which saw the return of Andy Barclay to the franchise – once again played by original actor Alex Vincent. Not only had the character not be seen or heard from since 1991's Child's Play 3, but in that film Barclay wasn't even played by Vincent, so it was truly awesome to see both him and the character back in the franchise… and to see Andy finally get revenge on the pint-sized terror that destroyed his childhood.
EVIL DEAD – BRUCE CAMPBELL
Another horror film from last year that belongs on everyone's 'best of' list is Evil Dead, a gory bloodbath that hit all the right notes and delivered much the same level of entertainment that the original film and its sequel did. Many fans were upset by the fact that Bruce Campbell wasn't in the movie, and though I must admit that it would've been awesome to see him at least have some sort of small role, my desire to see the return of Ash was more than satiated by this brief post-credits scene, which saw Bruce pop up on screen to utter the word "groovy," and then stare into the camera. It's not much, but I'll take it!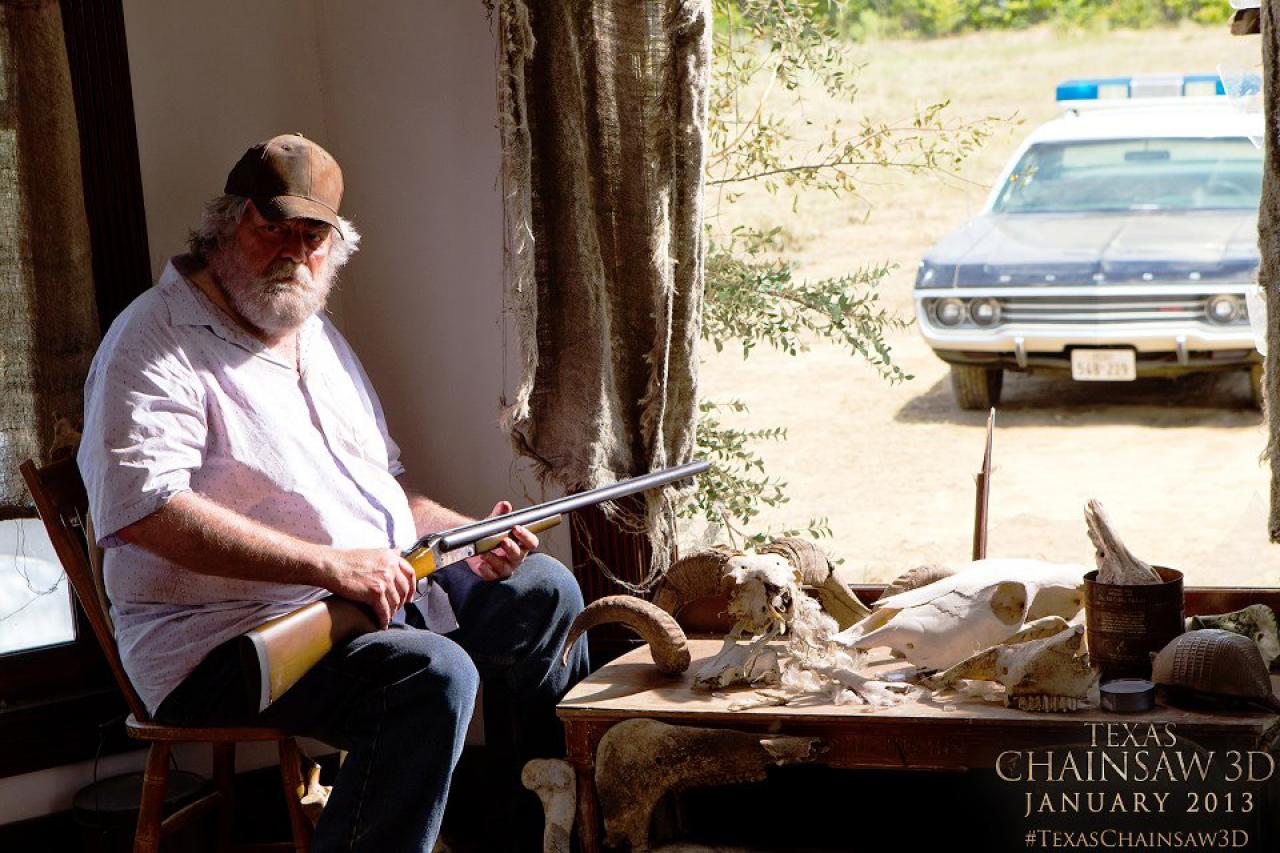 TEXAS CHAINSAW 3D – GUNNAR HANSEN, JOHN DUGAN & MARILYN BURNS
Say what you want about Texas Chainsaw 3D, but I thought it was fun, and I appreciated the attempt that was made to tie it into the events of Tobe Hooper's original classic. Even if you hated the movie, you have to at least admit that the opening sequence was totally awesome, picking up directly after Sally Hardesty escapes the clutches of Leatherface and for the very first time showing us what happens afterward. Gunnar 'Leatherface' Hansen (pictured above) pops up during the scene for a brief cameo as a Sawyer family member, and John Dugan also makes an appearance, reprising the role of grandpa – 40 years later. At the end of the film, Marilyn Burns (the original film's Sally Hardesty) also makes an appearance as lead character Heather's grandma.
THIS IS THE END – CHANNING TATUM
No movie released last year made me laugh more than This Is The End, a comedy that's not at all out of place on a horror website such as this one. From giant monsters to demonic possession, This Is The End has got it all, including a particularly gruesome decapitation and an appearance by the Backstreet Boys – now that's scary! The film is absolutely chock full of fun cameos from big name stars, but Channing Tatum hands down wins the award for the best, showing up as the sex slave of a cannibalistic gang leader, played by the always funny Danny McBride. This Is The End is all about actors poking fun at themselves, and this hilarious scene is the personification of that.
THE CONJURING – LORRAINE WARREN
The Conjuring is based on a real-life case that was investigated by husband and wife paranormal experts Ed and Lorraine Warren, who were played by Patrick Wilson and Vera Farmiga in the film. In a nice little wink and nod to those who are familiar with the Warrens, James Wan gave Lorraine a small cameo in the movie, as an audience member listening to Patrick Wilson's Ed Warren give a lecture on demonic activity. I admit I was kinda bummed that the puppet from Saw didn't pop up in the film, as it always does in Wan's movies, but it was nice to see Lorraine take its place.
Did you spot any other fun cameos this year? Comment below and let us know!
Support Halloween Love
If an item was discussed in this article that you intend on buying or renting, you can help support Halloween Love and its writers by purchasing through our links:
(Not seeing any relevant products? Start your search on Amazon through us.)