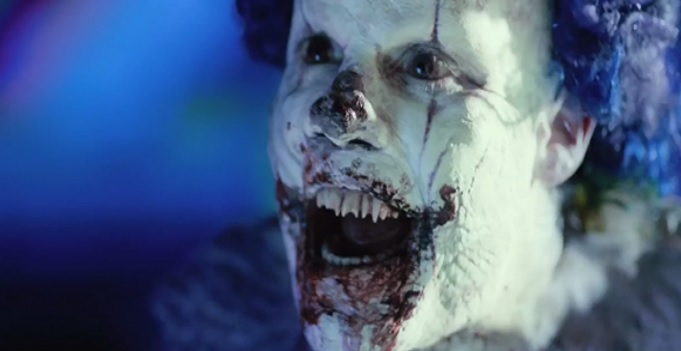 Clowns are creepy. Clowns are scary. How do I know this? Because I'm creeped out by them. And because a word was actually created to define people who have a mortal fear of them. I rest my case.
Many filmmakers over the years have used the creepiness of clowns as a hook for a horror movie, some of them about killers who dress up as clowns – like Stitches and House of 1000 Corpses – and others about killer clowns that actually are actual clowns – such as Killer Klowns From Outer Space.
But what about a human that dresses up like a clown, then turns into an actual clown, and then becomes a killer clown? That's a new one, eh?!
That was the premise of a faux trailer that Jon Watts made and uploaded onto YouTube a few years back (watch it above!), which saw a father dressing up as a clown after the birthday clown he hired for his son's party didn't show up. Once in the costume, with grease paint smeared all over his face and a curly rainbow wig atop his head, the man finds himself possessed by the spirit of an evil clown. Worst of all, he's unable to remove the costume or even rub the makeup off his face, no matter how hard he tries.
A fun fusion of The Santa Clause, the Goosebumps story The Haunted Mask, and a Coulrophobic's worst nightmare, Clown soon became the horror community's most anticipated film. Only problem was, it wasn't real. The trailer was all that existed of the film, and though Eli Roth's name was attached to it, he wasn't really involved in any aspect of its creation.
That is, until Roth saw the trailer for himself.
So impressed was Roth with the faux Clown trailer that he got in touch with Watts, and helped him turn the idea into a real feature length horror flick. Three years later, Dimension Films has released the trailer for Clown… the real trailer, to a real movie, that was spawned from a fake trailer, for a fake movie.
And it is totally awesome. And not recommended for anyone who's deathly afraid of clowns.
Check out the trailer for Clown below, which starts off as a recreation of Watts' original faux trailer, and then digs a bit deeper into the origins of the evil clown curse that's terrorizing him!
Clown was co-written and directed by Jon Watts, and is set for release sometime this year. A true horror miracle that the film is actually making its way into our lives, and I for one will be shocked if it doesn't end up on my year end best of list!
Support Halloween Love
If an item was discussed in this article that you intend on buying or renting, you can help support Halloween Love and its writers by purchasing through our links:
(Not seeing any relevant products? Start your search on Amazon through us.)