Have you ever dreamed of owning a part of cinematic history? Did you know that with a few clicks and a credit card you can?
If you're in the market for a screen used prop then look no further than Prop Store!
This website has more to offer than horror films, but naturally my search began there. Below are five of the coolest props that I found that I know would be the envy of all (horror geeks) who see it.
1. FRIGHT NIGHT 2 – Richie (Merrit Butrick) SFX Burned Head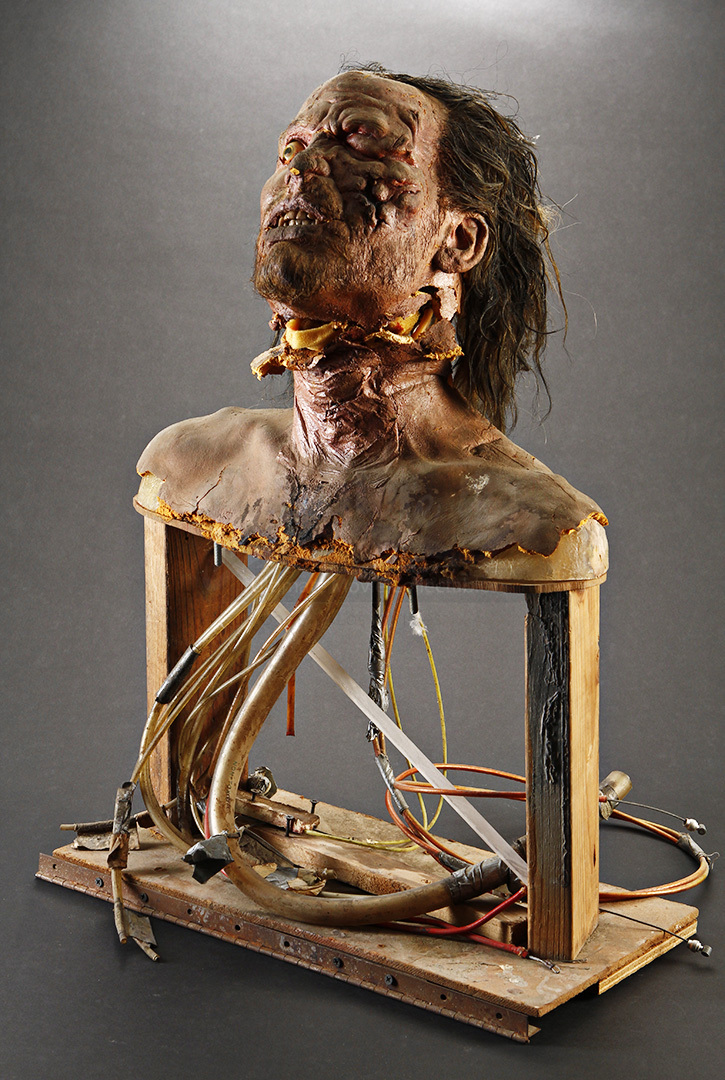 "An SFX Burned Head from Tommy Lee Wallace's 1988 horror/comedy, Fright Night Part 2. In the film Charlie Brewster (William Ragsdale) must face the threat of several vampires led by the vengeful Regine (Julie Carmen). This Head Effects piece was used when the vampire Richie (Merrit Butrick) burns after being splashed with Holy Water. The head is made of foam latex and features a resin eye, resin teeth, hand punched hair on its face and scalp, and several special effects controls and tubes protruding from below.
The head features some wear due to production use and age with stiff crumbling foam, flaked and faded detailing, and various stains. This piece remains in poor condition.
Item size – 19.5″ x 9.5″ x 27.0″ (49.53cm x 24.13cm x 68.58cm)"
This sweet SFX can be yours for just $1,195!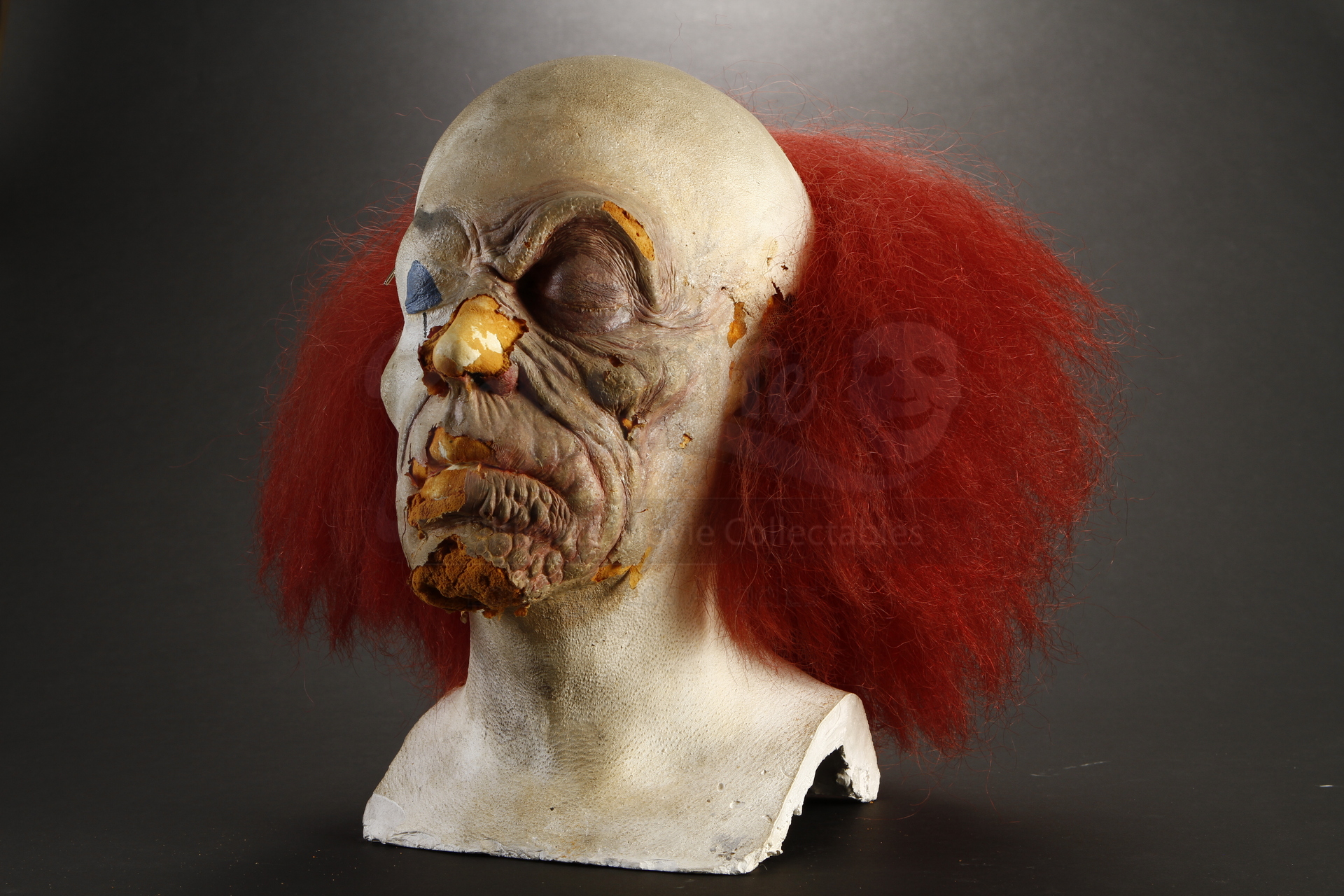 "A Pennywise (Tim Curry) Make-up Test Head used in Tommy Lee Wallace's film adaptation of Stephen King's classic horror novel, It. In the film seven outcast kids are terrorized by Pennywise (Tim Curry), a demon possessed clown, and must face him again 30 years later. The clown head features a style of prosthetics seen when the kids launch a physical assault on the clown in the sewer toward the middle of the series. The Clown Head consists of a ceramic bust with a red wig, make up, and foam latex prosthetics in the style of those worn by Pennywise during the aforementioned scene.
Please note the piece has some damage including chipped paint, faded make-up, and dry crumbling foam latex.
Item size – 12.0″ x 12.0″ x 14.0″ (30.48cm x 30.48cm x 35.56cm)"
I hope you're not looking too forward to owning this because it's currently reserved for someone and not for sale. That's okay, though. It can still give you nightmares even if you don't own it.
3. Jason Goes to Hell – Knife Display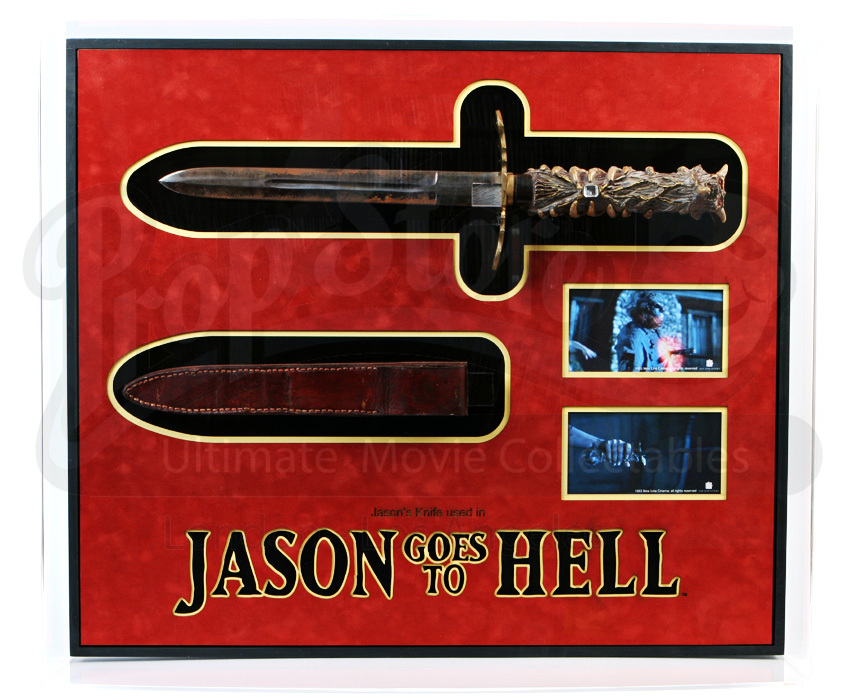 "Jason Vorhees' (Kane Hodder) Knife Display from the 1993 horror film, Jason Goes To Hell. This knife is featured prominently in the film as Jason, who can now transform into anyone, wreaks havoc once again in a bloody killing spree. This well crafted piece features an 11.5″ long blade attached to an elaborate handle made from resin which displays a terrifying demon head at the tip. The head features an open mouth with numerous horns as well as a pointed spine that extends down the length of the handle. The handle has been decorated with faux crystals and a faux diamond. The knife's guard has a gold finish and numerous fierce points on the left and right sides. Included with the knife is a brown leather sheath from the production.
This item comes presented in a custom built display case and is backed by a laser cut mount board that features the film's title and movie stills. Due to production use, the knife features minor wear, however it remains in overall very good condition.
Item size – 22.0″ x 5.5″ x 25.0″ (55.88cm x 13.97cm x 63.5cm)"
Don't tell me you don't have $5,995 laying around, just waiting to be used for this.
4. The Craft – Hand Drawn Occult Artwork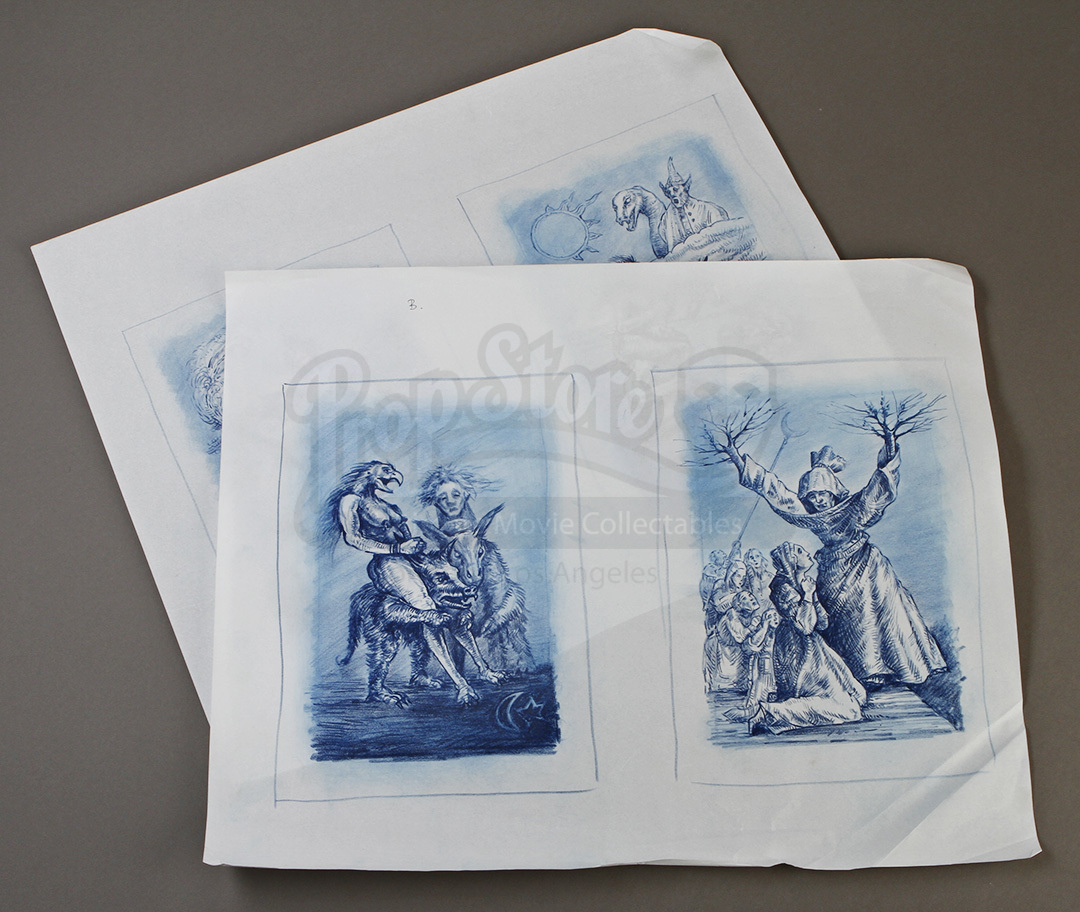 "A Pair of Original Hand Drawn Occult Artwork made for Andrew Fleming's 1996 Wiccan horror film, The Craft. In the film, new student Sarah (Robin Tunney) finds friendship among a coven of young witches who are hell bent on strengthening their powers. Included in this set are two sheets of vellum art paper, each with two illustrations drawn using blue colored pencil. Three of these images can be seen displayed inside of the store where the coven purchases their supplies. Although briefly seen, the images were photocopied and enlarged for use on set.
Each sheet measures approximately 14″ x 17″ (36cm x 42cm) and features some wear to the paper due to production use and age, including bends and folds at the corners, however they remains in otherwise good condition."
This gem comes in at $995 which, so far, is a bargain!
5. Pet Semetary – Zelda Appliances
"A Collection of Zelda's (Andrew Hubatsek) Unused Appliances made for Mary Lambert's 1989 horror film based off of the Stephen King novel, Pet Sematary. In the film Rachel (Denise Crosby) is haunted by a traumatizing childhood ordeal in which her sister Zelda dies from spinal meningitis. Included in this set of foam latex appliances are Zelda's forehead, nose, back, and hands. When placed on actor Andrew Hubatsek, these appliances would give the actor a skeletal appearance. As these pieces are ultimately unfinished, they include additional material from casting that has yet to be trimmed away (see photos). The largest piece in the set, the back, measures approximately 17″ x 1.5″ x 21″ (43cm x 4cm x 53cm) and while this material is fragile due to age, it remains in remarkably good condition."
At $595 this could be considered a bargain. After all, buying the appliance and burning it would be a just revenge for all the damage Zelda did to me as a youngster.
And there you have it, folks. The website is really fun to browse for all sorts of props, screen used items and costumes. And, believe it or not, some of the items are actually do-able and might even make great presents for the movie nerd in your life. If you do buy anything from the Prop Store make sure to leave it in a place where everyone can see it and you'll always have the perfect ice breaker.
Support Halloween Love
If an item was discussed in this article that you intend on buying or renting, you can help support Halloween Love and its writers by purchasing through our links:
(Not seeing any relevant products? Start your search on Amazon through us.)