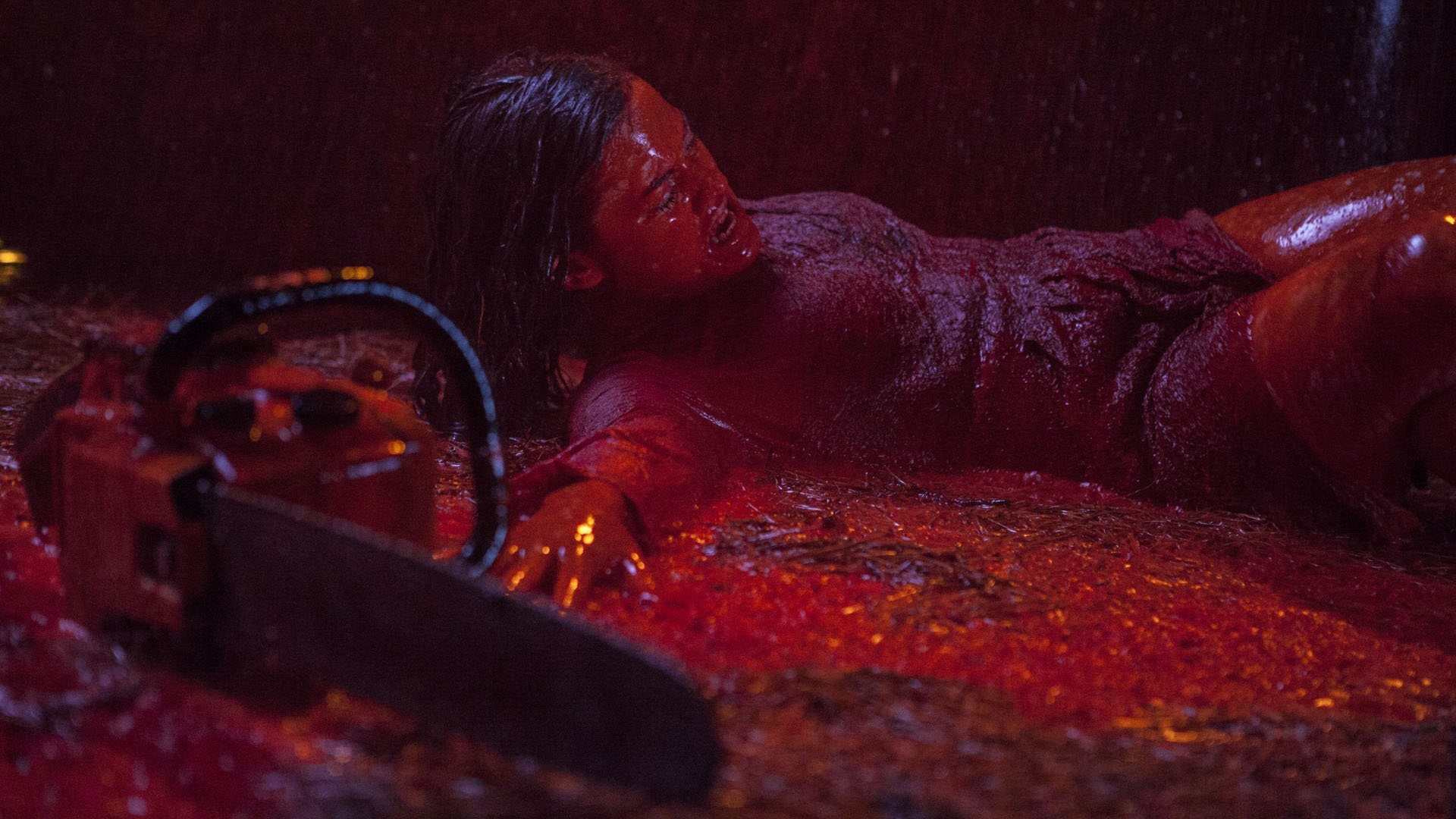 Bravo. Fucking bravo. End of review.
Okay, I have a few more things to say than that. These days, whether a remake, reimagining, sequel, prequel, or supposed "original" hits the big screen, the odds are usually in the house's favor. They take your money and you definitely don't win.
That's the beauty with movie studios that churn out shit film after shit film, they know that the movie doesn't actually have to be good, only the marketing and ploys to get you into the seat are what matters.
However, every once in a while, you'll get creative people that actually have passion and care about making a good movie. It's once in a blue moon, but it happened in the case of the Evil Dead remake.
It was so good, I clapped when the credits rolled. Not one other person clapped with me and I sincerely don't give a fuck. I clapped long, loud, and proud.
POSSIBLE SPOILER ALERTS AHEAD AND ONE DEFINITE ONE
This movie almost hit every single note perfectly, from the over-the-top bloodbath brutality, to the look and feel and homages to the original (including weaponry and subtle camera angles and zooms), to the unique "un-teen-slasherness" of it, it just motherfucking worked.
There was one thing I was super skeptical about going in. And that was the promotional tagline we've been seeing:
"The most terrifying film you will ever experience."
That is a very bold statement, but it somehow delivered. Now, of course such a thing oozes of subjectivity and I can't say with any amount of certainty that I'd even put it in my top 5 or even 10 scariest movies of all time. However, in this jaded and over-saturated culture we live in, it still had me on edge and my heart was pumping at the end of this ordeal.
HERE'S THAT DEFINITE SPOILER – BUT ODDLY ENOUGH I WOULDN'T EVEN HAVE KNOWN TO WAIT FOR IT IF I HADN'T ALREADY SPOILED IT FOR MYSELF BY READING ONLINE
There's a Bruce Campbell cameo after the credits! Or perhaps really more of an Easter egg. Technically, it's called a post-credits scene. I'm not sure if anything tangible story-wise is under debate because of this, but I think it was simply a cool nod to fans.
But, I'm not going to share or explain any further than that. You'll have to see it in theaters, or look on YouTube where I'm sure it's already uploaded, if you don't care about spoiling it.
I'm feeling pretty nostalgic, might have to re-watch the trilogy, which I have on Blu-ray. Groovy.
PS: I've been reading some interesting things that are leaning toward it somehow not really being a remake and existing in the same universe as the originals, but whatever the case, in essence, for all intents and purposes, it was definitely a remake.
PPS: Also, I've read that there was absolutely no CGI used at all. However, I'm not sure I believe that. If the statement was "We used as little CGI as possible, but there are still some scenes we enhanced with CGI." I might believe that. I'm 90% sure after just seeing the film that there was CGI used. Either way, everything looked great. If I'm wrong and it truly is absent of CGI, they worked a miracle amount of illusions, so kudos.
Support Halloween Love
If an item was discussed in this article that you intend on buying or renting, you can help support Halloween Love and its writers by purchasing through our links:
(Not seeing any relevant products? Start your search on Amazon through us.)