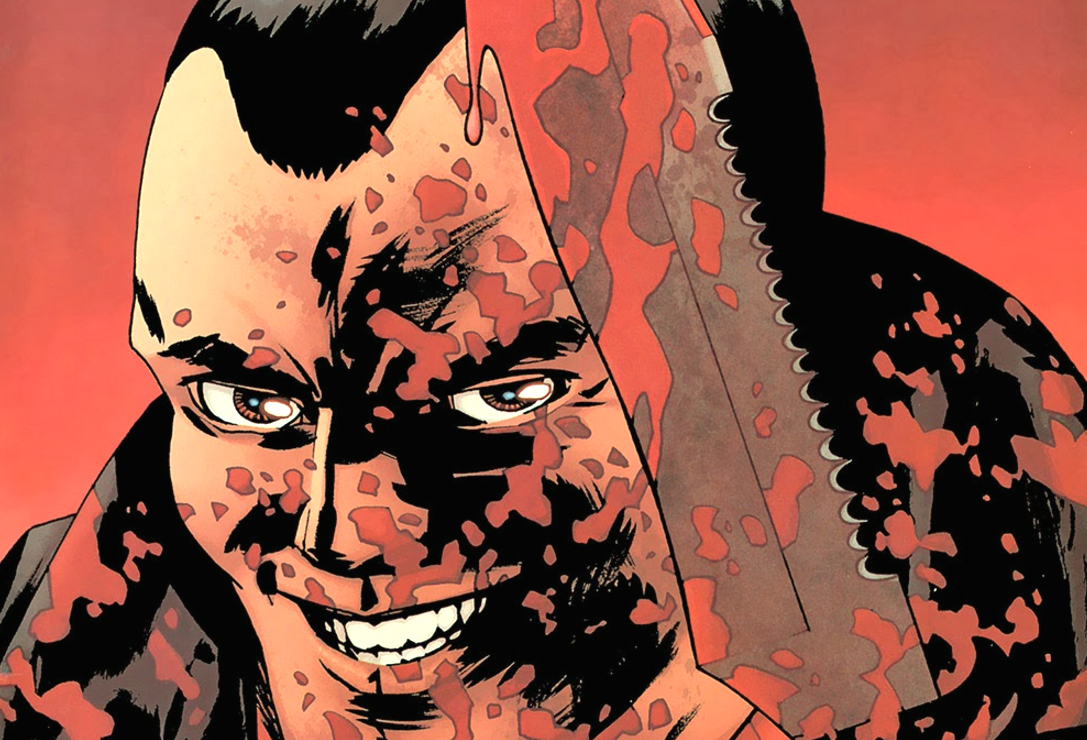 One of the biggest pieces of news to circle the horror community this week was the apparent confirmation that Jeffrey Dean Morgan has been cast as Negan in The Walking Dead.
Negan is a character that followers of the comic book series will know all too well, and his arrival on the TV show has been hotly-anticipated since The Governor's spine was introduced to the end of Michonne's Katana!
Both the show and comic are at their best when Rick and his gang are being tormented by adversaries who are still very much alive, and Walking Dead creator Robert Kirkman has once again delivered an uninfected individual every bit as terrifying as the zombies that roam his universe. Negan IS a monster – but there is far more to this seemingly psychotic character than meets the eye, and today I want to briefly take a look at the comic book version in the hope that some of this complexity might make it to the small screen.
It's a lazy belief that the guy is Satan in human form, that he is the ULTIMATE comic book villain, which will make his appearance on the TV show something shocking and insane! The truth is, his INTRODUCTION could indeed be something that will make your blood boil, but the more I read online, the more I realize that what makes this character special is getting lost in hype.
Consider the Governor for a moment. In the comic book he was twisted and repulsive, plain and simple. But the Governor we got on the TV show was a diluted version because they simply could not bring a character like that to the screen. Even a show like The Walking Dead can't show sadistic and sickening acts of cruelty on that level! So big changes had to be made, and they were.
Negan is nothing like the Governor. He has a real chance to make it to the show in a recognizable way (if the writers are careful), and it's THIS possibility that excites me, and highlights just how different Negan as a character is.
SO, who is Negan? What is he? And why should he be feared? Below are ten examples of his behaviour and way of thinking from the comic book that come together to paint a picture of the man readers have been following since his messy arrival. I suspect Negan's story will be a long one, with many surprises and twists yet to be revealed, but for now – this is some of what we know.
10. Negan REALLY likes swearing.

9. Negan admires bravery and spirit. If you stand up to him or even put up a fight, it can actually IMPROVE his mood considerably. He'll still be terrifying, but it will come with a smile!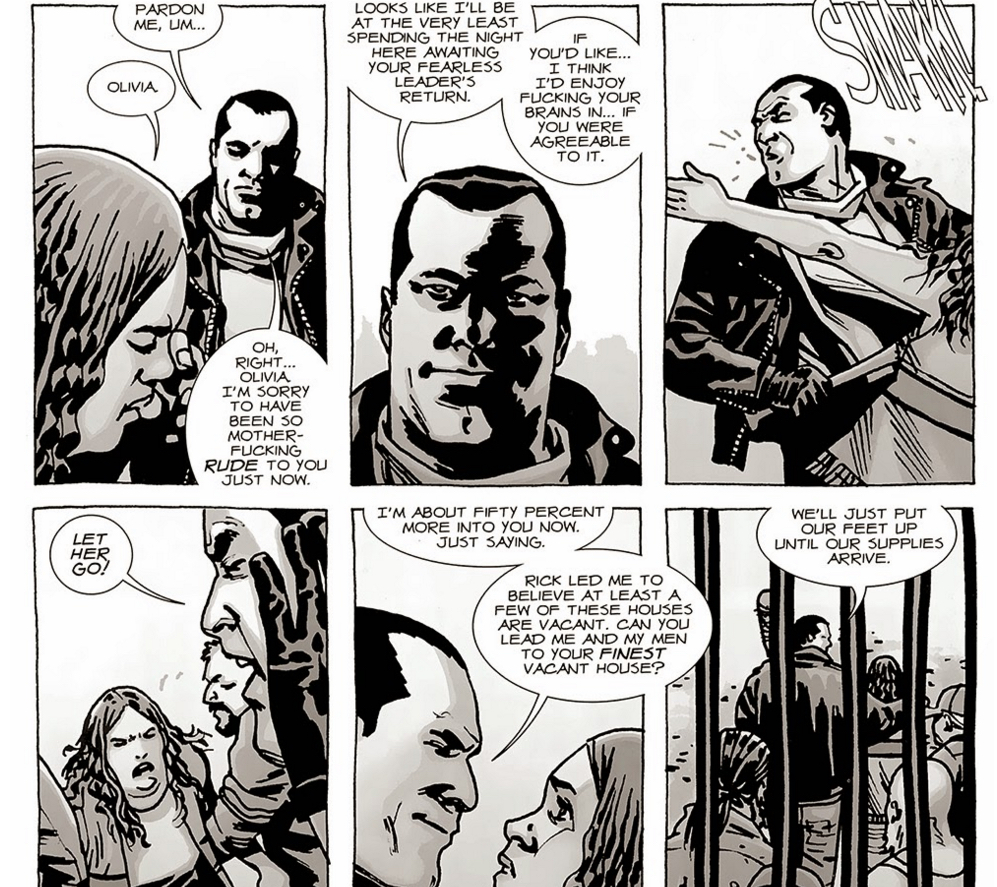 8. Negan hates cowards, and if you offer to help him in some way your plan better not involve being sneaky or two-faced. He wants to be around people with GUTS, and if he thinks you don't have any he will go looking for them… literally!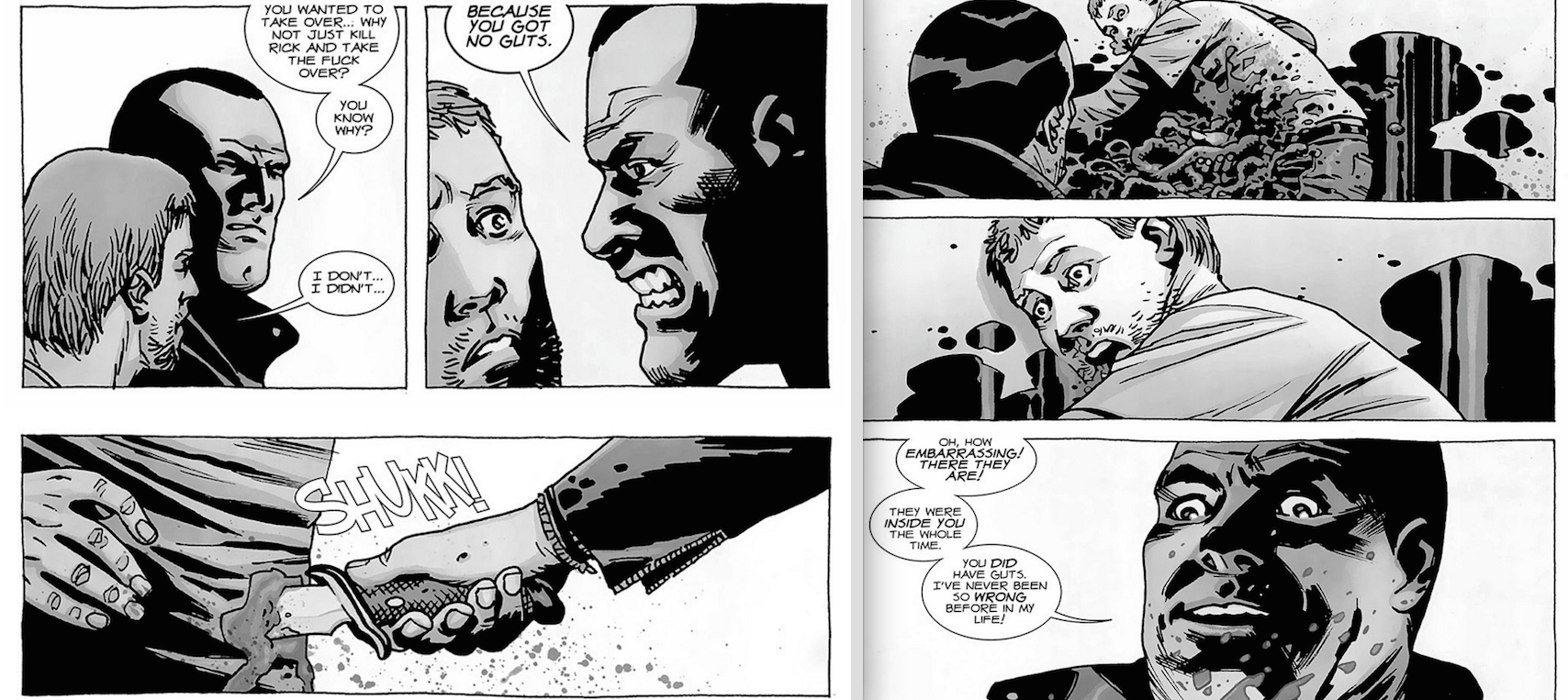 7. Negan's weapon of choice is a baseball bat wrapped in barbed wire that he calls Lucille. He TALKS to Lucille, and seems to believe 'she' has a bloodlust and enjoys being used to kill. It's possible that this is nothing more than a twisted private joke that keeps Negan amused, or it could be proof that the guy really is fucking crazy!

6. Negan is a brilliant strategist who is rarely caught off guard in a combat situation. Anger can sometimes make him sloppy, but when he's calm, he's clever.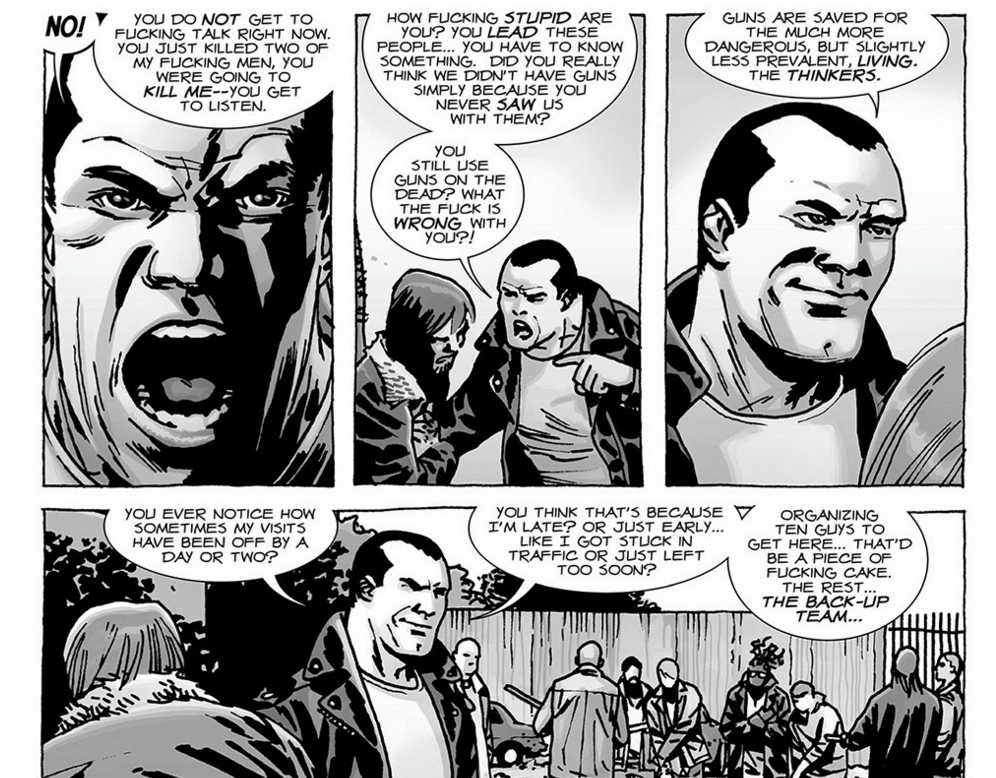 5. Negan is one tough bastard. If you stab him in the neck he will only need a few seconds to regain his composure before taking you down NFL style!

4. Negan is a great motivator and has risen to a position of power through intensity and good old fashioned aggression. The only problem is that he tends to attract the more mentally challenged survivors this world has to offer, meaning his enthusiastic speeches are often wasted.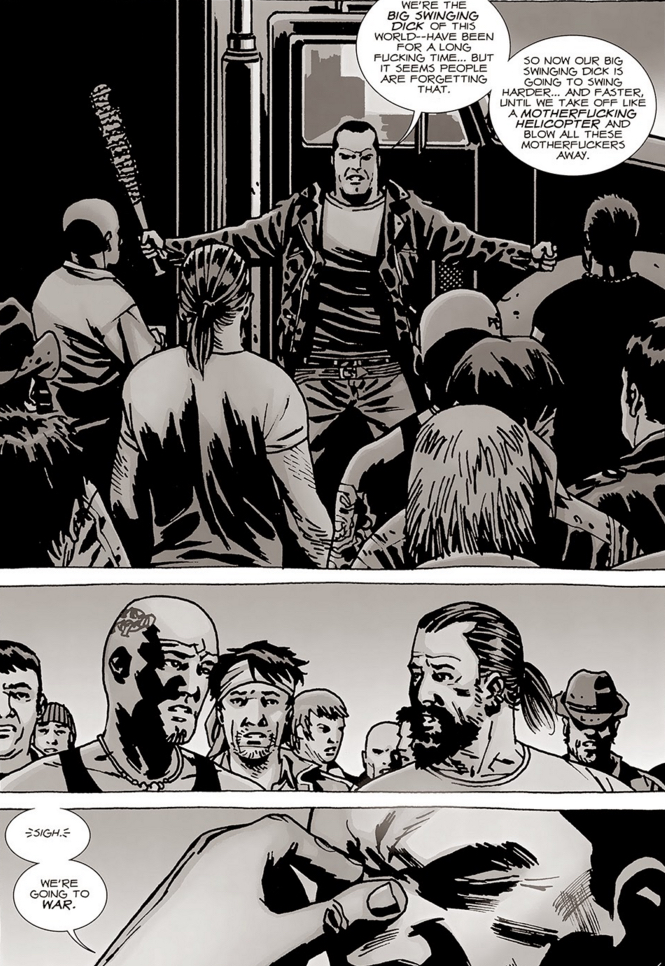 3. Negan rarely kills without reason. These reasons are obviously only justifiable in his own power hungry mind, but there are multiple examples of him NOT killing adversaries when you would expect him to.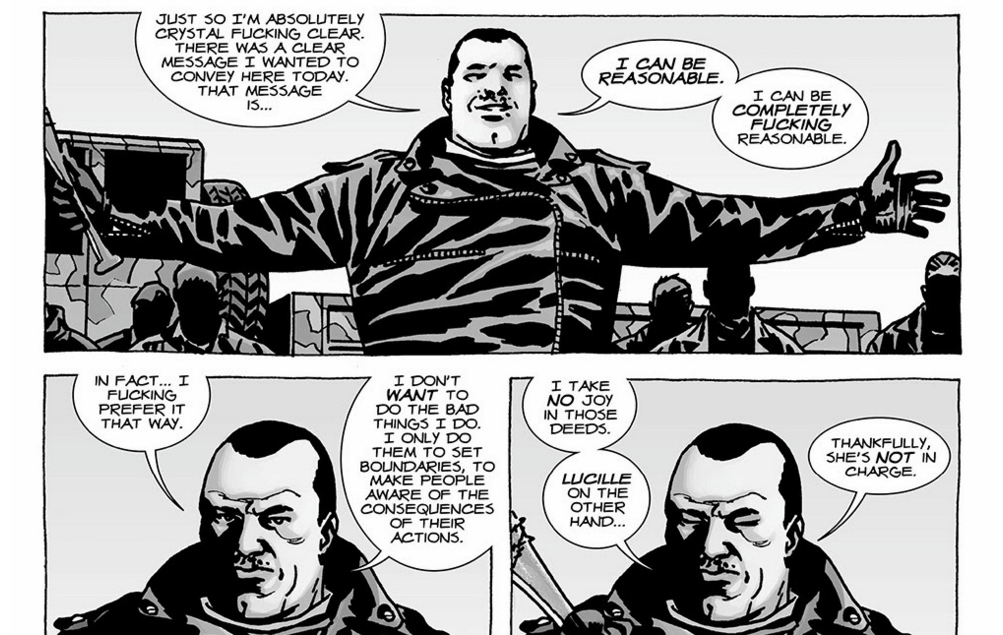 2. Negan enjoys humor, and will always attempt to lighten the mood with some perfectly timed and sinister jokes.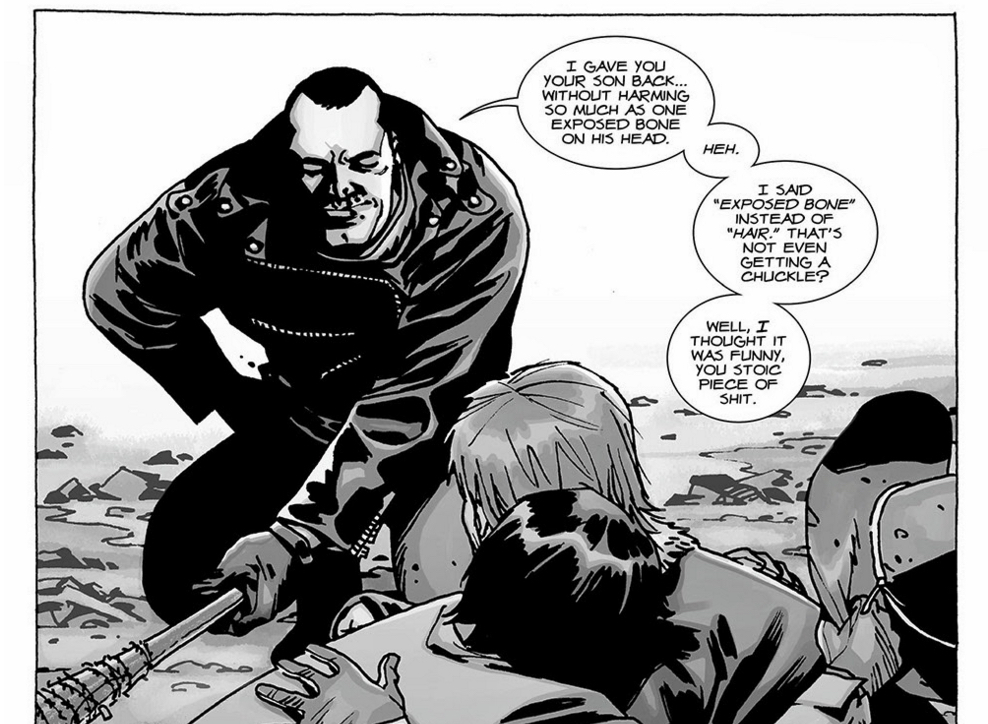 1. Negan likes it if you sing to him.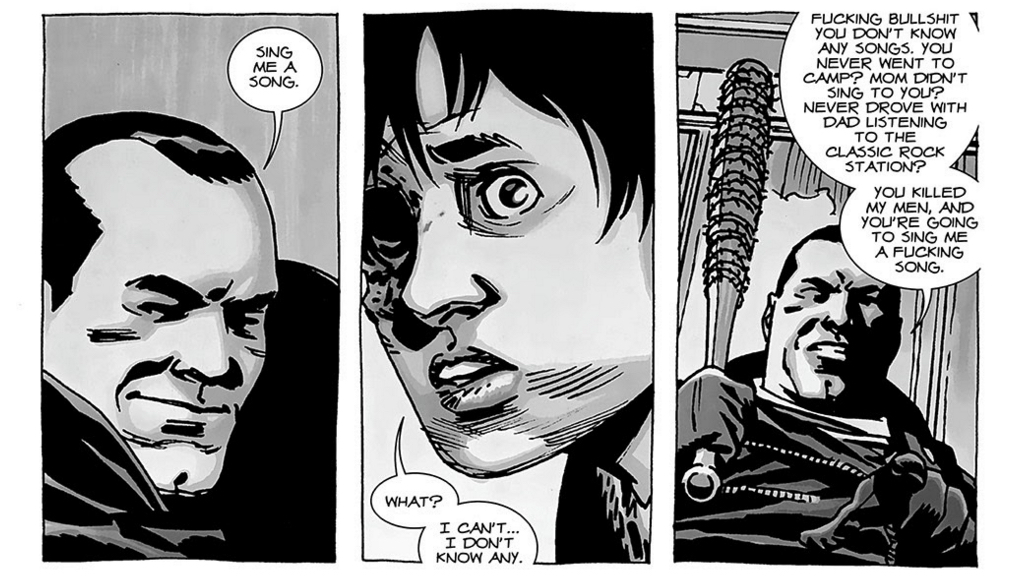 To sum up: If they get Negan RIGHT, you will HATE him, love him, laugh with him and just cherish each moment he is on screen. There is SO much potential here to introduce a character who is far more than just a new 'big bad', and the man that Kirkman created on the printed page deserves every effort possible to survive the transition unscathed.
Support Halloween Love
If an item was discussed in this article that you intend on buying or renting, you can help support Halloween Love and its writers by purchasing through our links:
(Not seeing any relevant products? Start your search on Amazon through us.)