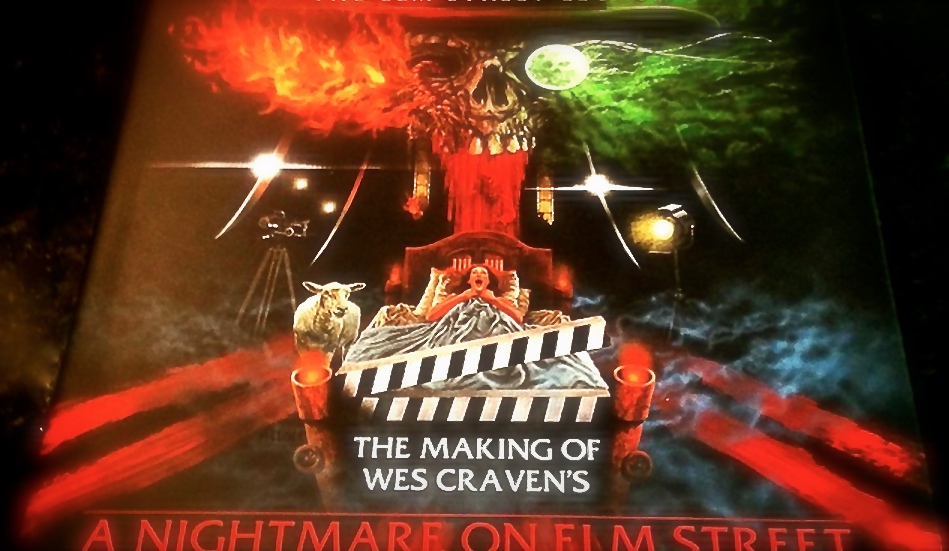 On May 5th, 2014, a Kickstarter project was successfully funded by individuals all across the world. Red Rover Books had been hoping to raise $65,000 and when the clock reached zero they had pledges totalling $76,254!
The money was being used to make the dream of creating a very special book become a reality, and the Kickstarter page described it like this …
Never Sleep Again: The Elm Street Legacy – The Making of Wes Craven's "A Nightmare on Elm Street" is the ultimate look at the scary, thrilling and groundbreaking 1984 film.

Through personal relationships and incredible access to many of the film's cast and crew, the ultimate story of how the movie was conceived, created and released will truly come to life.

Exclusive interviews with dozens of people who brought Elm Street to life (writer/director, producers, cast, cinematographer, effects artists, designers, stunt people and more), and combining hundreds of materials, including rare, never-before-seen photographs, storyboards, conceptual drawings, publicity materials, archival documents and more will complete this cleverly-crafted, comprehensive chronicle.
As a huge fan of the Nightmare On Elm Street franchise I've followed the progress of this book with great interest and it was noticeable from a very early stage that this was a project being guided and put together by some very professional and passionate people. A perfect example of this passion can be found within the heart and hands of the cover artist for the book, a man many of you will be familiar with, Nathan Thomas Milliner.
His painted cover for Never Sleep Again is an image that continues the tradition of having outstanding artwork linked to the promotion of the Elm Street franchise going right back to Wes Craven's original film. Both Matthew Peak and Graham Humphreys created visually stunning poster art over the years for most of the movies and the piece that Nathan digitally painted stands alongside them thanks to its epic and unique design. The art blends dreamlike horror with the magic of movie making to produce something really quite special and eye-catching.
I contacted Nathan last week to learn more about his experience with this incredible project and here is what he had to say …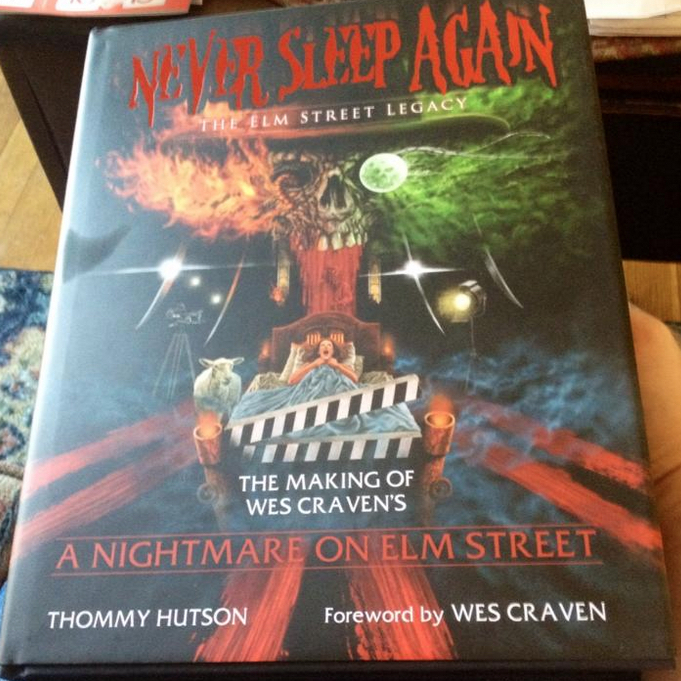 "I was originally approached to submit Nightmare 1 art for the interiors. I had a few but when I asked what the cover was going to be they said it was going to be the same as the documentary cover art. Peak's cover was awesome, but I felt it would confuse fans and this book needed its own face. So I wrote Thommy Hutson (The author), a heart on my sleeve letter telling him how important this film was to me and how doing the cover would be a full circle, bucket list thing for me. Thommy loved my passion and asked me to show him what I could do."
"The first two guidelines were we couldn't draw any images from the film. I couldn't draw Freddy or Nancy / Robert or Heather, ect. So whatever I did had to say "A Nightmare on Elm Street" but had to just be symbolic of it without a direct image. Thommy also wanted a painter's look. I normally draw and rarely paint, so that meant I had to do a digital painting. I knew there would be many changes needed so digital would be easiest for alterations."
"My very first thought was to homage Peak's original, surreal posters. The top part was there from the beginning … I figured a skull with charring on one side and wearing a hat would represent Freddy. I wanted the colors of green and red so I added the cloudy green sky moving into his face with the moon for an eye. Then the blood pouring down from the skull to get the red. The fire to represent the burns and fire of the boiler room. Thommy suggested the grey streak coming from the head to represent Nancy's streak so I have it coming off the moon."
"Next I imagined A girl in a nightgown levitating above a bed under the skull with chains coming out from under the cheekbones of the skull and tethered around her arms pulling her towards Freddy. Thommy didn't care for that so I suggested the chains be rolls of film tethered to her wrists. Thommy had mentioned wanting to incorporate movie making into the art, so I ended up putting the film rolls in there. I also came up with the idea that the bed had boiler room pipes for bed posts and the headboard be a boiler door. Thommy suggested the girl be in the bed and pulling the cover up."
"The big debate was my idea to have Freddy's blades attached to the four bed posts. This made the bed appear as Freddy's hand holding Nancy. Thommy wasn't a fan of the blades, feeling they were distracting. He suggested the blades come from the sky as they do in the final image. I still miss the blades but grew to dig the more subtle use of them."
"When it came to what was around the bed Thommy suggested the girls jumping rope and camera equipment, the script and several other things. I told him it would muddy up the piece to crowd it like that. I drew the sheep with a camera for a head and one girl with a camera for a head, the two cameras were then pointing at Nancy in bed. Thommy suggested losing camera heads and just putting film equipment in the back. I even painted the very camera used to shoot the film."
"I lost the girl … which was painted using my daughter Lily as the model. Sadly we took her out, robbing her of some fame. I added the blood trails at the bottom, and then added Freddy coming through the pouring blood as a nod to Freddy coming through the wall in the movie. Oh, and I had the idea for the clap board on the bed."
"It was a lot of work but we nailed it down and I am extremely proud of it. It captures Elm Street's making-of, and pays tribute to Matthew Peak's original poster. Without Peak's genius original I might not have ended up with this cover … It is my tribute to him as much as it is to Craven's film."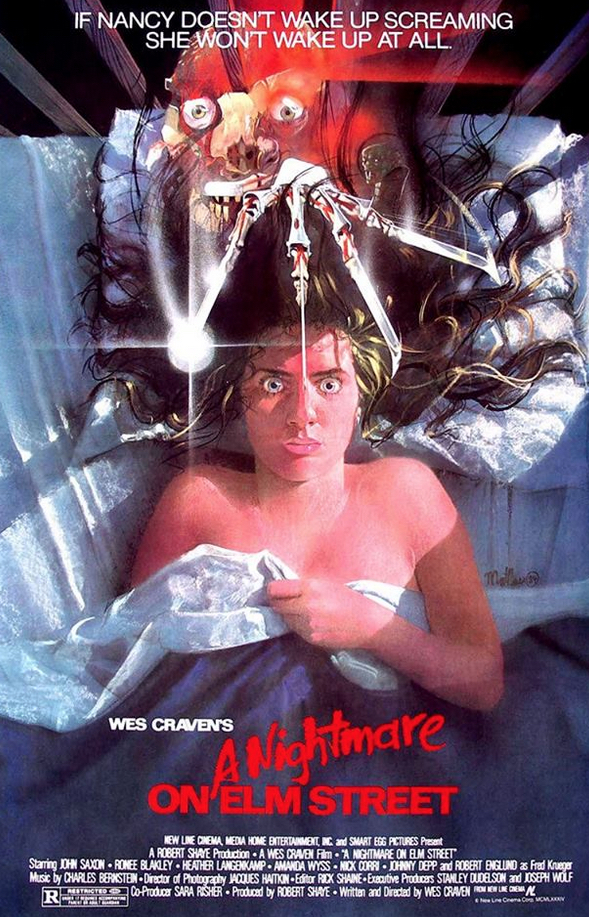 ---
As always I want to say a HUGE thank you to Nathan for taking some time to be involved. It's always a genuine pleasure to communicate with him. And I also want to thank dedicated Halloween Love reader Mike Aspinwall for helping me out with an image featuring his copy of this epic book.
Support Halloween Love
If an item was discussed in this article that you intend on buying or renting, you can help support Halloween Love and its writers by purchasing through our links:
(Not seeing any relevant products? Start your search on Amazon through us.)
The following two tabs change content below.
Martyn
I love horror, art, toys, comics, monsters and ANYTHING that came from the 1980s. You can contact me via martyn@halloweenlove.com ... Share our stuff and thank you for reading, we do it all for you!