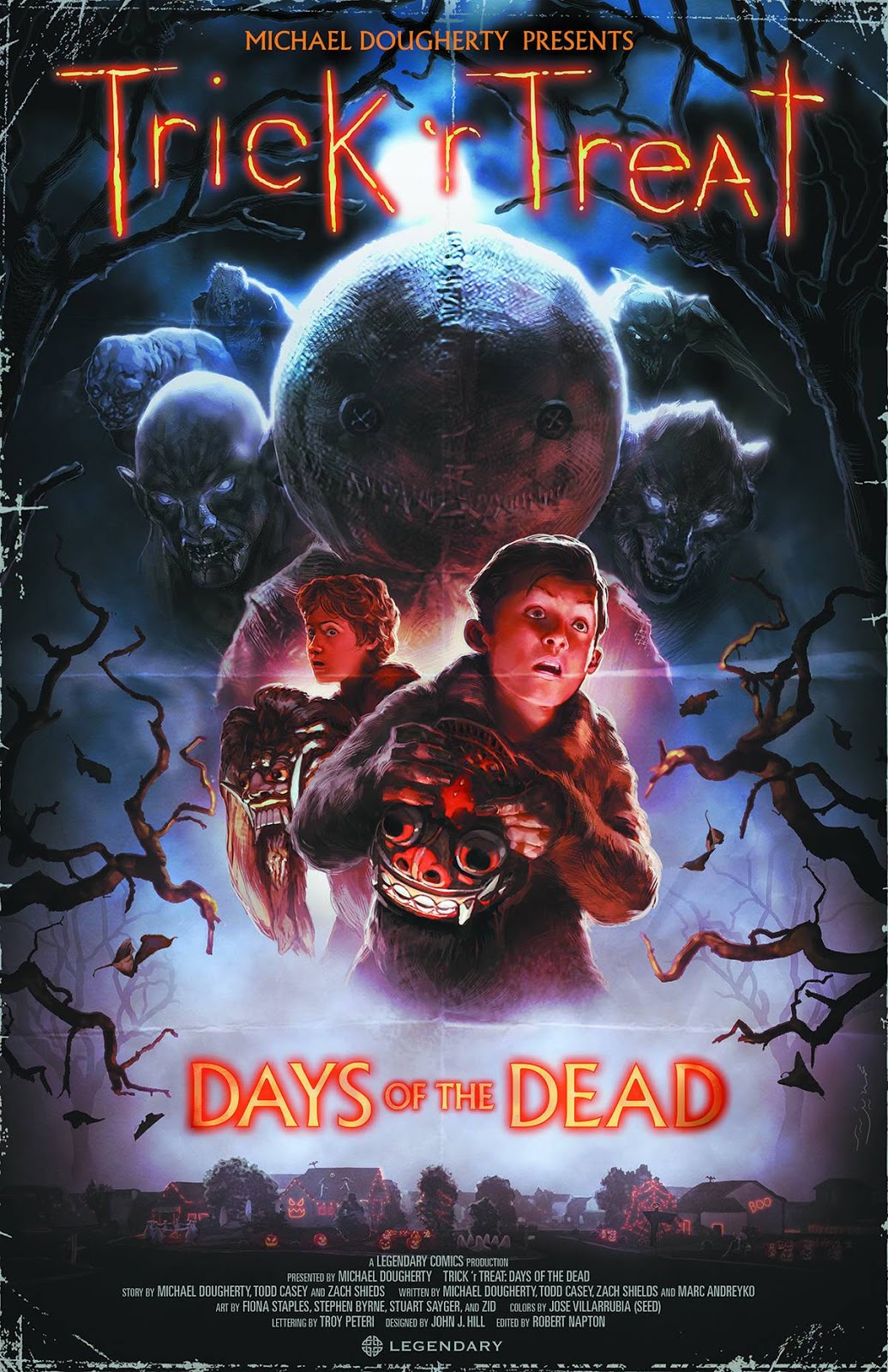 By the time writer/director Michael Dougherty's Halloween horror anthology Trick 'r Treat was released in 2009, it had already become something of a legend. Due to the delay in release, a graphic novel adaptation and even an action figure of the main villain were available to purchase before the movie could actually be seen, and when it finally did arrive on home video, it almost instantly became an annual Halloween tradition for horror fans around the world.
Comprised of four individual tales of Halloween horror, Trick 'r Treat nailed the overall vibe and atmosphere of the holiday, and Dougherty's contribution to the world of anthologies is one of the few that doesn't have a weak bone in its body. The stories were of course joined together by an appearance from sack-headed trick or treater Sam in each of them, the new horror icon embodying the rules of Halloween and serving as a mascot for the best day of the year.
In 2013, Michael Dougherty sent horror hearts aflutter when he announced that a sequel to Trick 'r Treat was in the works, headed our way very soon. Subsequently, he ended up setting his sights on Christmas horror film Krampus instead, due out this December, but he promises that Trick 'r Treat 2 is up next – and to hold us all over, he's just brought Sam back to life in the form of a graphic novel that again tells four different stories centered around Halloween.
Co-written by Michael Dougherty (along with Todd Casey, Zach Shields, and Marc Andreyko), Trick 'r Treat: Days of the Dead takes place not over the course of one Halloween night, like the film, but rather four of them – in four completely different time periods. A grandfather is telling the four individual tales to his granddaughter on Halloween night in the present day, as a way of teaching her about the history of the holiday and also soothing her fears about its inherent dark side.
First up is 'Seed,' set in Ireland back in 1640. Featuring artwork by Fiona Staples and Jose Villarrubia, the story is one of forbidden love, centered on Bridig, believed to be a witch, and Thomas, who is under the command of the man responsible for carrying out the execution of the woman. Sam is often looming in the background of the panels for this first tale, which serves as an origin story for Halloween in the New World – showing that Sam has always been there, protecting the holiday.
We jump ahead to 1853 for 'Corn Maiden,' drawn up by Stephen Byrne. Set in Illinois, the second story takes us to the Old West for a tale of ruthless pioneers looking to build railroad tracks straight through a Native American village. Their plans go haywire when a little girl, daughter of the man in charge, befriends one of the Indian children, the two trading holiday legends in this tale of Halloween revenge. It's the most visually striking of the stories, depicting Sam as an ancient Autumn spirit.
Reflected by the rough illustrations courtesy of Stuart Sayger and Guy Major, 'Echoes' is a horror-noir tale that takes place in 1950s Los Angeles. Jake Perkins, a private investigator gripped by deep personal trauma, is hired to find a missing young girl, the investigation dragging him into a much bigger case involving a serial killer known as the Echo Park Devil. Sam's appearance in this one is relatively minimal, represented by a pin the missing girl's sister gives to Perkins – aiding him in his journey.
The last story, titled 'Monster Mash,' is the most fun and over-the-top of the bunch – one that certainly lives up to its title. Told almost entirely by the art from Zid and Riccardo Rullo, it's the story of a small town besieged by various monsters on Halloween night, centered on two boys whose costumes allow for them to blend right in. It's got the feel of a Goosebumps story, sharing similarities with 'The Haunted Mask,' and it paves the way for a nice twist that brings the whole graphic novel together.
As outlined in the introduction Michael Dougherty penned for the book, Trick 'r Treat: Days of the Dead exists primarily to keep Sam alive in our hearts and minds until the sequel finally comes to life on the big screen, and indeed it accomplishes that goal. It's a real treat for fans of the 2009 film, the stories fitting in line with the overall theme of the Halloween anthology and taking us on a fun trip through the holiday's history – with Sam, of course, right by our side the whole way through.
If you can't wait for Trick 'r Treat 2, consider this a must-read.
Support Halloween Love
If an item was discussed in this article that you intend on buying or renting, you can help support Halloween Love and its writers by purchasing through our links:
(Not seeing any relevant products? Start your search on Amazon through us.)
The following two tabs change content below.
If you don't get enough of me here on Halloween Love, you can also find me on Dread Central, iHorror and Shock Till You Drop. Contact me via john@halloweenlove.com.
Latest posts by John Squires (see all)