It was during one of my regular 'rummages' through my old childhood belongings – which still take up FAR too much space at my parents house – that I recently discovered a copy of the very first issue of Empire movie magazine, published in June 1989.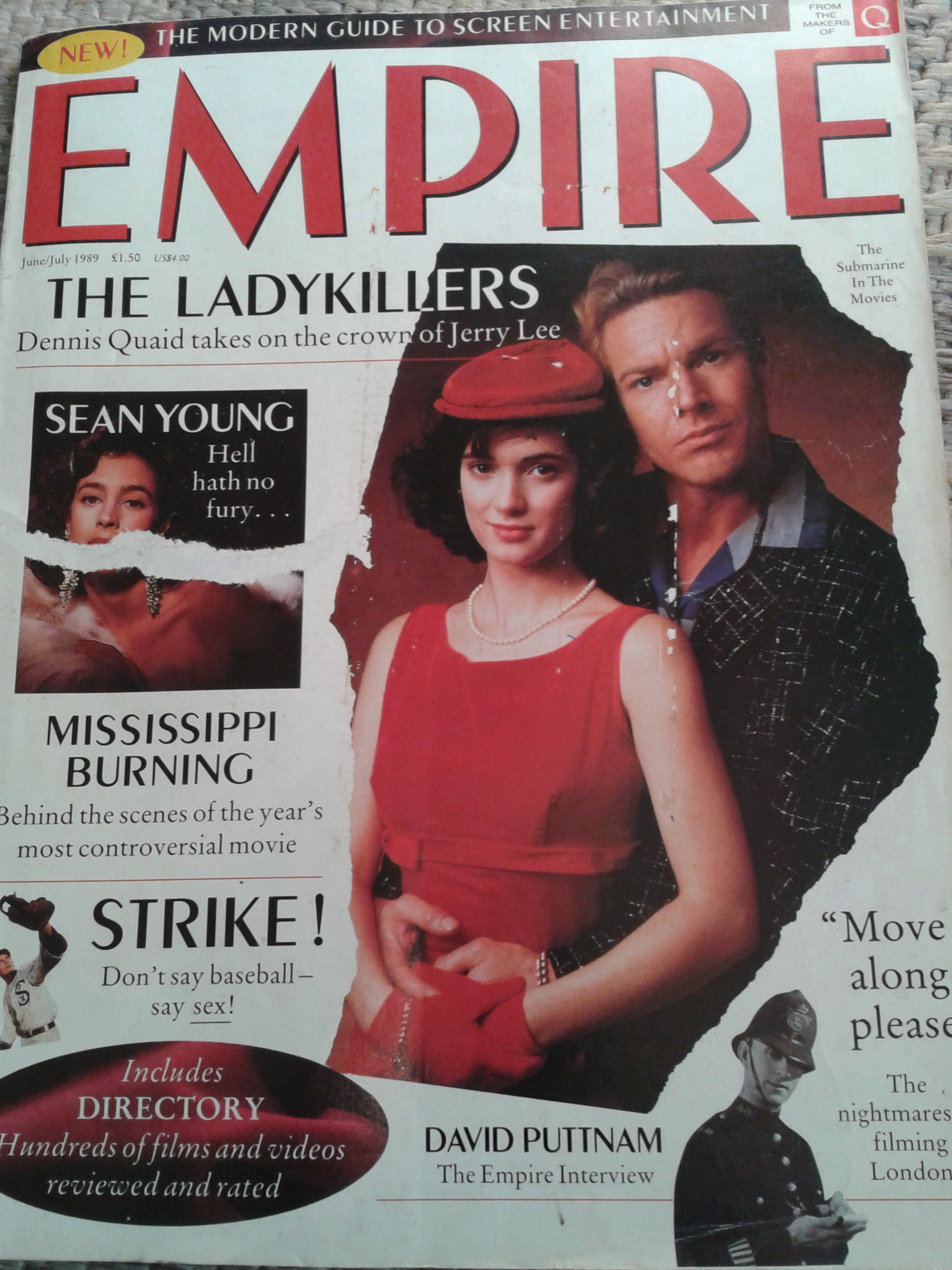 As many of you will probably be aware, Empire is still going strong all these years later, and is considered by many to be the most informative and interesting monthly magazine of its kind. In a tough market they have managed to survive and thrive across the decades while many other rivals have disappeared due to low sales.
It was a very exciting find because I honestly don't remember ever buying it, so of course I immediately stopped my latest room clearing session and started flicking through the pages to see if anything of interest could be found within.
Right away I was reminded that this first issue was becoming something you could consider OLD, due to the presence of Sean Young on the cover (what does she actually do these days?). From there I passed articles about Kevin Costner in Bull Durham, a look at movies set within submarines, and an advert for Madonna's 'Like A Prayer' on Cassette and LP. Not much to hold the interest of a horror fiend like me.
Then I turned to page 60, and muttered "FUCK YEAH" under my breath.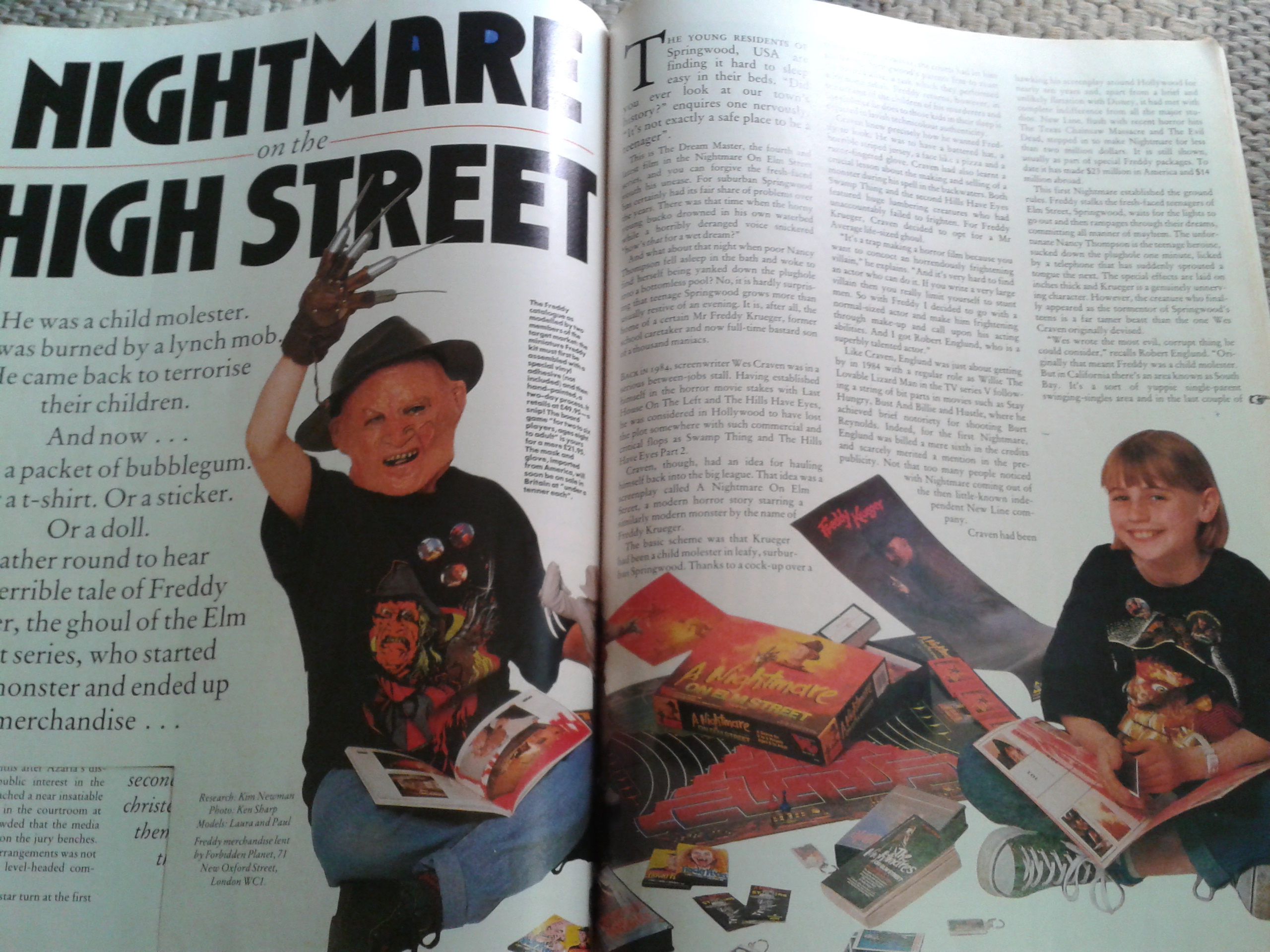 Empire had used several pages of its inaugural issue to take a look at the growing popularity of the Nightmare On Elm Street movies and the explosion of merchandise linked to dear old Freddy!
These days we are surrounded by cool toys, collectables, clothing and more featuring all of our favorite horror icons, but back in 1989 it was a phenomenon that confused and even angered many people, especially here in the UK.
The idea of a child killer from a movie appearing on lunch boxes and T-shirts was something that didn't sit well with the adult generation, and I still vividly remember the look of horror on my mums face the day I proudly showed her my completed Freddy model kit! Thankfully this article does a fairly good job of staying away from the hysteria, and concentrates on why the success of the movies and the character had made it all inevitable.
Two child models (Laura and Paul), were swiftly dispatched to the Empire offices, and thanks to the Forbidden Planet store on Oxford Street they were surrounded with a large selection of original Freddy Krueger merchandise and photographed for the magazine. Just look at all that awesome stuff!
Discovering this write up was a very pleasant surprise, and it's utterly fascinating to read it from a position of knowing how all of this would just continue to snowball all these years later. Here is a section that I found particularly interesting which reveals a little more about the early days of cool stuff emerging from Elm Street…
Kevin Benson, director of licensing and promotions at New Line, explains how Freddy turned into one of young America's favorite toys.

"We decided with Freddy 2 that we should market him as if he was a rock and roll band" recalls Benson. "So we did these great posters for the film and then we did this really trendy black T-shirt like the rock bands have and I knew it would be incredibly popular and I was right because we sold hundreds and hundreds of thousands of them."

The T-shirt of the monster from the film was followed by a Freddy mask, guaranteed to brighten up the dullest Halloween party, the entire wardrobe of hat, jumper and glove; keyrings, watches, bubblegum, board games and, coming soon, the talking Freddy doll.

"It's insane!" exclaims Benson. "You press a button and he says 'Hello, welcome to Elm Street, I'm Freddy, I want you'. We had to keep it fairly PG so unfortunately I couldn't let him say the original line I had in mind which was 'Welcome to prime time, bitch' "

Other plans include the opening of a Freddy ride at seven amusement parks across America, another potential big earner for New Line who are estimated to have grossed at least ten million dollars already through merchandising and licensing deals. Benson has no qualms about separating American youth from their pocket money in the search for yet more vile Freddy creations.

"Kids have always loved monsters," he states. "And my aim is to keep those kids happy by giving them a bang for their buck."
You can tell they knew what they 'had', and they knew it was gonna be big! Freddy's ultra cool appeal was growing by the day, and 26 years later it shows no sign of slowing down or ever stopping.
Just like the characters in the Elm Street movies, it can sometimes be hard to escape the scarred man in the striped sweater, and even opening an old magazine at the bottom of a dusty box can bring you face to face with him once again, but as far as I'm concerned that's never a bad thing. What a guy!
Support Halloween Love
If an item was discussed in this article that you intend on buying or renting, you can help support Halloween Love and its writers by purchasing through our links:
(Not seeing any relevant products? Start your search on Amazon through us.)