As I mentioned in the recent past, one of my goals here on Halloween Love is to continue some of the more popular recurring features from my blog Freddy In Space, and one thing I absolutely loved to talk about on there was custom-made toys; the kinds of toys that companies like McFarlane, NECA and Mezco have never gotten around to giving us.
Though all of us horror fans should be quite thankful for all the awesome toys those and other companies have made over the years, it's still fun to imagine what it'd look like if characters other than the usual folks like Freddy, Jason and Michael were given the same treatment.
And that's where customizers come into play. Taking matters into their own hands, they use their artistic skills to create toys out of other toys, thereby providing us with toys of characters that never have and possibly never will find themselves being mass-produced. In most cases, we can only look at those custom creations, rather than touch them or add them to our collections, but that's just something we have to make peace with.
Let's kick things off with five awesome custom toys that I'm willing to bet you'll wish were mass-produced!
Believe it or not, no toys have ever been made in the likeness of Jack Torrance, despite the fact that he's one of the most iconic horror villains of all time. And this incredible creation from Brother Production only serves to make that a sadder fact than it already was. All work and no play(ing with Jack Torrance toys) makes John a dull blogger!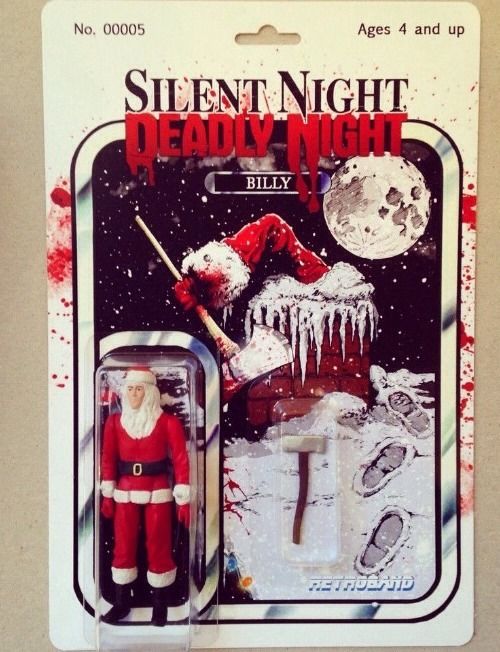 Dedicated to making toys that he wishes he had as a kid, the owner of the company Retroband has been churning out all sorts of incredible toys over the course of the past year, based on films like Halloween 3, Creepshow and Night of the Creeps. Each of the custom toys is packaged and sold in very limited quantities, and they always sell out so fast that it's almost impossible to actually get your hands on them. It's easy to see why, especially when you take a look at this holiday offering from the company; the world's first ever action figure of Billy Chapman, from Silent Night, Deadly Night!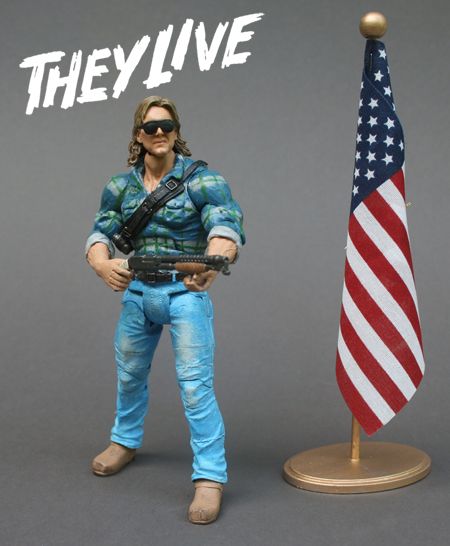 The head of a Roddy Piper wrestling figure was placed onto the body of a Duke Nukem toy to create this awesome custom figure of the ass-kicking, bubble gum-chewing Nada from John Carpenter's They Live. The customizer, who goes under the name Toy Guru, even created one of the film's alien politicians as a companion piece…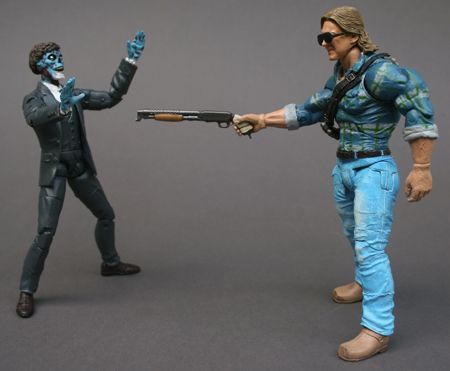 Now that's a box set that really needs to become a reality!
Horror comedies don't get much better than Peter Jackson's Dead Alive, which he made well before he stepped foot into the Shire. And scenes of gory carnage don't get any better than main character Lionel Cosgrove's lawnmower massacre, where he used the business end of a mower to turn dozens of zombies into a thick swamp of blood and guts. That scene is immortalized in this custom figure from Hach Fidelity, which we can only dream of adding to our collections!
Speaking of dreaming…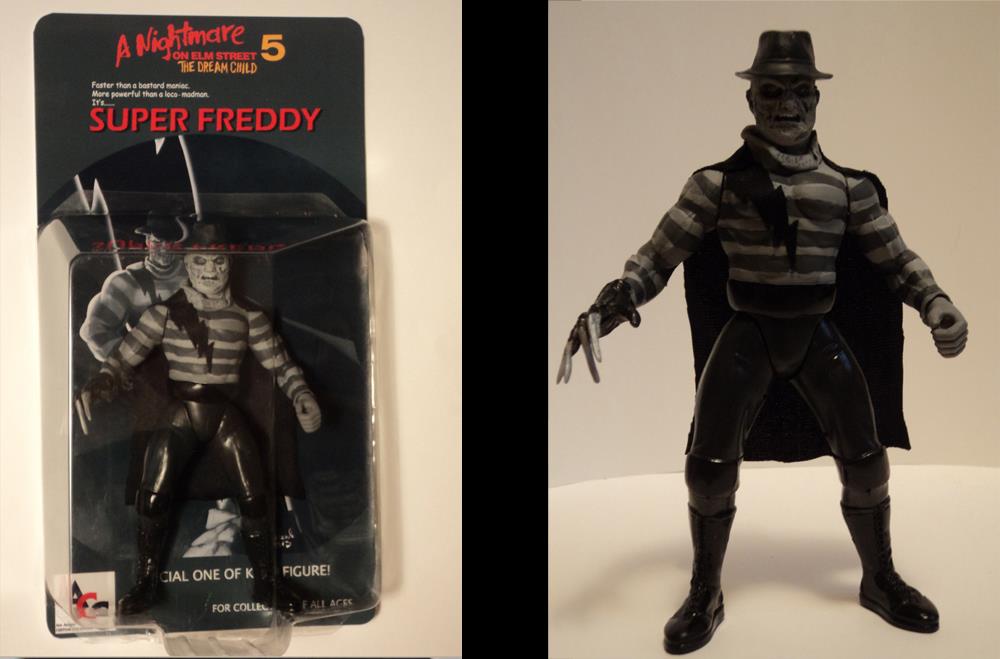 Though we've been given many different Freddy Krueger figures over the years, based on many different looks that he's had throughout the franchise (and even the NES video game!), the one Freddy figure we've never been given is the bulked up Super Freddy, which the dream demon briefly transformed into in The Dream Child. This custom is the handiwork of Joe Amato, and it's faster than a bastard maniac, and more powerful than a loco-madman!
Stay tuned for Part 2, where we'll take a look at more awesome custom toys!
Support Halloween Love
If an item was discussed in this article that you intend on buying or renting, you can help support Halloween Love and its writers by purchasing through our links:
(Not seeing any relevant products? Start your search on Amazon through us.)