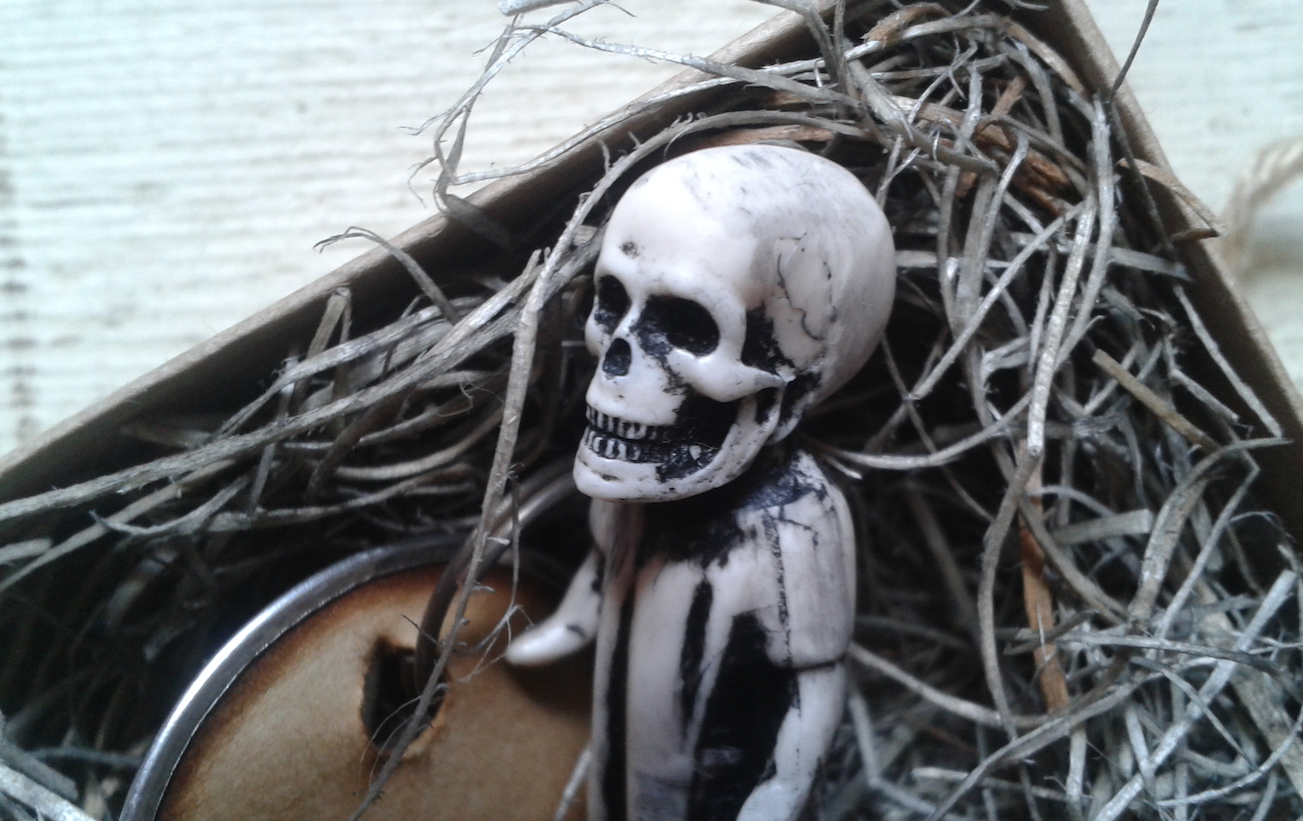 "I want to invoke a feeling of time and an older type of dread"
A quote from Jack of Jack's Attic, taken from a recent discussion we had about his upcoming new figure release – Dead Charlotte.
Regular readers might be aware that I recently worked closely with this gentleman to create seven special horror icon figures in the style of his insanely popular 'Kill People' bootleg resin peg figures. The entire process was a dream experience for me from start to finish, and perhaps the most rewarding aspect of all was that I came out of it with a better understanding and respect for what resin bootleggers can offer the collectors community.
As our collaboration came to an end, I was asked if I would like to take a look at his next piece, which was going to be a departure from the 'Kill People' that had dominated the Jack's Attic release schedule in recent times. I was instantly intrigued, obviously said yes, and a couple of weeks later a small parcel had arrived on my doorstep. I surprisingly managed to resist the urge to rip it open immediately, which is VERY unlike me, and when my girlfriend returned home that evening we sat down and opened it together.
What awaited us inside was mostly a mystery, but what I DID know was that the item acts as a tribute to an old American folk ballad/poem called "Fair Charlotte", a cautionary tale of vanity, that starts with youthful excitement and ends in preventable tragedy. A young girl (Charlotte), refuses to wrap up warmly for her sleigh ride to a New Year's Eve ball, because the blanket she is offered will cover her pretty dress and clash with the efforts she has made to look good. When the sleigh reaches its destination, Charlotte's fiancé discovers that she has slowly frozen to death during the journey.
When you've finished here I strongly recommend giving it a Google search. It's a work I wasn't familiar with but it's beautifully haunting and there are several interesting myths and legends surrounding it.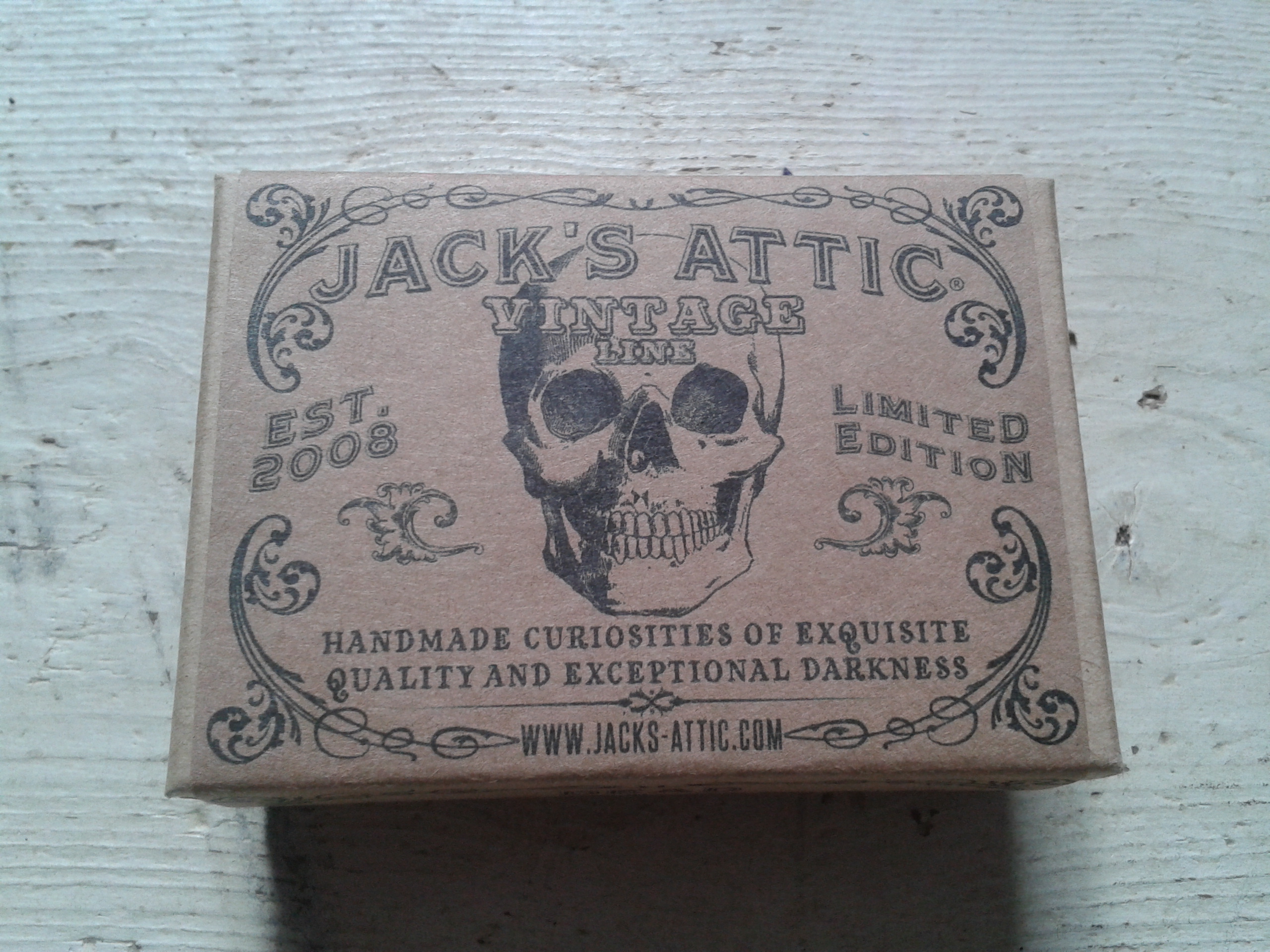 Within the shipping parcel we found a small kraft chipboard box with the Jack's Attic skull logo on the front and various other little design features around the edges. One side featured a verse from the poem and the whole thing just looked perfectly and pleasingly vintage. Like those faded old boxes that would contain medicine, tonics and bars of soap.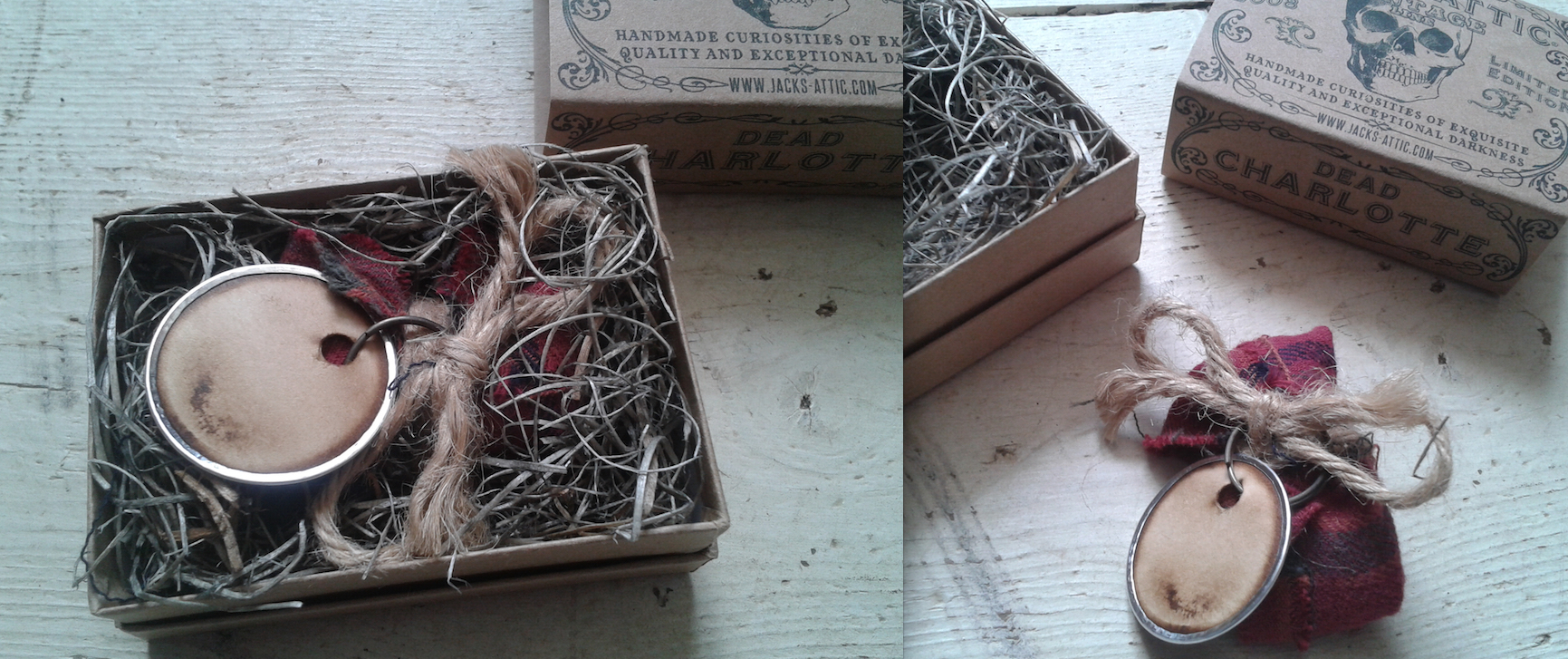 Upon opening the box we found something wrapped in a small piece of worn flannel cloth, neatly secured with a length of weathered cord. This was all nestling in a bed of aged Spanish moss. I'm going to be honest, it was exciting! My girlfriend and I kept grinning at each other and I commented that it felt like we had discovered something creepy within a dark, lost and abandoned location. I was also reminded of the scene from The Blair Witch Project where Heather discovers something wrapped in cloth and twigs outside the tent. And as she carefully opens it she finds blood, hair and several of Josh's teeth!
We carefully pulled the cord, unfolded the cloth, and came face to face with Charlotte herself, a very DEAD Charlotte.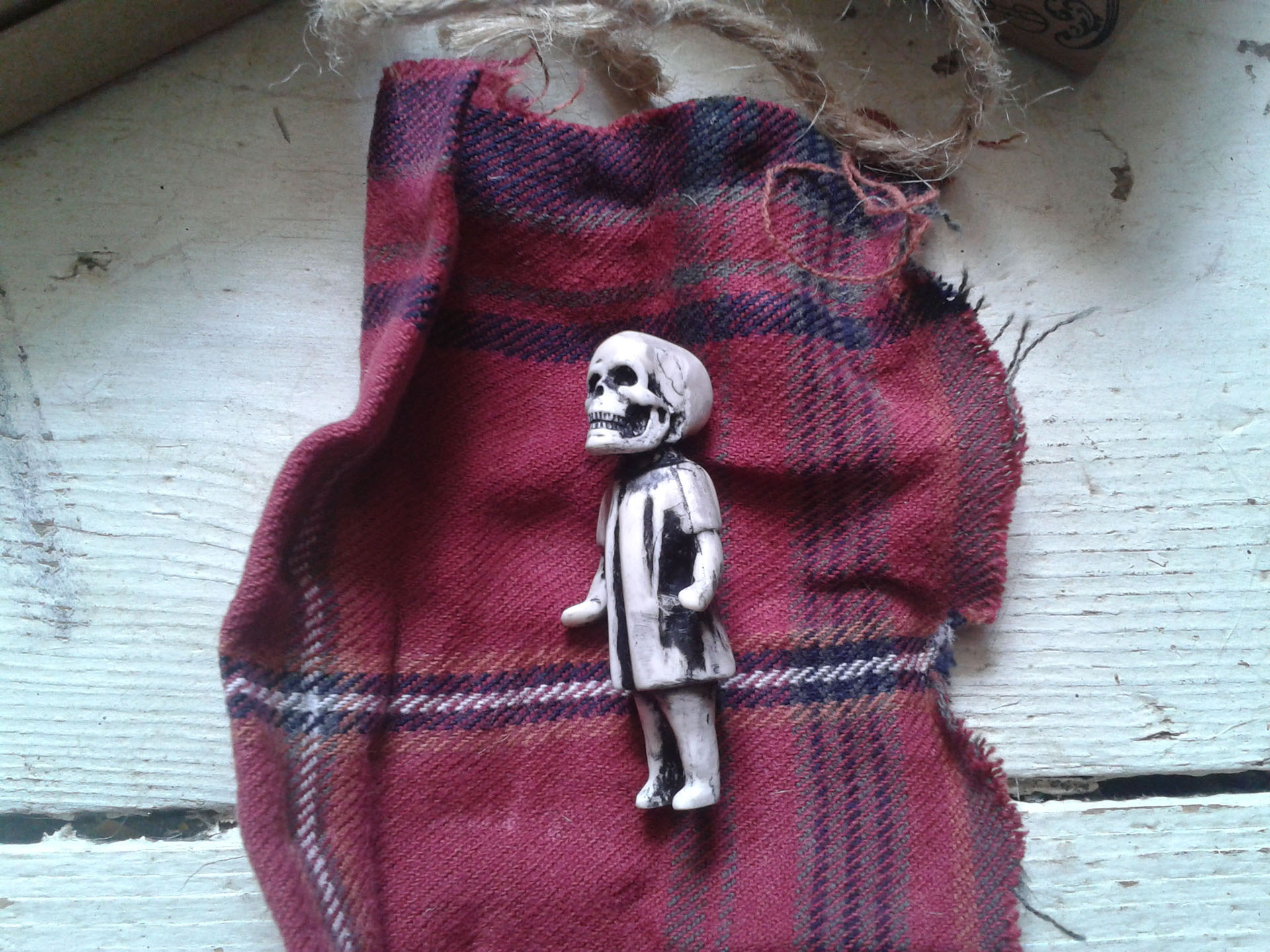 Something Jack does SO well is create very small pieces that retain fantastic detail. This resin figure is miniature but the detail on the skull is just terrific, she is bone white in color and has a brushed / weathered look that makes the piece instantly feel like it has existed for many years within that creepy cool box.
What has been made and put together here is a memorable little experience … An experience with an awesome handcrafted collectable figure lurking at the centre of it!
The packaging and the figure compliment each other and work together in a way you rarely see, and as someone who is normally only interested in modern characters and familiar themes I was stunned at how much I fell in love with this little lady and the idea of seeing more 'vintage' pieces such as this. She's naturally and unavoidably creepy, looks great on display, and is a talking point. Like all of the work Jack produces you kind of feel privileged to own it. I've spoken about the passion he puts into everything he makes before, but this may be the most uniquely pleasing item to come out of the Attic thus far.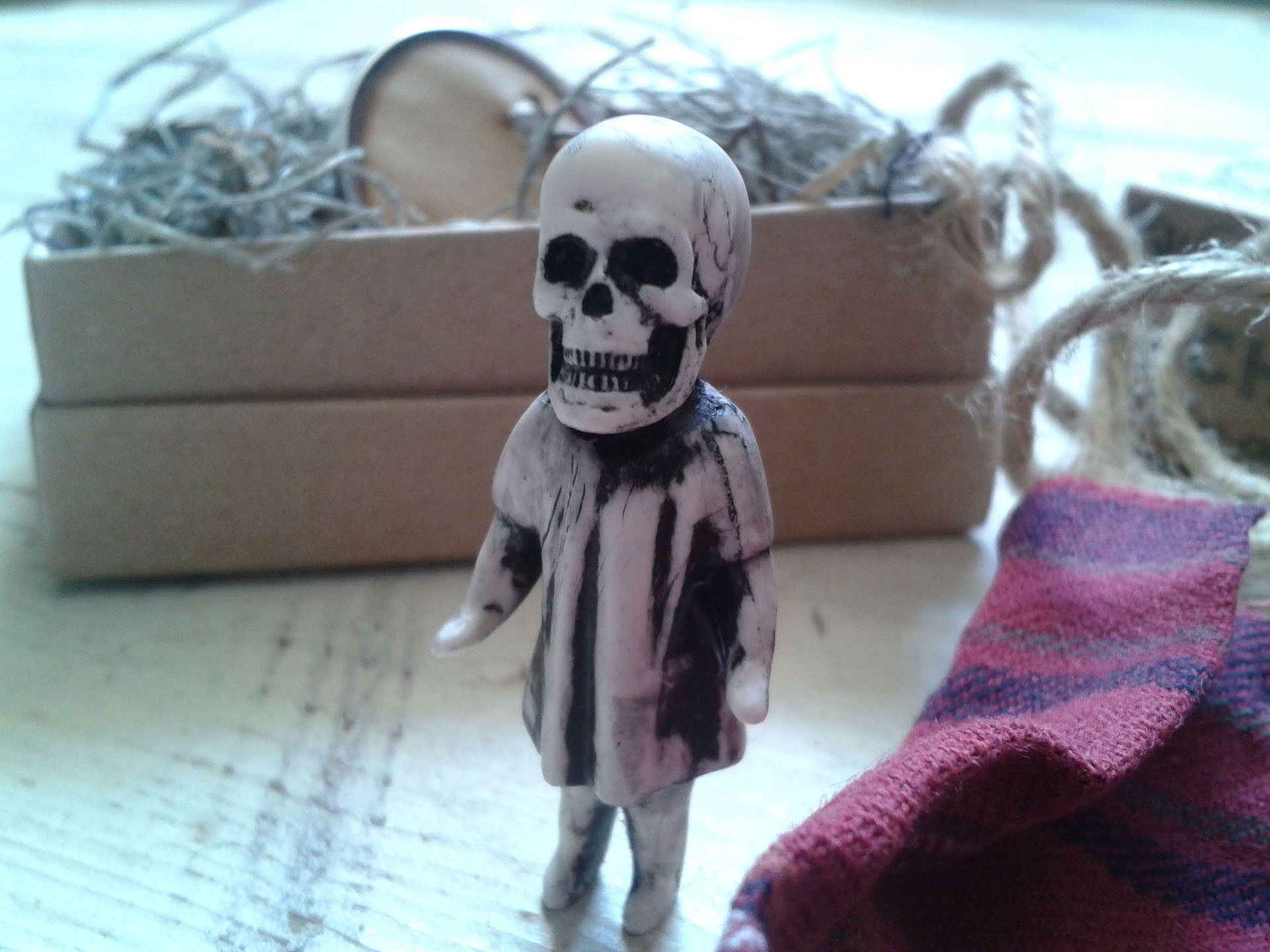 I love toys, action figures and collectables from the big companies as much as the next guy, but I'm also starting to become deeply passionate about the items being created by the individuals. There is something SO satisfying about getting your hands on pieces that have been created in a garage, or a basement … or an Attic! They are limited, made by people who love the genre as much as we all do, and they generally know how to seriously reward you for trusting them with your hard earned cash.
This is a ridiculously cool creation, I'm thrilled I own one, and I'll make sure Charlotte will always have a warm position on our mantlepiece every New Years Eve from now on …
To keep up to date with everything Jack does and information on future releases, go give his facebook page a 'like' HERE. And to experience opening Dead Charlotte for yourself then head over to HERE and be ready this Friday.
Support Halloween Love
If an item was discussed in this article that you intend on buying or renting, you can help support Halloween Love and its writers by purchasing through our links:
(Not seeing any relevant products? Start your search on Amazon through us.)