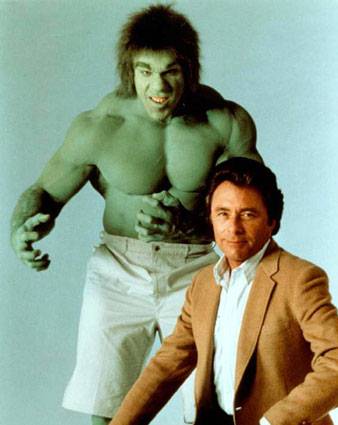 Something to listen to while you read:
SPOILER ALERT — If you have not seen the entire series (1978 – 1990), including the three follow-up movies of the original, you've been warned.
Want to Pick Up and Watch the Entire Saga Before Reading this Article? Here's What You Need (in order):
I'm of course referring to the original TV show starring the incomparable Bill Bixby as Dr. David Bruce Banner, Lou Ferrigno as "The Hulk", which is hunted by Jack Colvin as the investigative reporter Jack McGee. That is and always will be (in my heart), the definitive Hulk story and experience, over any film, comic, book, video game, or any other medium it could possibly be in, including the new TV show that's coming from Guillermo del Toro.
Don't get me wrong, I think del Toro is great and will make an excellent show in his own vision and interpretation. Of the few writer and directors in the industry who actually are beautiful human-beings with hearts of gold (as opposed to typical Hollywood money whores), he's right up there. But, the original is integrated into my soul and my psyche too deeply to ever be interfered with. I have such extreme nostalgic childhood memories of The Incredible Hulk, that it brings me to tears often (I'm actually having a difficult time controlling my sobbing as I write this).
I have really deep memories of my childhood home. Coming in from playing in the backyard because it became too breezy and cold and curling up on the couch in my bare feet and catching an episode of The Incredible Hulk, probably a re-run on the Sci Fi channel (during the 90s), but new to me. Like many suburban children, I suspect, I grew up on television. But, for me, just like the character David Banner ("The Lonely Man"), I've been a lonely person my whole life. Perhaps to escape the emptiness or sometimes pain of real life, I've often escaped into stories and became quite emotionally attached.
Like many children, I probably didn't have the patience, attention span, or discipline to follow an entire series from beginning to end. So, for a while now, as an adult I've been revisiting old shows and completing them from start to finish. I only just now completely finished the entire five seasons and the three follow-up, made-for-TV movies of The Incredible Hulk that some may have missed the first time around or had to wait about six years to finally see and get closure from, if watched during the original air dates (I wasn't even alive then).
My Thoughts on the Entire Saga
The original five seasons were great and the most important, though some episodes felt redundant or rushed, I never saw a poor performance from Bixby. It's also important to note that some time between season four and five, the show was canceled which caused the show to suffer with only eighteen episodes in season four and only seven episodes in season five (opposed to the normal twenty-two) with the finale "A Minor Problem" offering no closure whatsoever on January 8th, 1982.
It wasn't until about six years later in 1988 that the story was picked up again by a different network with The Incredible Hulk Returns, which I have no guilt in saying was the worst entry in the entire saga hands-down (but was still enjoyable at times). For me, is was likely a much more abrupt and harsh change from those that waited six years as for me it was a matter of minutes to see just how dramatically (in a bad way) the production and quality had changed (primary because Ken Johnson and team were gone). For the first time in the saga, was introduced another comic book character, but of a supernatural flavor, Thor (they had kept the show bound within science, or at least science fiction up until that point). I wonder if they even asked Kenneth Johnson (head producer and sometimes writer or director for the original) back?
In any case, the two following films were much stronger and I feel, salvaged only because Bill Bixby again picked up the reigns as director (he directed a handful of the original episodes, also note that they seemingly only happened because Bixby put his own money in). The Trial of the Incredible Hulk, though still a bit campy and introducing another comic book character Daredevil, was again, grounded in "reality" or at least closer to the original universe. The Death of the Incredible Hulk really got back to the roots of the storyline established in the very first episode, focusing on David and his search for a cure.
Big Spoiler Alert — Before he can find a cure, he (both David and the creature) is killed when falling from a plane after it has exploded and he's finally set "free". For me, at least, this was great closure (though there is speculation that there was going to be another film or even more, possibly The Revenge of the Incredible Hulk or The Son of the Incredible Hulk) and I was brought to tears. I think that this in part, has to do with the fact that I know Bill Bixby died in real life in 1993, after going through so much pain in his personal life. Really, the only other thing I could even think to wonder about is what became of Jack McGee (the relentless investigative reporter that chased Dr. David Bruce Banner for so many years, played by Jack Colvin).
Hulk and The Incredible Hulk movies both went for more of the comic book style, though both have cameos by Lou and The Incredible Hulk (2008) has a lot of homages to the original series.
You can of course pick up the original soundtrack on iTunes, which I think is classic.
The only thing left now is to see Bill Bixby: Chasing Perfection (the A&E biography). If anyone knows where I can watch it or where I can pick up a copy, please contact me and let me know. It was on YouTube, but part one was taken down because A&E complained (obvious copyright issue) to YouTube.
Conclusion
The Incredible Hulk, Bill Bixby, and everyone else (alive or dead) that helped bring stories of heart and substance to the show, I thank you. One of my most favorite shows of all time and will be near and dear to my heart forever. For a child who grew up on television, I could have done worse than learning from the kindness, intelligence, integrity, and strength of a character like David.
Support Halloween Love
If an item was discussed in this article that you intend on buying or renting, you can help support Halloween Love and its writers by purchasing through our links:
(Not seeing any relevant products? Start your search on Amazon through us.)