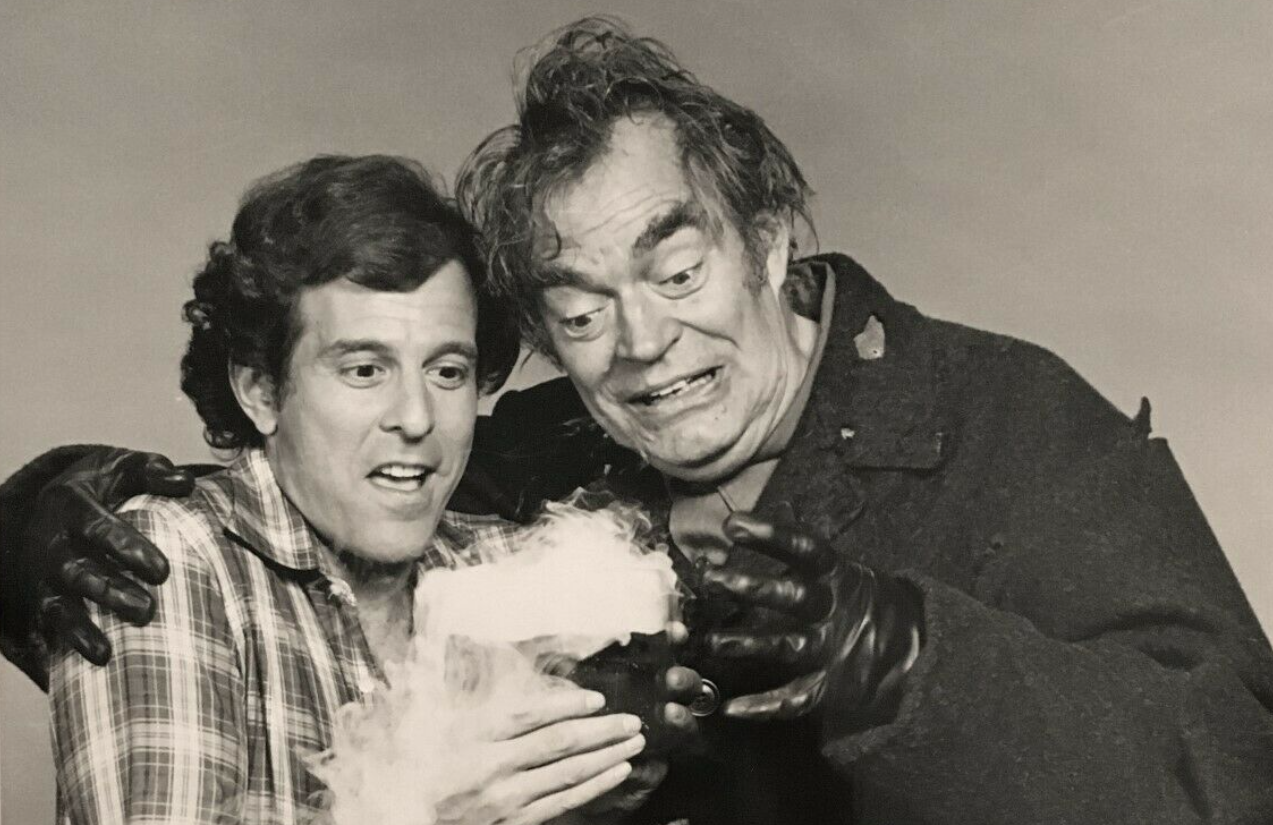 CBS had no shortage of classic prime time comedies in the 1970s. This was the era of All in the Family, The Mary Tyler Moore Show, M*A*S*H, and more. For some reason, though, the network just couldn't get a foothold on Wednesday nights. It became a veritable Bermuda Triangle of comedy, with show after show doomed to quick cancellation. The situation must have been quite an embarrassment to the network brass. By the 1979-80 season, CBS started thinking way outside the box when it came to its Wednesday night shows, hoping that a wild gimmick might lure viewers away from ABC and NBC.
Mel Brooks' Young Frankenstein (1974) and Stan Dragoti's Love at First Bite (1979) had both been major box office successes, proving there was an audience for horror comedies with nicer, cuddlier versions of the Universal monsters. CBS must have thought the same idea could work on television when they bought Paramount's bizarre Struck by Lightning, a half-hour comedy from producers Arthur Fellows (Barnaby Jones, Cannon, The Fugitive) and Terry Keegan (a rookie who would go on to produce 1980's The Girl, The Gold Watch & Everything).
The series centered around average nice guy Ted Stein (Jeffrey Kramer), a high school science teacher from Boston who inherits a rather spooky and isolated hotel called the Bridgewater Inn from his late grandfather. It turns out that Ted is the great-great-grandson of the notorious Dr. Frankenstein, and the hotel's towering, glowering handyman Frank (Jack Elam) is the actual monster! Ted wants only to sell the place and return to Boston, his job, and his beloved Celtics, but Frank cajoles him into staying and continuing the family business. Conveniently, the inn has a fully-equipped science lab in the basement, just the place for Ted to work on a serum to keep Frank alive.
If all this sounds a little "out there" for a CBS sitcom, it is. Struck by Lightning announces its weirdness right upfront with a title sequence set to Joe Cocker's tender soft rock hit "You Are So Beautiful." Obviously, the main selling point of the series was Jack Elam as Frank. A scruffy, wild-eyed baddie in countless Westerns (Rio Lobo) and crime dramas (Kiss Me Deadly), Elam would have been the only actor in the cast widely known by name to the general public. But TV and movie aficionados would likely recognize the other performers, too, including Richard Stahl as real estate salesman Walt Calvin, Bill Erwin as hotel resident Glenn Diamond, and Millie Slavin as long-suffering desk clerk Nora.
What's truly odd about Struck by Lightning is its tonal inconsistency. Stahl, Erwin, and Slavin seem to be in a fairly run-of-the-mill comedy about a quaint Massachusetts hotel. Though imposing from the outside, the Bridgewater Inn is pretty cozy and normal-looking once you're indoors, and most of the regulars on Struck by Lightning behave themselves accordingly. On the other hand, Elam gives a gleefully ghoulish, over-the-top performance in the tradition of The Munsters or The Addams Family. It's like he's in a different (and funnier) series altogether.
Critical reaction was all over the place.
In The Cincinnati Enquirer, critic Tom Brinkmoeller predicted a quick death for the show and bemoaned its lack of "relevant humor" and its overreliance on gimmicks. He, too, saw Elam as standing apart from the rest of the cast, writing:
"Elam is the only actor in tonight's show who appears to have gotten into his part. The others recite their lines as though *they* had the electrodes on their necks."
In The Ft. Lauderdale News, TV editor David Bianculli had scant praise for the show, complimenting only the witty title sequence and Elam's performance. Interestingly, Bianculli's review indicated that Fellows and Keegan had tried to clear The Bee Gees "Stayin' Alive" for the end credits, but couldn't get the rights.
Associated Press writer Peter J. Boyer called the show "pretty cute camp," but predicted that CBS' scheduling would kill it quickly.
Miami News TV editor Sherry Woods also thought the show would die quickly, despite having "…one of the more bizarre premises in television this season."
Writing for The Orlando Sentinel, Noel Holston was more optimistic:
"Because of Jack Elam's hilarious hamming, [Struck by Lightning] shouldn't be written off just yet."
In the end, the naysayers were right. Fellows and Keegan produced 11 episodes of Struck by Lightning, but only three ever aired on CBS. The show just couldn't compete against two ratings powerhouses: NBC's Real People and ABC's Eight is Enough. Eight additional episodes aired in the UK in 1980, after which Struck by Lightning was largely forgotten. Critics Harry Castleman and Walter J. Podrazik gave the show a fond retrospective review in their 1989 book, Harry and Wally's Favorite TV Shows, writing that the show "takes great big leaps of creative farce" and declaring Elam's performance "…a delight."
So maybe there's a chance this weird little show could yet be rediscovered.
Support Halloween Love
If an item was discussed in this article that you intend on buying or renting, you can help support Halloween Love and its writers by purchasing through our links:
(Not seeing any relevant products? Start your search on Amazon through us.)