The beauty of the internet is that you never really have to leave the house, in order to enjoy outside-the-house things. Take New York's annual Toy Fair, for example. Sitting in my underwear, staring at my computer screen, I was able to take in all the sights of this past weekend's event, while avoiding the crowds, the smells and, peskiest of all, the human interaction.
As we've come to expect, oodles of upcoming horror toys were shown off at this year's Toy Fair, with companies like Funko, NECA and McFarlane pulling out all the stops in an effort to impress and get us talking. And indeed there's a whole lot to talk about today, as the 2015 Toy Fair quite frankly reeked of awesomeness – and, I presume, terrible body odor.
In keeping with tradition here on Halloween Love, let's take a look at the coolest horror toys shown off at this year's Toy Fair!
**CREDIT FOR NEARLY ALL THE IMAGES IN THIS POST GOES TO FIGURES.COM – YOUR ONE STOP SHOP FOR ALL THE TOY NEWS YOU CAN HANDLE**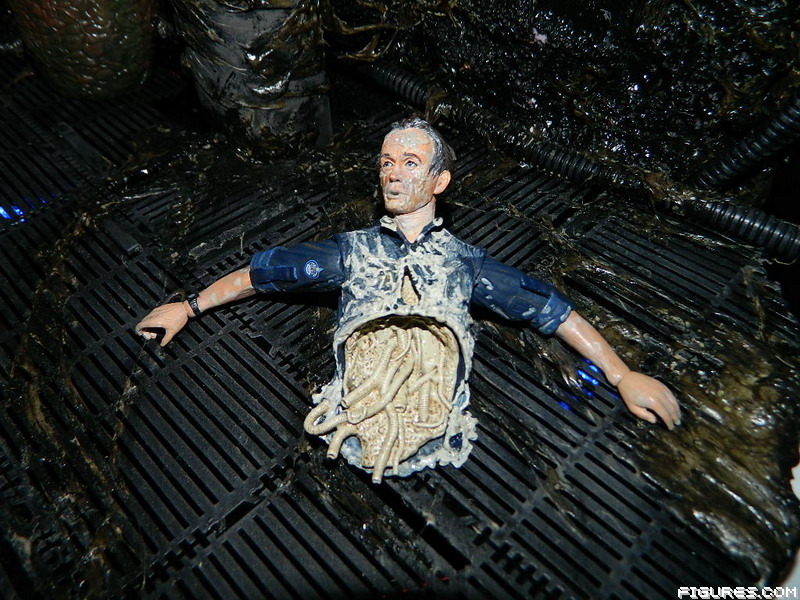 As expected, NECA devoted a whole lot of booth space to the world of Alien, a line that they've done a hell of a job building up in recent years. In addition to a 22″ Xenomorph and a Power Loader Deluxe Vehicle (previously shown at last year's Toy Fair), the company gave us our first look at the line's fifth series, which will include Aliens figures of Ripley and a battle-damaged Bishop.
Series 4 of the Alien line is due out this coming April, and you can expect Series 5 sometime in the summer.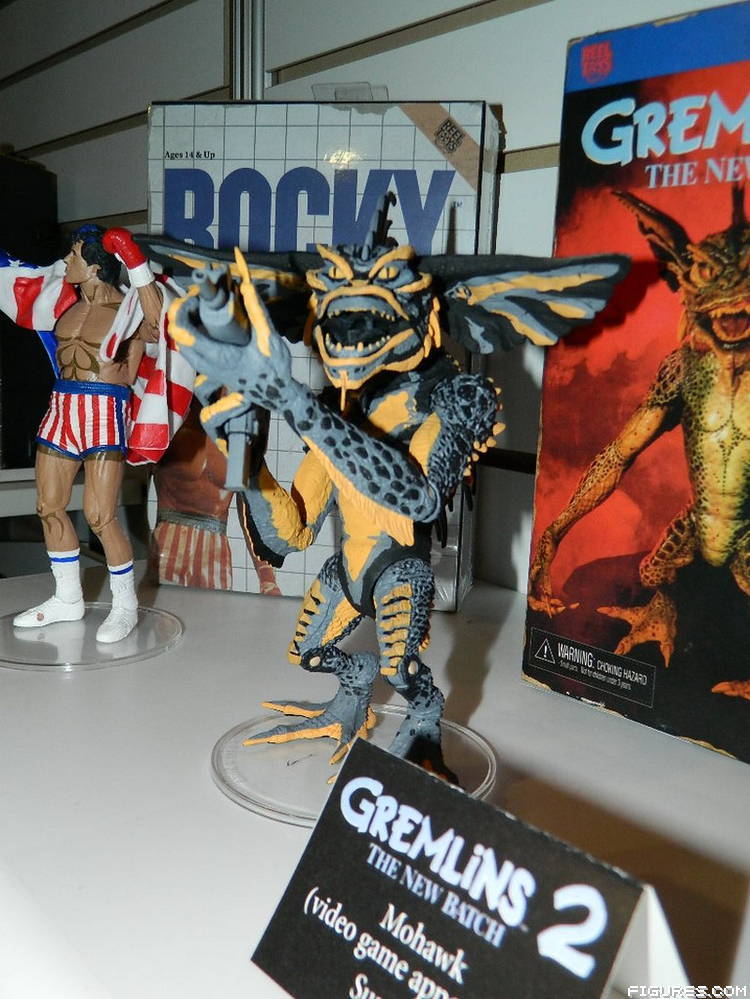 Depending on who you ask, NECA's video game-inspired line is either the coolest thing ever or it has totally jumped the shark. Personally speaking, I will admit that the line piqued with its debut figure (Jason Voorhees), though I continue to be amused by the goofy color-schemes of these highly unique toys. Keep 'em coming, I say.
NECA is indeed keeping them coming, and at Toy Fair they unveiled this figure of Mohawk, based on the 1990 NES game Gremlins 2: The New Batch. He's set for release in the summer, 25 years after the 8-bit game debuted on the scene. I don't know about you, but I'll likely be buying it.
This past year, NECA created the 'ultimate' Freddy Krueger action figure, in celebration of A Nightmare on Elm Street's 30th anniversary, and this year they pay tribute to Texas Chain Saw Massacre's 40th anniversary (which was actually last year) with this 'ultimate' Leatherface figure. Based on the original film, the toy comes with an alternate head, a mallet and of course, a chainsaw.
On social media, NECA also teased more upcoming Leatherface toys, including ones based on the underrated third installment of the franchise and even the infamous Atari video game. No pictures of those are available, at the moment.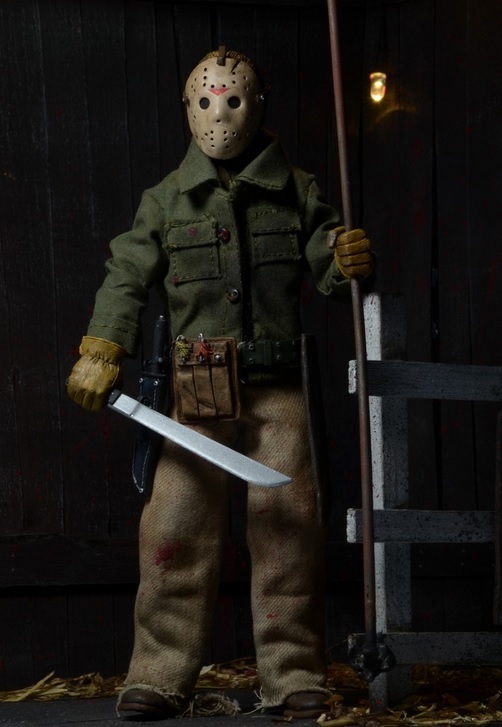 We already covered this final offering from NECA in this past Friday's weekly image roundup, but for the sake of this post truly chronicling Toy Fair 2015's cream of the crop, we couldn't leave it out. Based on Jason Lives, the next Voorhees toy in their retro line is set for release in June, and it includes a removable mask as well as a machete, knife and fence post. You can see more images over on NECA's website.
Last year, a company called EvilCorp whipped up a bunch of vinyl toys depicting horror icons like Carrie and Freddy, though unfortunately they were merely for fun, rather than for purchase. At Toy Fair, Funko announced that they'll be bringing those vinyl toys to life through their brand new Vinyl Idolz line, with the first batch including Shaun of the Dead, Ghostbusters, Young Frankenstein and Walking Dead figures. Expect them in the coming months.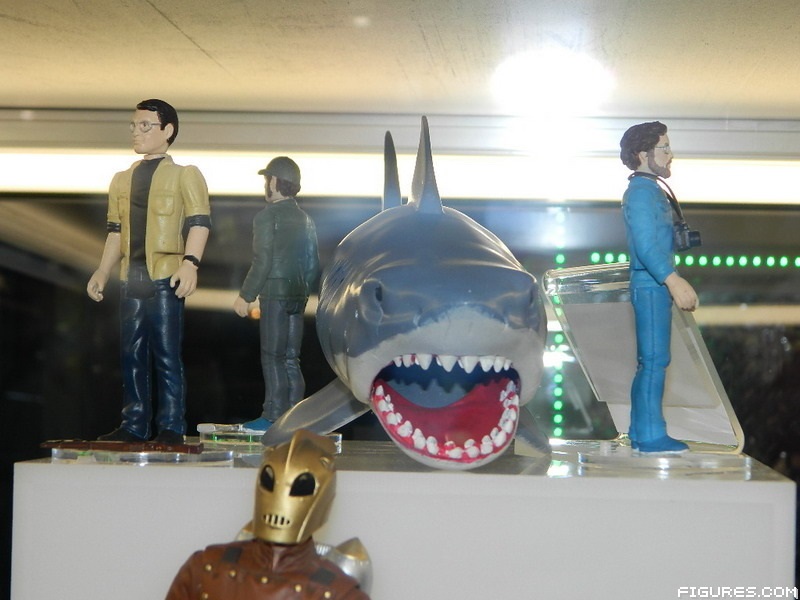 Perhaps the most exciting thing about this year's Toy Fair was Funko's expansion on their already-massive ReAction line. The company showed off butt-loads of upcoming additions to the retro-inspired line, the coolest being these four Jaws action figures. This is the first time EVER that the human characters from the film have gotten their own toys, making the Jaws series a true must-own for all horror fans. Be sure to hit up FIGURES.COM for more images.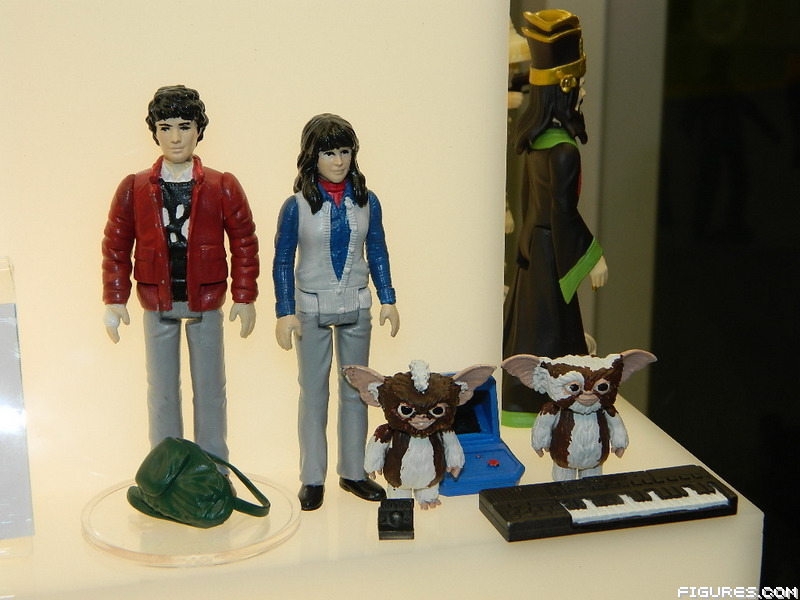 And finally, Funko also unveiled their upcoming Gremlins additions to the ReAction line, which will include several of the titular monsters as well as Billy Peltzer and Kate Beringer. As with Jaws, these will be the first ever toys of the classic film's human characters, a fact that showcases the beauty of the ReAction line. Like the style or not, the line is giving us toys of characters that have never gotten toys in the past, and that's a wonderful thing. These bad boys are due out in the summer.
Support Halloween Love
If an item was discussed in this article that you intend on buying or renting, you can help support Halloween Love and its writers by purchasing through our links:
(Not seeing any relevant products? Start your search on Amazon through us.)