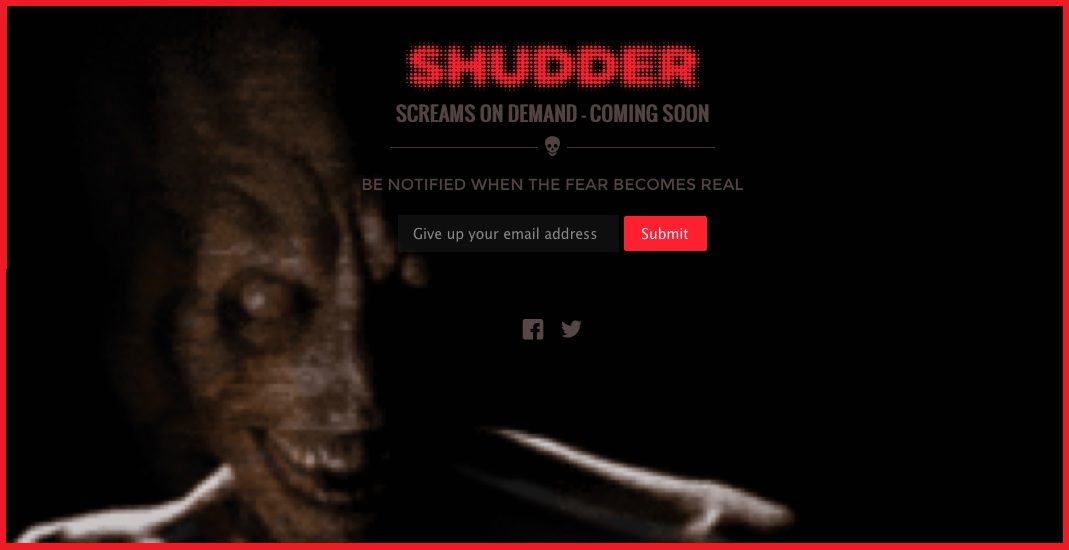 Beloved by us horror fans for their annual FearFest marathon and of course The Walking Dead, AMC announced a couple weeks back that they're heading into the streaming game, set to compete with services like Netflix, Amazon and Vudu. But unlike their competition, AMC is setting their sights entirely on the horror genre, giving us fans a Netflix-like service that we can call our own.
The network has dubbed the new streaming service Shudder, and ahead of a future launch on TV devices, they've begun allowing select fans to beta-test the platform online. Thankfully, you don't have to belong to any super secret, super cool group to get an invite, as all that's required is for you to enter your e-mail on the Shudder website – an invite should be sent your way, within a couple weeks.
How do I know this? Well, because I volunteered myself to be a Shudder guinea pig a couple weeks ago, and an invite magically showed up in my antiquated AOL e-mail inbox earlier this week. I spent an hour or so playing around with Shudder today, so now that I have somewhat of a feel for the service, I wanted to spew some thoughts here on HL. After all, that's what I'm here to do.
Laid out in a similar fashion to Netflix, Shudder (at the present time) features over 200 horror films separated into nearly 30 unique categories. The categories impressively cover almost every single facet of the horror genre, including sub-genres like 'Asian Horror,' 'Weird Science,' 'Serial Killers,' 'Romantic Bloodsuckers,' 'Socko Spoofs' and even 'Diabolical Documentaries.'
Some of the category names are admittedly pretty cute, but all that matters here is what's contained within them. To my delight, there are a handful of films available on Shudder that aren't currently on Netflix, with titles like Tobe Hooper's Eaten Alive, The Innkeepers, Maniac Cop, Sleepaway Camp, and City of the Living Dead serving to make Shudder a different streaming experience for horror fans.
And those are just a small handful of the films that can be found on Shudder but not Netflix, which I noticed on a quick pass through each of the categories. Other films like Tucker & Dale vs. Evil, The Human Centipede (1 + 2), and Let the Right One In are shared by both services, but the good news here is that Shudder isn't simply Netflix's horror section turned into its own full-blown service.
Another good piece of news is that Shudder is very cheap, with a one-month subscription going for $4.99 and an entire year available for $49.99 – the latter of which knocks the monthly rate down to just over $4. Netflix charges $7.99 per month for a subscription (with no reduced rate for an annual membership), so equipping your household with both services will only run you about $12/month. Not bad.
Unlike Netflix, where you can only give star ratings to movies you've watched, Shudder allows you to give both star (skull, actually) ratings and mini reviews of the films, and those reviews can be viewed by all users. It's a nice little touch, allowing you to base your movie-watching decisions on the opinions of other fans. You can also watch trailers of each film, which is another welcome feature that Netflix lacks.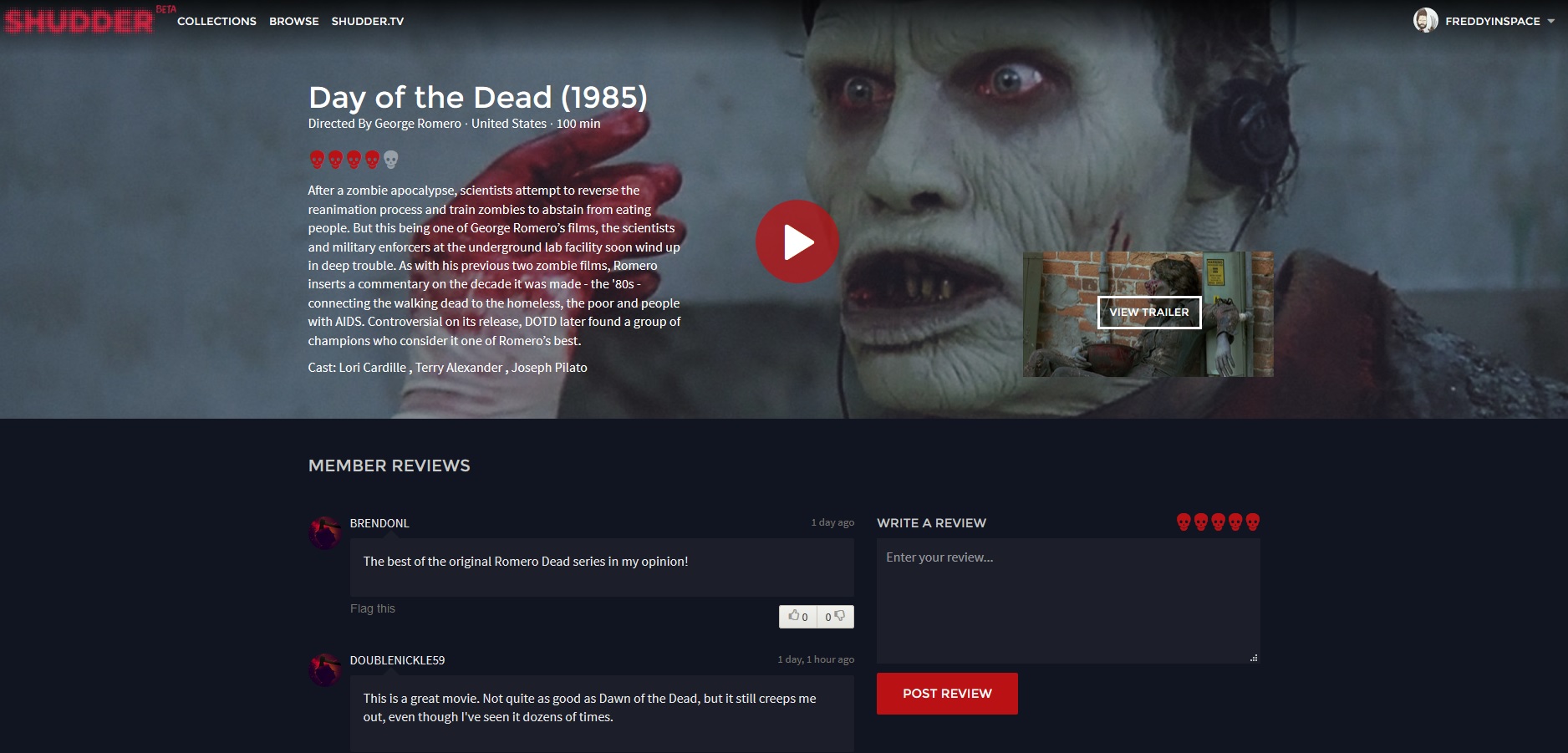 At the moment there is no way to directly run a search for films you might be interested in watching, though you can sort the available films in alphabetical, 'just released', 'most watched,' and 'most reviewed' orders. You can also break them down into categories that are a tad bit different than the official ones, and even separate films by the monsters featured in them – aliens, demons, werewolves, etc.
As noted in the FAQ section of the website, the current inability to run your own searches is merely a side effect of this not being Shudder's finalized design, and they note that a search function will be added in the near future. The FAQ section also allows you to request specific titles, and they say that future film additions will be based on the sorts of suggestions they receive from users.
The hands down coolest feature of Shudder is an area of the platform called Shudder.TV, wherein random movies are instantly queued up for you to watch 24/7. All you have to do is click play and movies will stream all day long, and though the endless streaming service is a bit unfinished at the moment – there's no way to know which movie is playing at any given time, for example – it's a feature that has me excited about the future.
When FEARnet was shut down last year, a hole was blown through the horror community, leaving us without a quality TV network devoted solely to horror films. Monsters HD was similarly excised from our lives several years back, and there's a huge potential for Shudder.TV to fill the hole that's been left behind by the death of both networks. Once Shudder hits TV devices, it could change the game in a big way.
Since the service is backed by media giant AMC, Shudder indeed has a whole lot of potential to be one of the coolest things to ever happen to horror fans. If the network can eventually bring original films and TV shows to the platform, similar to what Netflix is doing right now, Shudder could very well become the future of horror fandom, effectively changing the way we consume the movies we love.
But that's not to say that Shudder isn't already a must for horror fans. With high quality video, an incredibly low subscription price and a nice collection of titles that aren't available for streaming on any other platforms, AMC's demented little baby is already an addition to your monthly credit card bill that I wholly recommend. It's just that the potential future of Shudder is what's truly exciting to me.
If you're interested in testing out Shudder, head over to the official website and sign up. Once you get the e-mail, you'll have a full 90 days to play around with the service, and at the end of that trial period you'll have to decide whether or not you want to start paying. As for me, I have every intention of keeping it and being along for the ride as Shudder grows and expands.
This could be something special, my friends.
Support Halloween Love
If an item was discussed in this article that you intend on buying or renting, you can help support Halloween Love and its writers by purchasing through our links:
(Not seeing any relevant products? Start your search on Amazon through us.)