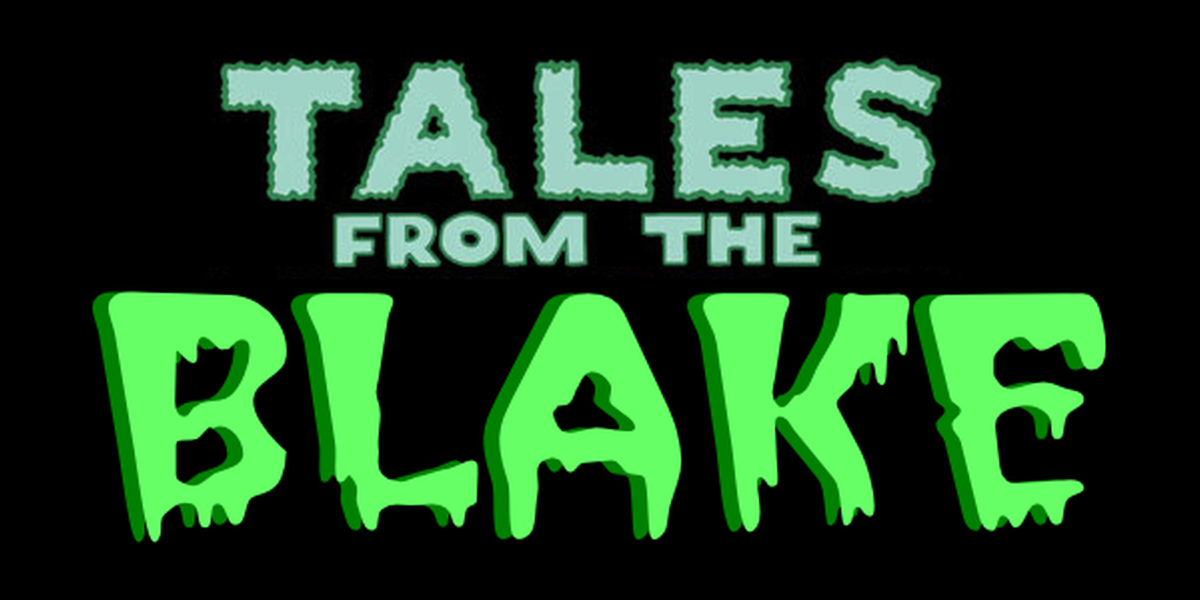 Hello everyone and welcome to another edition of Tales From The Blake, where I discuss happenings and such that are currently going on in the horror genre and possibly share a small story from childhood.
This week's issue, though, is totally a review roundup. I'll give you my verdict about some recently released horror films and let you know whether they're worth your time or not. I'll close out this issue with a review of the newest episode of Supernatural where the Winchester boys teamed up with Scooby-Doo and the gang after they get sucked into a TV and turned into cartoons. Without further ado, let's get to it.
"The British Chainsaw Massacre"
The first review in the lineup is about a movie called Escape From Cannibal Farm. If you've seen the trailer or any poster or DVD box art, then you probably have it in your head that this is just a ripoff of The Texas Chainsaw Massacre. I pretty much thought that too. Anyway, here's our pal, IMDb:
Hold it, the synopsis on IMDb is ridiculously long, so let me improvise and make it smaller:
"In the British countryside, the Harver family head out on an idyllic summer camping trip. After their campsite is sabotaged, the family finds themselves at a nearby farm where they're attacked and shoved into cages to become the next meal for the cannibalistic Hunt Hansen and his hideously deformed son that fancies a chainsaw. Will they make it out alive?"
Verdict: Like I said earlier, I totally thought this movie was just going to be a total ripoff of Texas Chainsaw Massacre, but surprisingly, it becomes its own tale and is a really good movie. I don't want to spoil anything, but I highly recommend it and I think you'll enjoy it for what it is. It does start out like Texas Chainsaw Massacre, but a plot twist will throw you for a loop, and you'll be like: Wow! I did NOT see that coming. Yes, track this one down and watch it when you get a chance.
"Followers: A Found-Footage Treat"
I need to tell you right now that I'm a sucker for found-footage films. I love 'em, and will watch them no matter how bad or boring they are; I can't help it. Hey, IMDb, whatcha' got for me?:
"In Followers, a social media couple's camping trip in Florida is ruined by filmmakers making a documentary on how easy it is to track someone down off social media and kill them."
Verdict: I judge found-footage movies way different from regular films. If you don't like found-footage films, then just skip it, but if you're like me and enjoy them, then you're in for a treat. I thought this one was pretty dang good, and there's plot twist that happens in about the middle of the movie that's crazy. Definitely check this one out because Followers is totally worth watching if you enjoy found-footage films.
Welcome Back, Art, You Terrifier!
I was introduced to Art the Clown when I watched an anthology film called All Hallows' Eve (pretty good movie too) several years ago, so I figured a full-length movie featuring this crazy clown would be worth watching. Take ts away, IMDb:
"In Terrifier, a maniacal clown named Art, terrorizes three young women on Halloween night and everyone else who stands in his way."
Verdict: Oh boy, where do I start with this one? Yes, this is definitely worth watching, but if you're the squeamish type, then you might not want to because this movie is a sick and twisted gore-fest from hell. The actor playing Art the Clown is fantastic in the role, and he makes Pennywise look like Bozo the Clown. Like I said, this is a good movie, but don't watch it if tons of blood and guts make you puke. If that type of stuff doesn't bother you, then I highly recommend you watch it tonight. If you wanna get a feel for how gory this movie is, then watch the YouTube short film below about Art, also called Terrifier, that was part of the All Hallows' Eve movie.
"Scooby Dooby Doo!!!"
Now, it's time for our featured review of the issue. Last night, Supernatural returned from a three week hiatus, and rewarded our patience with an awesome episode called "ScoobyNatural."
Verdict: I definitely don't want to ruin this episode, so I'll be brief, and let you know that this an excellent episode of Supernatural. It's so crazy that this show is still going on, and it's even more crazy that it's still a very good TV show. If you haven't watched it, then you need to NOW! The episode is already up on the CW's website, so there's no excuse as to why you haven't given it a looksy. It's hilarious and nostalgic for anyone that grew up watching Scooby-Doo cartoons. This is also a great episode to show someone who you're trying to get into watching the show. This gets my highest recommendation. Totally, totally awesome!
I apologize to you lovely readers for being a bit late, and also for this issue being a tad short. No worries though, I'll be back in the game for you guys next week. Until then, stay cool.
Support Halloween Love
If an item was discussed in this article that you intend on buying or renting, you can help support Halloween Love and its writers by purchasing through our links:
(Not seeing any relevant products? Start your search on Amazon through us.)